Prep roundup
Sullivan scores early, often for Kinnick
---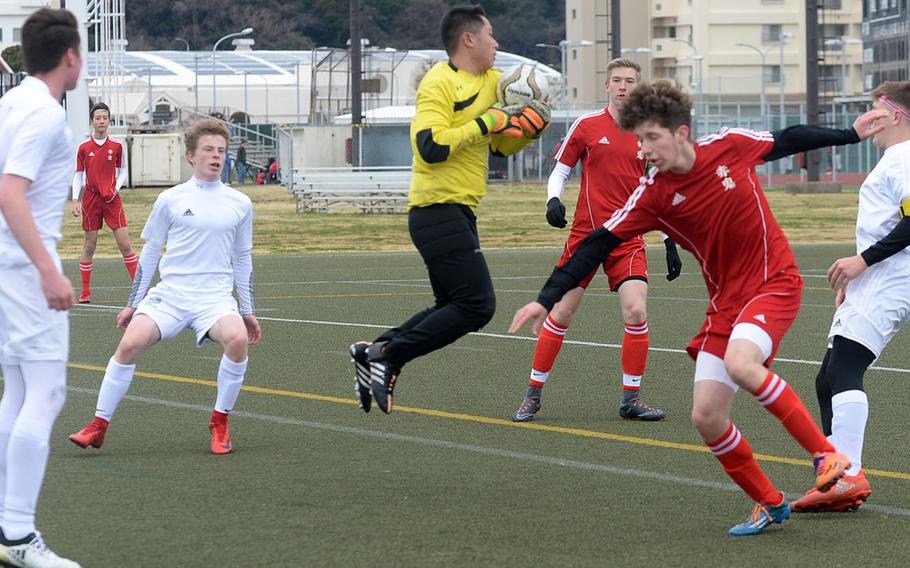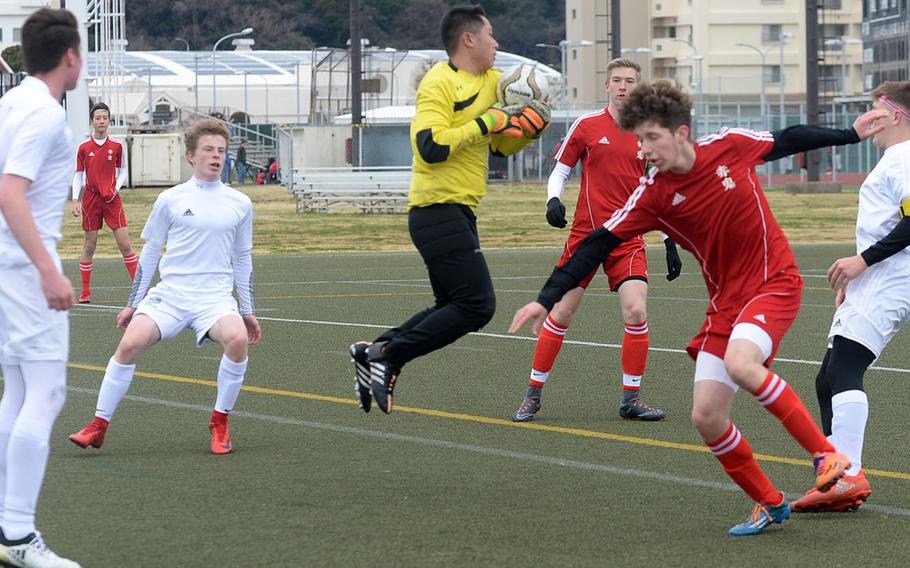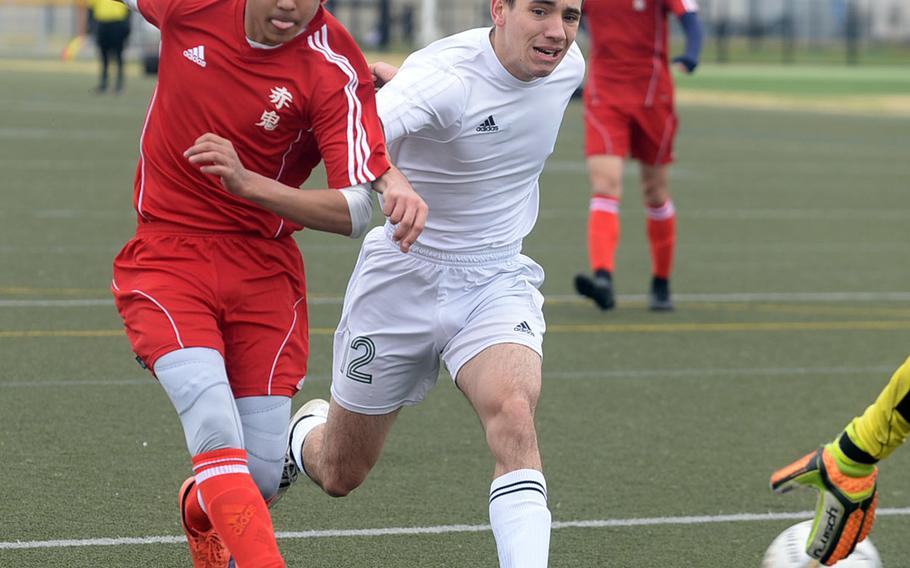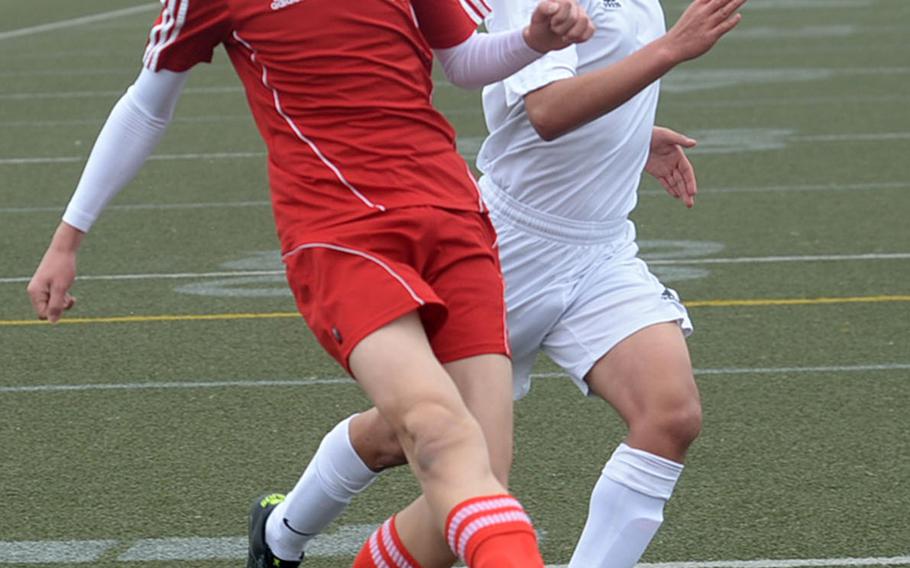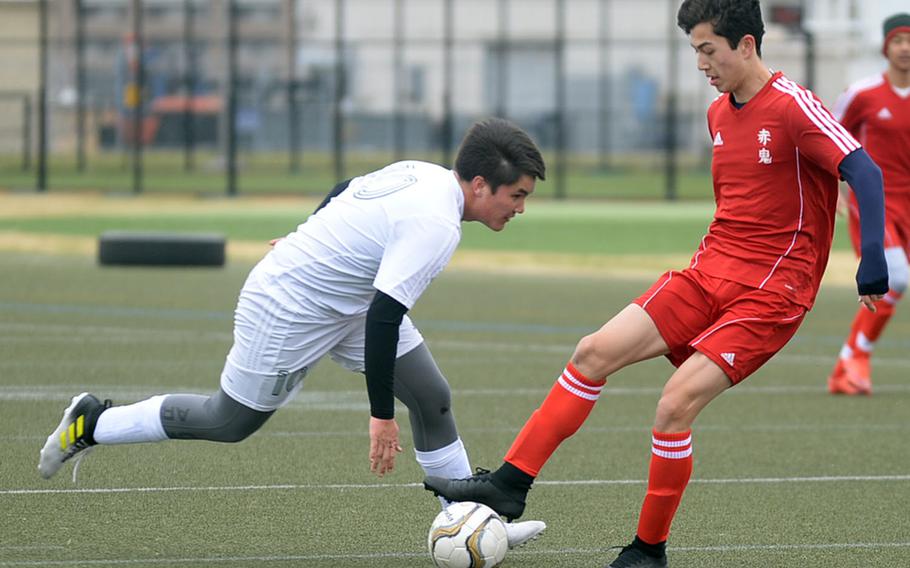 They'd talked as a team prior to Saturday's match about the chances of Kai Sullivan netting a hat trick. But few expected the Nile C. Kinnick striker to do so as quickly as he did.
The sophomore scored thrice in a four-minute span of the first half, and four times in the first period's first 25 minutes, boosting the Red Devils to a 5-0 win over Robert D. Edgren and a weekend sweep of the Eagles. Kinnick won 6-0 on Friday, with Sullivan scoring three goals.
"He probably could've had a few more, but he likes to distribute the ball and get other kids involved," coach Travis Stevens said of Sullivan. He also has a team-leading four assists for the 7-0 Red Devils. "It's nice to see him do that. He's a heckuva player."
With the weekend sweep and unbeaten start, Kinnick is well on its way to surpassing its entire win total of last season and perhaps better their third-place finish in the Far East Division I Tournament in May at Kubasaki.
While the Red Devils hope to continue their initial success, part of it, Stevens said, is motivation to equal the feats of Kinnick's girls spring program last year – it became the first Division I school to sweep track, softball and soccer Far East banners in one spring season.
"We have a good mix of guys, they're hungry, they're working well together as a team," he said. "There's a core group of players who were friends off the field, and now that's translating to on the field."
On the diamond, Red Devils baseball followed suit in its season opener against Matthew C. Perry. Kai Smith drove home four runs, Jonathan Acosta got the win with five innings of relief and Kinnick scored five times in the bottom of the sixth to down the Samurai 12-7.
Defending D-I champion girls teams also enjoyed a Red Devil of a weekend at Yokosuka, with Kinnick sweeping Perry softball and the Red Devils grounding Edgren soccer in two games each.
Sophomore Mariah Wimberly pitched two complete-game victories, allowing seven hits over eight innings and striking out 12, as the Red Devils beat the Samurai 19-7 on Friday and 23-3 on Saturday. Alianna Juarez and Cassie Boyer combined for nine RBIs on Friday.
It's a Red Devils softball team that has just one senior, two juniors and all the rest underclassmen. "We are good now, but we have the potential to be much better with hard work," coach Katrina Kemper said.
"We are a very young team that can improve on defense and have a lot of work to do at the plate. I'm looking forward to seeing how far this team has progressed" during Far East in May at Zama.
On the pitch, freshman Maggie Donnelly has proven in just seven matches to be an able replacement for departed center mid Kiralyn Kawachi. Donnelly has 12 goals, including three each on Friday and Saturday, as the Red Devils swamped the Eagles 7-1 and 11-0. Ella Eisenhardt and Juleesa Taylor, returners from last season's school-first Far East D-I champion team, combined for nine goals.
Donnelly transferred to Kinnick from Virginia and also plays club ball for the Yokosuka Seagulls Japanese team as well as the Red Devils.
"It's a different style of play," Donnelly said of playing in Japan. "I'm still adjusting, but I like it here. We (Red Devils) get along really well."
Can the current Devils equal or exceed the feats of last year's team? "We're equal now, but we can get better if we keep working like this," said junior returner Cassie Medel.
Kadena righty Duenas tosses no-hitterCAMP FOSTER, Okinawa – If Kadena baseball is to finally solve the Far East jinx, Jared Duenas may be one of the answers to the mystery, if his performance Saturday was an indicator.
The sophomore right-hander tossed a no-hit, no-run game Saturday at Kubasaki, striking out eight and walking one while throwing 71 pitches in seven innings. He also had two hits and two stolen bases.
"I think with Jared and (senior right-hander Cody) Sego on the hill, we are pretty good," coach Boe Roberts said of his two ace pitchers.
Duenas struck out 31 batters in 29 innings last year and won the Far East Division I semifinal game to propel Kadena to its sixth appearance in a D-I final – the Panthers have lost all six times.
Panthers sweep Okinawa track meetCAMP FOSTER, Okinawa – Beautiful weather greeted Saturday's Okinawa season-opening track and field meet, a far cry from last week's meet washed out by torrential rain. Kadena ruled the day, topping both the boys and girls team standings.
Hayden Bills won the 1,600 and 3,200 and was part of the 3,200 relay winning team and Ryan Worcester swept the throws as the Panthers boys outdistanced Kubasaki 100-53. Alexis Erp won the throws and Lydia Bills the 800 as Kadena outlasted the Dragons 88-79.
Reigning Okinawa cross country champion Elizabeth Joy of Kubasaki won the 1,600 and 3,200. The Dragons' Juan Guerrero high jumped a Pacific-best 6 feet, 2 inches and also won the 300 hurdles.
Humphreys continues school-best startsCAMP HUMPHREYS, South Korea – The turnaround continues as Humphreys boys and girls soccer each beat Taejon Christian on Friday, continuing the teams' best start in school history, the Blackhawks boys 3-0 and the girls 2-0-1.
James Rivet scored two times, giving him four for the season, boosting the Blackhawks past the Dragons 2-0. Hayden McMillan found the back of the net four times, giving her seven, as Humphreys routed TCIS 5-1.
"We're pretty proud, pretty excited about what we're doing here," boys coach Tim Rippeth said.
"We have some good senior leadership. The captains are setting the tone with the attitude on the field, we have solid team chemistry, we're hungry, and each of the guys is holding each other to high standards."
Twitter: @ornauer_stripes
---
---
---
---