Far East wrestling
St. Mary's runs away with individual tourney title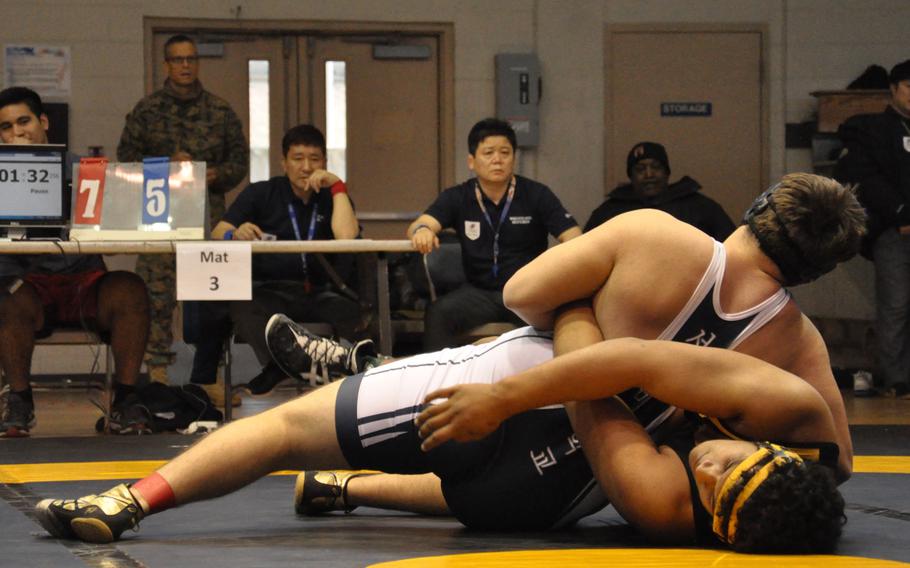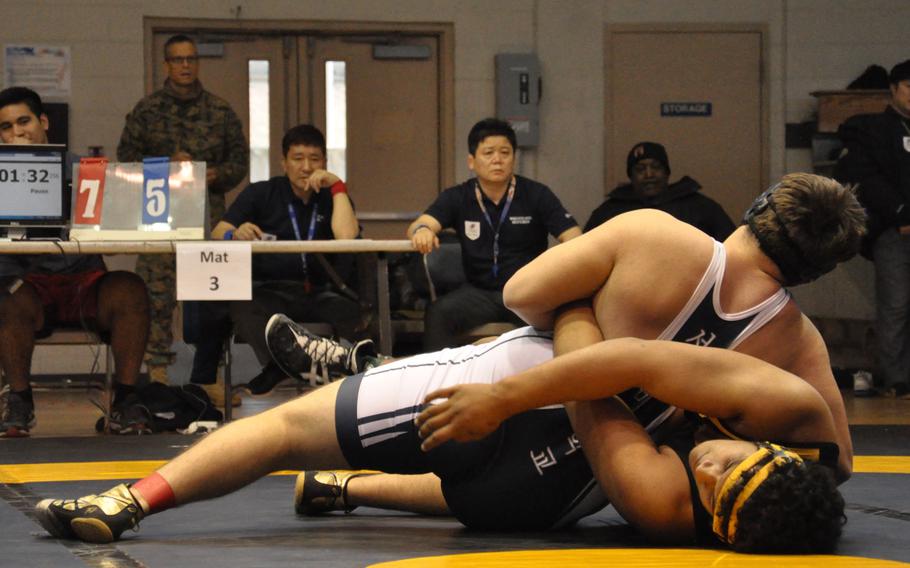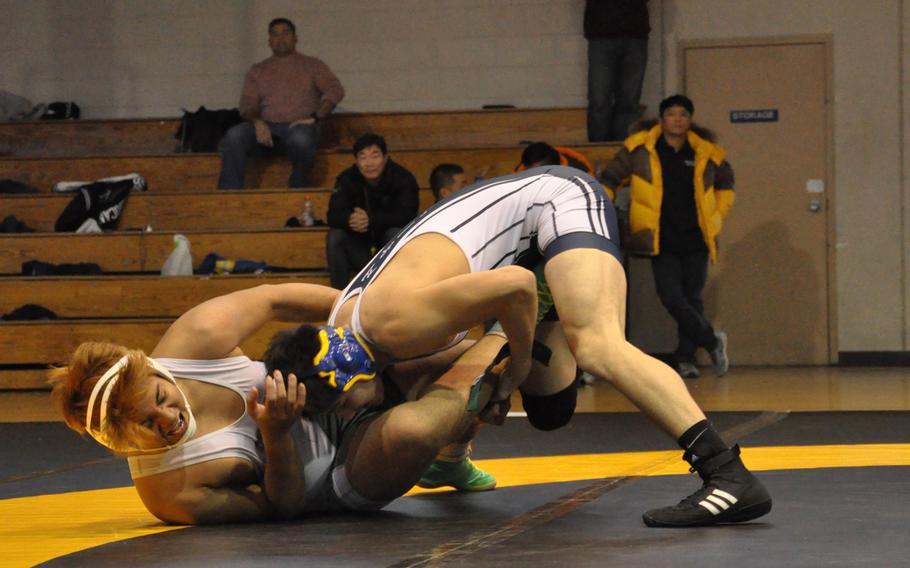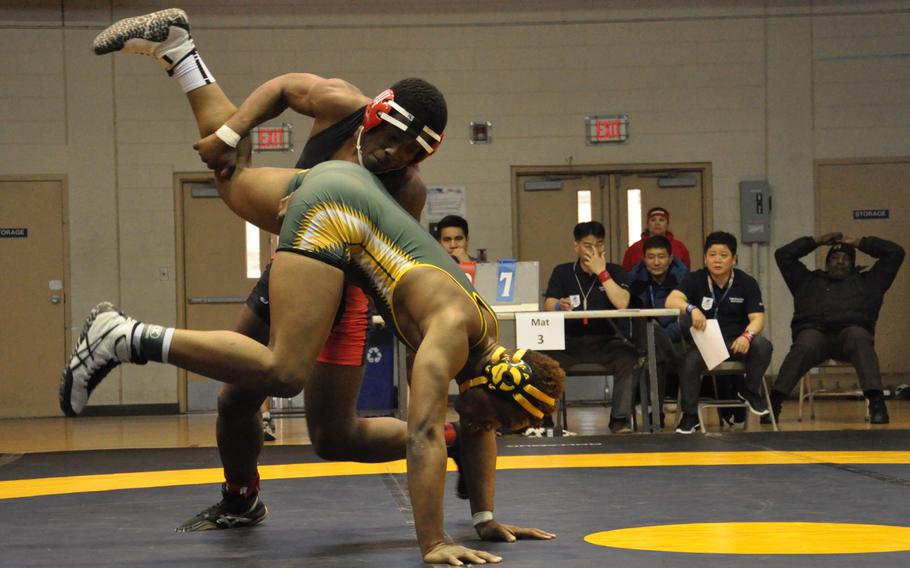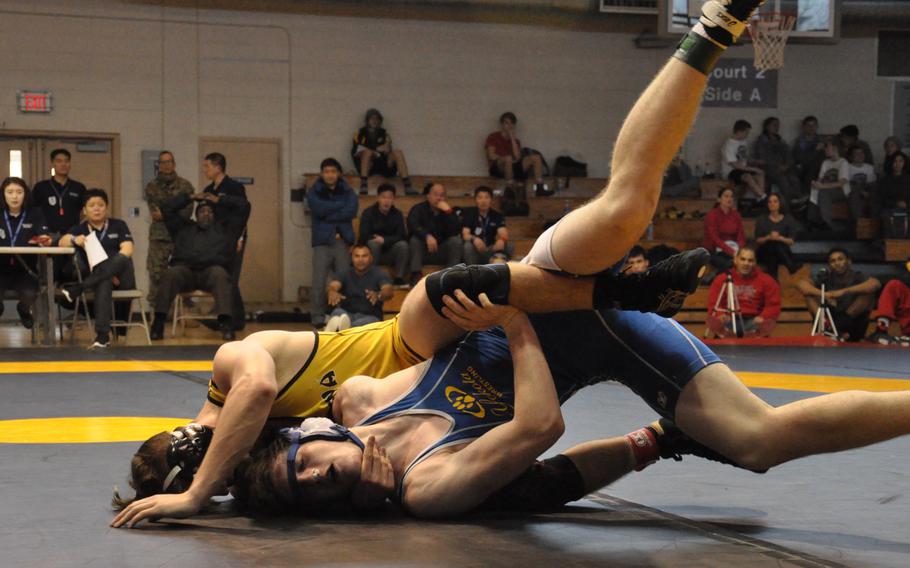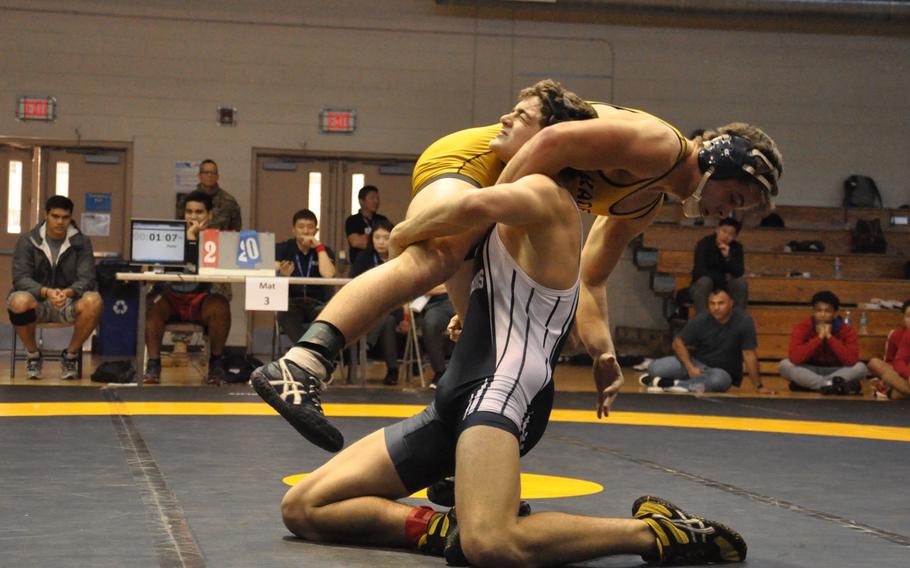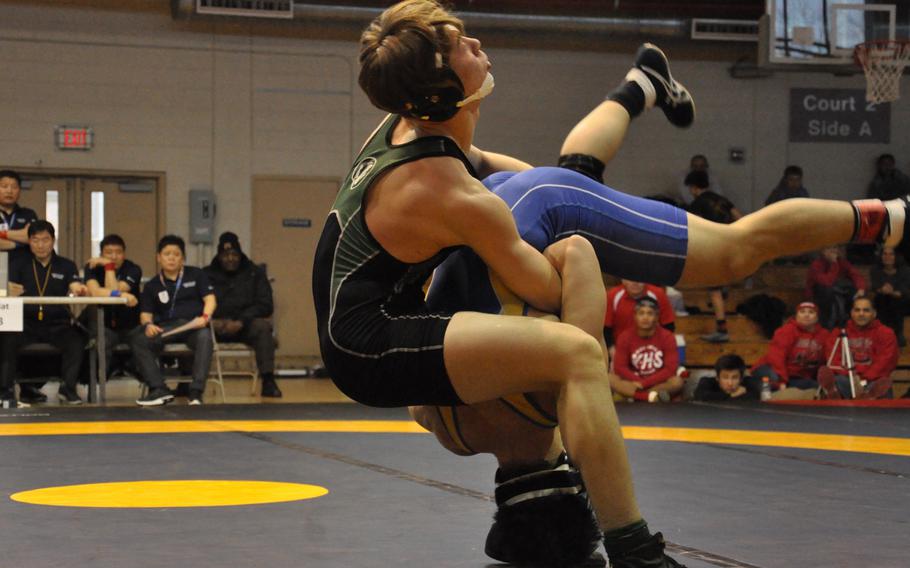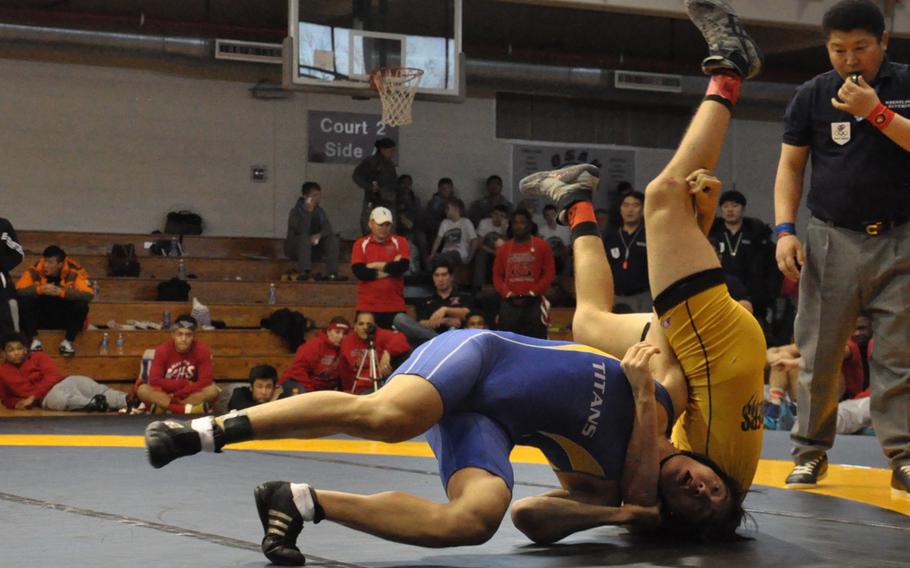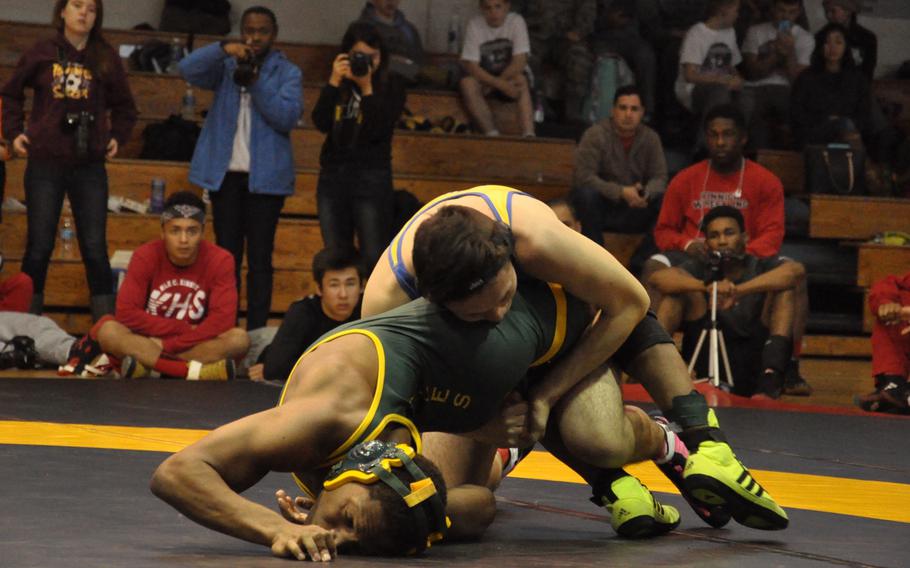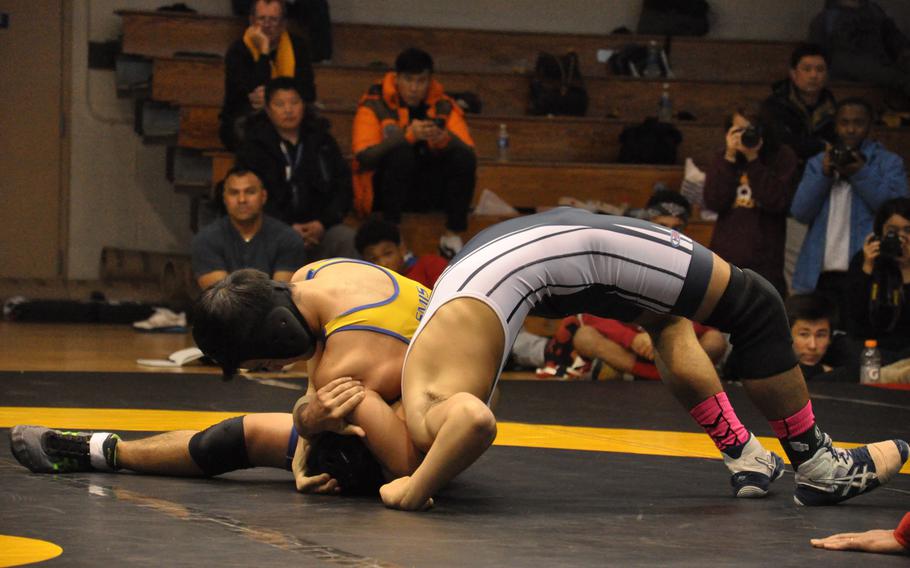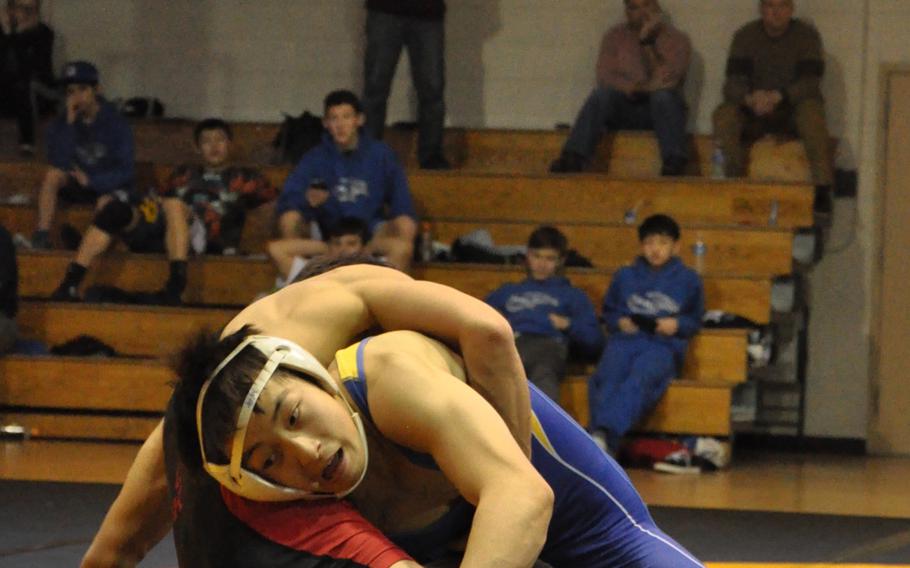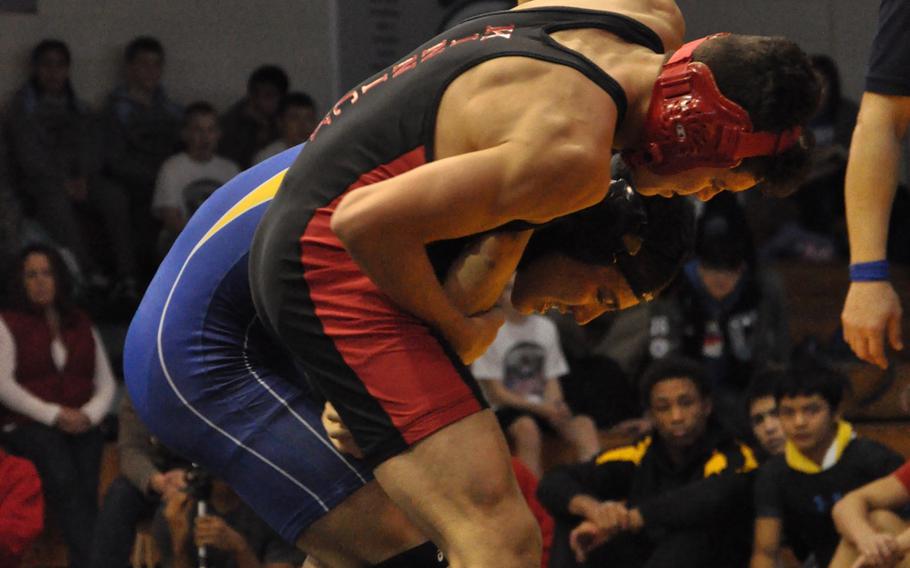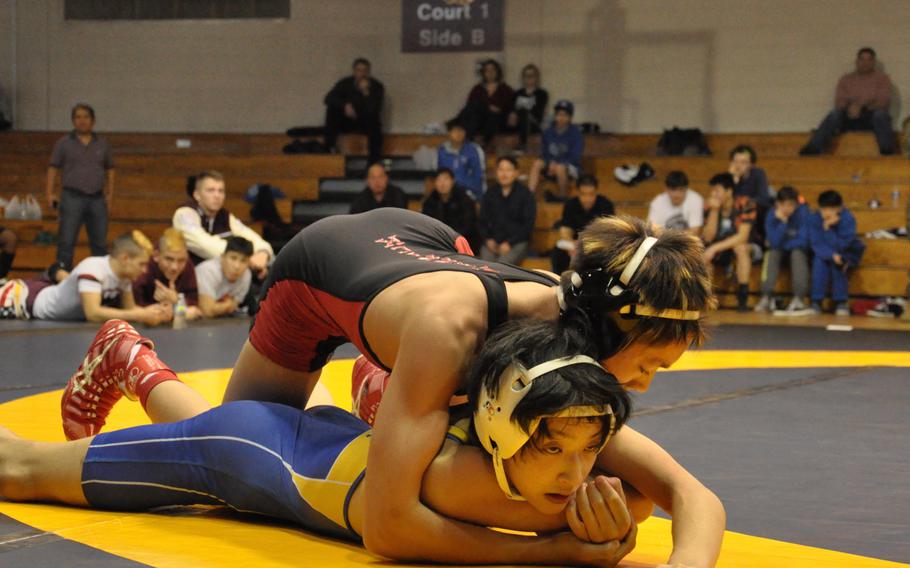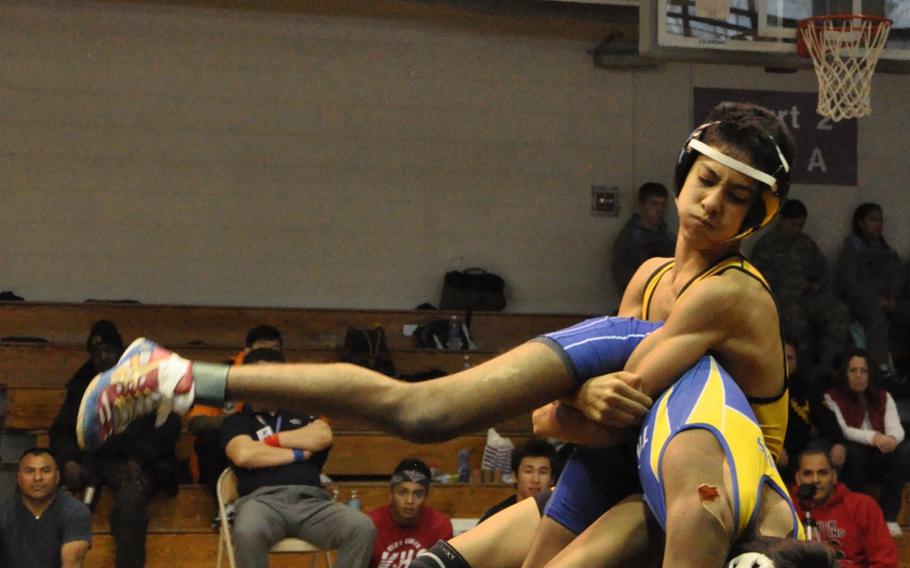 OSAN AIR BASE, South Korea – St. Mary's International was expected to do well in the individual tournament portion of the Far East Wrestling Championships.
Maybe not this well.
The two-time defending champions had a wrestler in each of the first eight championship matches, capturing six titles.
"It was beyond my expectations," said coach Shu Yabui. "I thought I'd never get six champions again."
Rio Lemkuil (115 pounds), Chang Young Lee (122), Ryo Osawa (129), Ryan Vasconcellos (135), Itsuki Shibahara (141) and Kazuho Kawashima (148) all won titles, duplicating the six that St. Mary's won a year ago.
But it was the performance of others, including runners-up Eshan Singhi (101) and Tatsuhito Matsumoto (108) that allowed St. Mary's to end the suspense early on which team was going to triumph. The Titans finished with 78 points, trailed by Nile C. Kinnick (58), Kadena (56) and Seoul American (44).
Though the victory appeared to be fairly easy, it wasn't, Yabui said.
"Our boys practiced a lot," he said. Having three returning Far East champs in the room didn't hurt. "They know what it takes in practice to become a Far East champion. And the other guys can see that."
Vasconcellos and Lee won their third titles.
Vasconcellos' only loss in high school was in the championship match his sophomore year. He said that this year's win was his toughest.
"There's more pressure as a senior," he said. "My team expects so much from me. They don't expect me to lose. Don't expect me to give up a point almost."
He said he'll take it easy for a bit now, eating and sleeping more than he has for the last few months.
"Winning makes up for all of that," he said.
Lee, a junior, will get a chance to go for a rare fourth title next season. He said he'll probably take a week off, then resume wrestling. He is one of several St. Mary's wrestlers who are part of the Japanese wrestling club Sigure Four. "I had to stay focused," he said of his approach during the tournament. "I didn't want to make all that work not pay off."
He'll be one of three returning champions wrestling for the Titans next season.
It wasn't all St. Mary's on Tuesday. A half dozen wrestlers from other schools ascended to the top of the podium.
Kinnick's Lucas Wirth (108) won his second straight title, and he said this one was harder.
"It took me a lot longer to score points," he said.
He and the rest of the Red Devils are hoping to get revenge on the Titans in the dual-meet portion of the championships that conclude on Wednesday. Kinnick is the two-time defending champion in that event.
Wirth, a sophomore, isn't sure if he's going to return to the school next year. His father is in the Navy and may get transferred.
Seoul American's Jarek Bartel, the 158-pound champion, knows he won't be back at his school next season. And that gave the junior motivation in his last attempt at a Far East championship.
"I knew I wanted it, because it's my last year here," he said. He earned an 8-2 victory over Kadena's Hunter Corwin, whom he had to defeat twice during the tournament.
"It was tough, because I knew he really wanted it, too," said Bartel, who wrestled at Patch in Stuttgart, Germany, before transferring to Seoul his sophomore year. He'll likely spend his senior season somewhere in the States, he said.
Other champions included Kadena's Demetrio DeLaRosa (101) and Dom Santanelli (168), Kinnick's Dwayne Lyon (180) and Seoul's Brandon Rothe (215) and Connor Knight (heavyweight). Details of their matches were not available.
Edgren finished in sixth place overall and won the D-II title again with 23 points. Yokota (16) was the closest competitor.
---
---
---