Far East wrestling
Six Red Devils win titles as Kinnick takes crown
---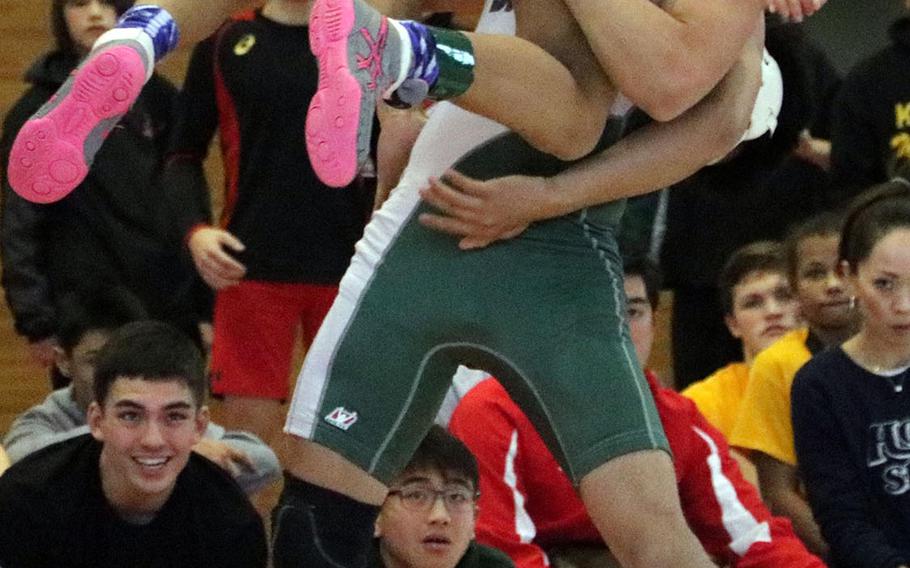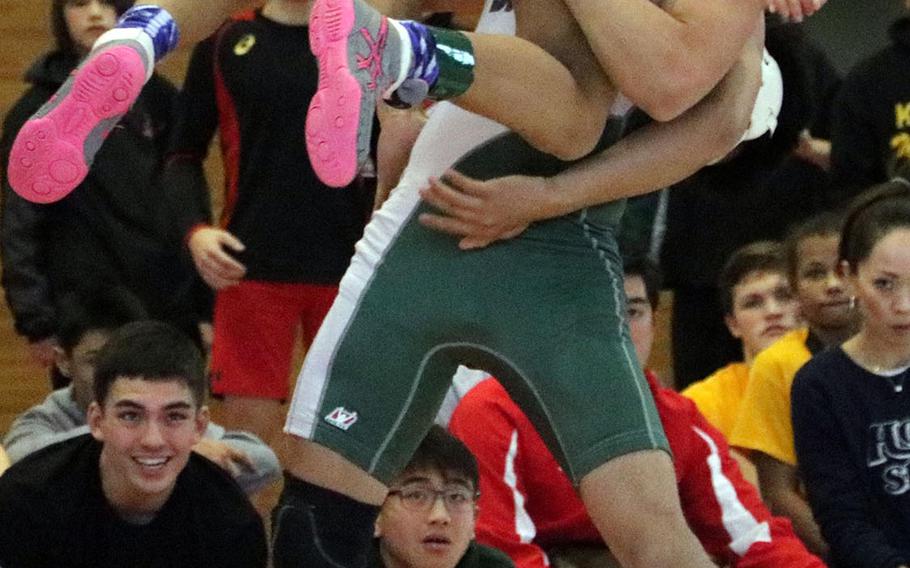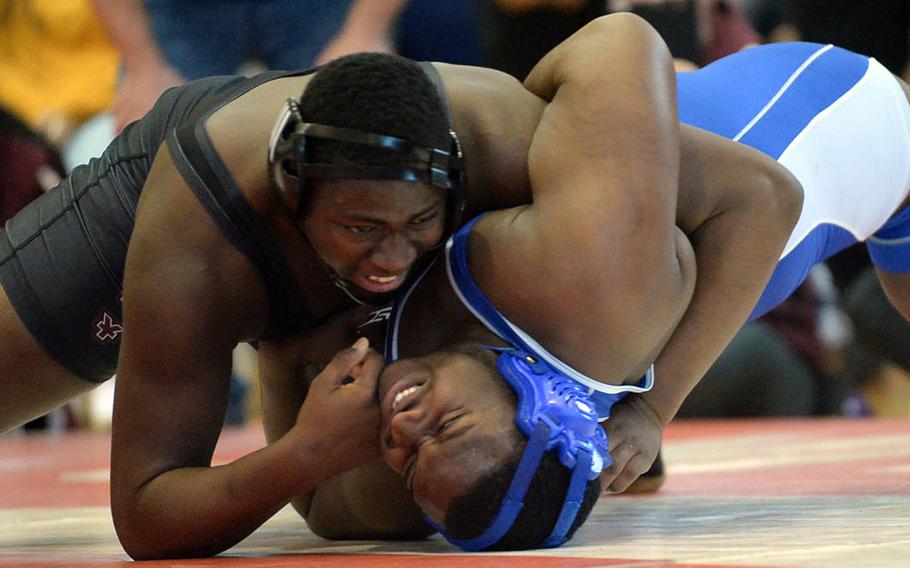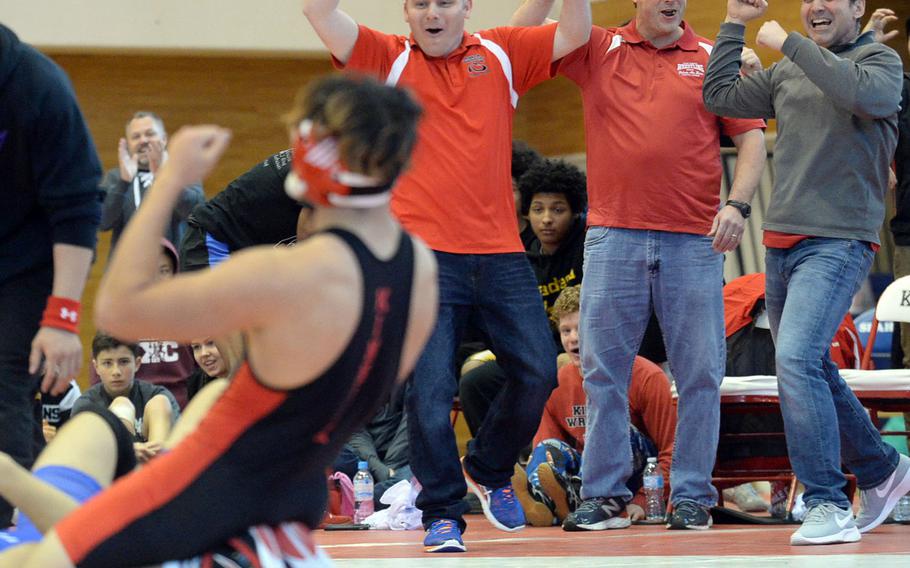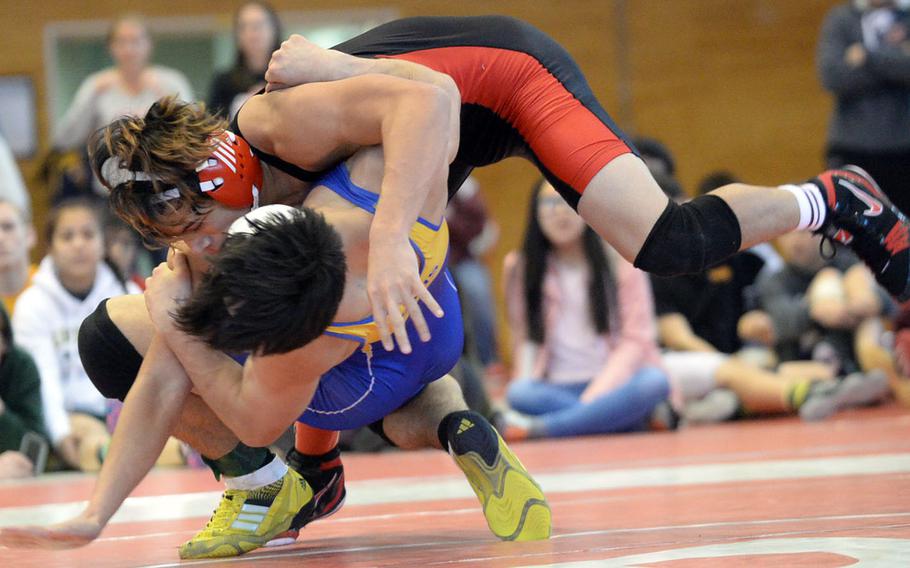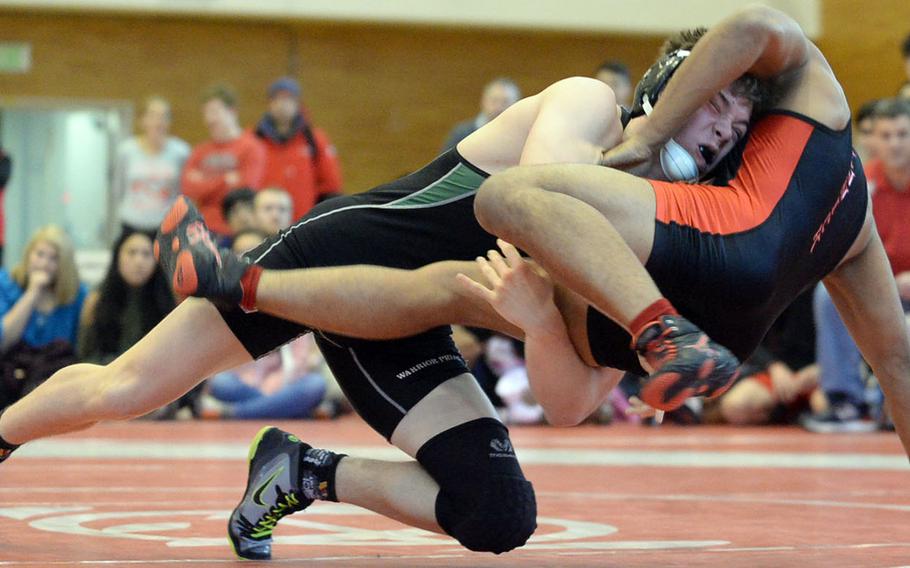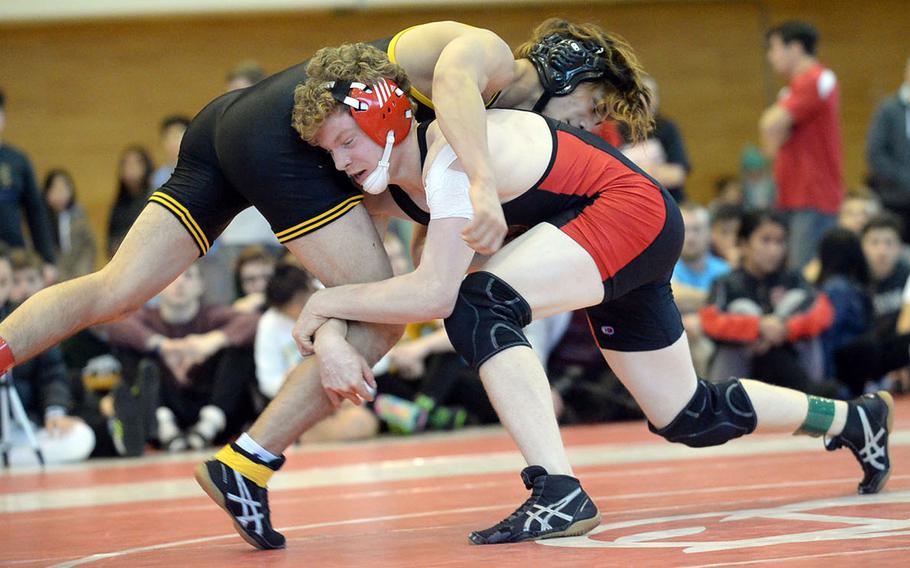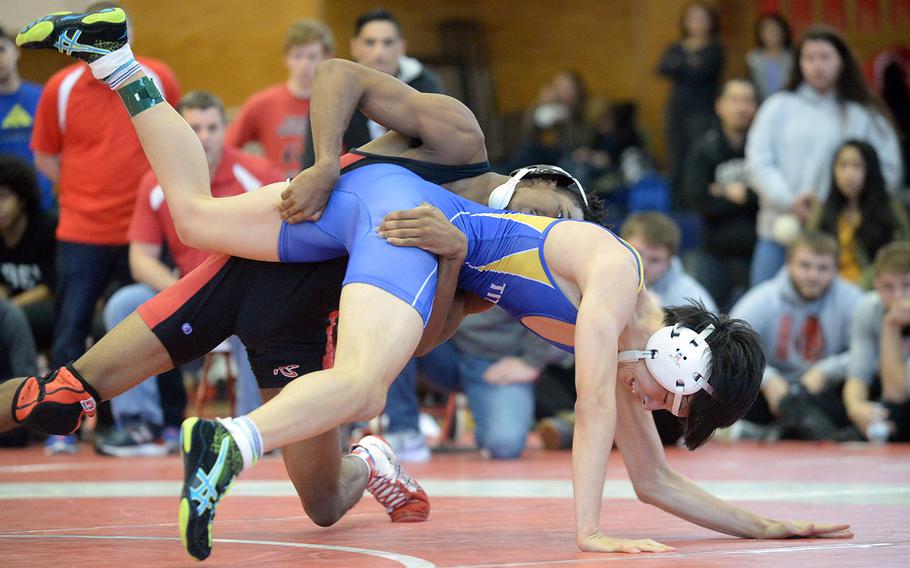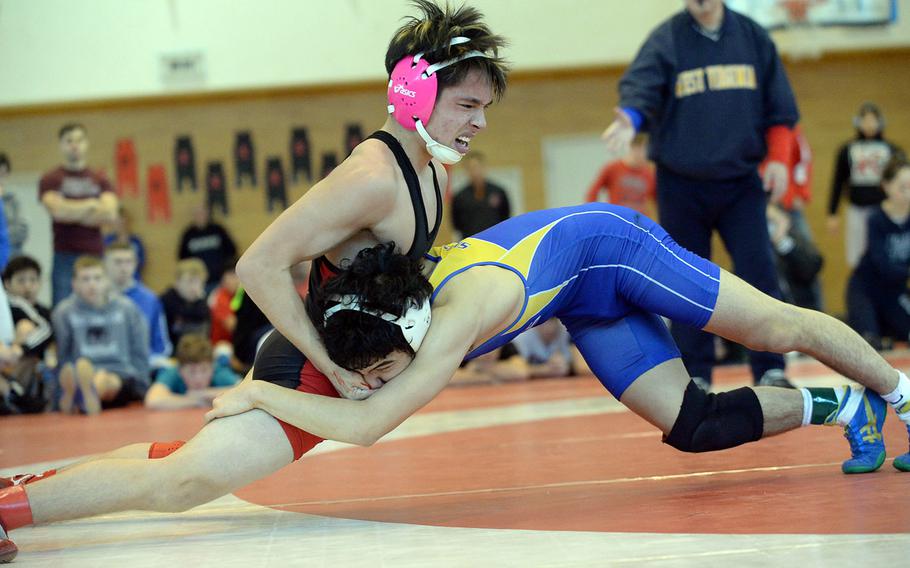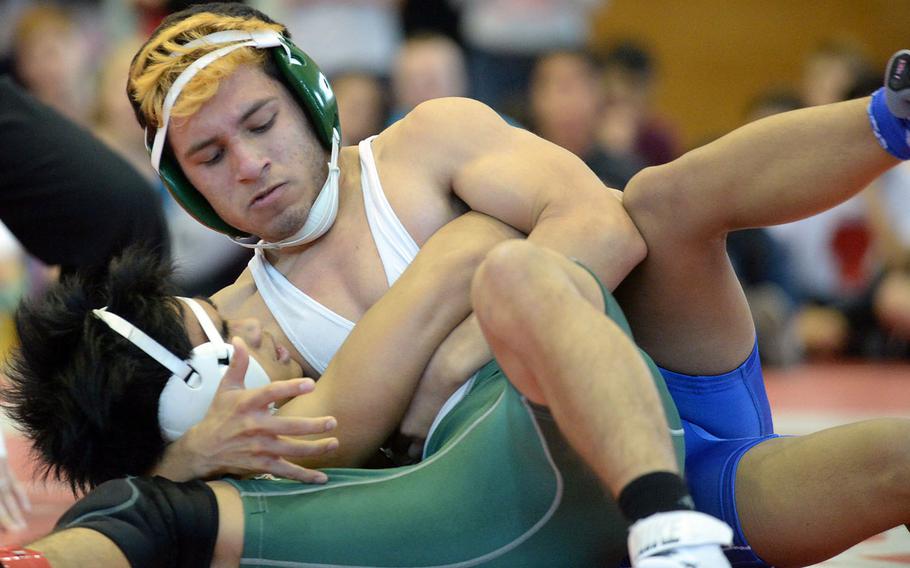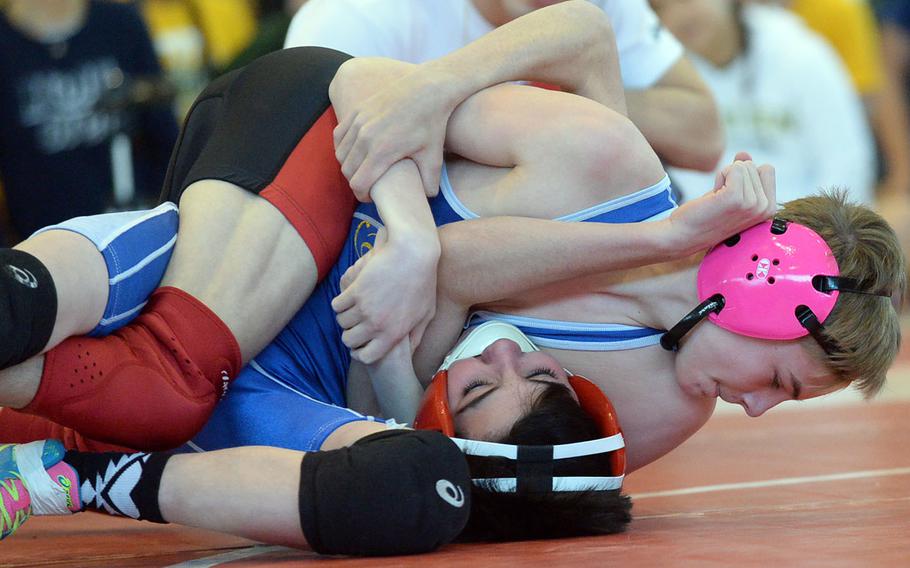 YOKOSUKA NAVAL BASE, Japan – Lucas Wirth carried the searing memory of a Far East finals loss to his greatest rival for almost a year.
He swore to himself that he would achieve vengeance for that bitter defeat.
The Nile C. Kinnick senior made good on that promise in Friday's individual-freestyle finals of the 41st Far East Wrestling Tournament. He got a late four-point throw on St. Mary's Rio Lemkuil en route to a 9-5 win and the 129-pound weight-class title.
"I wasn't going to let that happen again," said Wirth, who lost in last year's Far East final to Lemkuil, a double-elimination defeat by technical fall and by decision.
With the win, Wirth won his third Far East title, coupled with the championships he'd won as a freshman and sophomore. "It feels so great," Wirth said.
It was the fourth time this season he had wrestled Lemkuil, who was also a two-time Far East champ entering Friday's final. "This was perhaps the closest one this year," Wirth said.
Wirth was one of six Red Devils wrestlers to win a weight class, a school record exceeding the five Kinnick won in the 1975 and 2010 Far East tournaments.
The Red Devils won the individual freestyle team title 99-94 for St. Mary's, giving Kinnick 11 overall Division I championships, third overall behind St. Mary's (16) and Kubasaki (25). It was Kinnick's first individual freestyle team title in eight years.
"Amazing," Kinnick coach Gary Wilson said. "You talk about the history of this program and we're the first to do six, it's an amazing payoff for the program."
Other Kinnick wrestlers completing a rebound from a devastating Far East loss included Devoney Stanley, a senior 135-pounder who beat St. Mary's Dai Matsumoto by technical fall. He had lost in the Far East finals as a sophomore.
"That put a dent in my heart," said Stanley, who's won everything since. He did note that he might face Matsumoto again in Saturday's dual-meet tournament later rounds. "It'll be different next time," Stanley said.
The 141-pound class saw something of an upset as Mason Smith of Kinnick scored a two-point takedown in the closing seconds to stun pre-tournament favorite Rin Zoot of American School In Japan.
"I honestly can't believe it," Smith said, crediting the work he's done the last few weeks with Stanley and Wirth, among others. "The last two tournaments, he's beaten me. He's really good," Smith said of Zoot.
Kameron Leon Guerrero had similarly been worked over by Austin Koslow of St. Mary's the last month, but on Friday, he flipped the narrative, scoring a late pin at 5:52.
"The last couple of weeks of practice have been harder than they've been all season," Leon Guerrero said, adding that he also benefitted from working out with teammates. "They helped me to achieve what I wanted to achieve two years ago. I'm so grateful for this program."
Kinnick's other two titles were won by Jacob Castro via technical fall over St. Mary's Nishant Chanda at 148 pounds and Chris Mason at 215 pounds, scoring a 4-0 decision over ASIJ's Noah Dobberfuhl.
Two other DODEA wrestlers repeated as weight-class champions, including reigning Far East Outstanding Wrestler Hunter Lane. The Daegu senior fashioned a 9-2 decision over Kinnick's Darius Swenson that was closer than the score indicated, Lane said.
"I like going up against guys like him," said Lane, who exits Far East with two championships and two second-place finishes. "It's no fun if it's easy."
Kojiro VanHoose, an Osan 122-pound sophomore, made it two straight titles, pinning former Far East champion Tatsuhito Matsumoto of St. Mary's in 3:53 with a front chest press which he calls "my signature move."
A pair of new DODEA-Pacific titlists took the podium on Friday at the top and bottom weight classes.
Caleb Heino, a Yokota 101-pound sophomore, wasted little time getting a head-and-arm hold on Kinnick's John Lanzilotta for a pin in 32 seconds.
"My mom always says my matches are too stressful and I should take as little time as I possibly can," Heino said.
Heino's win helped Yokota win its third Far East Division II team title and fifth overall in school history.
"I'm very proud of them," first-year Panthers coach Kristina O'Grady said. "They've worked hard all season. They deserve the championship."
Marshall China became the first champion in Matthew C. Perry school history as a full-fledged wrestling program. The sophomore heavyweight outlasted Yokota's Jalen Harrison, pinning him in 4:03.
Craig Bell was Perry's first Far East champion 10 years ago, but the school did not have a wrestling program at the time, so he worked out on his own.
St. Mary's won the other two titles: Eiji Kasahara at 108 pounds and Alex Patton at 180.
Twitter: @ornauer_stripes
---
---
---
---