D-I boys soccer
Seoul American's improbable journey ends with title
---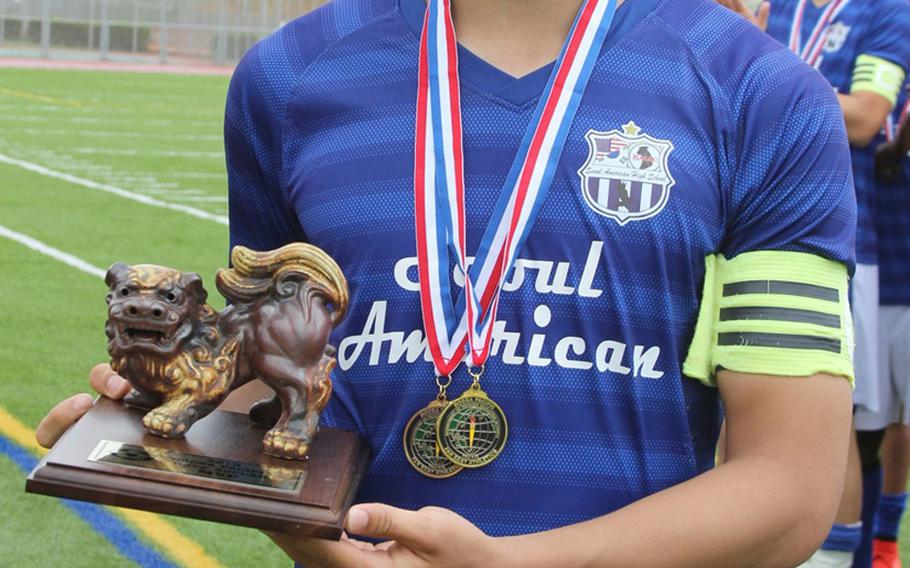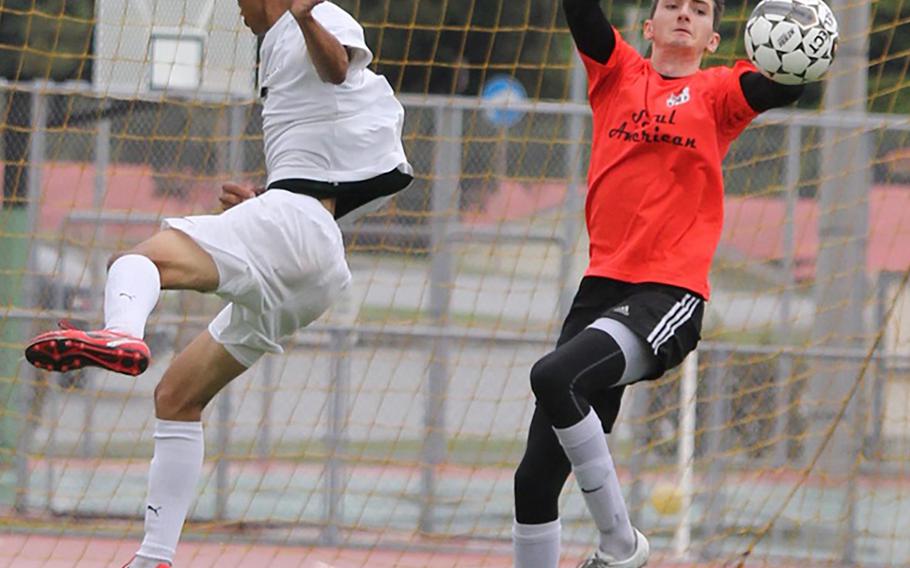 KADENA AIR BASE, Okinawa – With all the challenges it faced starting off the season, coach Steve Boyd said he never envisioned the happy ending for his Seoul American soccer team.
"No way," Boyd said after his Falcons captured their second Far East Division I Tournament title in four years, edging Kubasaki 2-1 in Wednesday's championship match at Ryukyu Middle School's Habu Field. Seoul American beat Kubasaki in overtime on the Dragons' home field in the 2011 final.
The Falcons lost seven starters from last year's team and began the season with their best scoring option – Tournament Most Valuable Player HoKyong Adkins – playing defense because of injuries and inexperience.
"To have replaced a large number of players as we did, to see where we were and to see where we are now, how far we've come – this is why you coach. I just love being around these kids," Boyd said.
The Falcons began the season with a home loss to Taejon Christian. But once Adkins was able to move back to the attack, the team never looked back. It won the Korean-American Interscholastic Activities Conference Blue Division tournament title after finishing second in the regular season.
In Wednesday's final, Adkins scored his 16th in the first half and Niko Russey his 13th in the second to help the Falcons (15-3-4) build a 2-0 lead.
The Falcons stumbled only twice more, losing two D-I pool-play matches before running the table in the playoff round.
While his team may not have possessed the skill that previous teams did, "I don't know if I've ever had a team with the heart this one has," Boyd said. "To overcome all the adversity we did, playing from behind four times as we did, I am so proud of them."
Iseiah Washington scored his 17th goal on a penalty kick to cut the lead in half for the Dragons (18-3-3), but it was as close as they would get.
Despite coming up short, "I'm proud of the team, fantastic team," Dragons coach Saleem Malik said. "They played well. They played hard. It just wasn't the result we were looking for."
---
---
---
---