Prep roundup
Seoul American not just a family affair
---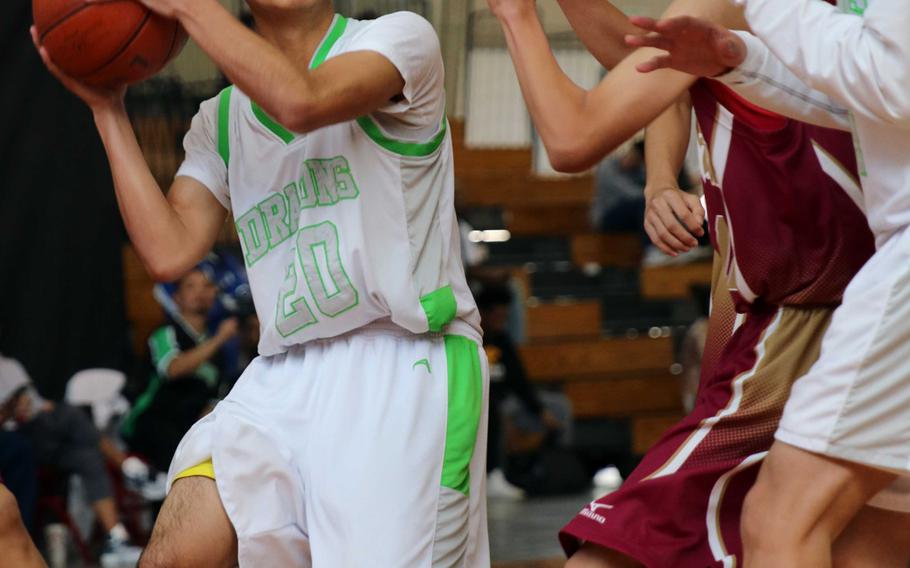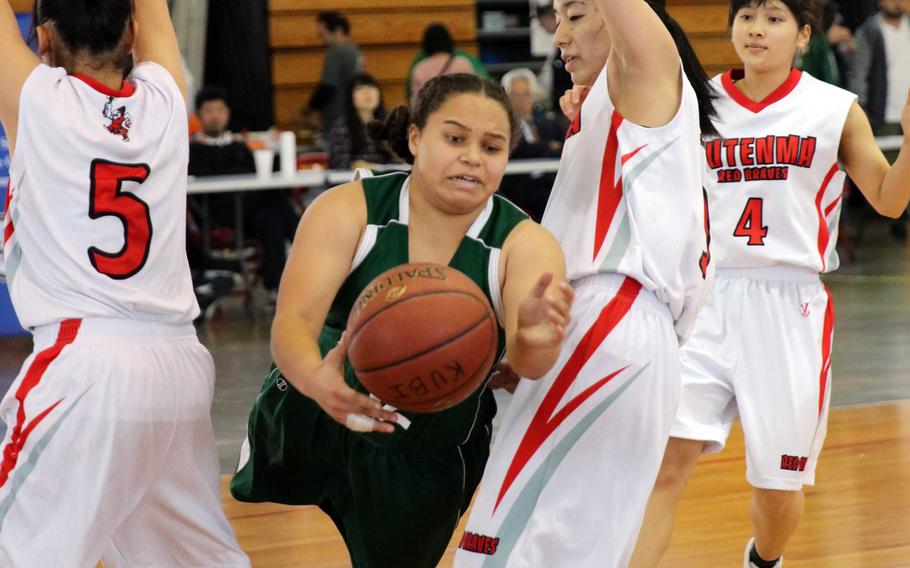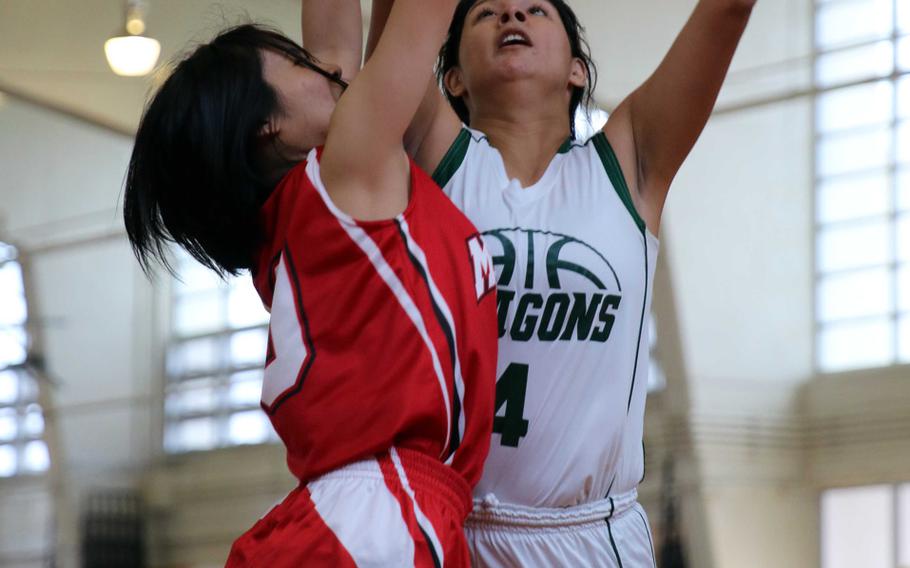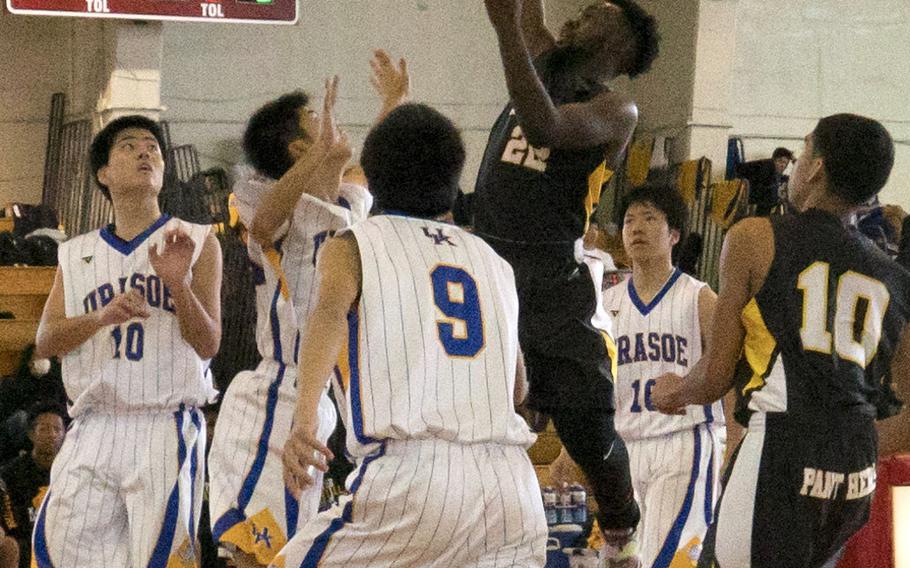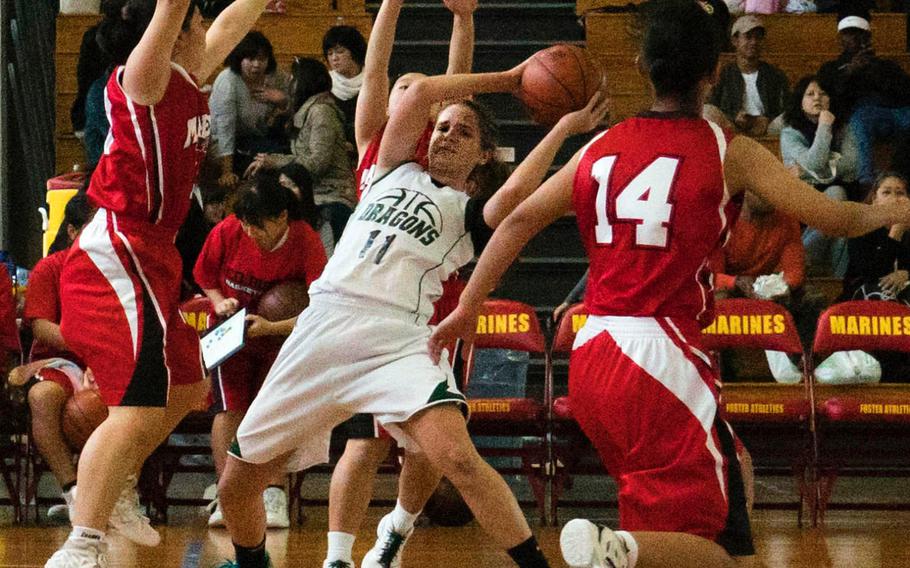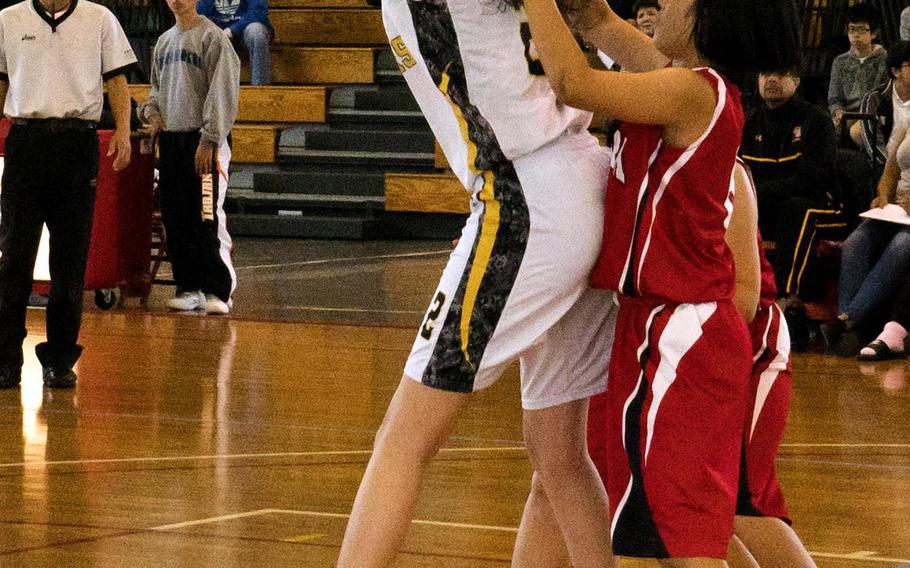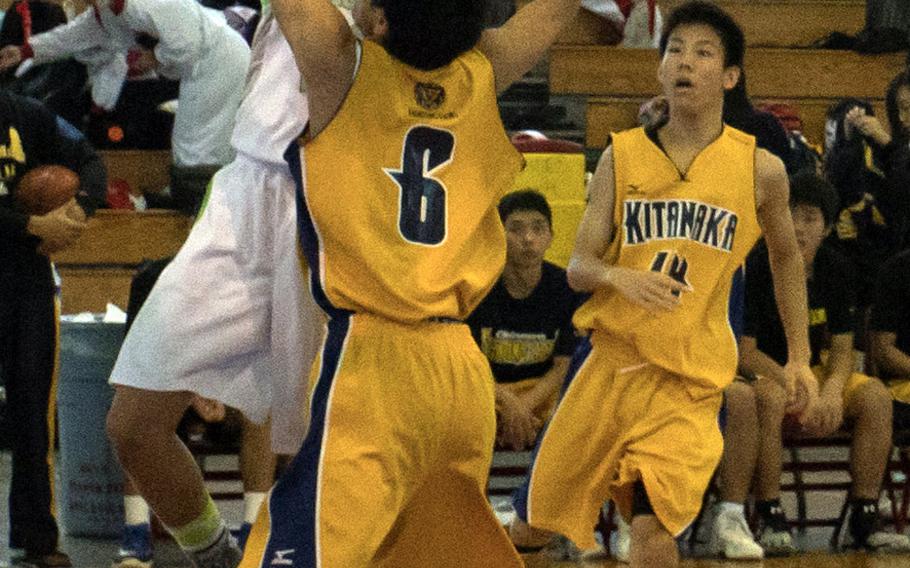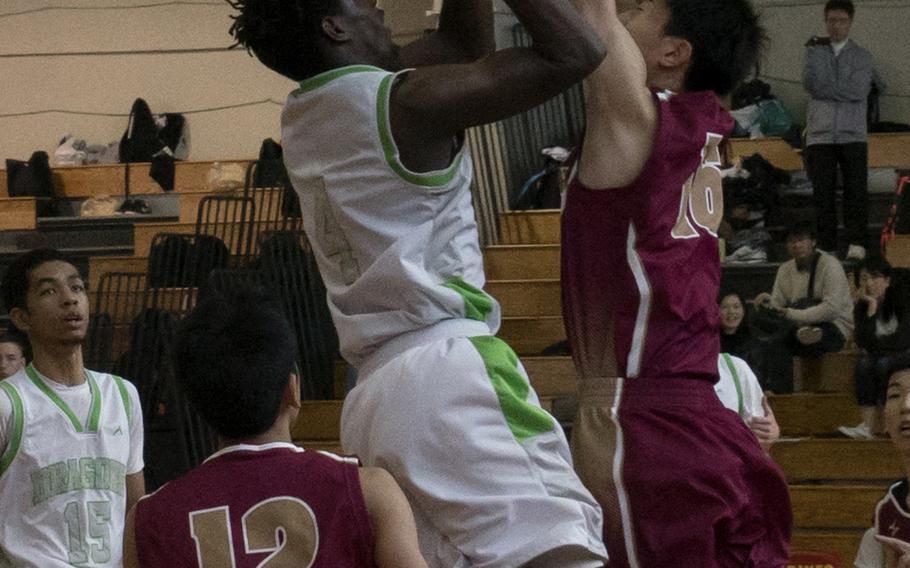 Size continues to rule on offense and defense for a Seoul American boys team that won twice over the weekend by a combined 54 points and maintained a firm grip on second place in the Korea Blue division.
But while senior DeAndre Metcalf and sophomore Quintin Metcalf continue to pile up big numbers, the backcourt is starting to show more promise with the Korea Blue and Far East Division I Tournaments upcoming, Falcons coach Steve Boyd said.
"I always knew we had the inside game, but that if we had a good point guard, we'd be in good shape," Boyd said after the Falcons routed Daegu 75-40 Saturday, less than 18 hours after winning at Seoul Foreign 64-45.
Boyd has experimented with several combinations this season en route to a 9-2 mark with one regular-season game left. This weekend, he split time between senior Willie Grandison and freshman Caleb Lee, and each has shown potential to do the job, Boyd said. Each had five assists Saturday.
"Willie is not a true point guard, and Caleb is young," Boyd said. "But Willie is doing a good job and is dynamite on defense. Caleb has all the tools, he's got to keep getting into the flow, but we've been grooming him all season. By Far East, he'll give us some quality minutes."
Meanwhile, down low, Quintin Metcalf, who averaged 19.1 points and 14.3 rebounds entering the weekend, scored 31 points to top his own career mark of 30 set 11 days earlier, plus 15 boards and seven blocks against the Crusaders. He posted 12 points and nine rebounds in just under a half against the Warriors.
DeAndre also saw limited action against Daegu, posting 10 points and 10 boards, after getting 13 points, 11 rebounds, eight assists and three blocks against Seoul Foreign.
Senior Levi Johnson, had 15 points, 10 rebounds and four blocks against the Warriors – returning just after the new year from a foot injury suffered during football. "He's a smart kid, a hard worker and he's really quick," Boyd said.
Humphreys' boys remained atop the standings at 10-1 with two wins over the weekend, 67-51 Saturday at Taejon Christian and 67-45 Friday at Yongsan.
Seoul American's girls also had a great weekend, vaulting past the Crusaders into first place in Korea Blue with a 39-24 victory Friday. It left both teams with two losses each and they're 1-1 in head-to-head play, but the Falcons hold a plus-10 point-differential lead.
A win Wednesday at Yongsan would assure the Falcons of the top seed and first-round bye in the Korea Blue Division tournament starting Friday. "Plus, we host," Falcons coach Dean Florio said.
Elsewhere on the hardwood in the Pacific, both defending Far East Division I Tournament champions remained alive for a shot at the titles in the 11th Okinawa-American Friendship Tournament on Saturday.
Reigning girls MVP Rhamsey Wyche scored 16 points and Kadena's girls beat Kitanakagusuku 50-43. The Panthers advanced to the semifinals against top-seeded Koza, slated for 10:30 a.m. Sunday.
Ilijah Washington posted a double-double of 19 points and 15 rebounds to pace Kubasaki's boys to a 77-69 win over Urasoe. The Dragons face Naha Kokusai at 9 a.m. Sunday in the semifinals.
E.J. King's boys improved to 19-1 on the season, second-best in Japan behind Yokota's 22-1. The Cobras used mostly bench players in a 62-39 win over Tabuse-Noko on Friday and a 50-19 win Saturday over Noda Gakuen.
Robert D. Edgren's girls renaissance continued over the weekend, as they got their sixth and seventh wins of the season, sweeping Zama 54-53 Friday and 44-27 Saturday. Prior to last week's Kanto Classic, the Eagles had won just two games.
The Cobras and Eagles see their last action prior to the Far East tournaments in the DODEA-Japan finals, scheduled for Thursday-Saturday at Yokota. Far East Division II tournaments are slated for Feb. 20-23, boys at Yokota and girls at Matthew C. Perry.
Titans win another mat titleFor the fourth time this season, St. Mary's wrestling team scored a tournament title, this time in the lair of the Titans' biggest rival, Nile C. Kinnick. St. Mary's won four weight classes and outpointed the host Red Devils 114-106 in the Kinnick Invitational.
Jong Pyeong Lee (108 pounds), Jihoon Seo (148) and defending Far East champions Chang Young Lee (135) and Ryo Osawa (141) won for St. Mary's. It's the last regular-season competition for the Titans before the Kanto finals next Saturday at St. Mary's.
"I feel everyone in the lineup from 101 to 215 is capable of placing in the top three at Far East," Titans coach Shu Yabui said. Far East is slated for Feb. 16-18 at Osan and the Red Devils and Titans have monopolized the Division I titles the last three years.
The Red Devils also won four weight classes, Chon Dareing at 115, Mark Domery at heavyweight and reigning Far East champions Lucas Wirth (122) and Dwayne Lyon (180).
While coach Gary Wilson says the Red Devils are ready for battle, "it's a bit of an uphill battle, but we have a solid core of veterans that are going to have to come up big for us over the next two weeks," he said. "Keep it close and hope for an upset or two."
---
---
---
---