Seoul American crushes undermanned Osan
---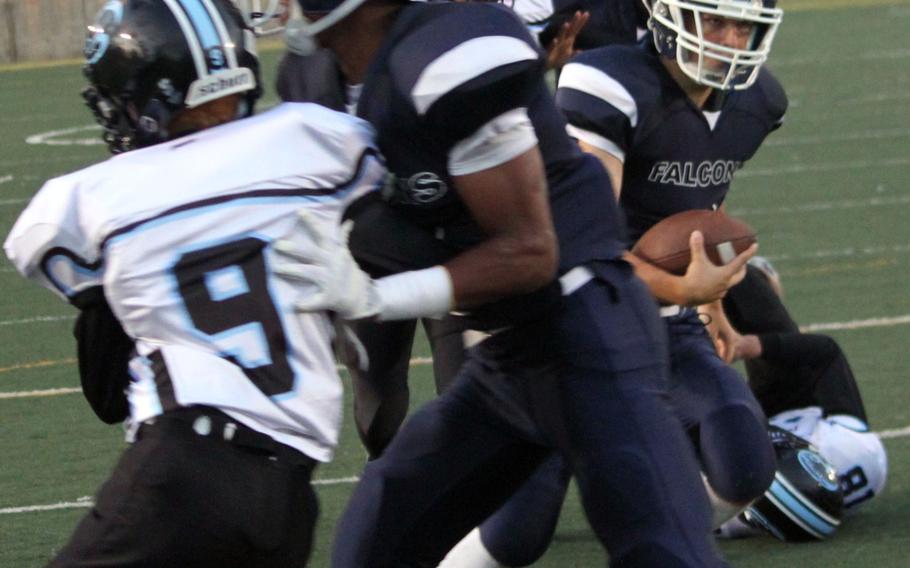 YONGSAN GARRISON, South Korea – Seoul American football entered this weekend's action with one eye on Division I foes down the road, coach Jimbo Davis said.
"Most definitely," Davis said after six players scored at least one touchdown each and the Falcons ended the Chuseok holiday hiatus by storming past outmanned Osan 69-0 on Friday at Seoul American's Sims Field.
It was the sort of tune-up the Falcons needed, Davis said, to shake off the rust after not playing since losing 19-18 at home to Nile C. Kinnick on Sept. 19. The Falcons experimented with different things, Davis said, as they prepare for upcoming battles next Friday against Daegu and Oct. 17 at home against Division I rival Kadena.
"That's the game that matters," Davis said of the Kadena game, adding he's cheering for the Panthers in their home game Saturday against Kinnick.
A Kadena win would give the Panthers a season-series sweep of the Red Devils and keep the Falcons in the hunt for a berth in the Nov. 7 Far East Division I title game. "Sergio's tough to beat at home," Davis said of Kadena coach Sergio Mendoza. A Kinnick win by 15 points or more would throw the D-I race wide open.
The Falcons (2-1) wasted little time taking a big lead on the Cougars (0-3), scoring three times on their first four plays.
Jahdai Wynn and Eben Shelton each returned an interception for a score, Wynn adding a touchdown run and Shelton a punt-return TD. Nick Mauldin passed for two TDs and scored once on the ground. Kyle Ellison and Edward Han each ran for touchdowns, and Myles Haynes caught a TD pass and scored on the ground.
Osan was already missing four of its best players entering the game and dressed just 16 players, coach Don Tusha said, and the Cougars lost quarterback Gregory Yi on the contest's first play.
"We ran out of linemen," Tusha said.
Osan now looks ahead to a Saturday game against the Rhinos, a Korean team.
---
---
---
---