Seoul American breaks tourney, Humphreys hex
by
Dave Ornauer
February 6, 2016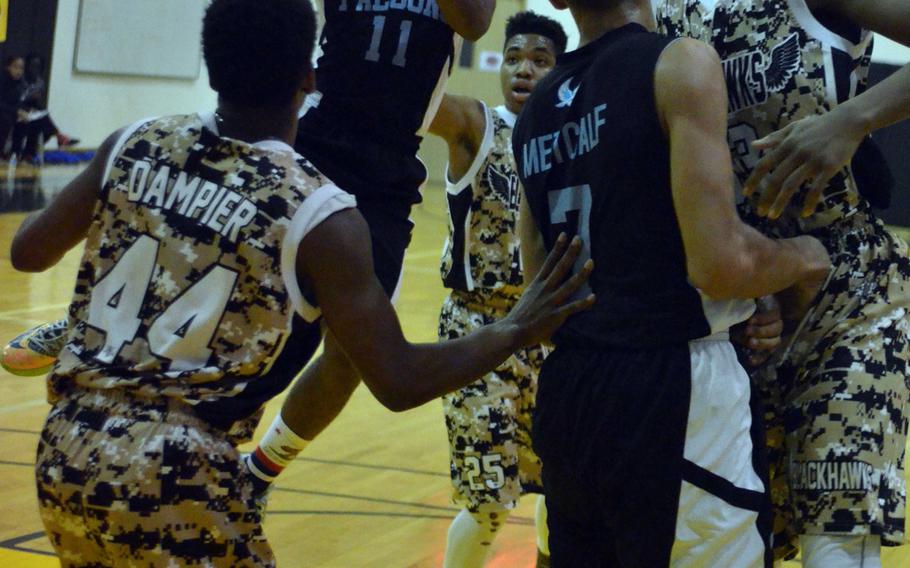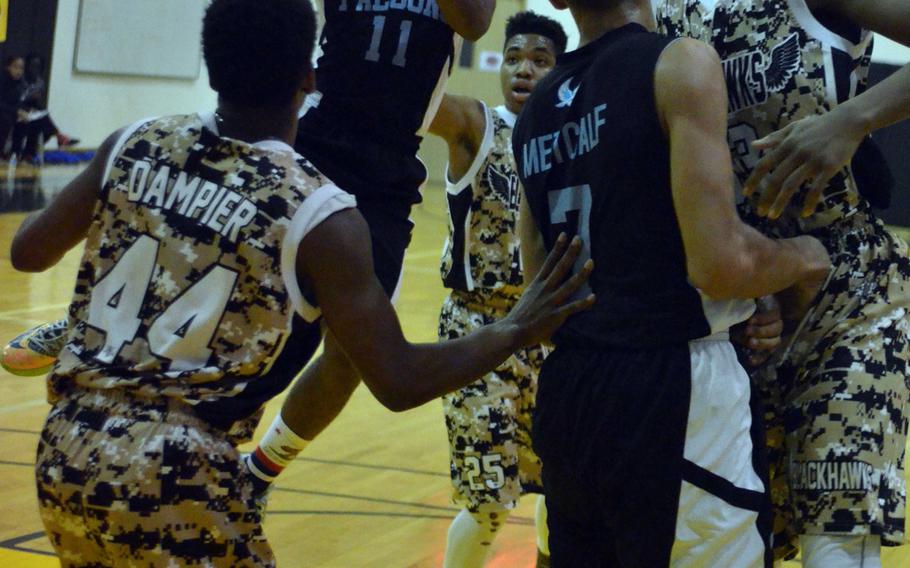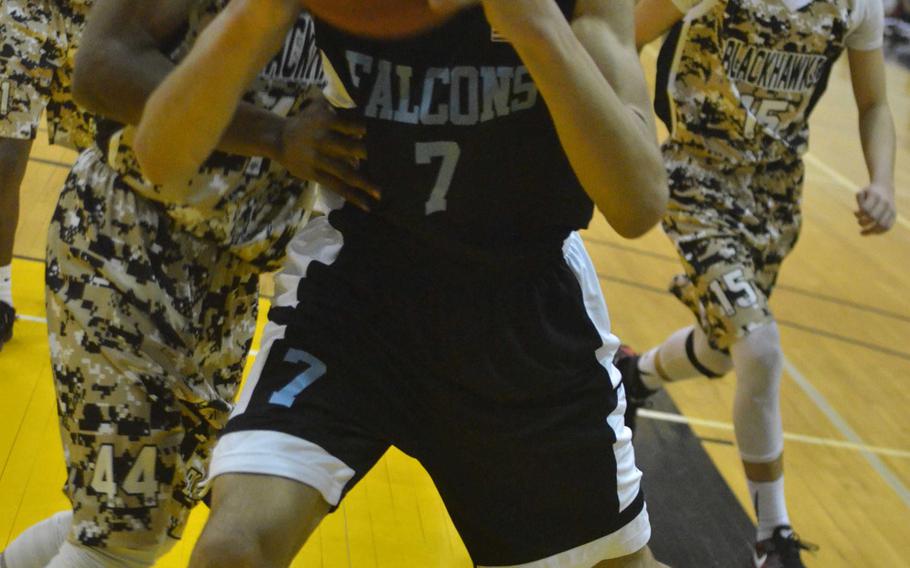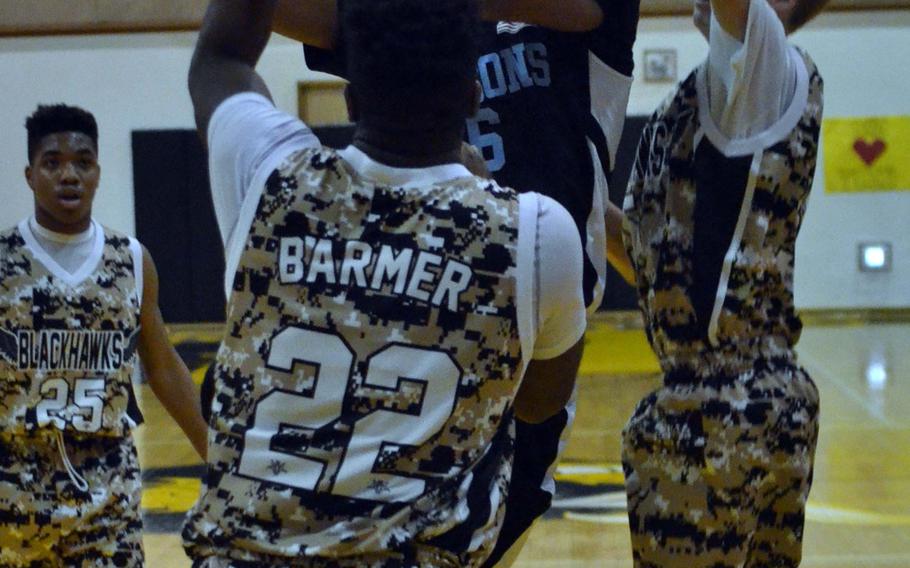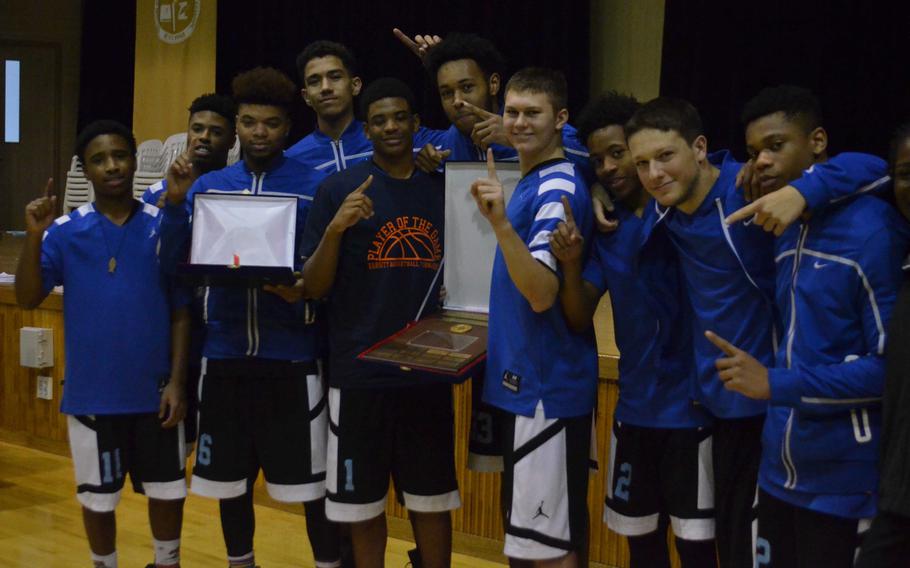 DAEJEON, South Korea – Foul shooting helped Seoul American's boys basketball team finally solve the mystery that was Humphreys.
Most Valuable Player Jezreel Harper shot 6-for-6 from the line and the Falcons as a team 15-for-21 in the final period. They rallied from a nine-point deficit to edge the Blackhawks 54-50 in Saturday's Korean-American Interscholastic Activities Conference Blue Division tournament final.
"That's the ballgame right there, at the foul line," said coach Steve Boyd after he won his 12th KAIAC Tournament title, this time as the No. 2 seed taking down the league's regular-season champion.
"It never gets old," Boyd said. "It's always what I expect for these kids. I'm happy for them. It may not be my most talented team, but we have a bunch of role players who work hard. They deserve it."
Humphreys beat the Falcons twice during the regular season in winning its first KAIAC conference title in any sport.
This time around, the Falcons threw a variety of pressure defenses at the Blackhawks "and got them out of their offense," Boyd said.
Neither team led by more than nine points. Humphreys used a 10-0 run to seize a 16-7 lead early in the second quarter. But throughout, the Falcons stayed within shouting distance, finally taking the lead for keeps 46-45 with 3 minutes, 26 seconds left on – yes – a pair of foul shots.
Seoul American went up by eight late, but the Blackhawks remained within range after Nate Hellams cut it to 53-50 on a three-pointer with 6.5 seconds left. But Humphreys got no closer.
"They executed," Blackhawks coach Ronnie Merriwether said of Seoul American. "You could see their intensity. They wanted it. It's always hard to beat a good team three times in a season. They outhustled us, got a few calls to go their way."
Harper finished with 15 points and Quinten Metcalf 13 points and 10 rebounds and Josh Scott 10 points for the Falcons. Bashr Edmonds of the Blackhawks led all scorers with 17 points and freshman Jackson Taylor added 10.
Seoul American had won the regular-season title and the tournament top seed the previous two years, but lost to Daegu and Osan in the 2014 and 2015 finals.
The girls final was an all non-DODDS affair, with regular season-champion Seoul Foreign taking down tournament MVP Emme Warnken and host Taejon Christian 41-36. Mischa Kim led the Crusaders with 12 points and Warnken led all scorers with 17.