Home Team
Sego's dilemmas: What college? Which sport?
by
Dave Ornauer
April 29, 2015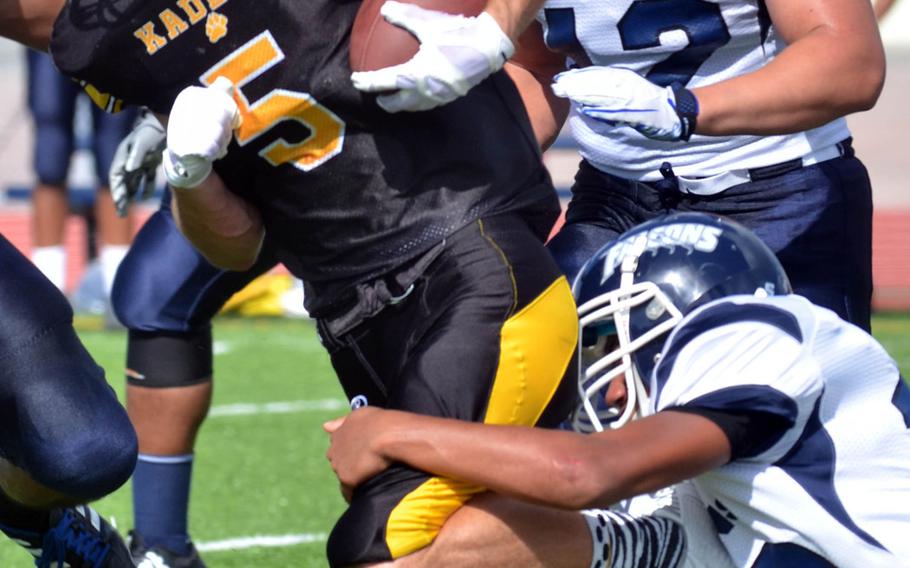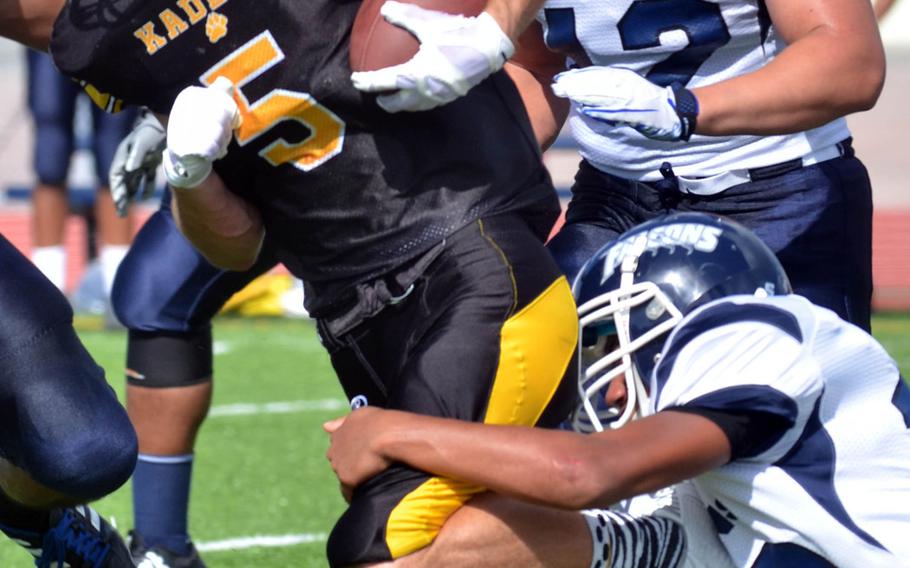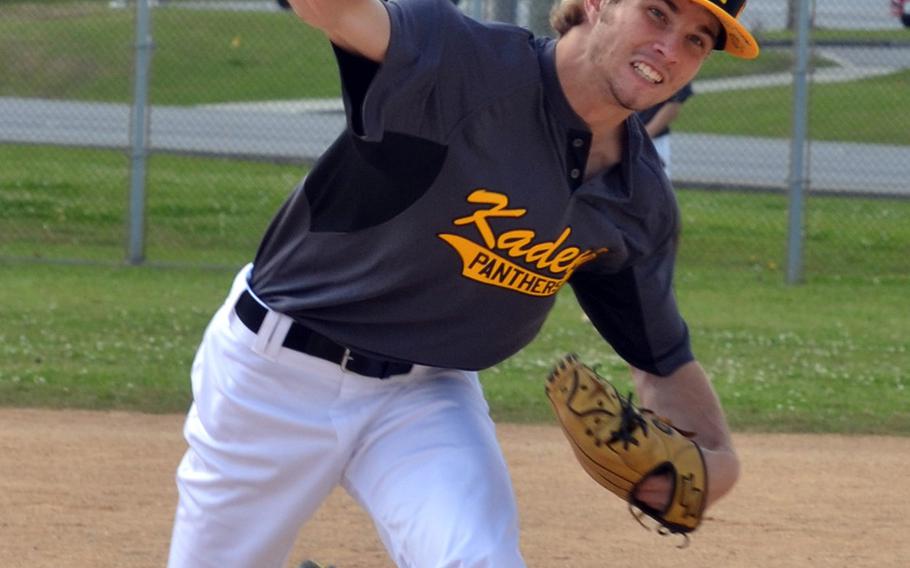 KADENA AIR BASE, Okinawa – Decisions, decisions. It's pretty much agreed by coaches, teammates, parents and the athlete himself that Justin Sego, a proven two-sport star, will continue on to play in college.
The questions being:
-- Will it be his football or baseball talent he takes to the next level?
-- What level will that be?
-- And might he possibly go somewhere to play both sports, at each of which he excels?
Those are the choices that Sego, a senior running back and baseball pitcher-infielder, has been weighing for months, as his senior year will soon come to an end and he'll earn his diploma on June 11.
Sego doesn't speak much about himself, other than to say he knows it would be tough to latch onto a Division I program, "but I know if I go to a lower division, then I'd be able to play right away."
Ask him what attracted him to the sports he plays or what has been the toughest part of choosing what to play and where, he soft-spokenly replies: "I don't know how to answer that. I love the game. I just hope to play."
"I've raised my kids to not brag about themselves," said Sego's father, Russ, 45, a Marine master gunnery sergeant at Camp Hansen. "It's not about them. Let other people talk you up. Justin won't ever talk about himself. He does his talking on the field."
And quite a bit of that.
He rushed 162 times for 1,519 yards and 16 touchdowns this season and propelled the Panthers to a 41-27 comeback win at Kubasaki for Kadena's record fourth Far East Division I title. In that game, he had 356 all-purpose yards and four second-half touchdowns.
"He's a natural for the slot position, and could easily play at the next level," said Sego's football coach of four seasons, Sergio Mendoza. Sego might have to bulk up a bit to play D-I, but "I know he can easily play NAIA or Division III or Division II right now.
"He has great hands, explosive speed, his work ethic is in the top 1 percent of whatever I've encountered."
On the diamond for the Panthers, Sego has batted .647 with nine extra-base hits, 15 RBIs, 20 runs, nine walks and just three strikeouts, a .705 on-base percentage, 1.147 slugging percentage and 1.852 OPS.
"He's an all-around baseball player," said Panthers assistant Boe Roberts, who played college ball at Austin Peay and for the Class A Kissimmee (Fla.) Astros of the Florida State League.
"You can put him at any position, very versatile, hits for power, hits to the opposite field, you can put him on the mound, he throws four different pitches, great base-running, guy takes advantage of any mistake that a team gives him, knows the game and just loves to play."
Two D-III schools in particular, Mendoza said, have been looking at Sego for both baseball and football. Sego said he might make up his mind by early May, but that could change.
It's hard, Sego acknowledged, to catch on to a D-I program, as he saw with former Kubasaki great Jarrett Mitchell, who finally succeeded in making the University of Arizona's roster on his second walk-on try.
Russ Sego said he's counseled his son, a 3.2-GPA student with a 1,400 SAT score, a devout member of the Church of Latter Day Saints and an Eagle scout, on the benefits of starting small, "especially coming from an area like this where you don't have scouts," he said. Class sizes are smaller, education comes more from professors than graduate assistants, the chances of playing – and starting right away – are far better and the D-I programs do scout the smaller schools looking for the next big thing, the elder Sego said.
"Playing in college at any level is an accomplishment," he said. "Get a foot in the door, become a standout and show your stuff at that (lower) level, maybe other schools will take notice."
While Mendoza feels Sego can succeed at football, Roberts believes Sego "can take baseball a long way," possibly D-I, "maybe not his first year, possibly redshirt him, probably be an everyday player by his junior year, with his work ethic, his drive and passion for the game."
Twitter: @ornauer_stripes
---
---
---