'Sanford & Sons' rally late vs. Hansen, clinch USFJ-AFL South
---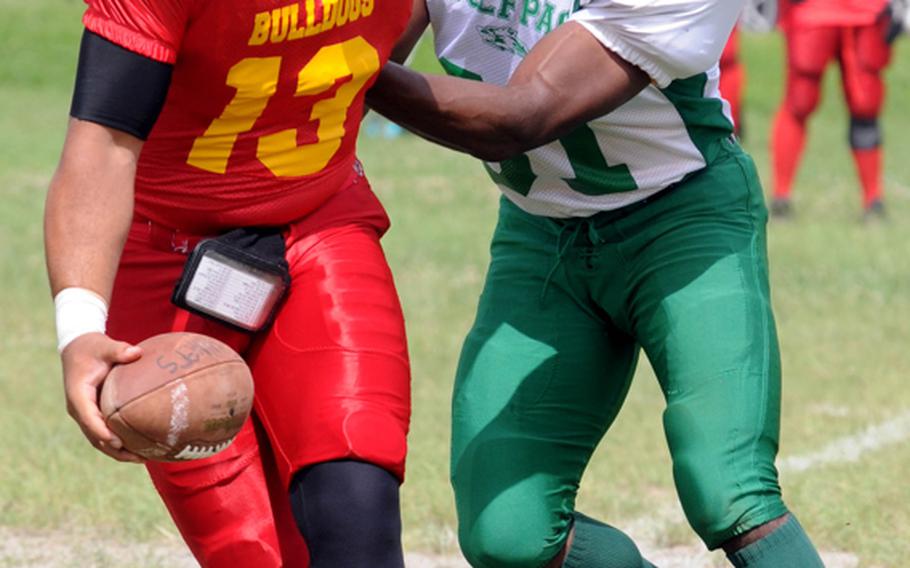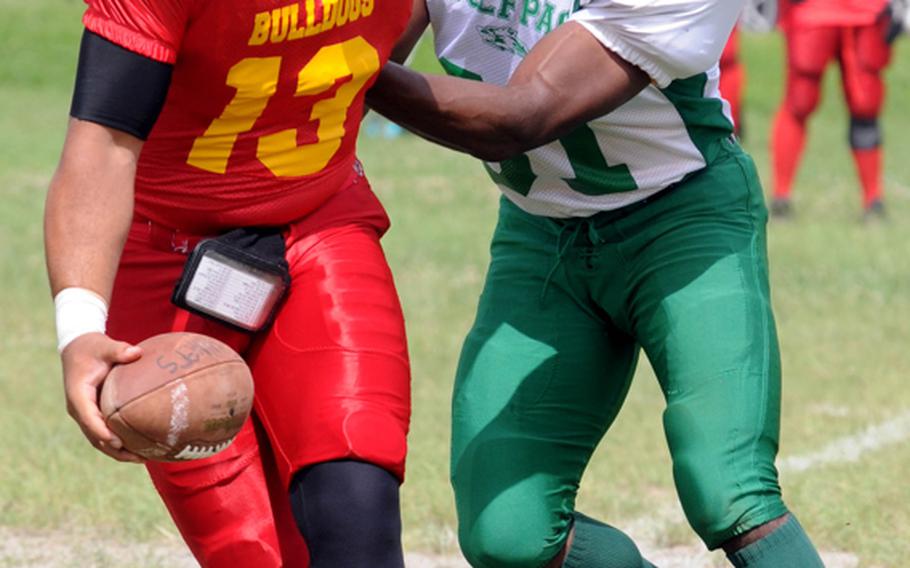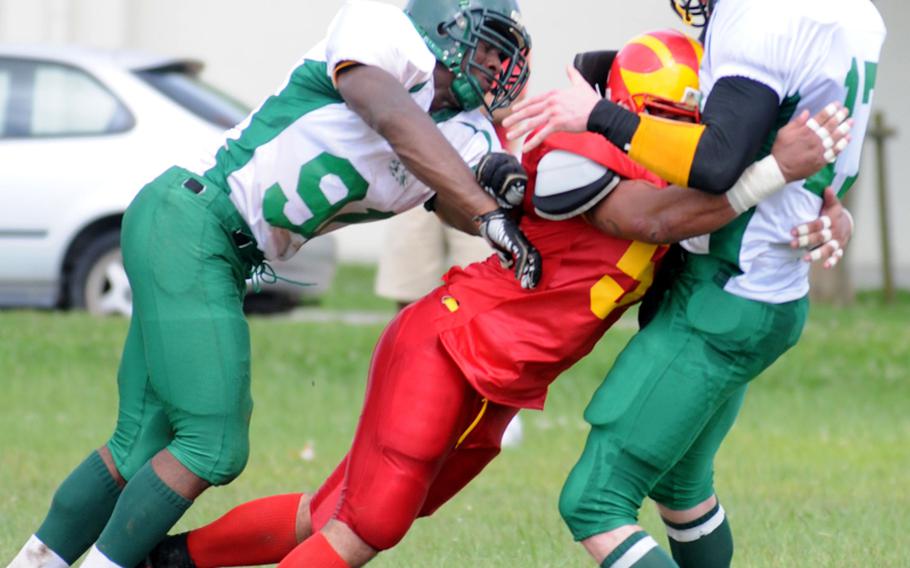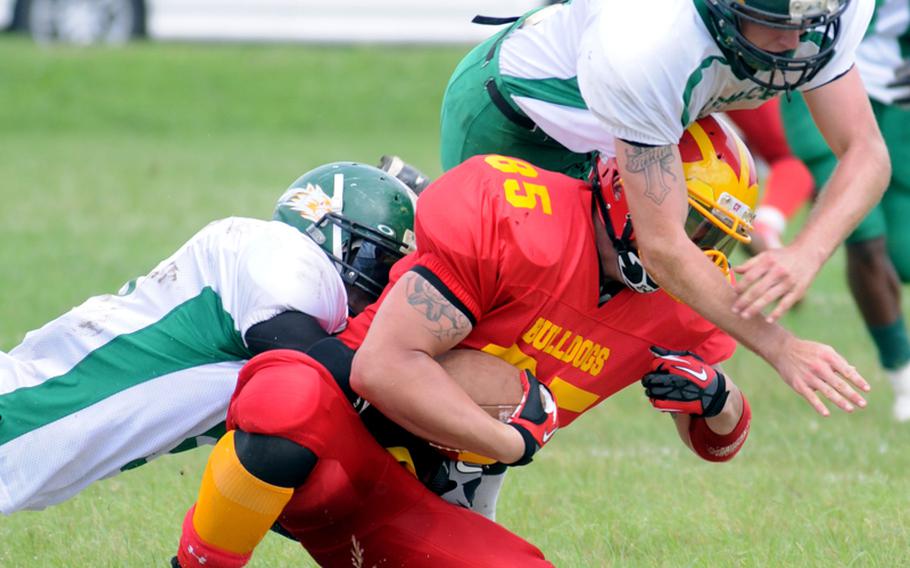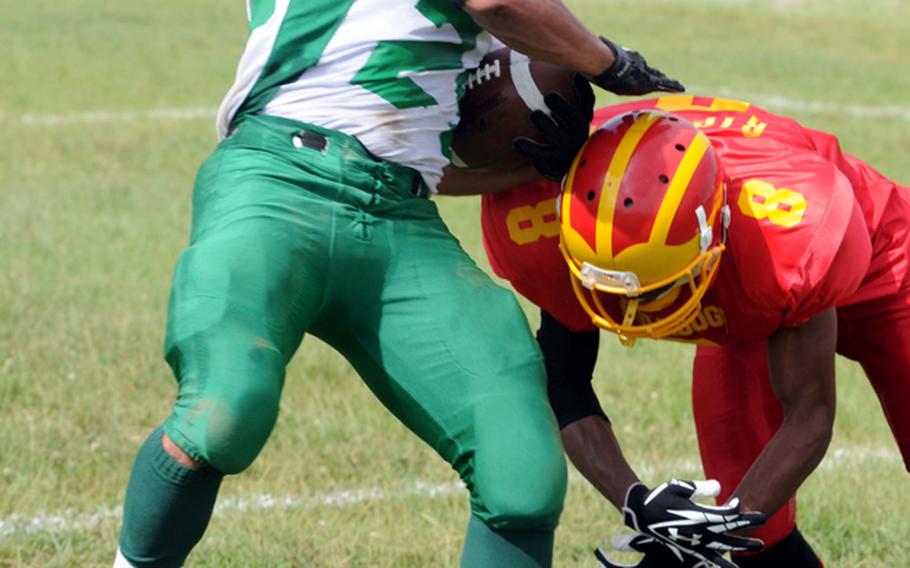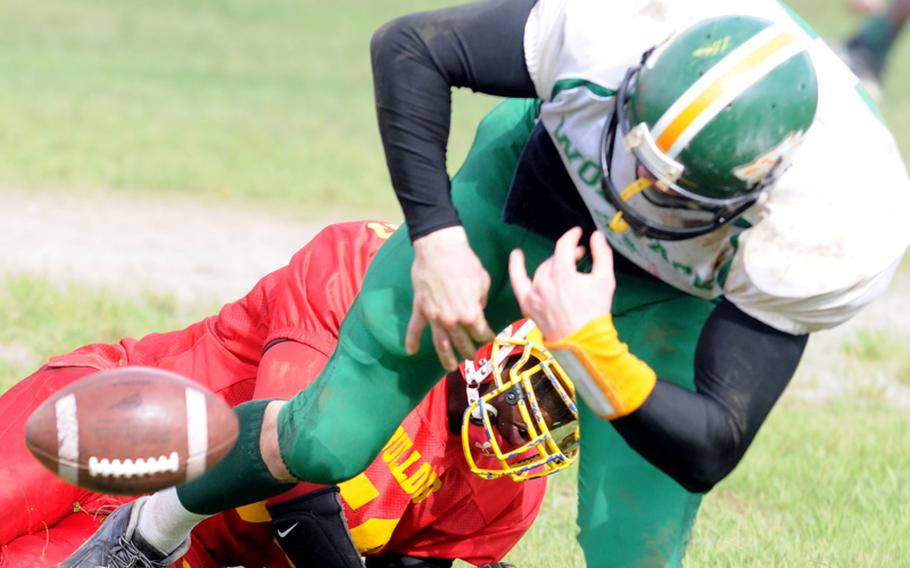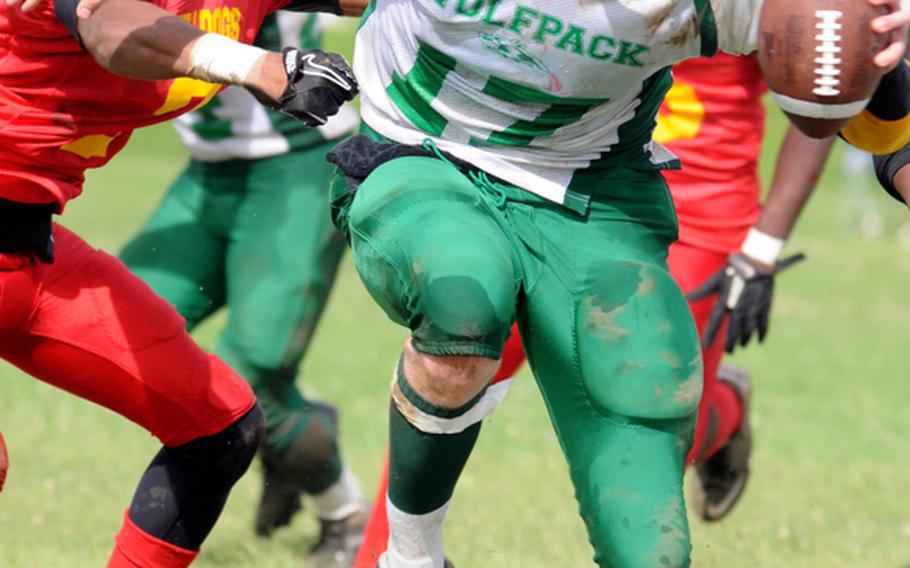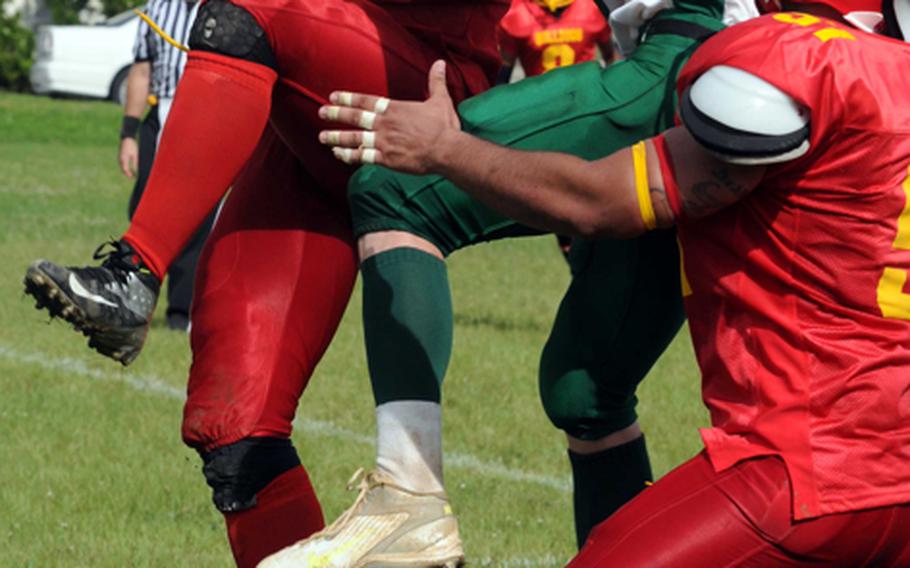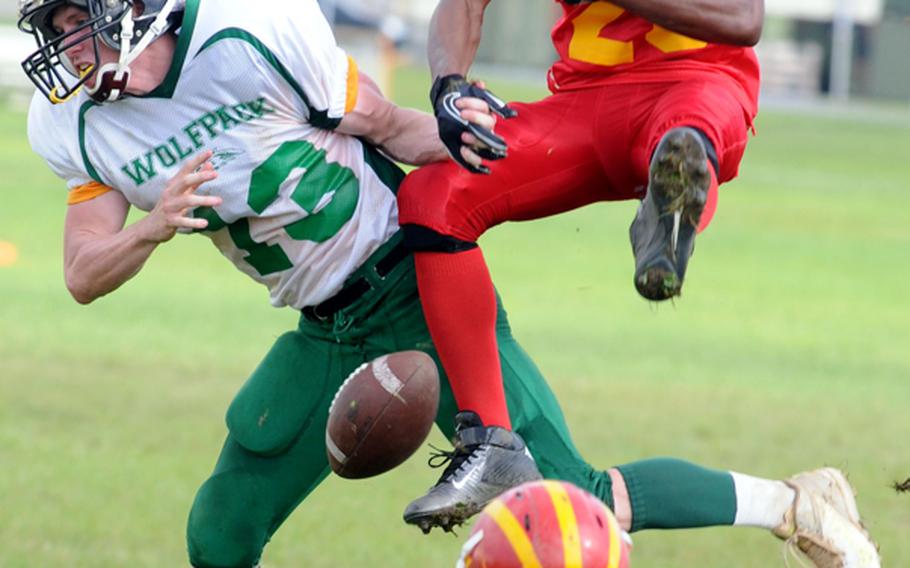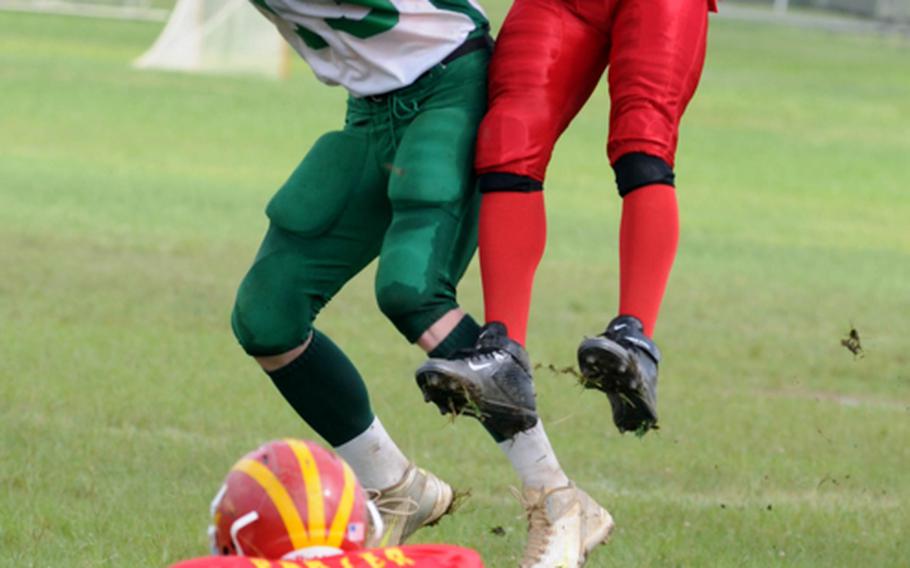 CAMP FOSTER, Okinawa – Just when all appeared lost for defending champion Foster, "Sanford & Sons" struck the right touchdown pass-and-catch note.
Quarterback Sanford James found receiver Allein Powell streaking down the right sideline into the end zone for a 30-yard TD as time ran out, rallying the Bulldogs past Camp Hansen 13-8 and clinching the U.S. Forces Japan-American Football League South Division title for Foster.
"I saw the weak link in the [Hansen] defense and I attacked it," James said. His Bulldogs took possession with 54 seconds left at the Foster 13-yard line. He ran four times for 57 yards, then spiked the ball incomplete at the Hansen 30, setting up the 11th-hour touchdown.
Foster coach Gerald Sharber called "All Flies," on which five receivers would flood the end zone. Seeing that Powell would be one-on-one with Hansen cornerback Romeo McClarry, "I told him (Powell) he had to make a play. It was now or never. And he took on the challenge," James said.
"My quarterback looked at me and told me he needed me to go get 26 (McClarry), and I said, 'I got this, J-Bo,'" Powell said. "He just threw me the ball and there it was, the perfect pass."
"That's all it came down to, and they made the play when they had to make it," Wolfpack coach Jason Stravers said.
With the victory and the division title, Foster gets a first-round playoff bye and on July 14 will host the winner of the July 7 Hansen vs. Kadena first-round game. The July 14 winner hosts the Torii Bowl title game on July 28.
"Now, the real season starts," Sharber said. "We have a whole lot yet to work on."
Powell's TD catch was a thrilling end to an otherwise sloppy contest, played on a Gunners Field made muddy by weeks of rain, on which each team struck in the first quarter; Hansen's Damon Monk passing 69 yards to Travis Killing and James 52 yards to Tony Moses.
The rest of the way was a battle of missed opportunities, penalties, quarterback sacks and turnovers; the teams combined for 10 turnovers, 10 sacks and 16 penalties for 135 yards.
Rohan Paul and Royce Platt each had two sacks and Zach Zindler a fumble recovery and an interception for Foster, whose secondary got touched for 197 yards on Monk's 9-for-25 passing, but held the Wolfpack to 49 yards on 29 carries. Killing had 113 yards on three catches for Hansen.
"We played lights out," Paul said of Foster's defense. "That's how it's going to be the rest of the season."
Moses caught two passes for 84 yards and Powell three for 68 from James, who finished 7-for-28 for 172 yards. He also rushed 18 times for 58 yards and Foster finished with 329 offensive yards.
if(typeof(dstb)!= "undefined"){ dstb();}
if(typeof(dstb)!= "undefined"){ dstb();}
if(typeof(dstb)!= "undefined"){ dstb();}
if(typeof(dstb)!= "undefined"){ dstb();}
if(typeof(dstb)!= "undefined"){ dstb();}
if(typeof(dstb)!= "undefined"){ dstb();}
if(typeof(dstb)!= "undefined"){ dstb();}
if(typeof(dstb)!= "undefined"){ dstb();}
if(typeof(dstb)!= "undefined"){ dstb();}
if(typeof(dstb)!= "undefined"){ dstb();}
if(typeof(dstb)!= "undefined"){ dstb();}
if(typeof(dstb)!= "undefined"){ dstb();}
if(typeof(dstb)!= "undefined"){ dstb();}
if(typeof(dstb)!= "undefined"){ dstb();}
if(typeof(dstb)!= "undefined"){ dstb();}
if(typeof(dstb)!= "undefined"){ dstb();}
if(typeof(dstb)!= "undefined"){ dstb();}
---
---
---
---