Samurai specialize in late wins; Macias earns Player of Year
by
Dave Ornauer
June 2, 2017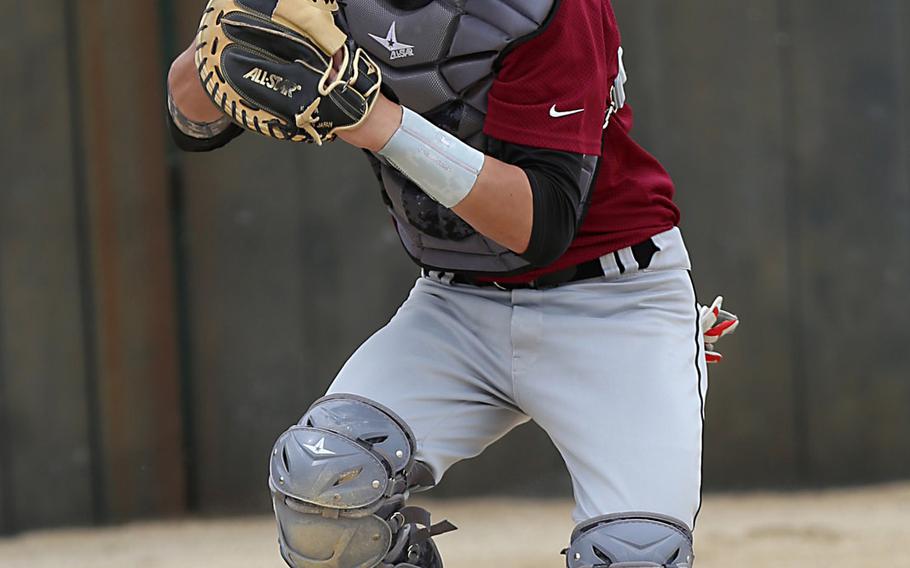 On the surface, a win-loss record of 15-1 with two tied games might indicate a team that thoroughly dominated its opponents. And to have three pitchers on the roster who'd be considered aces by most measures might serve to reinforce that.
"It was not," said junior Garrett Macias, one of those three ace pitchers who nonetheless found the path to Matthew C. Perry's first Far East Division II title a rough one.
But despite a roster that featured six first-year players and a history that ran decidedly against the Samurai, both Macias and his father, coach Frank Macias, said they never lost hope.
"Our season was about four parts hard work and one part luck," the younger Macias said. "I knew we were playing well. I kept saying that sooner or later, something's going to fall our way."
And they did. Perry saved their best for last, winning the D-II semifinal and title games in comeback fashion by one run each. Macias was named tournament Most Valuable Player for the second time in three years and has been named Stars and Stripes Player of the Year.
"He was a huge example to the younger kids," Frank Macias said of his son. "He worked harder than anybody else and it inspired them to work harder and be better than anybody else."
It was easier said than done, though. For starters, the Samurai only had 12 on the roster, six of whom had never played before.
"Getting them to believe that we were the best in Division II was the hardest part," Garrett Macias said. "Once they were convinced of that, things got better for us." Of the team's 15 wins, three were by two runs and five by one run, including the two comeback wins to cap the Far East tournament.
Only three times did the Samurai score in double digits, one of them in an 11-9 win over two-time defending D-II champion Yokota – the team that beat the Samurai in the last two DODEA-Japan tournament finals and last spring's Far East D-II title game.
It was a weekend sweep, by scores of 2-0, 7-5 and 9-8, of Nile C. Kinnick that served as the season's defining moment, Frank Macias said. And the middle victory, a comeback win, would serve to define their performance at Far East. "We felt that would be the turning point, when the kids began to believe. And it turned out, that was a precursor," Frank Macias said.
Through it all, the younger Macias kept plugging away, both at the plate and on the mound.
He went 4-0 in eight starts, allowing 12 hits and 16 walks while striking out 30 in 16 innings with a 1.75 ERA.
Macias batted a team-leading .698 with a .750 on-base percentage, 1.116 slugging percentage and 1.866 OPS. He hit the Samurai's lone home run, shared the team led with eight RBIs, walked nine times and did not strike out once all season. "It's almost mathematically impossible to hit .700 in a season. People looked at that and said, 'This can't be right,'" Frank Macias said.
At Far East, the Samurai won the semifinal and final against their chief tormenters the last two years, Yokota, by scores of 3-2 on May 16 and 2-1 May 17. In each game, Perry led off the seventh with a double, "and I said, this is where we were going to win," Garrett Macias said.
"He was tired of finishing second" to Yokota, Frank Macias said of his son. "He took it upon himself, lit a fire under the team. Without him, we don't hoist the banner."
With the school's first banner hanging in the gym, there's the senior season left to consider. "Another year to go," Garrett said. "This was the highlight of my career, but I'm looking forward to next year, top that and do something even bigger."
ornauer.dave@stripes.com Twitter @ornauer_stripes