Player of Year Yamaguchi, CAJ adjust to new division, win title
by
Dave Ornauer
June 2, 2017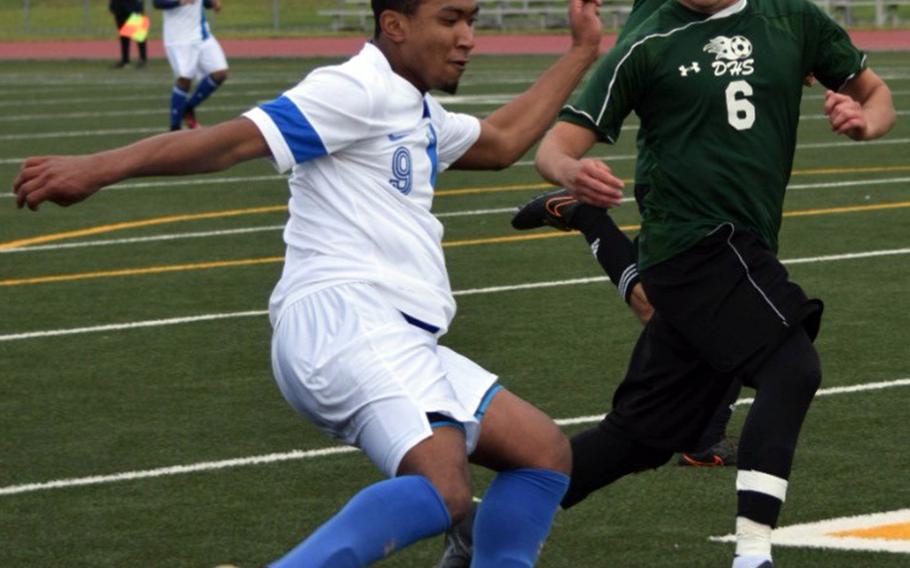 TOKYO – Lawrence Yamaguchi and Christian Academy Japan's boys soccer team entered the season feeling mostly unfulfilled.
The Knights had won five Far East titles, but none in the past four years, when they were runners-up twice and took third twice in Division I. And to top it off, CAJ was moved to Division II for 2016-17.
"Coming into the season, some of the players including me, we were kind of down," said Yamaguchi, the senior forward who was there when the Knights lost the 2016 championship game 2-0 to Kubasaki. "We wanted redemption. It was kind of a downside for us."
The Knights achieve some redemption in one major respect – they ended their Far East title drought, routing Yokota 7-0 in the D-II final, capping a 14-1-1 season. CAJ outscored its foes in the tournament 63-1.
"That was surprising, considering it was a finals game, and the semifinal also because it was 9-0," Yamaguchi said of their semifinal rout of OCSI.
Yamaguchi was named tournament Most Valuable Player and has been named Stars and Stripes' Pacific boys soccer Player of the Year as a result.
The Knights dropped in the enrollment category, but Division II has quality teams, including Matthew C. Perry, six times the Far East D-II champion, along with perennial contenders Zama, Yokota and Okinawa Christian International.
Deep down, the Knights still felt they were a D-I team, but coach Steve Hall said he repeatedly told his players: "You're still going to play good teams. These are teams that will be competitive."
CAJ also had to shuffle some returning pieces from that disappointing 2016 D-I runner-up.
"I think we all knew it would be a tough season. We couldn't take anybody for granted," Yamaguchi said.
Though on paper a 14-1-1 record looks dominant, the Knights had their hands full throughout the season with the likes of Yokota, which lost twice in the regular season but by 4-2 and 2-1 scores.
"We had a lot of close games. We needed to work hard to get ready for Far East," Yamaguchi said.
As a result, heading into the D-II final, "we knew we couldn't take Yokota lightly," he said. They did not, scoring all seven goals in the first half.
From the rebuilding process to hoisting the banner, Yamaguchi remained the team's centerpiece. And though he scored 27 goals this season, finishing with 73 for his career, he also dished out 13 assists this season.
"He was willing to pass the ball," Hall said. "He was not afraid to give up the ball. It helped [teammates'] game, but it also helped his game. It was by no means a one-man team."
Now, Yamaguchi moves on to California-Irvine, where he hopes to continue playing. If there's a message he hopes to leave behind for those who follow in CAJ blue and white, he said it's to keep working.
"It's important to work hard and not slack off," he said. "You can't take anybody for granted. You have to be ready."
ornauer.dave@stripes.com Twitter @ornauer_stripes