Perry wins D-II showdown with Humphreys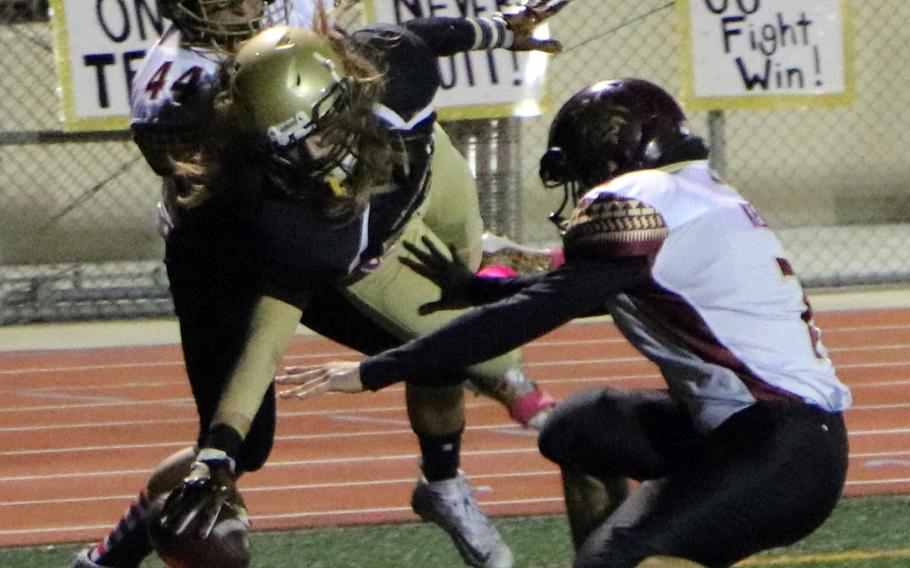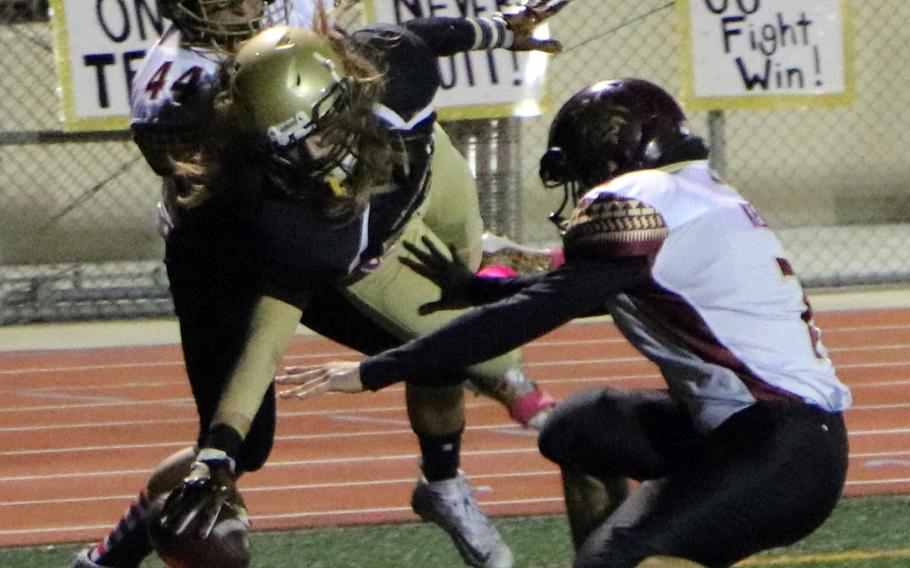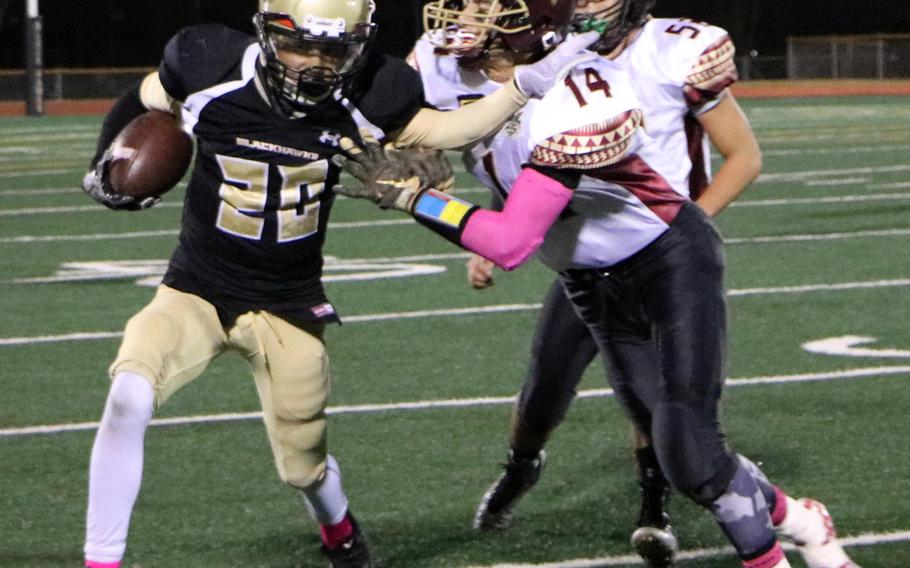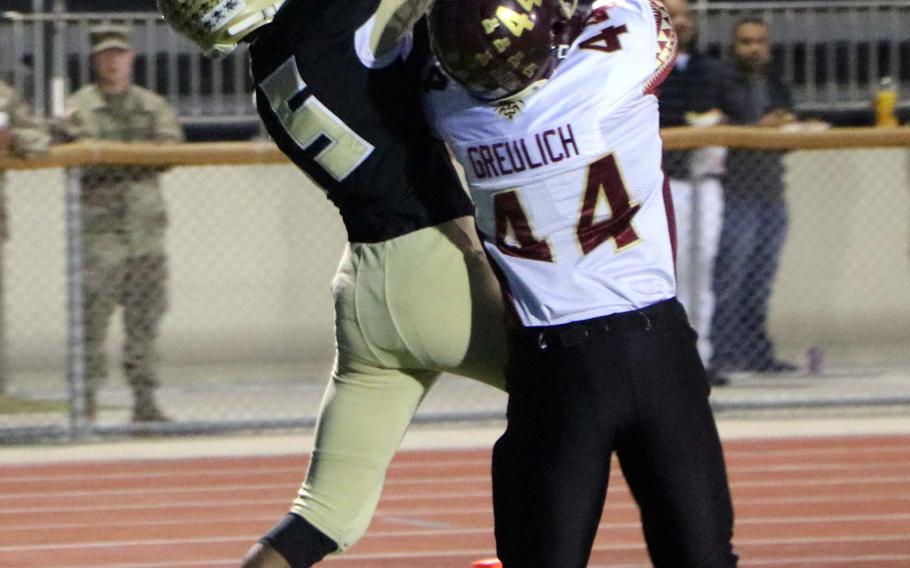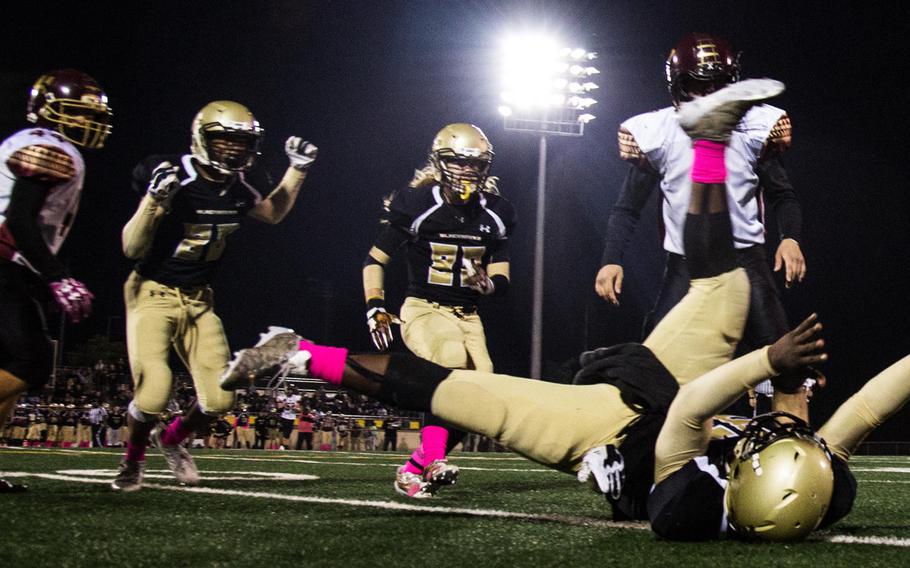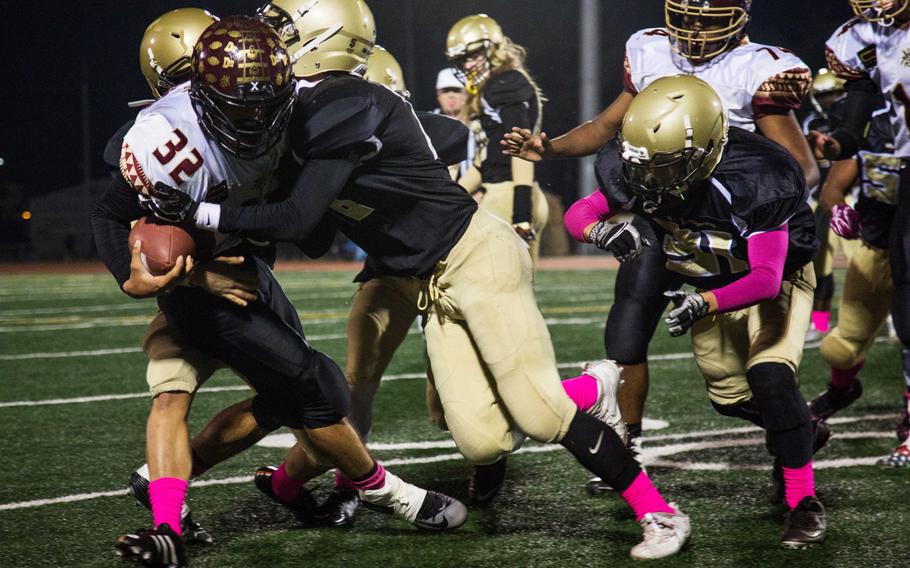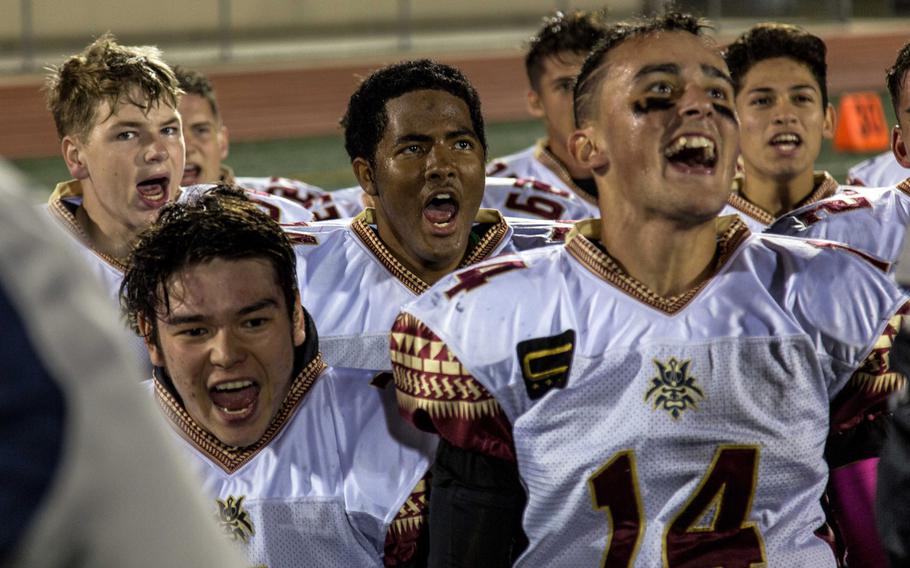 CAMP HUMPHREYS, South Korea – In what could serve as a preview of the Far East Division II football final, two late defensive takeaways proved to be the difference.
Andrew Borrero picked off a pass to set up his own touchdown run and Jon Keith intercepted another pass late to help Matthew C. Perry run out the clock and preserve a 20-10 win Friday at Humphreys.
"Andrew took the team and put it on his back," Samurai coach Frank Macias said. "He stepped up big when we needed him."
It was a much closer margin of victory for the Samurai than their last meeting, Nov. 5, 2016, when the Samurai routed the Blackhawks 44-6 for their first D-II football title.
Both teams' defenses made the rematch much closer, Macias and Blackhawks coach Steven Elliott said.
"We're two very evenly matched teams" this time around, Macias said, adding that the Blackhawks defense forced Perry quarterback Garrett Macias, his son, to change many plays at the line.
"Humphreys is very tough. It was rough all night. Their defensive front is tough. They made Garrett audible a lot. We told the seniors that they had to step up if we were going to win, and they did."
Borrero's interception came with just more than six minutes left. He returned it 39 yards to the Blackhawks 1-yard line, from where Borrero ran it in to increase a 14-10 third-quarter margin to 20-10.
Three minutes later came Keith's turn. He picked off a Miles Brice pass and ran it back 23 yards and the Samurai ran out the clock from there.
"We showed the heart of a champion," Macias said.
Perry has already punched its ticket for a second straight trip to the D-II final. That takes place the weekend of Oct. 27-28. Humphreys could host Perry again if it wins next Friday at Daegu.
"They're a very good team," Elliott said of the Samurai. "With the team we have, the sky is the limit. Come that weekend, it could be another interesting game."
For the Samurai, Borrero finished with 41 yards on 16 attempts. He also had a fumble recovery. Elijah Lebron had 59 yards and a touchdown on 17 carries. Dylan Ernst ran back a kick return 85 yards for a touchdown.
That helped offset Miles Brice's 7-for-17 for 139-yard passing evening, including a 38-yard scoring pass to Sh'voda Gregory Jr. with 6:18 left in the first quarter. Elayna Snyder kicked a 25-yard field goal with 9:46 left in the third quarter.
David Key had 149 yards on 11 carries plus 12 tackles, two for losses. Owen Williams had 15 tackles and a forced fumble. Devin Rix had 13 tackles, one of them a sack. Joel Tinsley had 10 tackles.
The Blackhawks could have made it closer; a return touchdown got called back on a penalty, Elliott said.
"We had penalties that hurt us, and they found some holes that they exploited," Elliott said.
Humphreys' game Friday at Daegu kicks off at 6 p.m. Perry closes its regular season at home on Friday against Robert D. Edgren; kickoff is at 7 p.m.