Perry tennis players recount harrowing flight to Okinawa
by
Dave Ornauer
November 5, 2012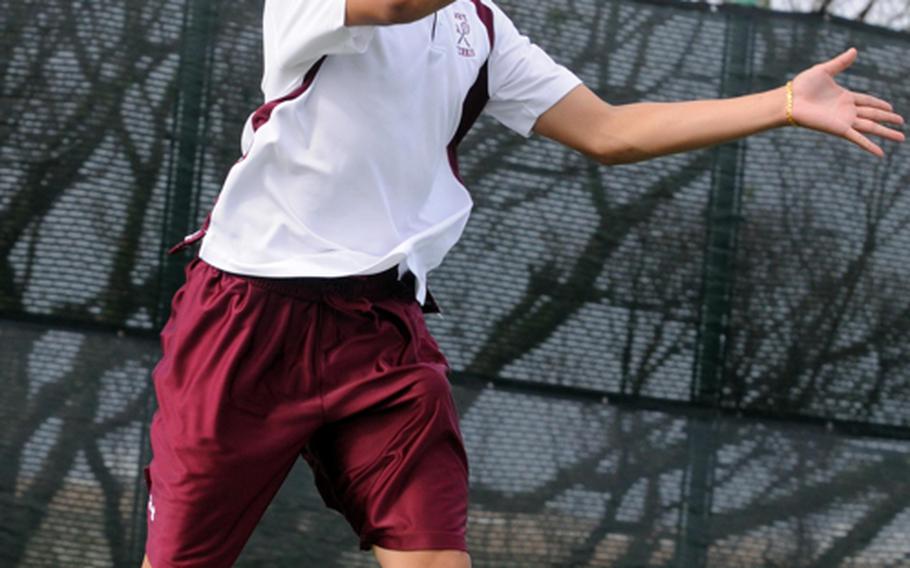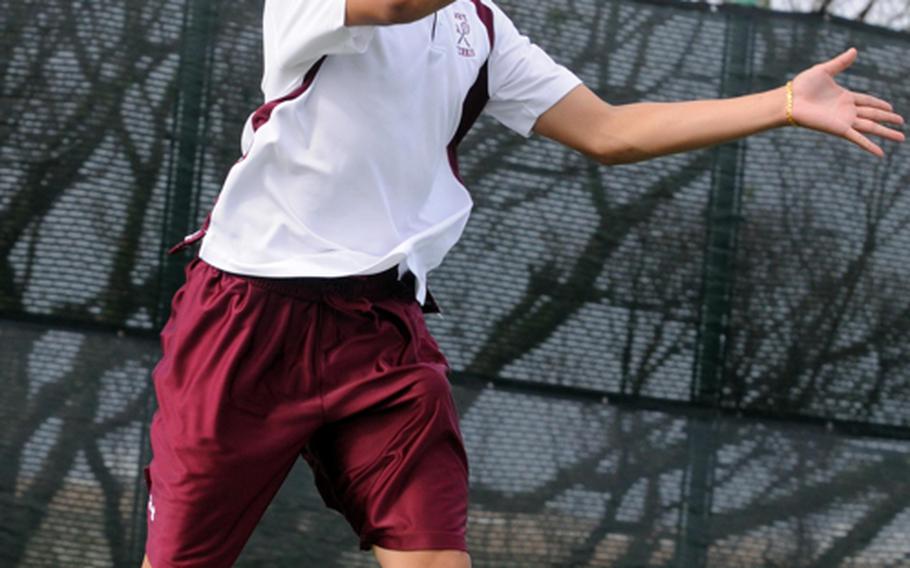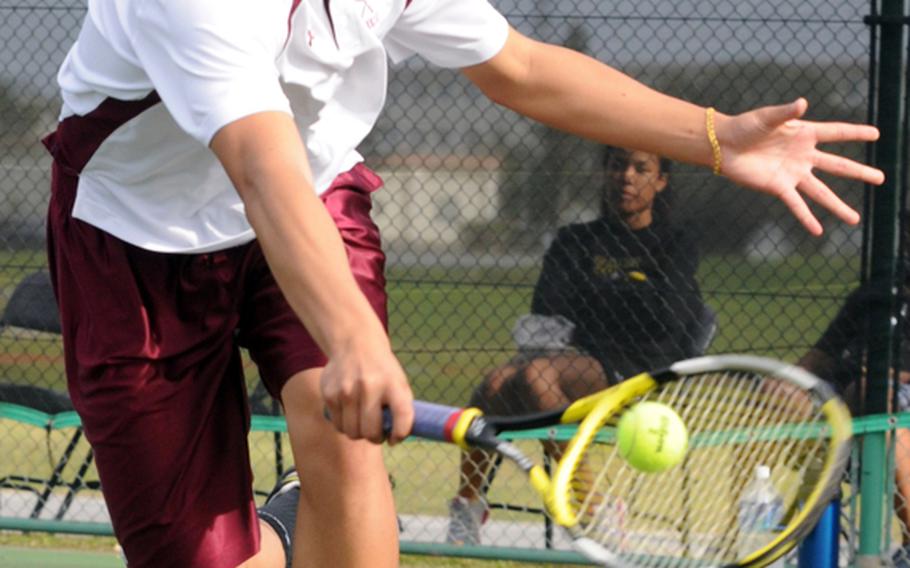 KADENA AIR BASE, Okinawa – Jon Cadavos trotted up to the net after his 8-2 first-round victory Monday, offering his hand and telling his opponent Daniel Boyle of Zama American, "good match."
The Matthew C. Perry junior might also have been smiling with relief at being on the ground and playing tennis at all, instead of where he was a day earlier, pitching around in the air on final approach to Okinawa.
"It was like a life-or-death situation," Cadavos recalled of All-Nippon Airways Flight 977 from Hiroshima, which carried him, five teammates and coach Mark Lange, bound for Kadena and the four-day Far East High School Tennis Tournament.
Trying to land around 5 p.m. Sunday in what an ANA spokeswoman later termed "low visibility due to a thunderstorm," 977 pitched and yawed from side-to-side, then suddenly dropped toward the Naha Airport runway. Lange estimated the plane was about 100 feet from crashing.
"I was scared," Lange said. "It was bad. I thought we were done."
"I was in the window seat, so I saw everything," said Lange's son, Gaku. "Not the best way to start the week."
"I didn't know what was happening. It felt like normal turbulence, until somebody said we were about to hit the ground. Then, we were terrified," Perry's Anne Naseer said.
An ANA spokeswoman told Stars and Stripes by phone Monday that the crew of the flight, which carried 105 passengers, reported no turbulence.
"We don't acknowledge that there was turbulence … although there might have been some passengers who felt the plane shaking because of the weather at the time," the spokeswoman said.
The aircraft circled for one more attempt, which the pilot, whose name ANA did not divulge due to privacy concerns, aborted. The plane then flew to Kagoshima in southeastern Kyushu, where Lange pulled the team off the plane and bargained for hotel and meal vouchers from ANA.
"They were going to fly us back to Hiroshima," Lange said. "My players were all scared, some were sick. I told the crew we were not continuing to Hiroshima. If we had, we'd have had to go back to Iwakuni, then back to Hiroshima. We wouldn't have gotten here until late tomorrow night."
After an overnight stay in rainy Kagoshima, the team was booked aboard ANA Flight 475, which arrived at Naha around noon Monday. The team went straight to the tournament site, Risner Tennis Complex, and began play around 2:20 p.m.
"Thank God. Glad to be on the ground," the older Lange said.
Two Perry players, Sam Cadavos and Danielle Shoebrook, were already on island, having flown from Misawa Air Base following the DODDS Pacific Far East JROTC drill competition.
"I was surprised, scared for my brother especially," Sam Cadavos said about hearing the news.
"I wasn't expecting anything like that," Shoebrook said.