Perry rallies past Osan to set up D-II final field
---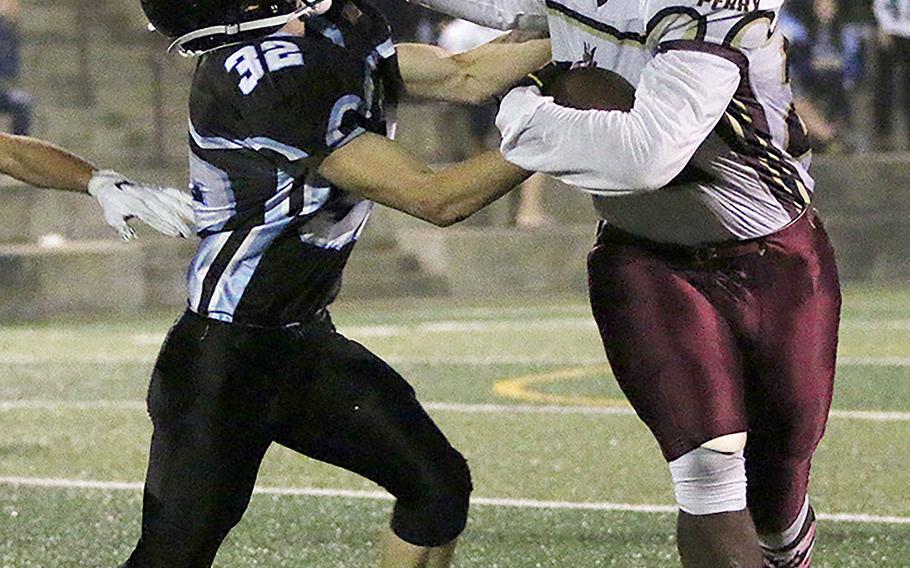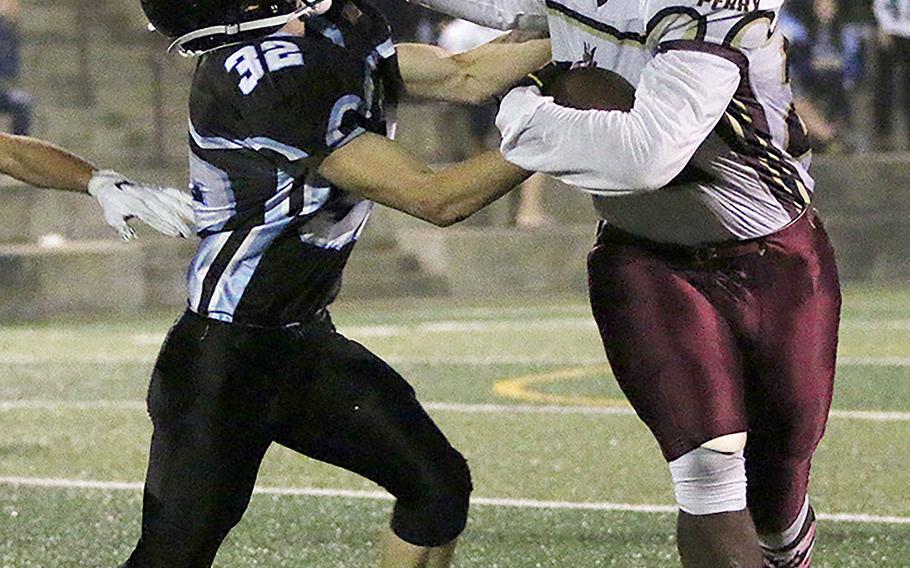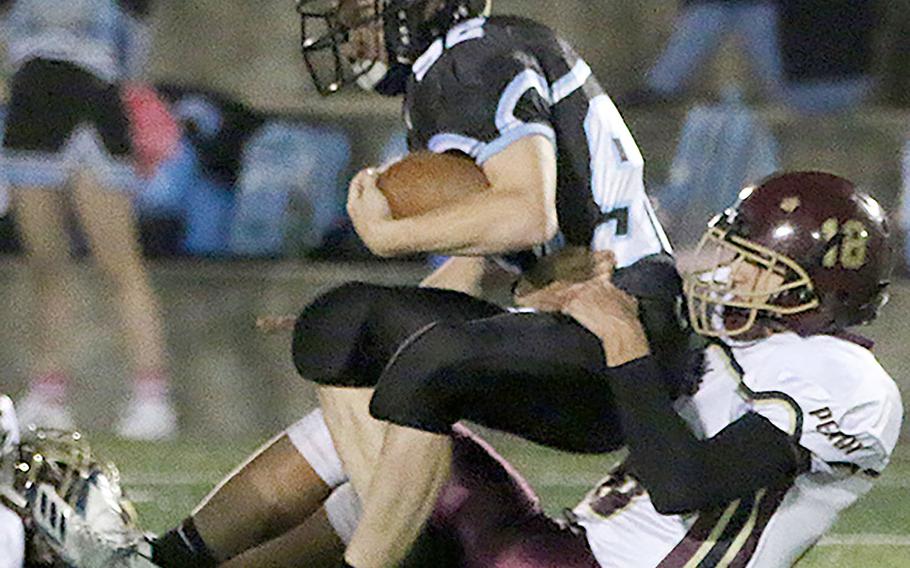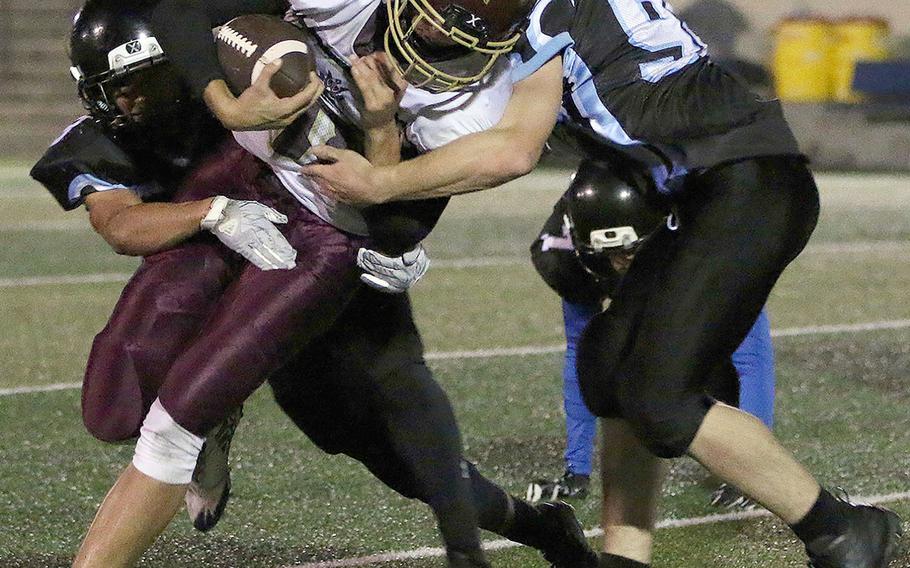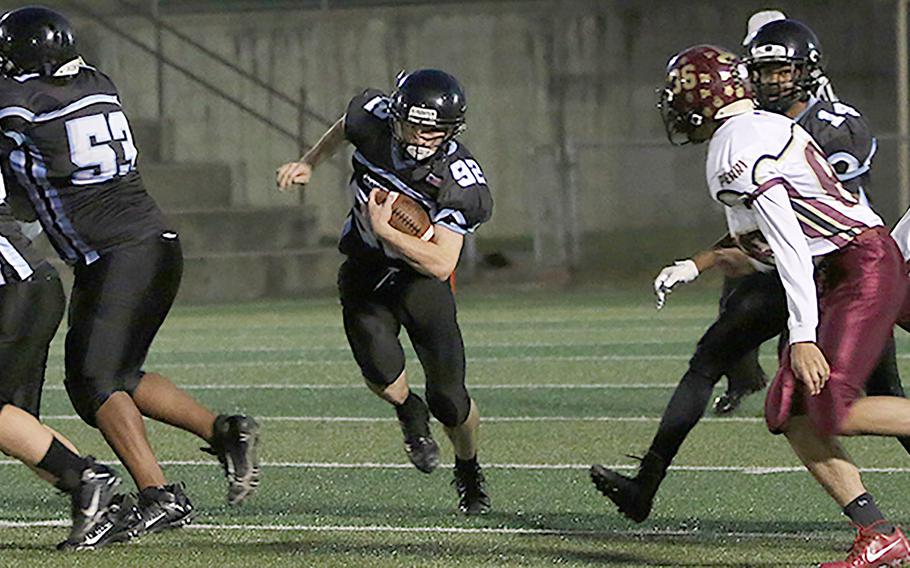 OSAN AIR BASE, South Korea – Defending champion Osan did its best to neutralize Matthew C. Perry's leading ground gainer Marshall China. So Matthew Torrecillas took over for the Samurai – and rallied them to a berth in the Far East Division II football final.
Torrecillas scored two touchdowns, kicked the game-winning field goal in the third quarter and made a game-sealing interception in the closing seconds as Perry dethroned the defending champion Cougars, rallying for a 16-14 victory Saturday at Cougars Field.
"They are big and physical," Samurai coach Frank Macias said of the Cougars' defense. "They took away China and Torrecillas was an animal tonight. He's a senior who wanted to play in the championship again."
And play in the final the Samurai will, against Zama, whom the Cougars beat in the 2018 final 24-20 last Nov. 10 at Zama. The Samurai (6-0 overall, 4-0 D-II) visit the Trojans next Friday at 7 p.m., with the winner to host the D-II final on Nov. 8 and the loser traveling to the final.
Saturday's loss eliminated the Cougars from a shot at repeating their title. "This was the ultimate heavyweight fight and Perry got the decision," Osan coach Jerome Learman said. "Nothing for us to hang our heads about. Unfortunately, somebody had to lose."
Torrecillas put the Samurai ahead 7-0 with a first-quarter touchdown run, but the Cougars replied with a 52-yard scoring pass from Bryson Goldsmith to Jalen Grant in the second quarter. Osan hit the two-point conversion, making the score 8-7, which held up at halftime.
Jacob White ran 21 yards for a third-quarter score, but the Cougars missed the two-point conversion and led 14-7. Torrecillas responded with another touchdown run to cut it to one point, then hit a 27-yard field goal as time ran out in the third quarter. That capped the scoring.
"We were on the ropes at halftime," Macias said. "But the kids battled back. It's hard to beat a champion. Learman has that nine-man (format) figured out. It'll be nice to get back to playing 11-man format next week."
Each team had its chances in the fourth quarter, but couldn't cash in. Torrecillas' interception halted the Cougars' last-ditch drive at the 2-yard line with 26 seconds left and the Samurai ran out the clock.
"Osan played with the heart of a champion tonight," Macias said, adding that this was the "best game we've played in" since the Samurai's 30-28 win at Yokota on Sept. 29, 2017, a game that decided the Japan representative in the D-II final.
The Cougars (2-2) have two more home games, Friday at 6 p.m. against Daegu, then a makeup game on Nov. 1 against Yokota; that was originally scheduled for Oct. 5, but postponed by Typhoon Hagibis.
---
---
---
---