Prep roundup
Perry girls hand Zama first soccer loss
---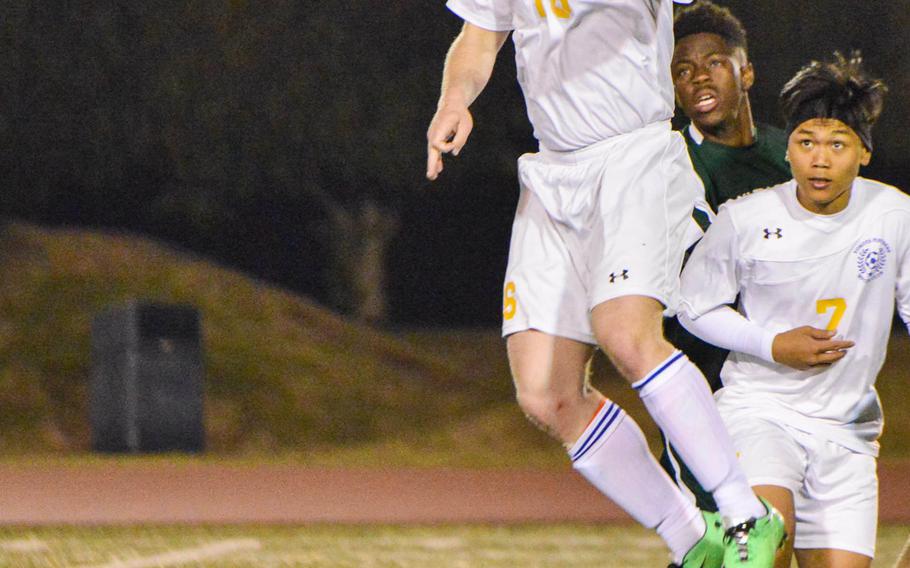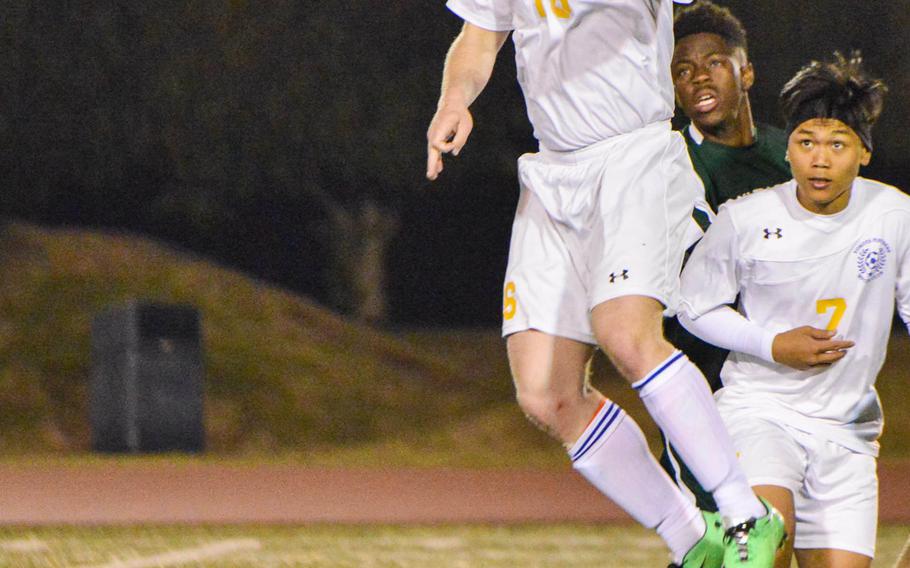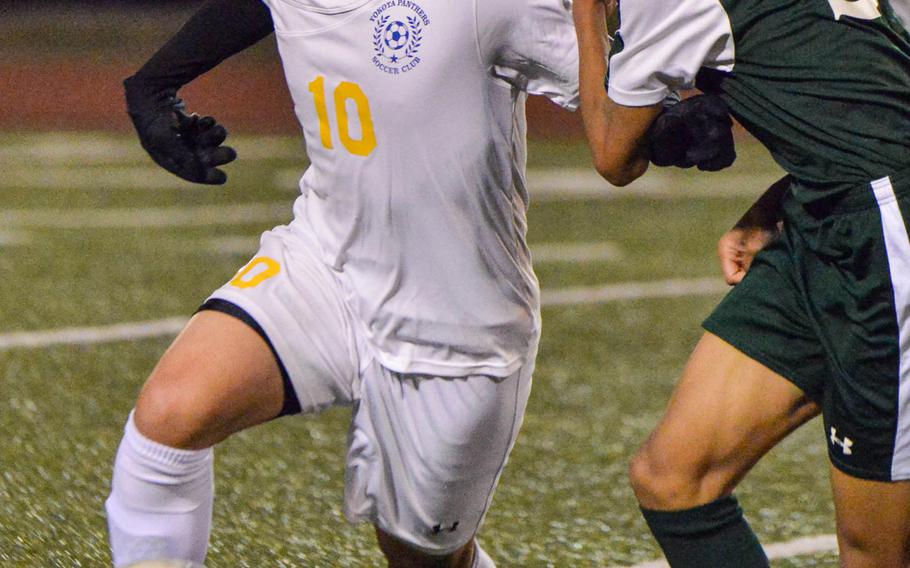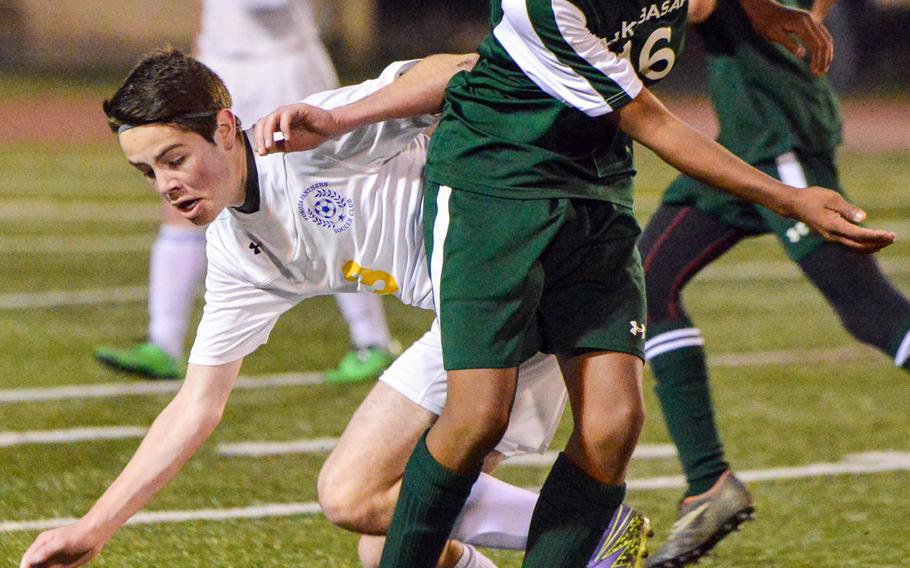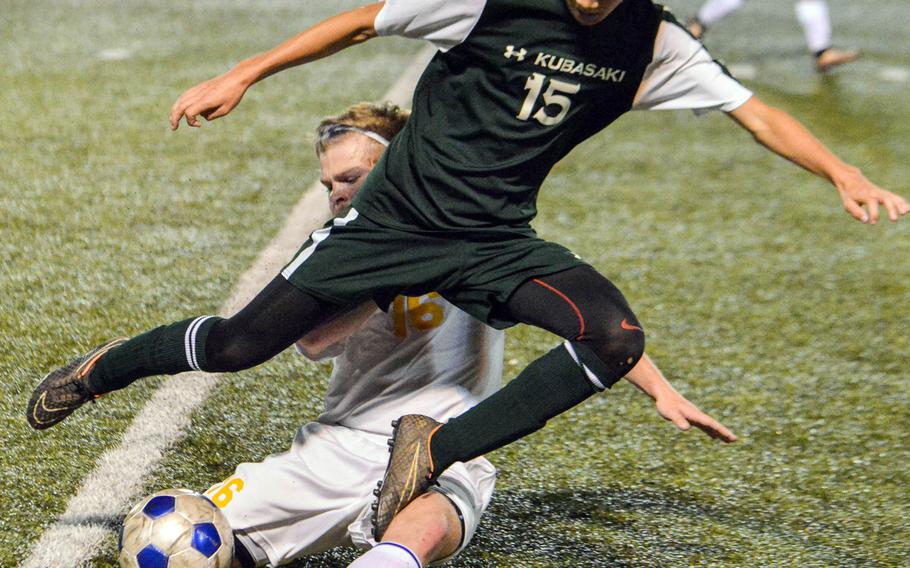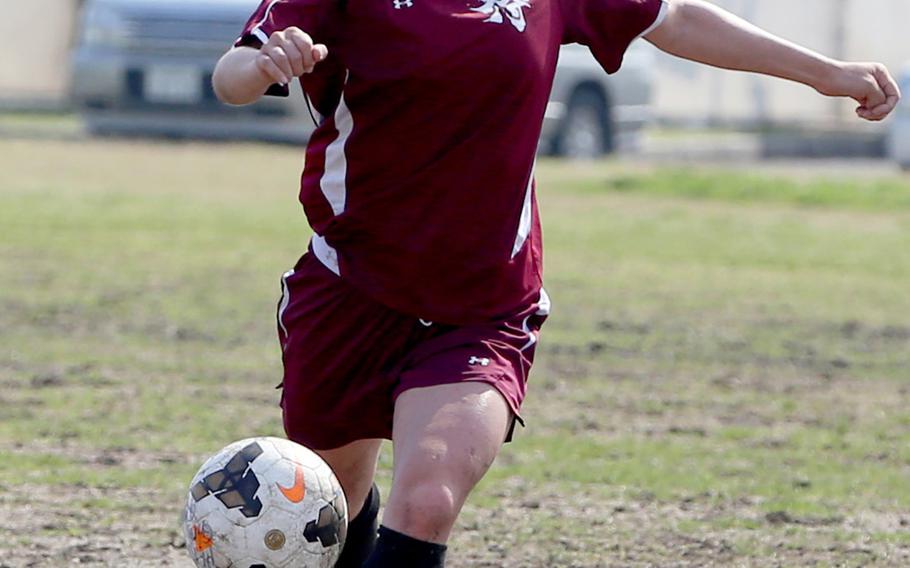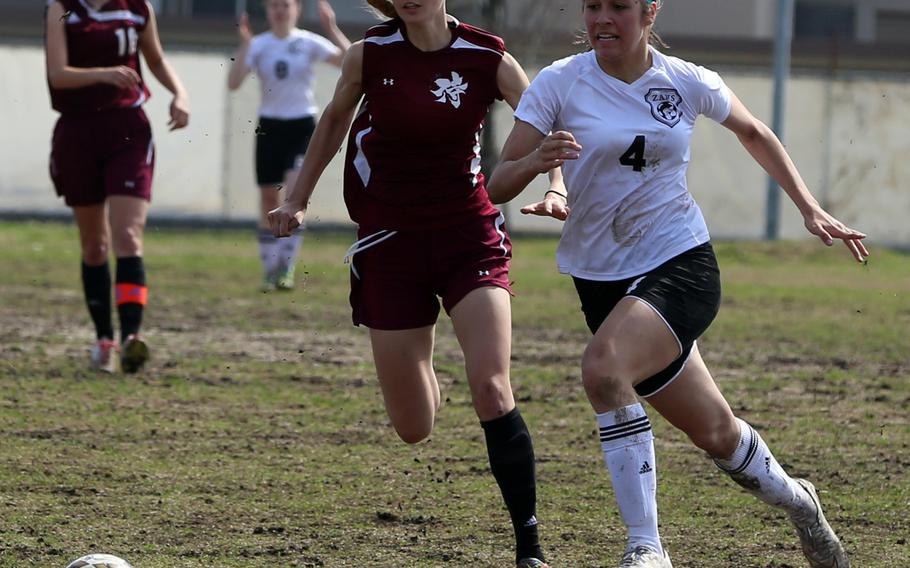 They entered this weekend's two-match series unbeaten and a combined 14-0-2, and the battle between Zama and Perry's girls soccer teams proved to be as tight as expected.
The visiting Trojans and host Samurai battled to a 4-4 draw on Friday at the turfed Kuga Field, 40 minutes from Marine Corps Air Station Iwakuni. Naomi Ziola's unassisted second-half goal proved to be the difference Saturday as Perry edged Zama 2-1 on muddy Samurai Field.
Both coaches said their teams could take away plenty that will make them better as the DODEA-Japan tournament approaches April 21-23 at Yokota, then the Far East Division II Tournament May 16-19 at Iwakuni.
"Going down the road now means we have to keep up our standard, improving every game and learning from the other teams what they do to try to beat us," Samurai first-year coach Tige Tarleton said.
He called the Trojans the "most physical" competition the Samurai (8-0-3) have had to this point. "Both of us were definitely passionate about winning," Tarleton said.
Ziola had three goals on the weekend and Bobbi Hill, the Pacific's leading goal scorer with 23, had two goals and an assist on Ziola's first-half goal Saturday. Rachel Norton, the second-leading scorer in the region with 20 goals, had four on the weekend.
"We're going to have to get better on the offensive end," said coach Manny Duarte, whose Trojans fell to 7-1-1 with the defeat.
While he and the Trojans would prefer to play on turf, Duarte says he's aware that they'll have to return to Samurai Field, which lies below sea level and where even a short downpour can turn it into a quagmire.
"To have experienced this field, how this field plays; we'll be back here. We'll have to figure out how to handle this field," Duarte said.
Eagles girls strikers soar into win columnEdgren's girls struggled to get out of the gate this season, losing their first five games. But the 2014 Far East D-II champions had much to be happy about, going 1-1-1 during a weekend swing through Yokota, including a surprising 1-0 win Friday over the defending D-II champs.
"Amazing," the Eagles' Josie Dooley said of their victory over Yokota.
Lizzy Long scored Edgren's lone goal of the weekend, her third of the season; the Eagles lost 3-0 to Yokota, then played St. Maur to a scoreless draw on Saturday.
Long played striker a year ago, when she scored 12 goals, and was moved to the center-midfield position this season by coach Chris Herrera.
"She's been adjusting to the position well for us," he said.
"Just having the back-to-back matches, rebounding after the loss to come back and tie; that was a good thing," Herrera said. "It helps us prepare for DODDS and Far East."
Dragon boys also get tournament prepTournament experience wasn't limited to teams in Japan. Kubasaki's boys made a weekend stopover at Yokota and played four matches in two days.
The Dragons played Christian Academy Japan to a 1-1 draw, then blanked Edgren 8-0 on Friday. The next day, Kubasaki routed St. Maur 7-0, then edged Yokota, the leading D-II team in Japan, 2-0.
"They have some good teams here," Dragons coach Tony Washington said. "We had to overcome some adversity, but the boys hung tough. We're looking to build and develop some chemistry. This gave us a taste of what Far East will be like, two matches in a day."
Francis has competition on OkinawaJunior Jeremiah Steed of Kadena won the boys 200 in 23.94 seconds, .3 ahead of Kubasaki senior Takao Elliot, a transfer from Humphreys. It was the first defeat of the season for Elliot's teammate, sophomore Mahlik Francis.
"It's important to have competition in your heat," Elliot said. "It makes you run faster, for sure."
"He came out of nowhere," Francis said, adding that he was "surprised" when he saw Elliot at time trials last month, and that it gives him an "extra push."
"Knowing that there's somebody else out there who can beat you, you don't take them lightly," Francis said.
Francis edged Elliot at the tape in the 100, 11.55 seconds to 11.62.
For the first time in three weeks this season, no northwest Pacific records fell as the Guam season opened Friday and in Saturday meets at Zama and Kadena. Korea's next meet is April 23.
Yokota senior Daniel Galvin ran the 800 in 1:57.84 and 1,600 in 4:24.67; he holds the region record in the former and used to in the latter. Junior discus record-holder Chris Sonnenberg took the week off.
Senior Regine Tugade of John F. Kennedy of Guam won the 100 and 200, anchored the Islanders to the 1,600 relay gold and also won the triple jump. She and the Islanders are expected to travel to the Mike Petty meet on Friday at Kubasaki.
Francis' sister, senior Kaelyn, won the 100 and 200 and anchored the 400-relay team to victory for Kubasaki. Kinnick's Jabari Johnson won the events in which he holds region records, the 100, 200 and 400.
Pitchers help themselves at batMore than a small handful of pitchers stepped to the plate and had big days at the bat to help themselves to victory throughout the region.
Evan Bell batted 2-for-3 with two stolen bases on Saturday and pitched a complete-game shutout, striking out 11, as Seoul American blanked Osan 9-0. Aaron Misner shook off arm discomfort to get the win and went 2-for-3 with an RBI as the Cougars rebounded to best Daegu 14-7.
Hunter Chipman pitched three innings in relief for the win and was 2-for-3 with an RBI as Kubasaki split a doubleheader with Naha Diamond Baseball Club, losing the opener 7-5 before winning the nightcap in nine innings 8-7.
On the softball diamond, Alexis Harrod got her fourth win in four starts and went 3-for-4 with a homer and three RBIs to power the Falcons past Osan 29-7. AnaMalae Tia struck out 13 in getting the win and went 3-for-4 with a homer and four RBIs as Daegu held off Osan 8-7.
Yokota senior left-hander Anysia Torres outdueled Edgren sophomore rightie Brittany Crown and went 2-for-4 with an RBI to help the Panthers cap a weekend visit to Edgren with a 15-14 win. The defending Far East D-II champion Panthers took three of four from the Eagles over the weekend.
---
---
---
---