Panthers take round one against Dragons
---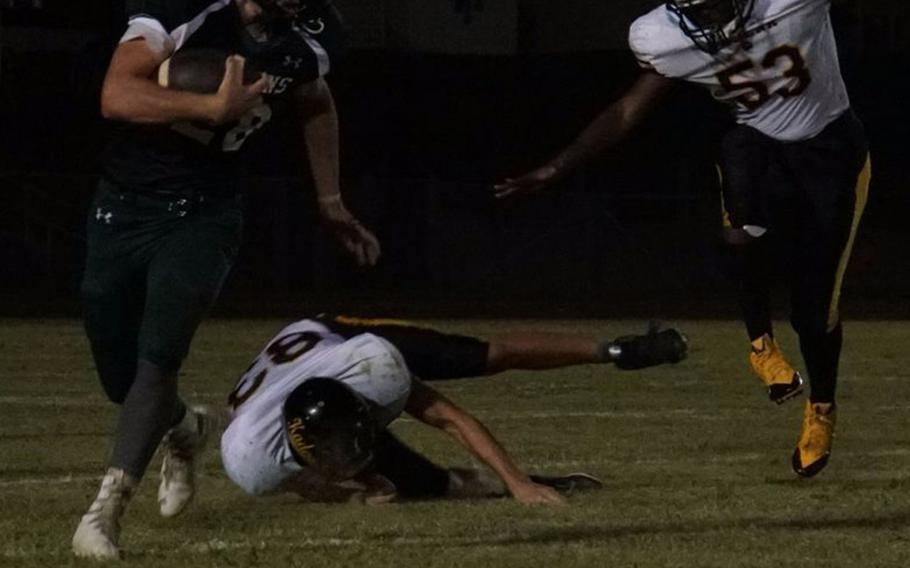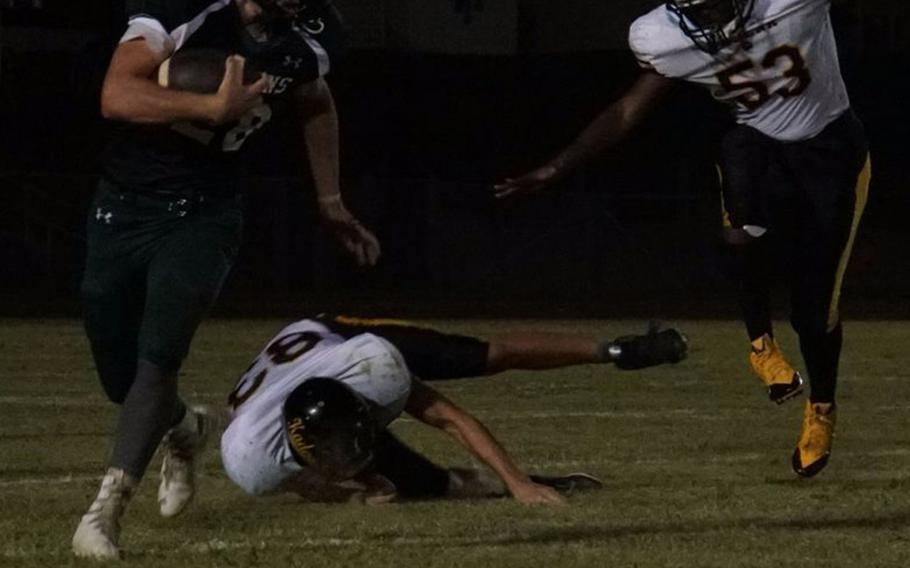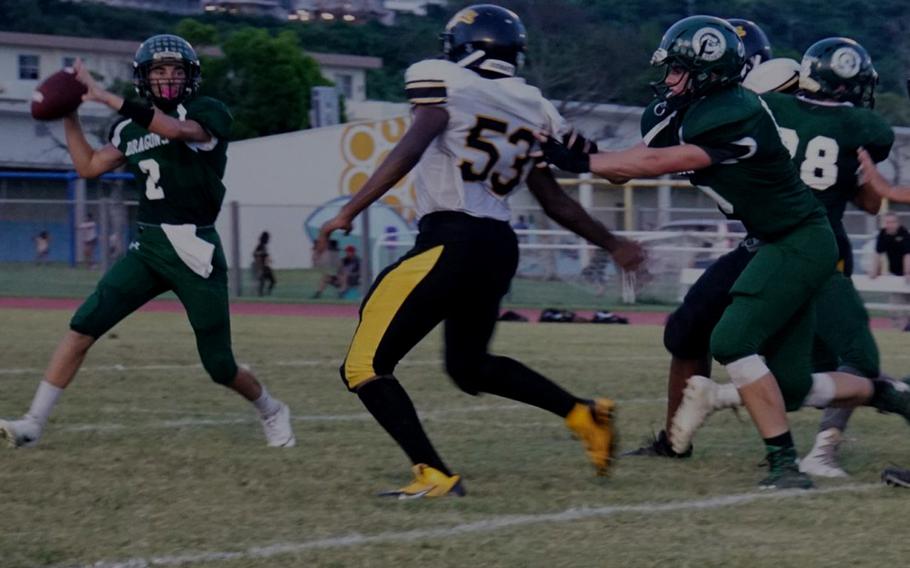 CAMP FOSTER, Okinawa -- As it was in last year's Far East Division I title game, it was a good night to be a visitor in Mike Petty Stadium.
The two-time defending champion Kadena Panthers routed the Kubasaki Dragons 34-3 in the season opener, boasting 339 yards of total offense.
"Tonight was a good foot in the right direction," Kadena coach Sergio Mendoza said.
Of Kadena's 256 yards on the ground, roughly half of those belong to Jericho Williams. The senior racked up 131 yards on 18 carries, making one trip to the end zone.
Kubasaki struggled to get the ball moving early against the Panthers' large defensive front, going three-and-out on the opening drive.
Kadena found its stride with less resistance, and completed its first possession with a 26-yard touchdown pass from junior quarterback Cody Sego, hauled in by senior Abe Patterson.
The Dragons continued to struggle after throwing an interception into the hands of Kadena's Owen Sinning, which set up another scoring drive for the Panthers with a 5-yard carry by sophomore Uriah Morris.
"We just had too many mistakes," Kubasaki head coach Fred Bales said. "They (Kadena) are a big strong team, and we don't need to give them any more help. It's our fault, not theirs."
The Dragons were able to put together their only scoring drive of the night near the end of the first half, with senior Bobby Reigert booting in a 26-yard field goal, narrowing the gap to 14-3.
But Williams answered, running 60 yards for a score following a Kubasaki fumble recovered by senior lineman John Murphy to close out the first half with Kadena up 22-3.
Sego closed things out in the second half for the Panthers, first through the air on a 6-yard touchdown pass to Sinning at the end of the third quarter, and then on the ground with a 24-yard bootleg dash to the end zone.
He finished 5-for-10 for 83 yards and two touchdowns, and two carries for 40 yards and one rushing touchdown.
"I feel like this team has come together strong," Sego said. "If we continue to trust each other and keep doing our jobs, we're going to have a great season."
Next up, Kubasaki will visit Nile C. Kinnick on Sept. 17, and Kadena will host Seoul American on Sept. 10.
---
---
---
---