Panthers rely on inside attack to sweep Okinawa shootout titles
---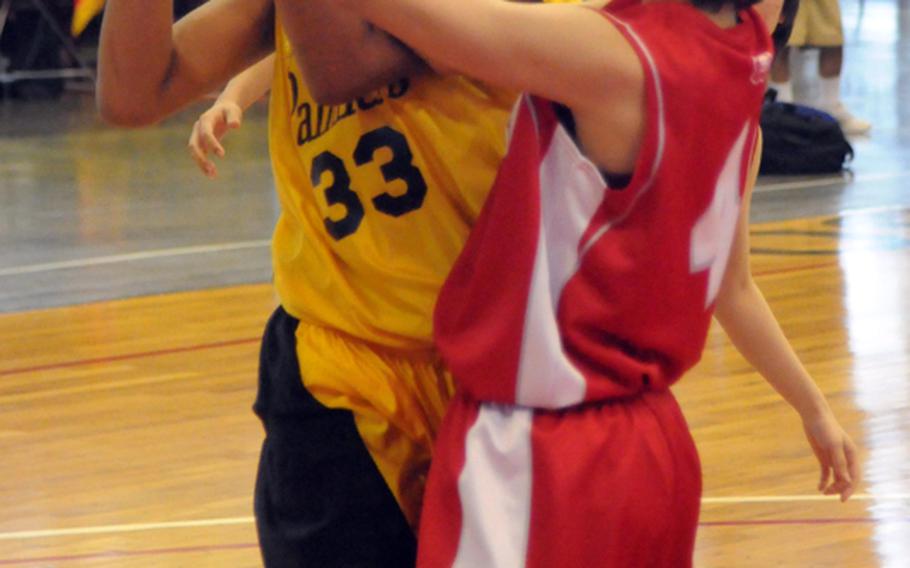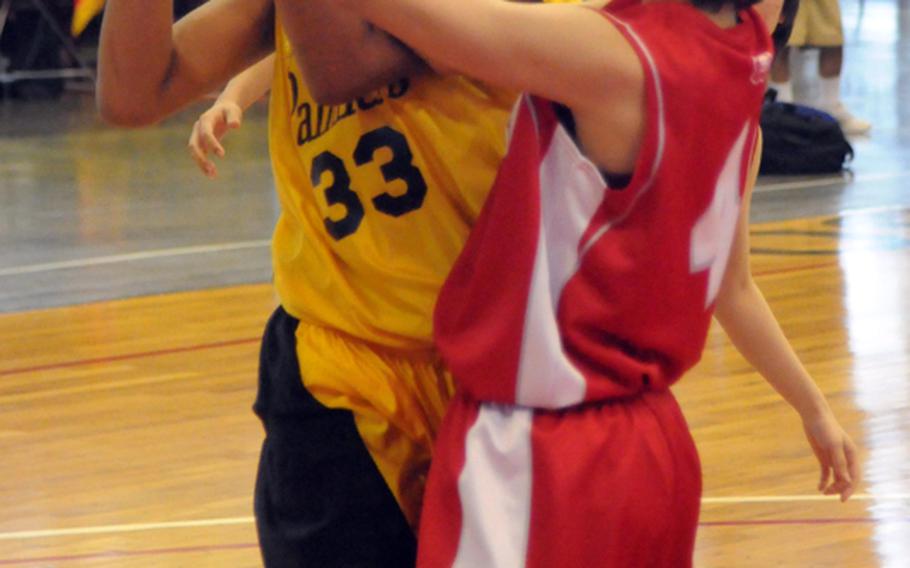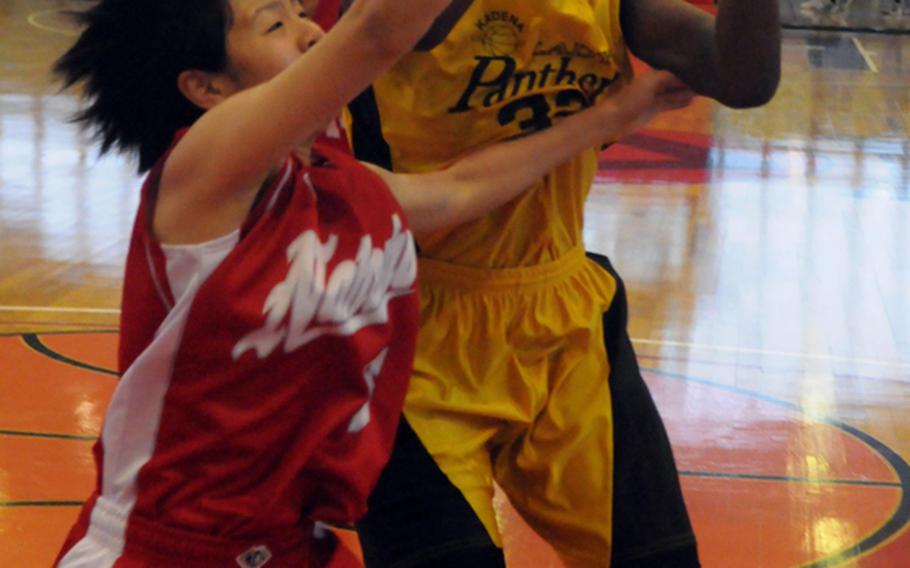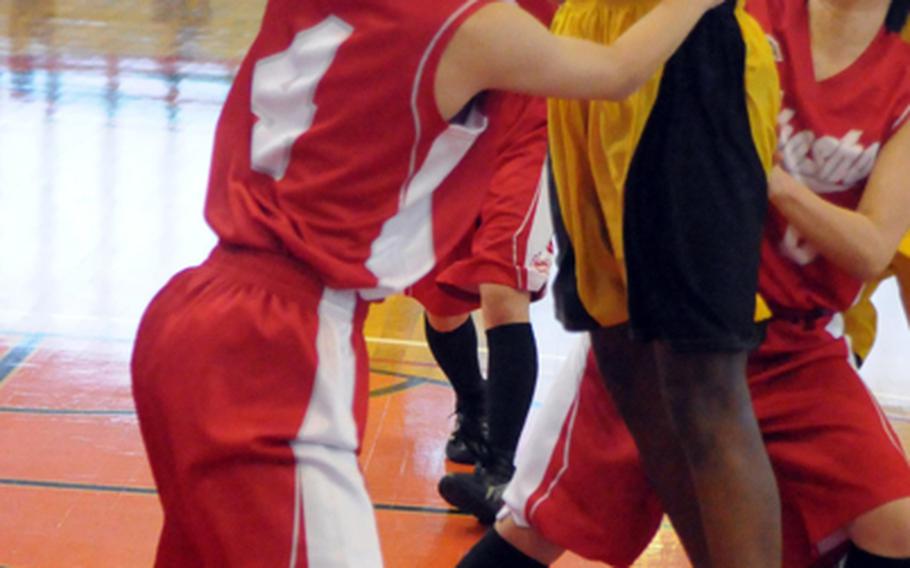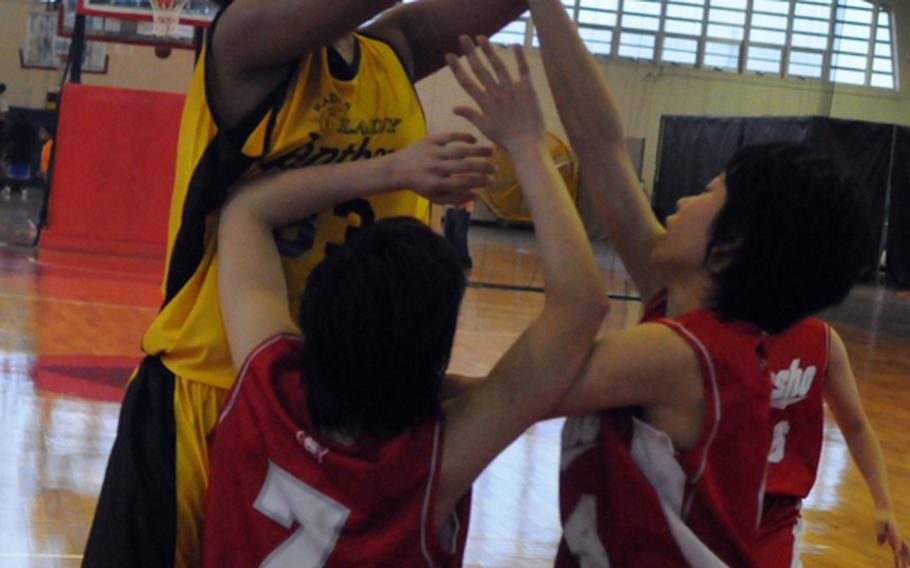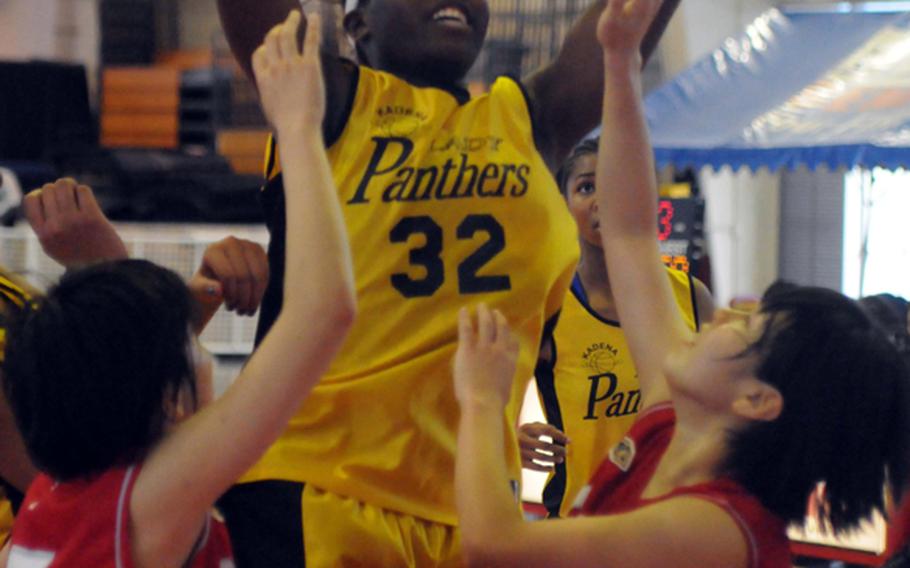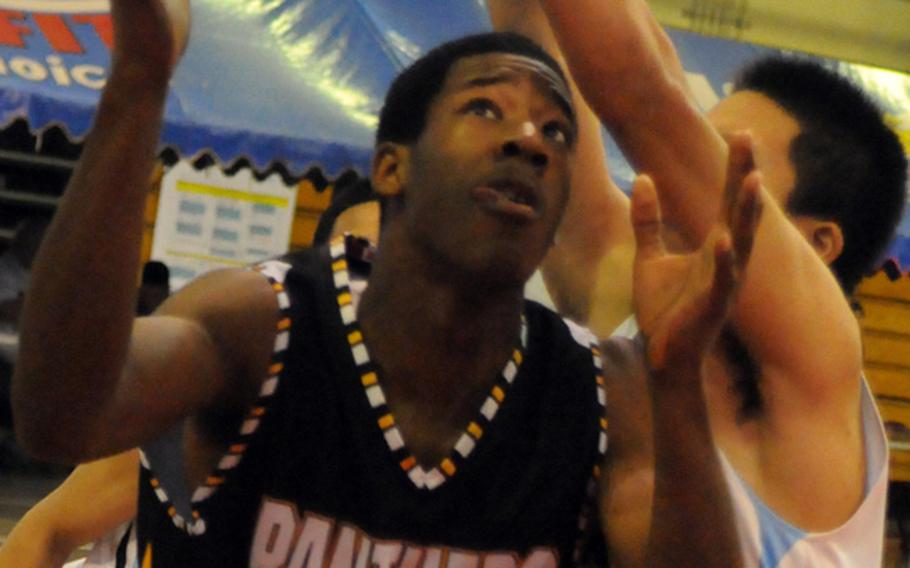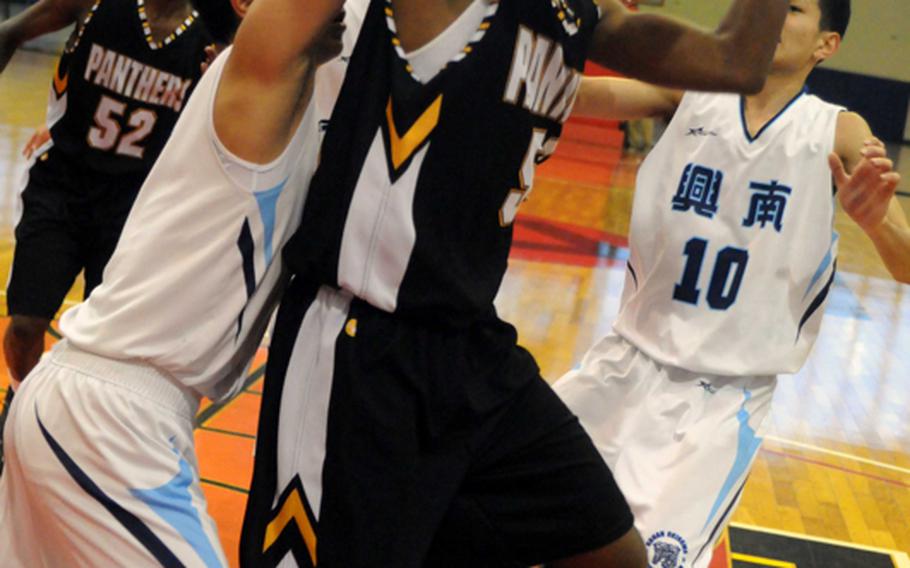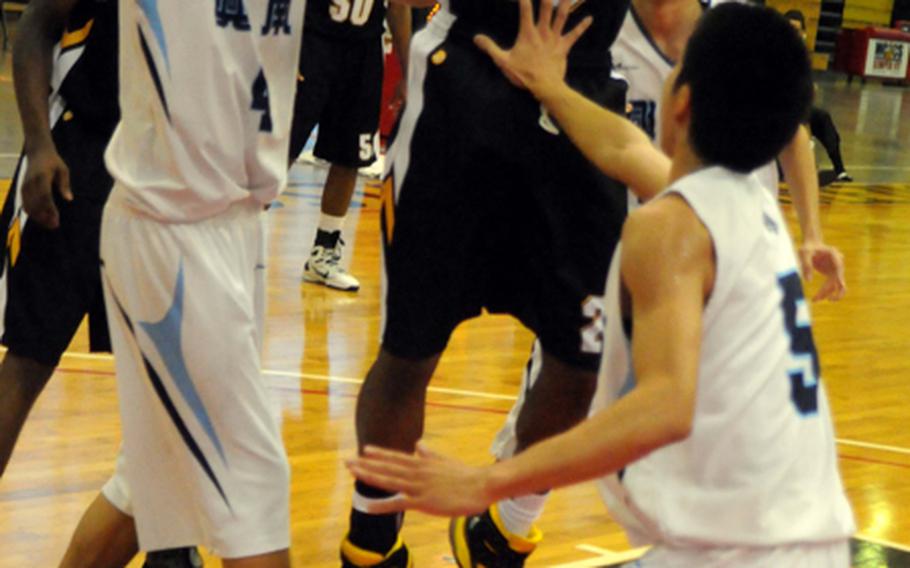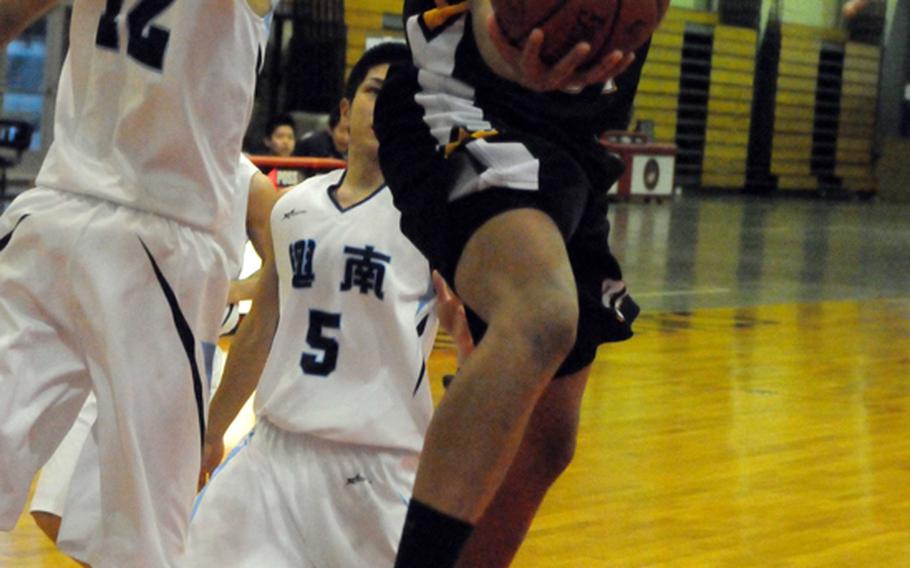 CAMP FOSTER, Okinawa – It was a simple blueprint: Don't try to run with your Japanese opponents, don't let them bury three-pointers from the perimeter, use your size to pass over the press and make sure your "bigs" attack the inside.
The strategy worked just well enough for Kadena, which enjoyed a sweep dream Sunday, capturing both the boys and girls titles in the 6th Okinawa-American Basketball Shootout at the Foster Field House. Kadena's boys edged Konan 73-67 and the girls nipped Naha Shogyo 55-54.
It was the first time either American school on the island swept both titles in one tournament.After losing three straight Shootout finals, Kadena's boys won their first title since winning the 2008 tournament. And Kadena's girls won for the first time in school history.
"The girls dug deep when they needed to," Panthers girls coach Willie Ware said. "It was tough. I'm proud of them."
Eisiah Lawson and Deja Caldwell, who towered over their Japanese foes, combined for 42 points and 28 rebounds. Kadena surged ahead 31-18 at the half, but Naha Shogyo forced seven third-quarter turnovers and outscored the Panthers 19-4 in the period.
The lead changed hands four times in the second half before Lawson's rebound layup capped the scoring with 13 seconds left. Guard Maria Vaughan stole the ball as time ran out.
The boys' game see-sawed throughout, but again the play of the forwards made the difference. Preston Harris had 23 points and 14 rebounds, Savon Woodie had 21 points and nine boards and Josh Dyer hit two clutch three-point goals and grabbed six rebounds.
The game was tied 10 times and the lead changed hands seven times before Woodie hit two foul shots with 4:06 left to spark a 7-0 run that put the Panthers ahead for keeps.
It was sweet revenge, coach Gerald Johnson said, for Kadena, which lost the last two Shootout finals to Konan and the 2009 final to Oroku. In Saturday's tournament opener, the Panthers lost 61-50 to Konan, which won last year's Okinawa island championship.
"That game showed us what in-your-face defense was," Johnson said. "So we pushed the ball inside, didn't turn over the ball and our 'bigs' ate up the boards."
Sunday's final marked the end of Kadena's and Kubasaki's rigorous two-week tournament slate, the Shootout and the previous weekend's Martin Luther King Invitational against adult teams. Kubasaki's boys took fourth place on Sunday and the Dragons' girls placed sixth.
The Panthers and Dragons play each other twice, Friday at Kadena and Feb. 9 at Kubasaki, their last preparation for next month's Far East Division I Tournaments, girls at Yokota High in Japan and boys at Naval Station, Guam.
if(typeof(dstb)!= "undefined"){ dstb();}
if(typeof(dstb)!= "undefined"){ dstb();}
if(typeof(dstb)!= "undefined"){ dstb();}
if(typeof(dstb)!= "undefined"){ dstb();}
if(typeof(dstb)!= "undefined"){ dstb();}
if(typeof(dstb)!= "undefined"){ dstb();}
if(typeof(dstb)!= "undefined"){ dstb();}
if(typeof(dstb)!= "undefined"){ dstb();}
if(typeof(dstb)!= "undefined"){ dstb();}
if(typeof(dstb)!= "undefined"){ dstb();}
---
---
---
---