Panthers, Red Devils own the mats
---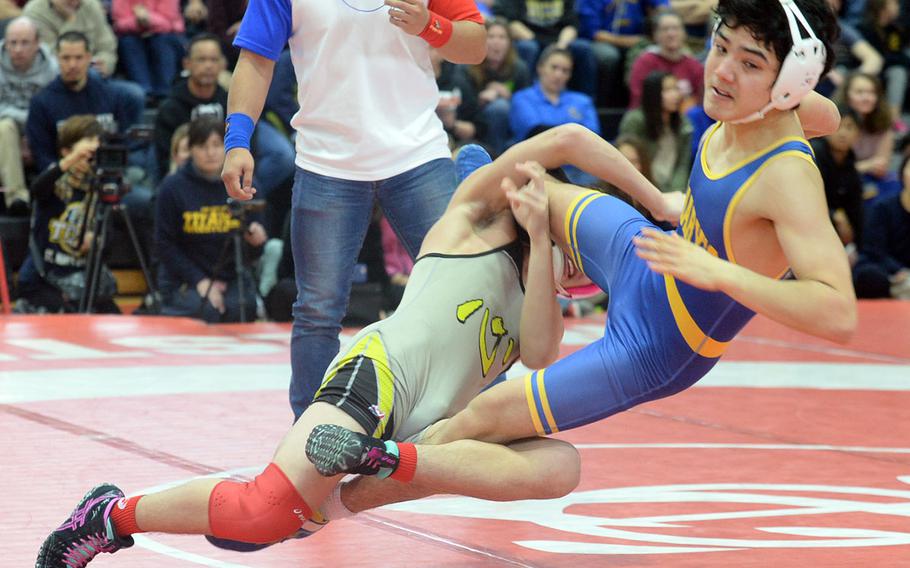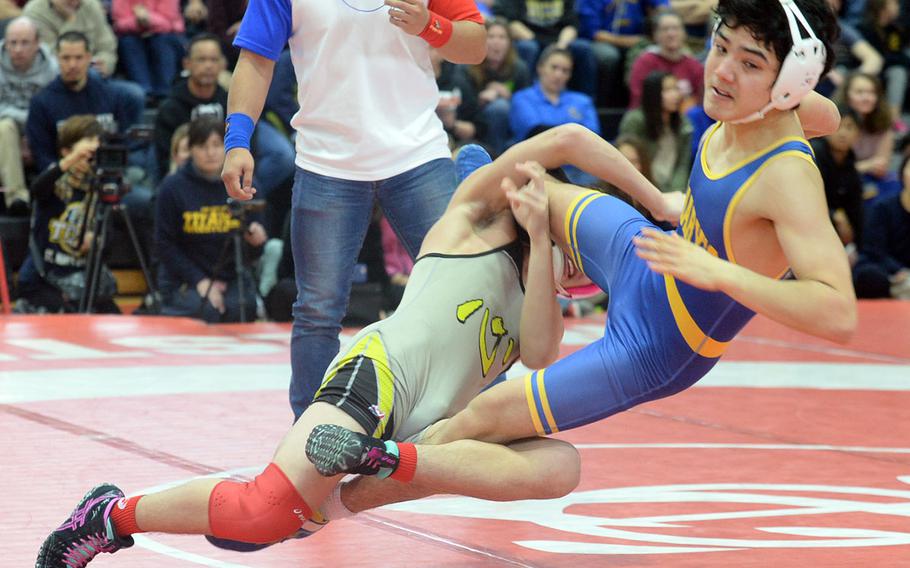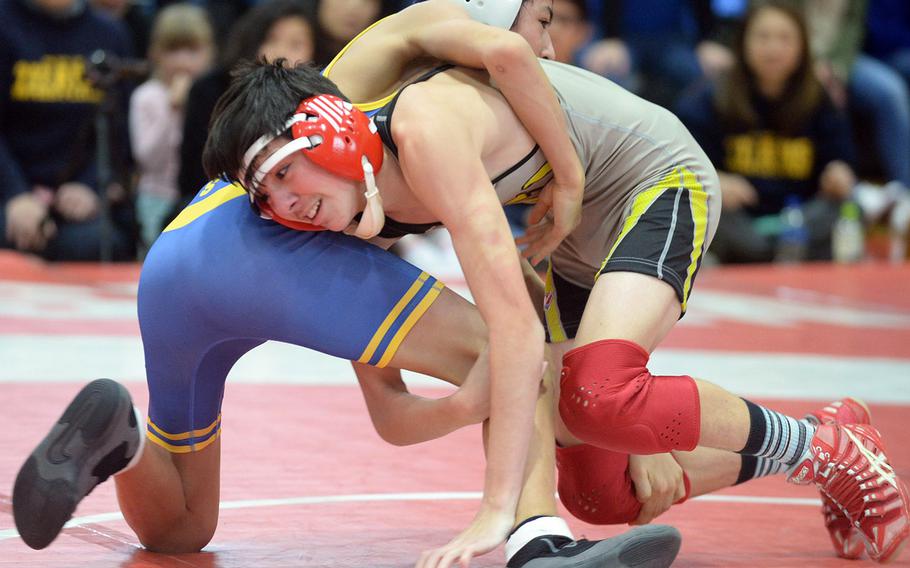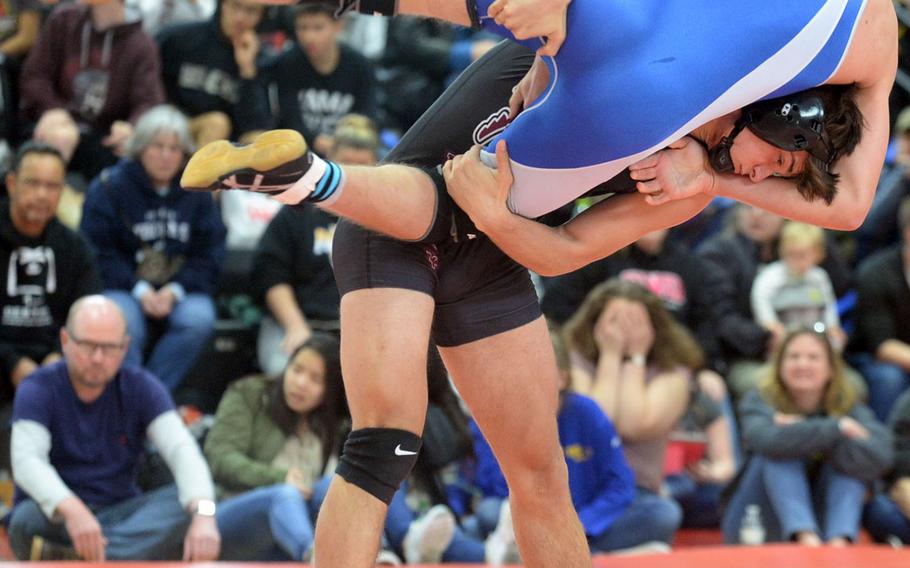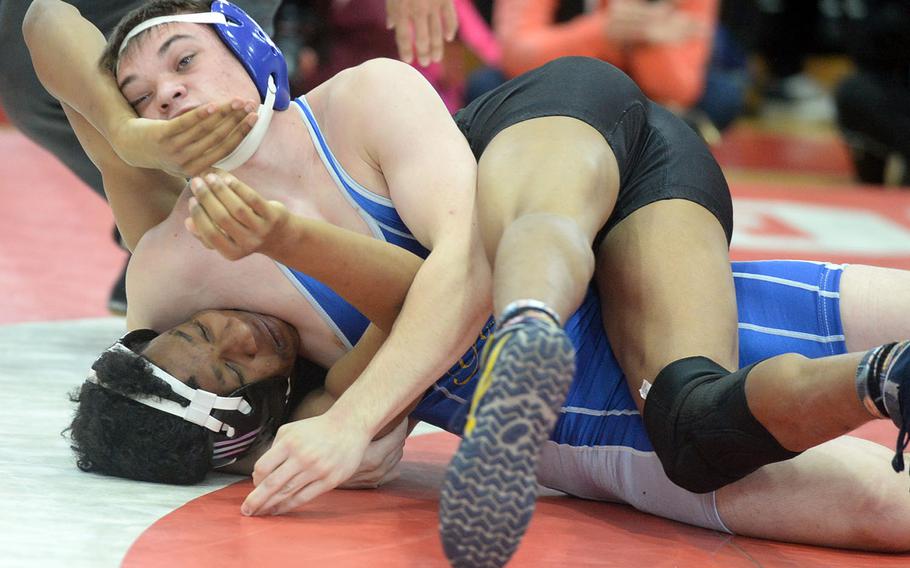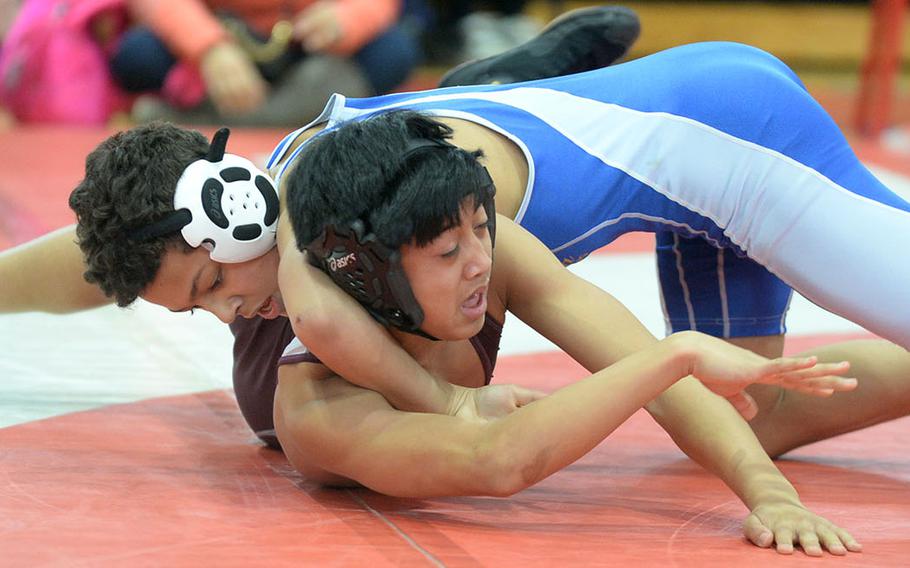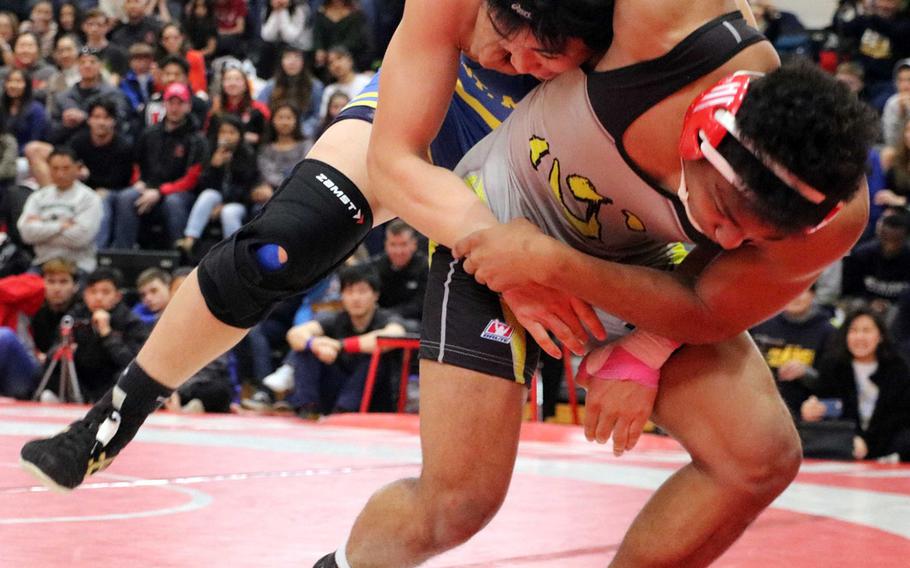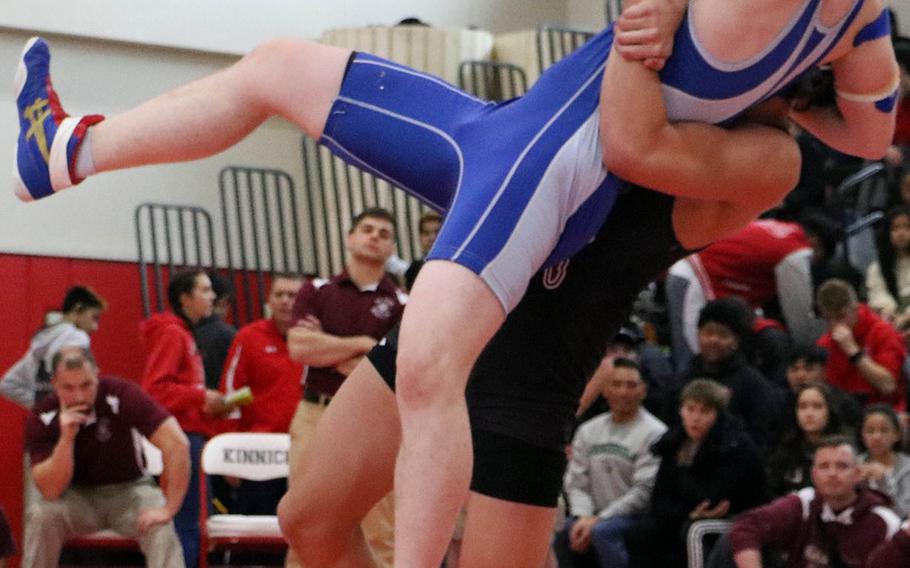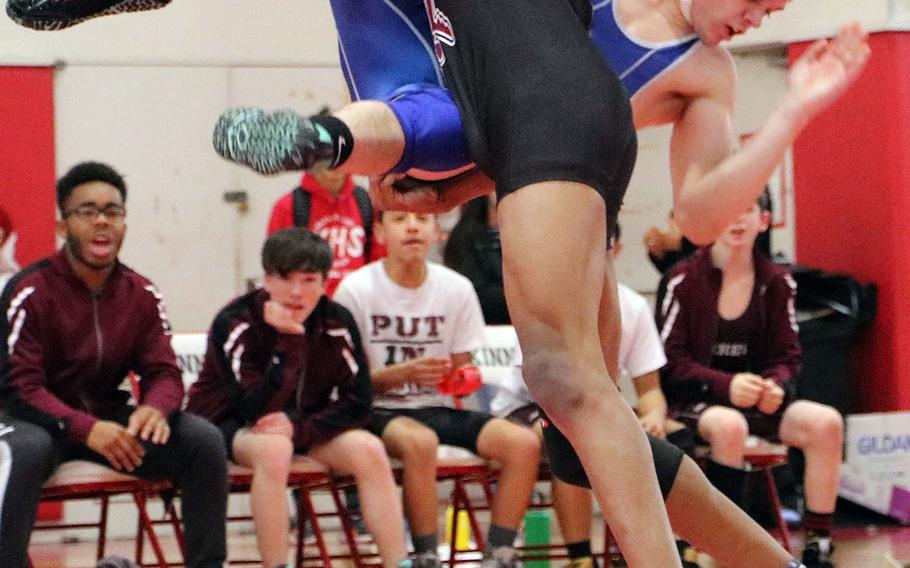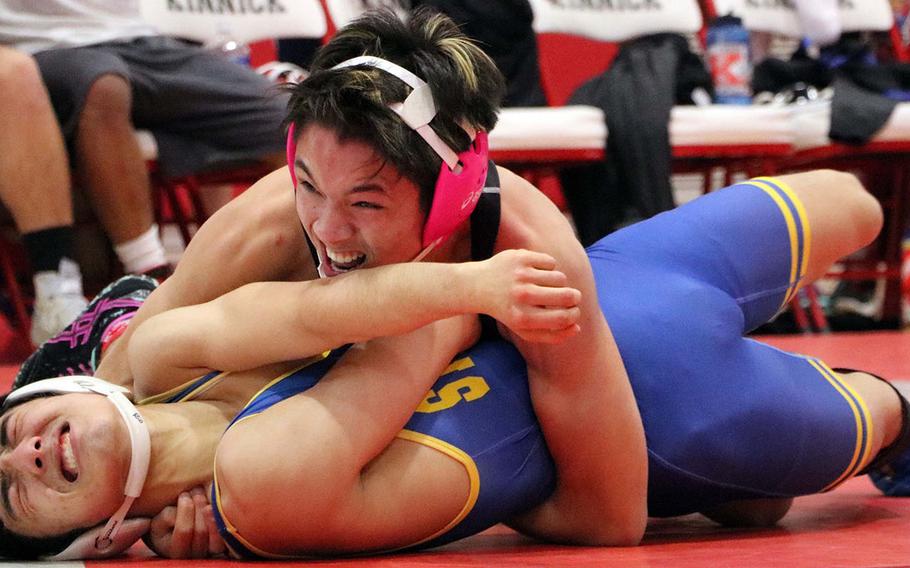 YOKOSUKA NAVAL BASE, Japan – Kyle Easterwood was in big trouble; in fact, was almost pinned three times and trailed 14-9 late in the first period of his 135-pound bout against Matthew C. Perry's Bryan Williams.
The Yokota senior said later that he had to do something – a victory by Williams would keep the Samurai within striking distance in Saturday's Far East Wrestling Tournament's Division II dual-meet final.
Somehow, Easterwood caught Williams in a head-and-arm hold, pinning his adversary in 2 minutes, 55 seconds. The win helped Yokota pull away for a 53-10 victory over Perry, and make some Far East history as well.
"Keep my head up and keep fighting," Easterwood said. "My coach always says, when you give up the battle, you lose. The battle is not done until the last whistle sounds. It's my senior year, my last match. I knew I had to win it for my team."
The Panthers scored eight wins by pin en route to victory, setting a tournament record with their third straight D-II dual-meet title.
Coupled with host Nile C. Kinnick's 30-28 comeback win over two-time defending champion St. Mary's I in the Division I final, the Kanto Plain swept all four Far East banners. The Panthers and Red Devils had won the individual freestyle team titles on Friday.
"They are phenomenal," first-year Panthers coach Kristina O'Grady said of her wrestlers, giving credit to an assistant coaching staff led by James Cunningham for the titles. "They work hard, they put forth the effort. And they have fun. They have a good time."
Winning at Far East didn't come easily for Easterwood, who finished sixth in his weight class and hadn't beaten Williams throughout the DODEA-Japan campaign until Saturday. "It's been a hard season," he said. "Winning wasn't going to be easy. He's a tough competitor."
Still, his teammates ensured the dual-meet final would be one-sided. Caleb Heino (101), Chris DeGrella (108), Joey DeGrella (122), Ramil Celones (129), Gabriel Aragon (141), Austin Fisher (180) and Cameron Ewens (215) also scored pins for the Panthers.
Andrew Borrero (158) and Marshall China (heavyweight) provided the only answer for Perry with pinfall victories. Still, finishing second was much better than taking ninth place the year before for the Samurai. "We're on our way," Perry coach Chris Munsell said.
While Yokota enjoyed a blowout victory, the Red Devils' D-I final with the Titans proved to be nip-and-tuck from start to finish, coming down to the 215-pound bout, the next-to-last.
In a duel in which points seemed to come painfully slowly, Kinnick's Chris Mason rallied from an early 2-0 deficit to edge St. Mary's Nilay Hingarh to rally the Red Devils to within 28-25.
The Titans did not have a heavyweight, giving Kinnick's Cameron Joley a win by walkover and the two-point victory. St. Mary's had been going for a Far East first, winning one of the two team banners for five straight years.
"I just knew I had to win. They (teammates) told me I had to win. That's all I wanted to do. Whatever it took," said Mason, a junior nicknamed "Otou-san" by his teammates because he resembles a Japanese elder off the mat, with circular spectacles and drab clothing.
Hingarh seized a 2-0 lead halfway into the first period. But he then played it too cautiously, perhaps, costing himself two caution points and another for fleeing the mat, putting Mason ahead. With the home crowd cheering at fever pitch, Mason scored a late takedown to seal it.
"Everything depended on me, so I was a little nervous," Mason said. Once the bout ended and the Kinnick faithful erupted in a Vesuvius of celebration, "It felt so amazing. I was so happy," Mason said.
The championship meet featured five lead changes and several tide-turning bout victories.
Three-time Far East champion Lucas Wirth launched a comeback from a 15-3 deficit with a pin in 1:32 over his chief rival, St. Mary's Rio Lemkuil, at 129 pounds. "It sort of just happened," Wirth said. "I was kind of feeling it today."
Kinnick rallied to lead 21-20 on 158-pounder Darius Swenson's 19-1 technical-fall win over Ryo Sawa. St. Mary's answered with Austin Koslow's technical-fall win over Kameron Leon Guerrero at 168 pounds and Alex Patton's 9-5 decision over Tyler Ryer at 180.
That gave St. Mary's a 27-22 lead and set the stage for Mason's late heroics. It was the first time Kinnick swept the individual freestyle and dual-meet banners since 2001, and is the first time coach Gary Wilson had accomplished the feat.
"It's just crazy," Wilson said. "Of course, it had to be against St. Mary's. We've been on the other side the last two years. But to win both is … I'm speechless."
"What a year," Lucas said. "Nice way to go out, taking everything."
NotesHunter Lane of Daegu was voted by the coaches the tournament's Outstanding Wrestler for the second straight year. It's only the second time it's ever been done. Zolboo Enkhbayar of Brent International, Philippines, earned the honor in 2003-04. His father, Lodoin, wrestled for Mongolia in the 1988 and 1992 Summer Olympic Games. … With four D-II titles, Yokota is now second in the division behind Robert D. Edgren (9). The Panthers have six Far East banners overall, having won Division I titles in 1978 and 2003. … Kinnick now has 12 D-I banners, third overall behind Kubasaki (25) and St. Mary's (16).
Twitter: @ornauer_stripes
---
---
---
---