Pacific Scoreboard: Oct. 25, 2018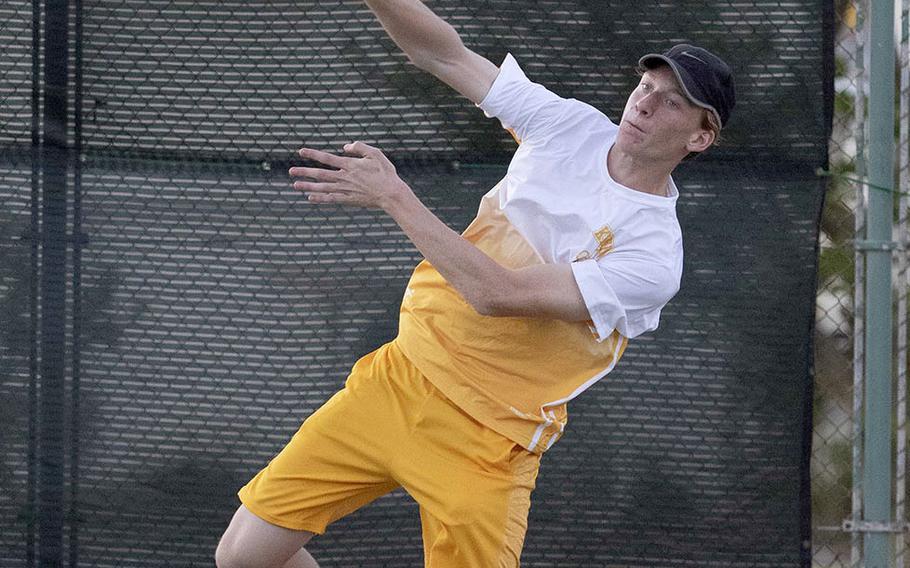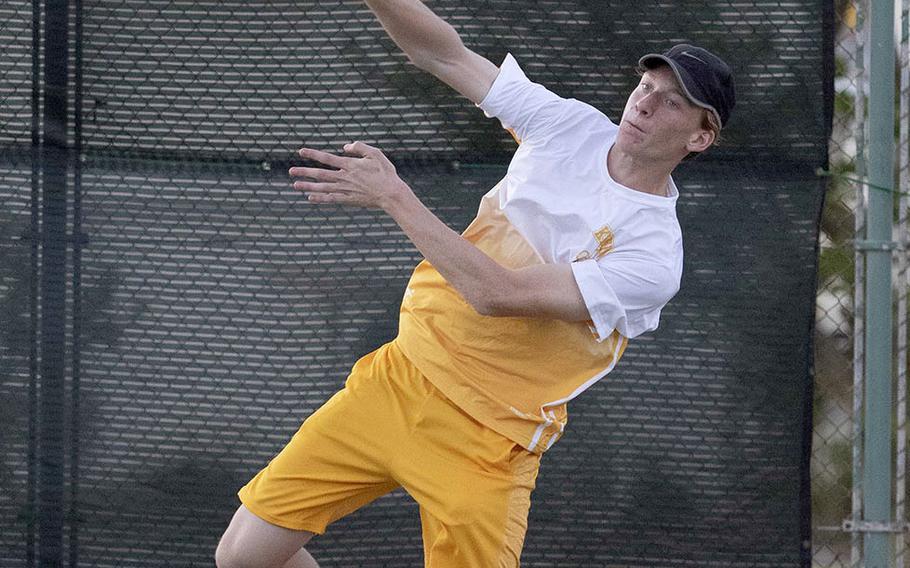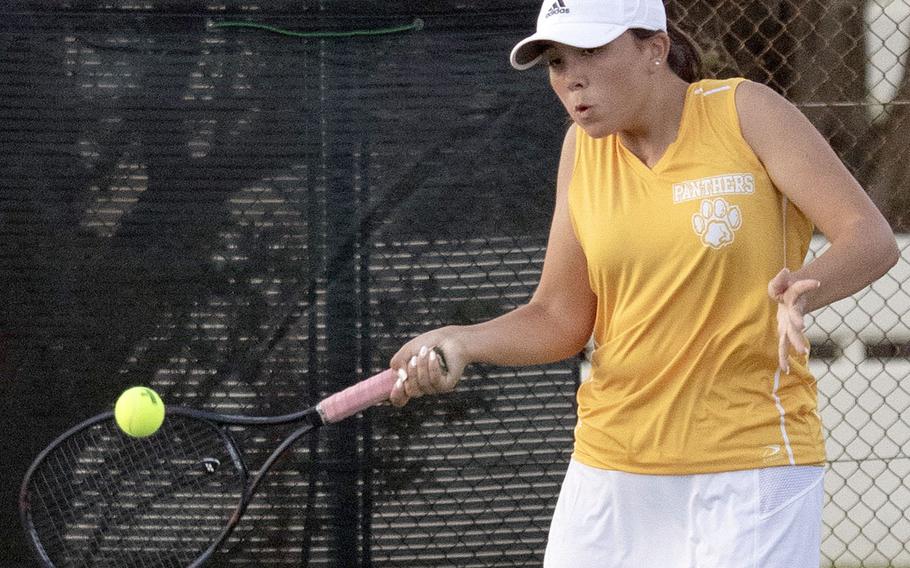 High school
Tennis South KoreaWednesday at SeoulBoys Seoul Foreign 3, Yongsan 2 Singles Jay Jones, SFS, def. Ian Choi 8-5; Dongkyu Choi, SFS, def. David Lee 8-4; Jamie Jones, SFS, def. Ryan Ham 8-5.Doubles Stephen Sung and Joseph Hwang, YIS-S, def. Brian Rhee and Wesley Jeong 8-5; Daniel Kang and Minjae Kim, YIS-S, def. Temin Sohn and Josiah Calhoun 9-7.Girls Seoul Foreign 5, Yongsan 0 Singles Elicia Lee def. Allison Park 8-4, Ting Wang def. Ashley Koo 8-1, Jasmine Kipa def. Irene Gil 8-0.Doubles Rachel Kim and Diya Jain def. Erica Cho and Claire Park 8-3, Jamie Choi and Annabelle Kang def. Hyunjung Cho and Alexis Kim 8-5.
OkinawaTuesday at Camp FosterKadena 10, Kubasaki 8 Boys Singles Shannon Hyde, Kubasaki, def. Joe Lamoureux 6-2; Kai Grubbs, Kubasaki, def. Justin Saavedra 7-5; Royce Smola, Kadena, def. Max Weidley 6-3; Brett Davis, Kadena, def. Henry Ruksc 6-2; Sam Stebbins, Kadena, def. Kai Croghan 6-1; Matt Steele, Kadena, def. Colin Lundberg 6-1.Doubles Hyde-Grubbs def. Lamoureux-Saavedra 7-5; Smola-Davis def. Weidley-Ruksc 6-4; Stebbins-Steele def. Lundberg-Croghan 6-4.Girls Singles Ally Johnson, Kubasaki, def. Lisa Dombrowski 6-2; Maddie Tsirlis, Kadena, def. Carolina Rivera 6-3; Kobi Davis, Kadena, def. Nancy Gutzwiller 6-1; Lili Manzi, Kubasaki, def. Mary Obsuna 6-0; Chante Broomes, Kubasaki, def. Mai Woodcock 6-0; Willow Lewis, Kubasaki, def. Mayann Rivera 6-0.Doubles Dombrowski-Tsirlis def. C. Rivera-Gutzwiller 6-3; Davis-Obsuna def. Manzi-Broomes 6-4; Lana Cowley and Lewis, Kubasaki, def. Woodcock-M. Rivera 6-4.
JapanWednesday at Yokosuka Naval BaseBoys Nile C. Kinnick 3, American School In Japan 3 Singles Daniel Posthumus, Kinnick, def. Mikey Studer 8-4; Matthew Manson, Kinnick, def. Ruben Fuchs 8-6; Connor Corrigan, ASIJ, def. Samuel Rexrode 8-1.Doubles Justin Crouch and Bodhi Kuiper, Kinnick, def. Andrew Jedrey and Connor Takehana 8-4; Hyunmin Ko and Takuma Osaka, ASIJ, def. Mitchel Kiszenia and Brandon Penberthy 8-2; Corrigan-Takehana def. Mathew Moreira and Kenshin Dean 8-1.Girls ASIJ 5, Kinnick 2 Doubles Aleigh Lamis and Jillian Mock, Kinnick, def. Christina Washington and Mika Sacre 8-3; Cassi Boyer and Amary Perfecto, Kinnick, def. Hollis Cook and Riku Mito 8-4; Anokhi Ashwin and Hana Pettigrew, ASIJ, def. Qiana Fowler and Alix Dignan 8-3; Sarah Chon and Sacre, ASIJ, def. Clarisse Docuyanan and Donna Manson 8-1; Washington-Cook def. Naomi Mabini and Beatriz Guerrero 6-0; Mito-Pettigrew def. Alexis Perez and Hannah Docuyanan 6-0; Chon-Ashwin def. Alisa Udalov and Sara Snyder 6-0.
Volleyball Girls OkinawaKubasaki def. Kadena 25-20, 25-12, 25-20 Thursday at Camp FosterKills — Dragons: Donatella Barone 14. Aces — Dragons: Mimi Larry 6. Digs — Dragons: Zoe Weidley 10. Assists — Dragons: Larry 24. Noteworthy — Dragons have won every district championship since 2004.
JapanChristian Academy Japan def. ASIJ 25-13, 16-25, 25-21, 25-19 Thursday at TokyoKills — Mustangs: Kennedy Baca 15, Aloha Suto 10, Leila Suzuki 7. Digs — Mustangs: Cora Eaton 18, Pari Eaton 12, Suzuki 11. Assists — Mustangs: P. Eaton 20, Julia Neely 12.Zama def. CAJ 16-25, 25-12, 25-19, 25-22 Tuesday at Camp ZamaKills — Trojans: Grace Bryant 10. Aces — Trojans: Liann So 5. Digs — Trojans: Aika Davis 5. Assists — Trojans: Kate Hultquist 12. Block points — Trojans: Jessica Atkinson 3.ASIJ def. Yokota 25-19, 22-25, 25-16, 25-14 Tuesday at Yokota Air BaseKills — Mustangs: Baca 7, Isa Henderson 6, Suzuki 5; Panthers: Adrianna Diaz 14, Caleigh Garcia 8. Aces — Mustangs: P. Eaton 13. Digs — Mustangs: C. Eaton 20, Baca 6, Suzuki 6, Erika Nagahashi 6; Panthers: Haley Singleton 16, Rorie Jenkins 10. Assists — Mustangs: P. Eaton 6, Neely 6; Panthers: Diaz 6. Block points — Panthers: Diaz 4.