Pacific Scoreboard: Feb. 13, 2020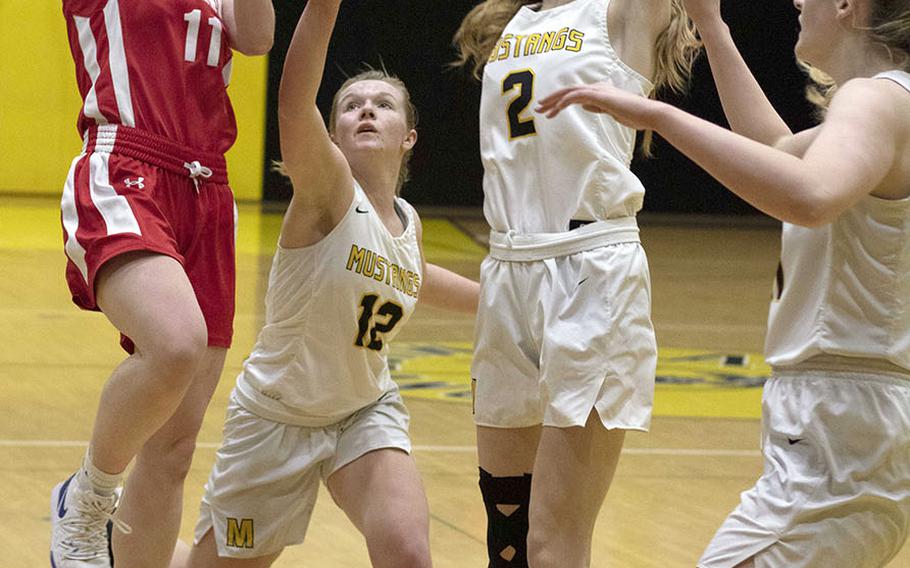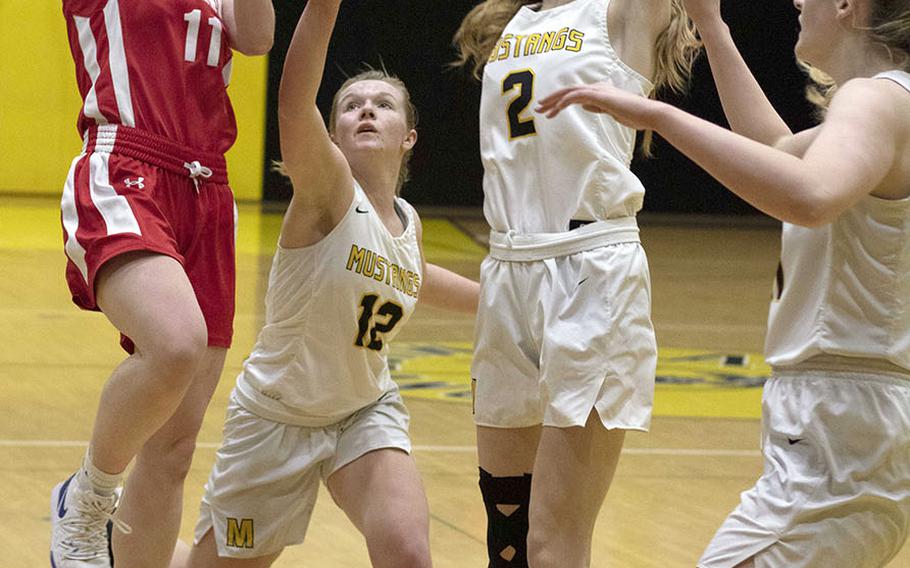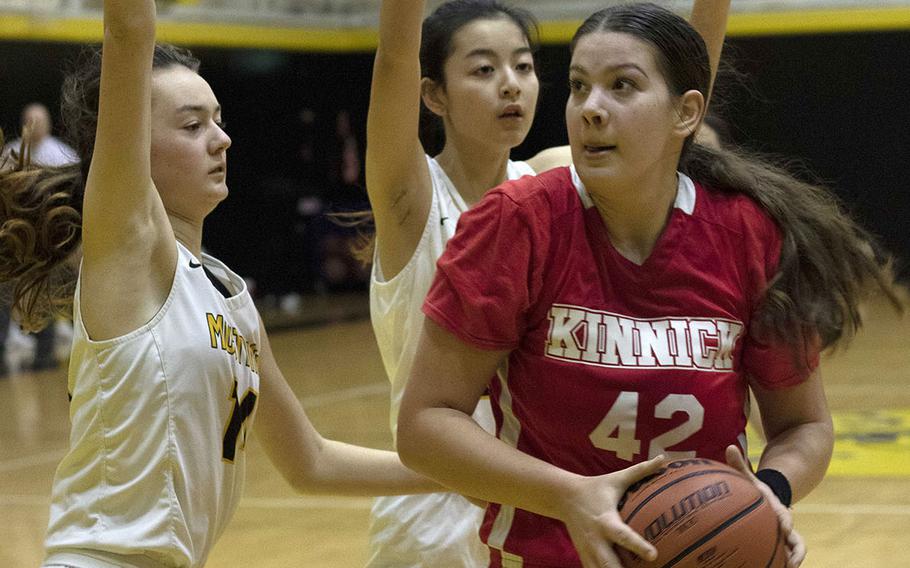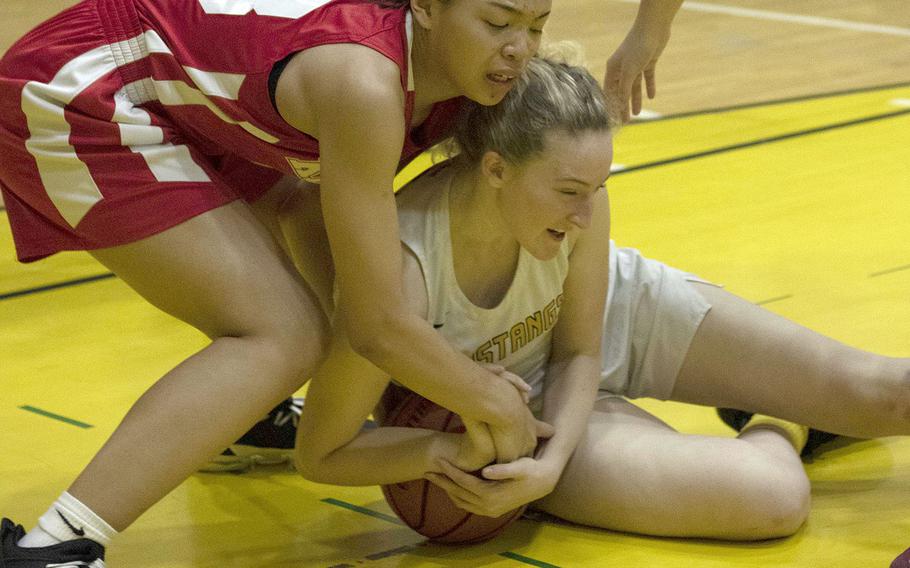 High school
Wrestling42nd Far East High School Wrestling Tournament Thursday at Osan Air Base, South Korea101 — Kaisei Smith, ASIJ, pin. Aunee Deunas, Perry; Nicholaz Aguirre, Kubasaki, pin. Kelly Kenyon, Osan; Jeremy Cho, Humphreys, pin. Kinsley Turner, Edgren; Smith pin. D.J. Hurtado, Kinnick; Isaac Shane, St. Mary's, dec. Mizuki Sato-Marsh, Kadena, 12-7; Turner pin. Deunas; Sato-Marsh pin. Turner; Hurtado pin. Kenyon; Hurtado tech. Cho 10-0; Sato-Marsh dec. Smith, 7-6. Semifinals: Shane dec. Cho 15-8; Aguirre pin. Smith.108 — Parley Kartchner, Yokota, pin. Andre Pyryt, King; Masaya Toyokawa, St. Mary's, dec. Brock McGlothan, Edgren; Aiden Russell, Kadena, pin. Kartchner; Bryce Clement, ASIJ, tech. Toyokawa; Cruzy Cruz III, Zama, pin. Kiana Duran, Osan; Noah Vasquez, Kubasaki, pin. Michael Lozano, Kinnick; Kartchner pin. McGlothan; Toyokawa pin. Pyryt; Toyokawa pin Duran; Lozano pin. Kartchner; Lozano pin. Cruz; Toyokawa pin. Vasquez. Semifinals: Clement pin. Cruz; Russell pin. Vasquez.115 — Joel Pacleb, Perry, pin. Nathan Encinas, Edgren; Joe Frazier, CAJ, tech. Katsumi Tokunaga, ASIJ; Pacleb pin. Fallon Trajanowski, Humphreys; Ikki Minamikawa, St. Mary's, tech. Joshua Dodge, Kadena; Juan Smith, Kinnick, pin. Sam Hendrickson, Osan; Vincent Rodriguez, Kubasaki, tech. Frazier; Frazier pin. Encinas; Tokunaga pin. Trajanowski; Dodge pin. Tokunaga; Frazier tech. Hendrickson; Smith tech. Dodge 10-0; Pacleb tech. Frazier, 14-3. Semifinals: Minamikawa pin. Pacleb; Rodriguez pin. Smith.122 — Ira Kadet, ASIJ, def. Peter Junker, CAJ, by walkover; Marcus Irons, Perry, pin. Wayne Ho, St. Mary's; Jaylan Mayers, Kubasaki, pin. Jorge Mendez, Kadena; Caleb Heino, Yokota, tech. Kadet; Irons pin. DeShawn Adkins, Humphreys; Kaito Hayashi, Zama, pin. Mark Sowell, Kinnick; Adkins def. Junker by walkover; Kadet tech. Ho; Sowell pin. Adkins; Kadet tech. Mendez 12-2; Mayers pin Sowell; Kadet tech. Irons 12-0. Semifinals: Hayashi pin. Irons; Heino pin. Mayers. Noteworthy — Heino kept alive his chances at a second Far East title in three years while dethroning Mayers.129 — Chris DeGrella, Yokota, pin. Jayvon Pryor, Daegu; Moises Carabajal, Zama, pin. Jeffrey Owens, Kubasaki; Justice Rose, Kinnick, tech. Elias Alvord, Edgren; Jaythan Baythavong, Perry, tech. Adison Gordon, Humphreys; Eiji Kasahara, St. Mary's, dec. Carabajal; Baythavong dec. Zathian Soto, Osan; Kurt Chapman, Kadena, tech. Rose; Take Zoot, ASIJ, tech. DeGrella; DeGrella pin. Alvord; Carabajal, Zama, pin. Gordon; Rose tech. Pryor; Owens dec. Soto; Carabajal tech. Rose; Owens pin. DeGrella; Kasahara tech. Owens 12-2; Carabajal pin. Baythavong. Semifinals: Zoot tech. Baythavong; Chapman dec. Kasahara. Noteworthy — Kasahara was dethroned after a two-year run as Far East champion.135 — Caleb Jones, Yokota, pin. Amon Edberg, CAJ; Victor Saavedra, Kubasaki, pin. James Williams, Perry; Kai Hartman, ASIJ, pin. Angel Fuentes, Zama; Kenerick McDanel, Kinnick, pin. Nathan Morales, Osan; Marshall Eubanks, King, tech. William Lodge, Edgren; Williams pin. Fuentes; McDanel pin. Jasjot Bedi, St. Mary's; Jones pin. Williams; Crisean Covington, Kadena, tech. Eubanks; Saavedra tech. Hartman; Hartman tech. Morales; Eubanks pin. Edberg; Williams pin. Lodge; Hartman def. Williams by walkover; Bedi pin. Eubanks; Hartman tech. Covington 10-0; Bedi pin. Jones. Semifinals: Saavedra tech. Jones 12-2; McDanel dec. Covington 10-10 last point.141 — Charles Lyons, Daegu, tech. Parker Staley, Perry; Ricky Lindemann, ASIJ, tech. Owen Taylor, Yokota; Adrian Misenhimer, Kubasaki, tech. Mason Ragland, King; Phillip Crouch, Humphreys, pin. Tai Van Dam, CAJ; Garron Lee, Kadena, pin. Douglass Tackney, Edgren; Staley pin. Ragland; Misenhimer pin. Lyons; Toy Williams, Osan, tech. Lee 13-3; Hikaru Shimada, St. Mary's, tech. Lindemann; Josiah Millare, Kinnick, dec. Crouch 11-6; Lyons pin. Van Dam; Taylor tech. Lee; Crouch pin. Staley; Lyons tech. Tackney 12-0; Misenhimer pin. Crouch; Millare tech. Lyons 10-0. Semifinals: Shimada tech. Misenhimer 10-0; Williams dec. Millaire 19-16.148 — Jo Inoue, St. Mary's, tech. Anna Aguirre, Daegu; Michael Hudak, Humphreys, pin. Kirby Kendrick, Perry; Joey DeGrella, Yokota, pin. Eligh Cabe, Zama; Rin Zoot, ASIJ, tech. Inoue; Ramil Celones, Osan, tech. Hudak; Ethan Hamilton, Kinnick, tech. Paul Maskery, Kadena; Ruben Saavedra, Kubasaki, pin. DeGrella; Maskery tech. Kendrick; DeGrella tech. Aguirre; Inoue tech. Cabe; DeGrella pin. Maskery; Inoue tech. Hudak 12-2; DeGrella pin. Celones; Inoue dec. Saavedra 12-8. Semifinals: Hamilton tech. Saavedra 10-0; Zoot tech. Celones 10-0.158 — Liam O'Grady, Yokota, pin. Isaac Ciochetto, Osan; Jojo Adesuyi, Kadena, pin. Nicolas Mendez, King; Ethan Hovenkotter, Edgren, tech. Shawn Dobberfuhl, ASIJ; Shawn Swindell, Perry, pin. Keanu Rose, Kinnick; Bryce Mack, Zama, pin. Albony Pryor, Daegu; Dobberfuhl pin. Mendez; Colin Lundberg, Kubasaki, pin. Mack; Hovenkotter tech. Adesuyi; Benicio Mariscal, Humphreys, dec. Swindell; Warren Koslow, St. Mary's, pin. O'Grady; Dobberfuhl pin. O'Grady; Rose tech. Mack; Swindell tech. Pryor; Adesuyi tech. Ciochetto; Swindell tech. Adesuyi; Dobberfuhl pin. Rose; Mariscal dec. Dobberfuhl 14-6; Lundberg dec. Swindell 19-10. Semifinals: Koslow pin. Lundberg; Hovenkotter dec. Mariscal.168 — Liam Kell, ASIJ, tech. Milton Jones, Zama; Nemo Matthews, Perry, tech. Nick Neary, Kadena; James Ahn, Humphreys, pin. Andrew Barnes, Kubasaki; Alex Lovell, Kinnick, tech. Kell; Marcus Inthavixay, Osan, tech. Mak Togans; Togans pin. Jones; Kell tech. Barnes 10-0; Neary pin. Togans; Kell tech. Inthavixay 12-2; Ahn tech. Neary 10-0. Semifinals: Matthews pin. Inthavixay; Lovell tech. Ahn 12-0. Noteworthy — Matthews dethroned defending champion Inthavixay.180 — Josh Petty, Zama, tech. Gabrielle Ratcliffe, Perry; Sungwon Kim, CAJ, pin. Noah Cruz, Edgren; Colin Nation, Kubasaki, tech. Petty; Dennis Martinez, Humphreys, pin. Kai Harbert, Yokota; Luke Robottom, St. Mary's, tech. Ethan Hoback, Osan; Kaleb Leon Guerrero, Kinnick, dec. Kim; Kim tech. Ratcliffe; Cruz dec. Petty 8-0; Kim dec. Harbert 13-2; Martinez pin. Cruz; Kim dec. Robottom 7-1. Semifinals: Nation tech. Robottom 10-0; Leon Guerrero tech. Martinez 10-0.215 — Chase Quigley, Edgren, pin. Hunter Staley, Perry; Devante Teerink, King, tech. Lucas Watkins, Kinnick; Riley Jones, Zama, dec. Jingu Kim, St. Mary's, 11-7; Isaiah Owens, Humphreys, dec. Jones, 9-2; Austin Fisher, Yokota, tech. Quigley; Haydn Peterson, Kubasaki, pin. Teerink; Dani Rahman, ASIJ, tech. Gregory Lunn, Osan; Watkins tech. Jones; Teerink dec. Kim; Staley pin. Lunn; Quigley pin. Teerink; Staley tech. Watkins 16-6; Quigley pin. Owens; Peterson pin. Staley. Semifinals: Fisher pin. Peterson; Rahman pin. Owens. Noteworthy — Fisher dethroned defending champion Peterson, and was the second time this season Fisher pinned him; Peterson had never been pinned before this season.Heavyweight — Nathaniel Dubois, ASIJ, pin. Josh Shipman, Kinnick; Dontrell Powers, Humphreys, def. Caleb Wise-Burton by walkover; Myles Bradley, Osan, pin. Nicholas Sales, Yokota; Desmond Martin, Zama, pin. Xander Munoz, Kubasaki; Marshall China, Perry, pin. Dubois; Sales pin. Shipman; Dubois def. Wise-Burton by walkover; Sales pin. Munoz; Martin def. Dubois by walkover; Powers pin. Sales. Semifinals: China tech. Powers 11-0; Bradley pin. Martin.
Basketball Boys JapanSt. Mary's 74, Yokota 48 Tuesday at Yokota Air BaseTitans 23 14 24 11 — 74Panthers 11 13 9 7 — 48Scoring — Titans: Aidan O'Flaherty 19, Alister Jones 11, Roy Igwe 10; Panthers: David Carlson 10.CAJ 61, Zama 52 Tuesday at Camp ZamaKnights 19 11 18 13 — 61Trojans 10 17 17 8 — 52Scoring — Knights: Koji Matsuoka 16, Kyle Philson 15, Ty Hall 14, Enosh Mutenda 11; Trojans: Chandler Platt 19, Keshawn McNeill 16, Kalil Irby 10.
Girls JapanZama 57, CAJ 52 Tuesday at TokyoTrojans 15 9 17 16 — 57Knights 13 13 21 5 — 52Scoring — Trojans: Chloe Sterling 35, Jessica Atkinson 10; Knights: Mari Mosaku 18, Anna Stoesz 13, Rachel Nelson 12. Rebounding — Knights: Mosaku 12, Stoesz 11, Jessica Bedow 8, Mitsuki Hishinuma 6.ASIJ, Kinnick 20 At Yokosuka Naval BaseMustangs 7 10 16 3 — 36Red Devils 5 4 5 6 — 20Scoring — Mustangs: Pari Eaton 11; Red Devils: Kiana Johnson 7, Ernestina Roberts 7.
ASIJ 46, Yokota 34 Thursday at Yokota Air BaseMustangs 11 11 11 13—46Panthers 5 8 10 11—34Scoring — Mustangs: Kylee Rasmussen 10; Panthers: Keiya Carlson 9.
OkinawaKubasaki 44, Zion Christian 18 Thursday at Camp FosterLions 4 5 6 3—18Dragons 11 13 9 11—44Scoring — Dragons: Urara Williams 11, Natalie Mulherin 10; Lions: Mercy Shavers 8. Rebounding — Dragons: Mulherin 14.