Osan, Seoul Foreign earn title sweeps
by
Dave Ornauer
April 29, 2017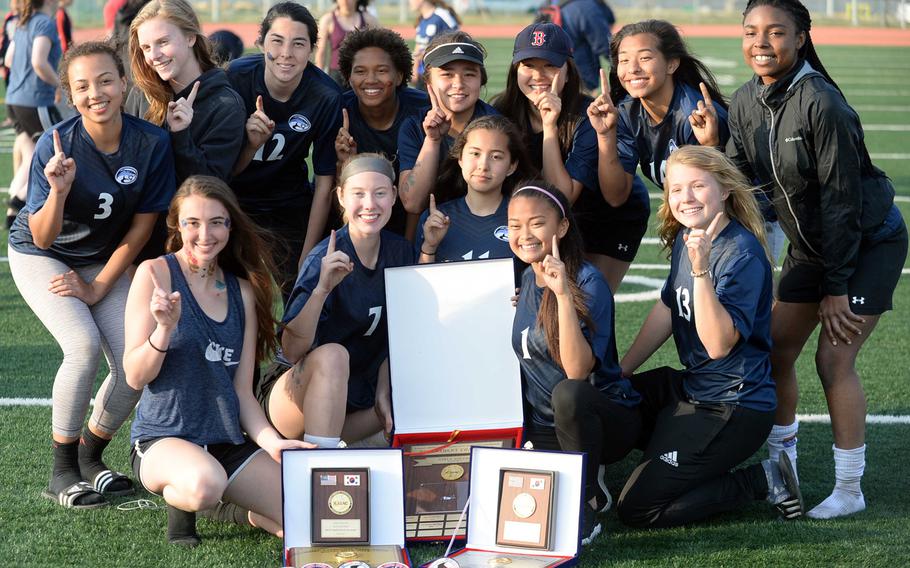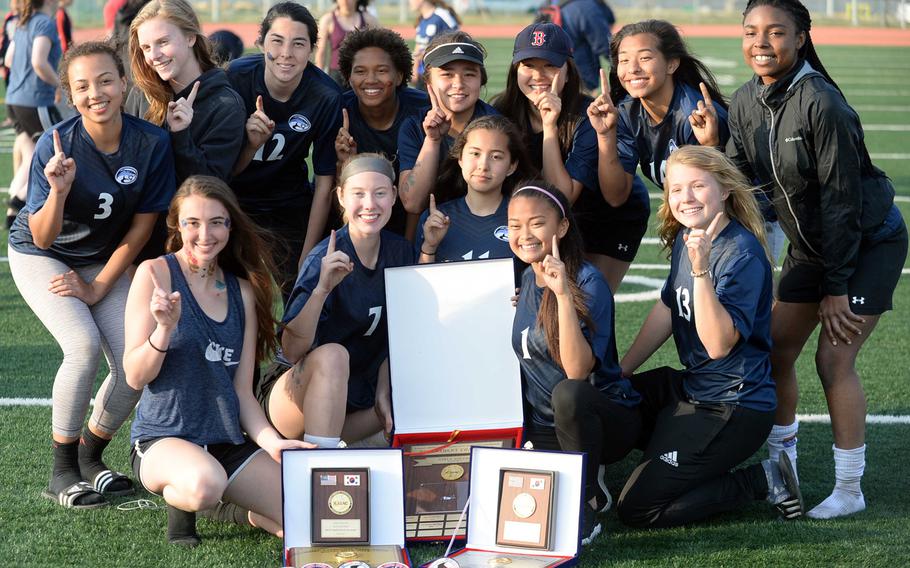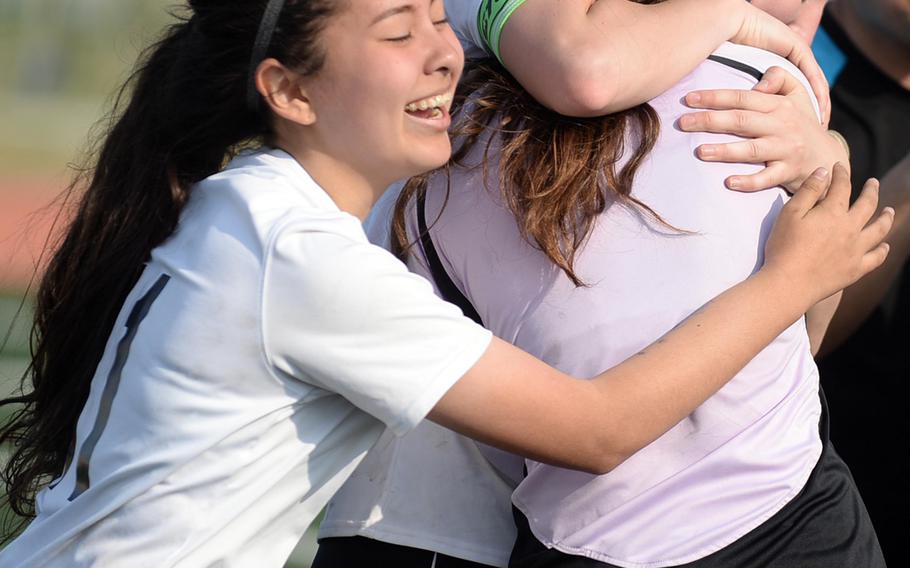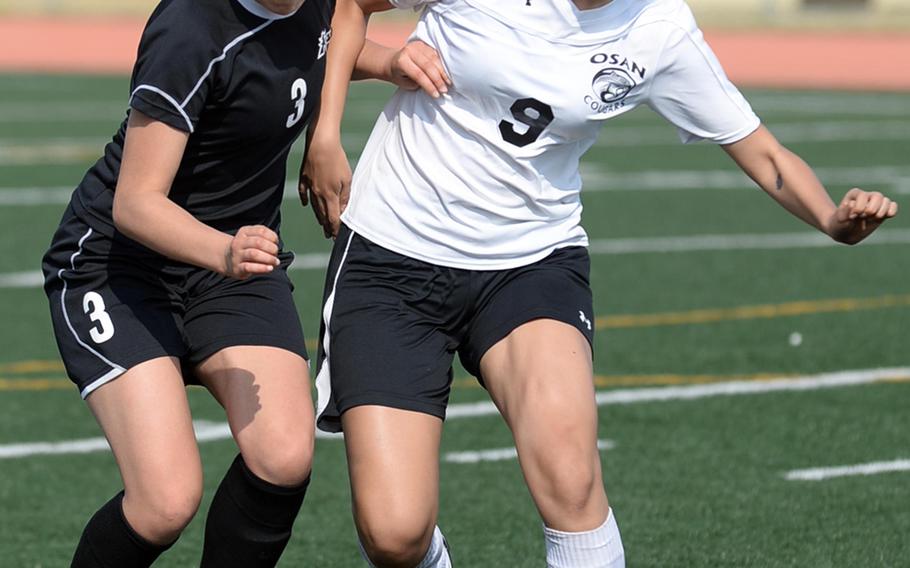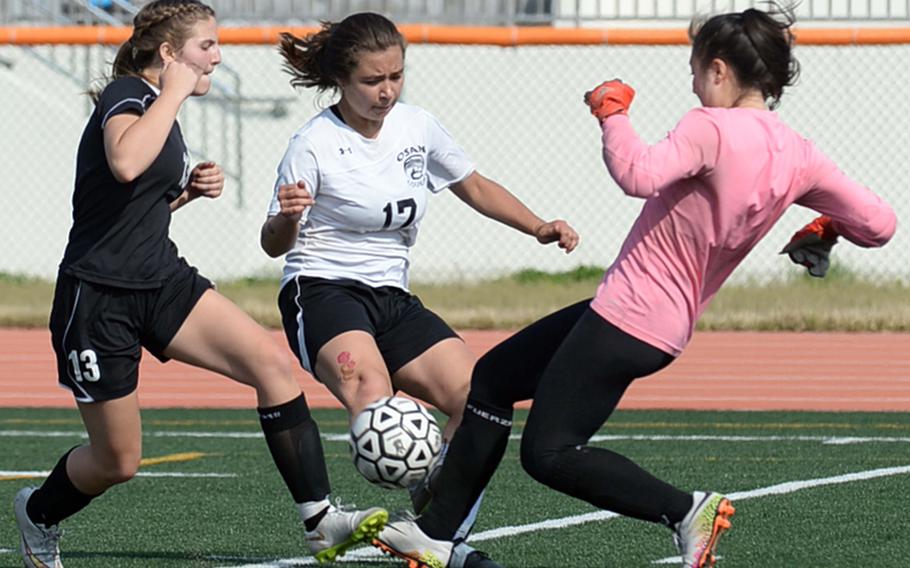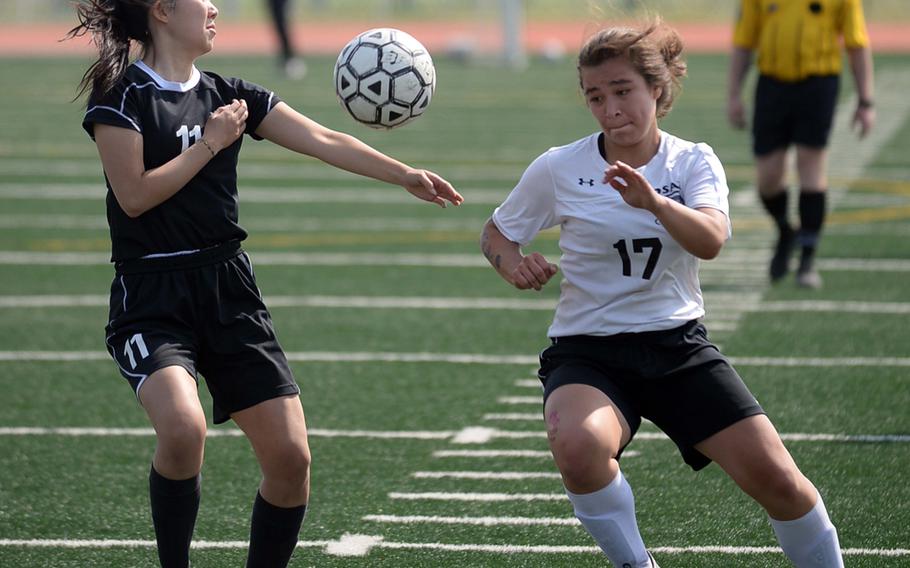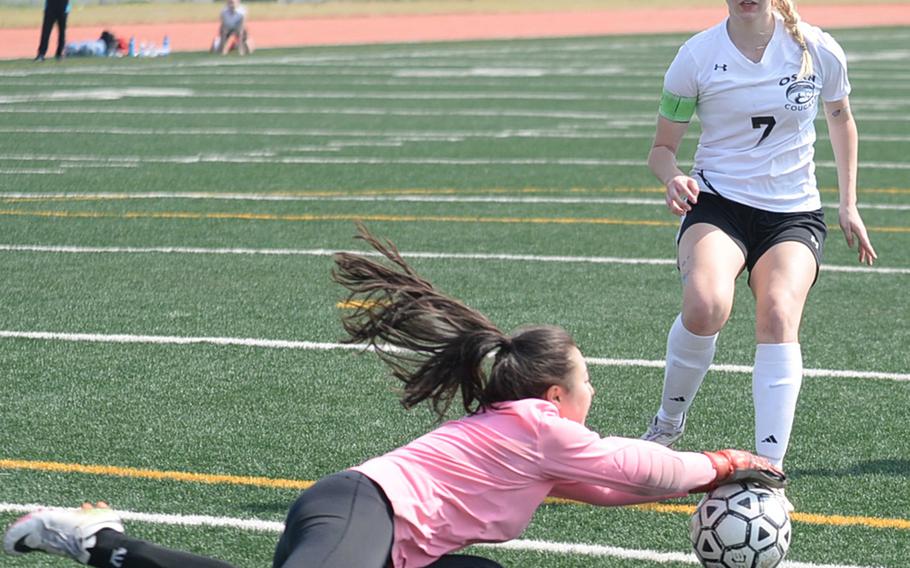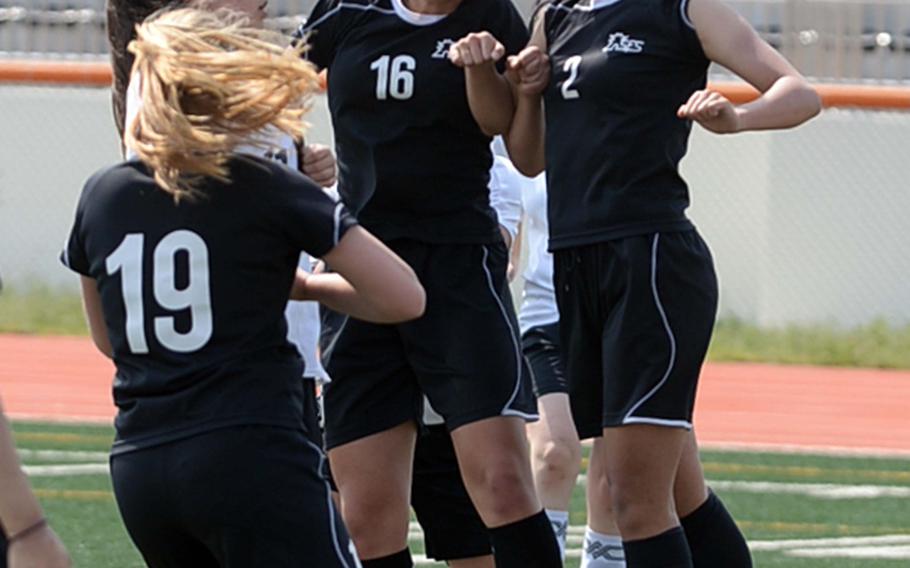 CAMP HUMPHREYS, South Korea – Though it holds the Pacific record with eight Far East Division II Tournament titles, Osan had never done one thing – sweep both the Korea Blue Division regular-season and postseason tournament titles.
That long-awaited dream came true Saturday at Humphreys Middle School, as goalkeeper Haille Nugent stopped the last two shots in a penalty-kick shootout and the Cougars held off Seoul Foreign 3-1 for the tournament title.
"We're making history. We've never won both. First time in school history," coach Sung Plourde said of his team's feats.
Thought to be in rebuilding mode after losing several key components, including the school's career goal-scoring leader (Andrea Carandang), Osan instead went unbeaten.
The Cougars were blessed, Plourde said, with transfers Allyson Marek and Jana Rafi, who combined with holdovers Lizzy White and Nugent to make help the school win its second straight Korea Blue tournament title.
"We were lucky enough to get those transfers and they came through for us," Plourde said. Another crucial move was putting Nugent, who'd spent her previous seasons playing midfield and defense, in the net, despite no previous goalkeeping experience.
"It's about the team," Nugent said. "I just filled the position that we needed to be filled. Contributing a big part to the team, that meant the most to me. Somebody had to do it; why not me?"
Nugent paid the biggest dividends to the team with those two clutch saves, on penalty-kick tries by Lalla Migliardi and Erin Hwang, the last one assuring victory with the Cougars ahead by two goals in the shootout. Marek, White and Maja Inthavixay scored PK goals for Osan.
"Nobody expected us to come through like we did," Nugent said. "And we did. We got the championship. I'm proud of the team."
In regulation time, the Cougars appeared to have things well in hand late in the second half. Marek put Osan ahead 1-0 with a lengthy free kick in the opening minute, then White buried a rebound of a Marek corner kick to open a two-goal cushion.
But Maria Fernanda de Carvalho cut the gap with a second-half free kick. Then following a hand-ball violation, Seoul Foreign's Jisaan Chai hit the equalizer on a penalty kick in the 69th minute.
The deadlock held through the rest of full time and two five-minute extra-time periods before the match went to PKs.
The Cougars next head to Marine Corps Air Station Iwakuni, Japan, trying for their Pacific-record ninth D-II title, but their first one in four years. "We're looking forward to going to Far East and bring that third title home," Plourde said.
While Plourde and the Cougars have one goal remaining, Joon Myong got his final Korea Blue victory in his swan song as Seoul Foreign boys coach. The Crusaders left nothing to chance in the boys final, winning 9-2 Saturday at Seoul American.
Danny Chung scored four times and Caleb Jang added a hat trick as the Crusaders also celebrated a title double, winning both the regular-season and tournament titles.
Myong, 48, a Seoul native who's coached at SFS on and off since the late 1990s, next heads to Singapore for a teaching position at the American school there.
"I love this stuff. And I'll miss my home," said Myong, who won two regular-season and one tournament title in his two years as boys coach, and nine regular-season and seven tournament titles as the girls coach prior to that.
Twitter: @ornauer_stripes