Osan-Perry game called off due to player shortage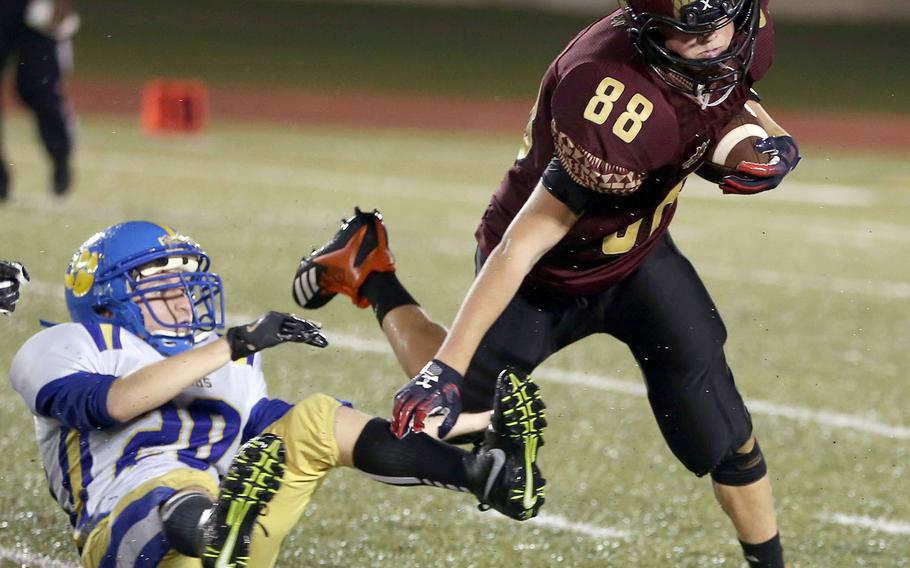 For the want of one player, Osan's football trip to Japan for Matthew C. Perry's homecoming football game is no more.
With just 14 players available, one short of the 15 generally regarded by DODEA-Pacific as the minimum needed to travel, the Cougars found out Thursday that their journey to Japan was called off, athletic directors and coaches at both schools said.
"Safety factor," DODEA-Pacific athletics coordinator Tom McKinney said. He added that the decision was made via discussion between DODEA's Korea and Japan district leadership.
Kickoff was scheduled for 1 p.m. Saturday. No makeup date has been announced; there's no corresponding bye week for the two teams during the rest of the season.
First-year Cougars coach Jerome Learman said he spent most of Thursday afternoon talking to or texting his players and that "they're very disappointed," he said.
"We had 14 players ready to play, they had busted their tails for three weeks," Learman said, getting ready for what would have been their lone trip out of Korea during the regular season.
"It's disappointing for us," Samurai coach Frank Macias said, noting that the game is the culmination of a homecoming week.
Both teams play next Oct. 12, Perry at Division II-leading Zama and Osan at Daegu in a game that will decide which team plays for the D-II title at Zama on Nov. 10.
"We have to be mentally focused, control what we can control and now focus on Daegu," Learman said. Osan needs to win by more than one point to assure itself a berth in the D-II title game; the Warriors beat the Cougars 7-6 in their first meeting on Sept. 7.
Both coaches said the cancellation reinforces the need to discuss potentially changing the Division II format to nine-man or fewer. Europe has six teams playing six-man ball this season.
"That might be better for all schools involved," Learman said.
While it can't be done this season, playing less than 11 per side is "something we're looking at for the future," McKinney said.