Osan looking to get back to winning ways
by
Dave Ornauer
September 2, 2018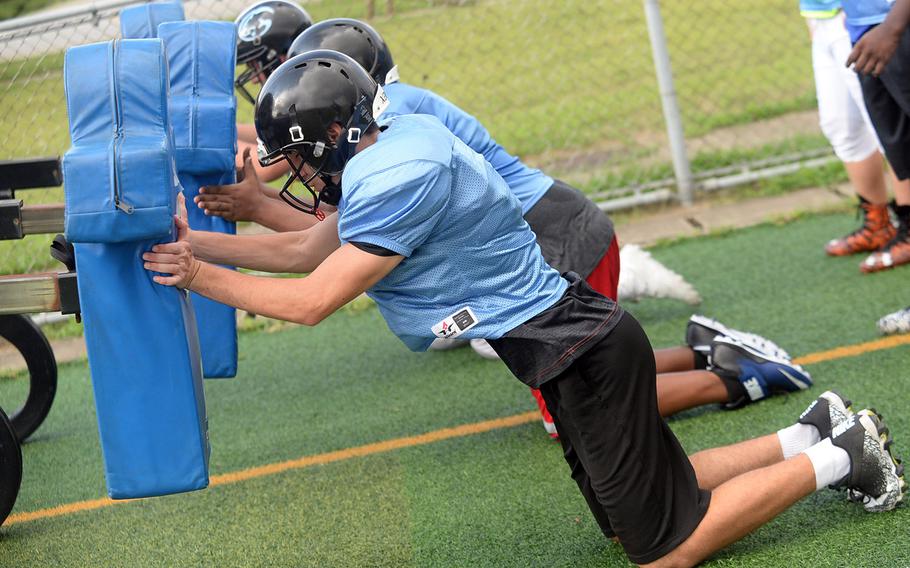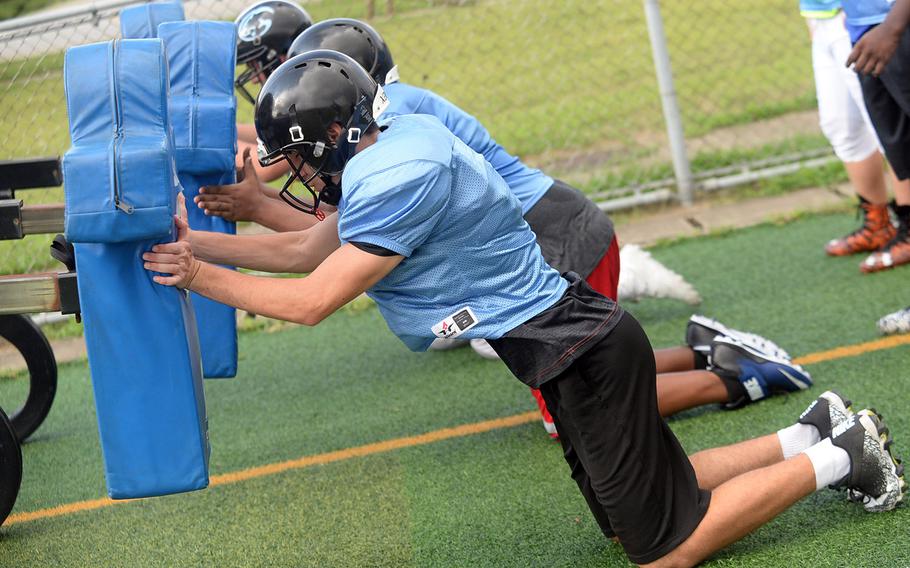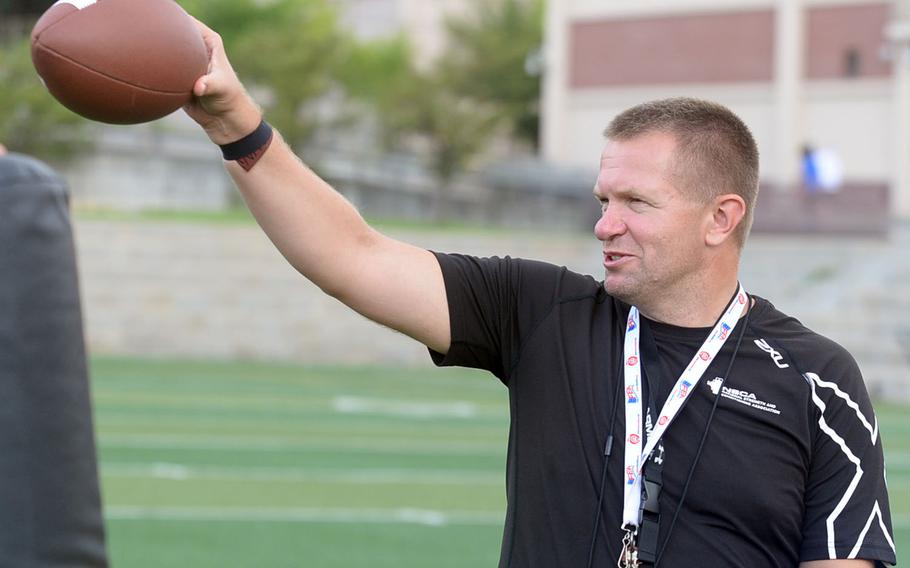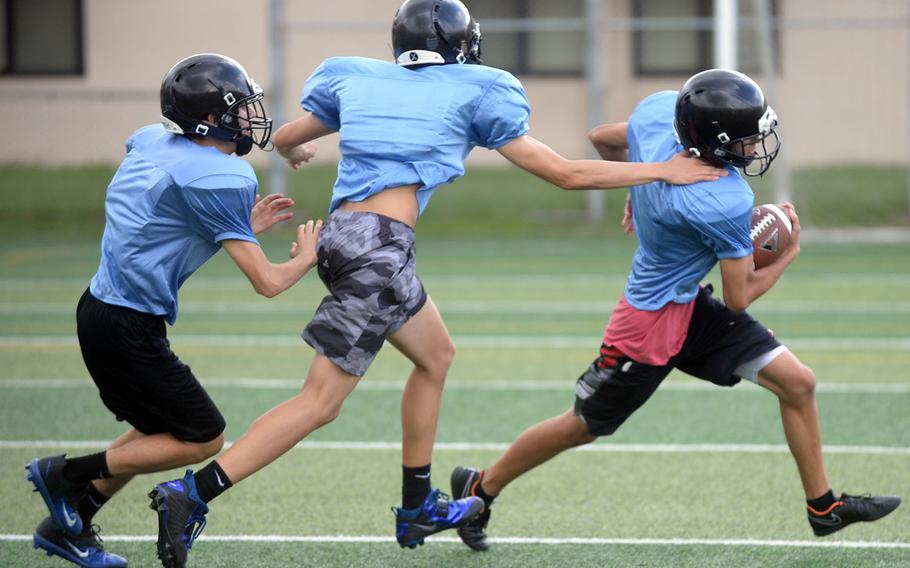 Eleventh in a series of looks at high school football camps around the Pacific.
OSAN AIR BASE, South Korea – Not only could Carson Nugent not play football two seasons ago, neither could Osan.
The Cougars had too few players to even suit up a team. And like Nugent, then 130 pounds, they were all small.
Fast forward to Thursday's practice. Nugent now tops out at 6-foot-2 and 170 pounds.
And as Nugent has grown, so, too, have the Cougars found some sizeable guys to fill the roster – as big as they've been since they contended for Far East Division II titles in the late 2000s.
"Pretty awesome," Nugent said. "We have a great group of guys. They work hard. The coaches work harder. Maybe we'll win some more games this season."
Winning has been rare in Cougar Country. Last season, Osan played as a non-varsity team and won twice in five tries – the team's first wins since 2011.
The school shut down the football team midway through the 2015 season due to injuries and lack of players and the Cougars didn't play at all in 2016.
That matters little to the Cougars' new coach, Jerome Learman, new to DODEA after coaching in Michigan for 19 seasons and Alabama for the last three before being hired to teach and coach at Osan.
"I've turned around two programs before, and I see a lot of similarities here," Learman said. "In some ways, we're ahead of those teams. I didn't have to teach work ethic to these guys. And the returners have a good solid base of fundamentals."
He applied for a position within DODEA, Learman said, and when he heard from Osan's principal, Morgan Nugent – Carson's father – "He didn't have to ask twice," Learman said. "There wasn't a whole lot to think about."
Learman arrived at Osan last spring and immediately began the process of finding big, beefy guys to fill the Cougars uniforms. So far, 18 have answered the call, with the hope that more will turn out as the season progresses.
Four big players moved in and two others who had not played came out for football "and that has made the difference; we have enough to have a good line," Learman said. "They're hard workers. We've had maybe one day when we said it was hot, that wasn't as good as the others, but for the most part, things have gone very well."
It would be nicer, though, if the Cougars had more bodies to put into uniforms. Like most Osan teams the past few seasons, numbers have been thin. "We have to be smart with contact and try to stay healthy," Learman said.
And with the team having played just nine games in the past three years, experience is lacking some, especially in the skills positions.
Learman is turning to Madison Villanueva, a freshman, to serve as triggerman for the Cougars' spread option offense.
"His decision-making keeps getting better and better," Learman said of Villanueva. "He's going to learn every day."
The Cougars have a five-game slate, two each against Daegu and the Humphreys junior varsity, with one inter-district game at Perry – pretty much inheriting Seoul American's schedule. DODEA officials announced on Friday that Seoul would not field a team for the first time in school history.
And for the first time in three years, Osan is eligible for the D-II title, but Learman isn't looking that far down the road yet.
"It's going to take time," he said.