Home Team
On court or on air she's part of a winning team
---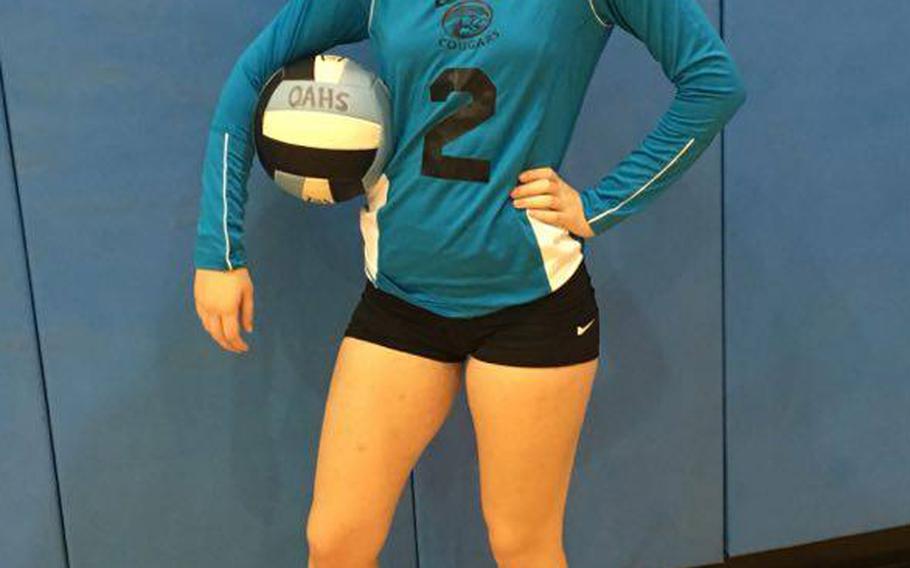 When students intern at offices on military bases, most are relegated to getting coffee and snacks for their seniors in the department, or performing menial tasks that few among the rank and file would do.
Not so Heatherly Shepherd. The Osan junior interns at American Forces Network-Osan a few days a week and her feature segment on the school's welcome-back Luau aired on AFN-Pacific update in August.
That in addition to being a 3.8 GPA student who takes Advanced Placement Physics and Language Composition, volunteers regularly in church and divides time between the Cougars' varsity and junior-varsity volleyball squads. And she plays softball in the spring.
Whatever she's doing at any given moment, Shepherd says it's with goals in mind. AFN-Osan's station chief Master Sgt. Harry Kibbe "said it's good to be goal-oriented instead of time-oriented," Shepherd said.
"My goal is always to help my team succeed. I want to put out the best product at AFN to win awards and make the station the best, just as I want to win Far East and have the team (Osan) had a couple of years ago."
Shepherd has been playing volleyball, what she calls her primary sport, for five years, starting in her native Birmingham, Ala. She's since been at Fort Riley, Kansas, and most recently at Osan. Her father is an Army captain and is a chaplain at nearby Suweon Air Base.
Shepherd is one of the components on a Cougars volleyball team that has won four of five matches and is taking aim at regaining the Far East Division II title it won two years ago.
She divides time between the JV and varsity; Korea league rules permit players to swing between the two with a limit of five total sets. On the JV, she is the captain and setter, while on varsity, she plays a little of everything, mainly outside or weak side hitter. Shepherd has recorded six digs and 12 assists in varsity play this season.
But it's the stuff that doesn't show up on a stat sheet that makes Shepherd important, says coach Krista Fagala.
"You can see her take charge, encourage the girls, teach them when they need to be taught, bring them up when they're down and get them going again," Fagala said. "She's joyful and happy. That's the thing we love most about her."
Shepherd calls volleyball the most team-oriented sport she knows. "It's all about building chemistry," she said. "We play together every day, we know each other pretty well, we know how each other plays. We've done well building each other up and working together."
Shepherd's contributions have very much been noticed by her peers.
"Heatherly is a very good teammate" both on the court and off, sophomore setter Aubriannah Garcia said. "She is very supportive and is very hard working."
When not on the court or in the classroom, Shepherd can be found in the AFN studio, where she's interned since last October. She works on graphics, movie schedules, blue-page public-service announcements specific to various bases and writing broadcast scripts.
But she's also on the radio, co-hosting programs with Staff Sgt. Daryn Murphy, her boss and the station's NCO in charge of radio.
For the first week and a half, "you could tell she was young; she was a little nervous at first," Murphy said. "But she did a good job adjusting to some things she had never done before. She's really quick. It didn't take much time" for her to get up to speed.
Putting together her first feature segment on the back-to-school Luau, she says she knew what she had to do, having seen others do it. But "it was nerve wracking putting my name on it … figuring it out on my own and applying what they [Murphy and Kibbe] taught me," Shepherd said.
The segment aired several times in late August and early September. "Use the software, watch how they operate, they've been so patient in helping me do everything I've been doing," Shepherd said, calling Murphy "a really, really good boss."
Now that she's had a segment aired, "the next story, I'll be more comfortable," Shepherd said. "I plan to be doing more in the future."
Shepherd calls CBS' 48 Hours her favorite news magazine, favors the likes of FOX News' Megyn Kelly as her role model and says she eventually wants to get into journalism for a career.
"I want to get a degree in some kind of journalism, media communications, business, marketing; I like investigative journalism, so we'll see where that goes," Shepherd said.
Kibbe said Shepherd possesses "a lot of potential" to be a broadcaster. "She works hard and she cares about the quality of the product. Those are the things you have to have to succeed in broadcasting," he said.
For now, there's the task of returning Osan volleyball to the winning course they enjoyed two seasons ago. For the Cougars to succeed, takes a work ethic similar to that employed in a radio studio, Shepherd said.
"You have to keep practicing until you get it down," she said. "You work on it until it's perfected."
ornauer.dave@stripes.com Twitter: @ornauer_stripes
---
---
---
---