Far East wrestling
Lee joins elite field with fourth straight title
---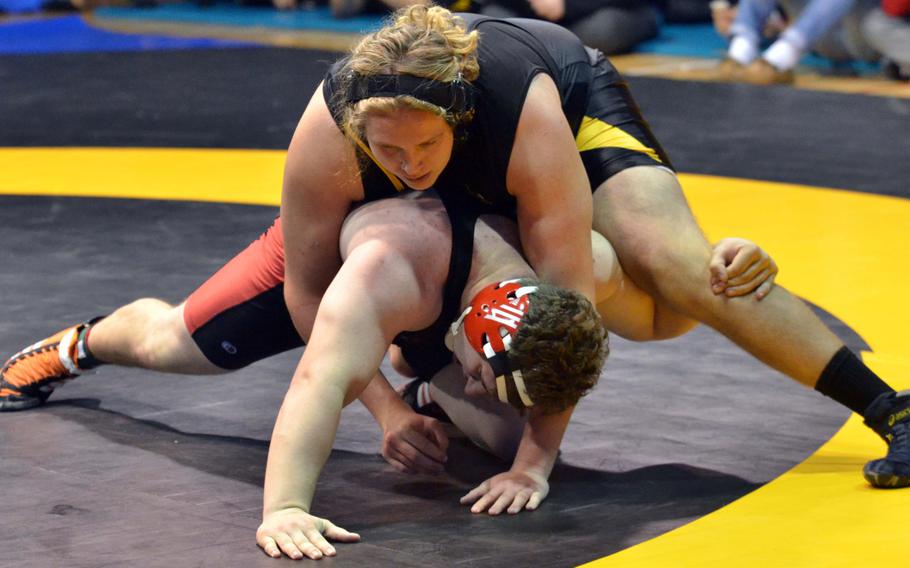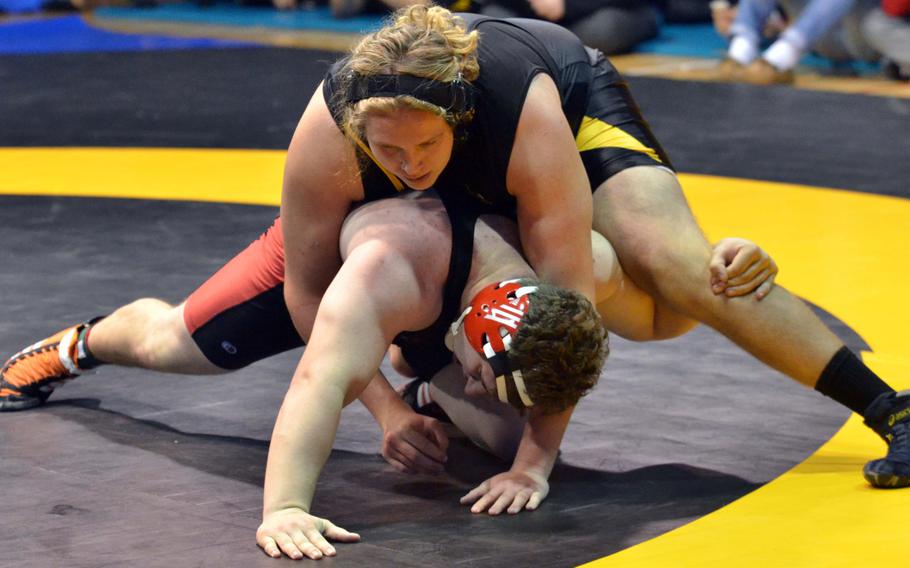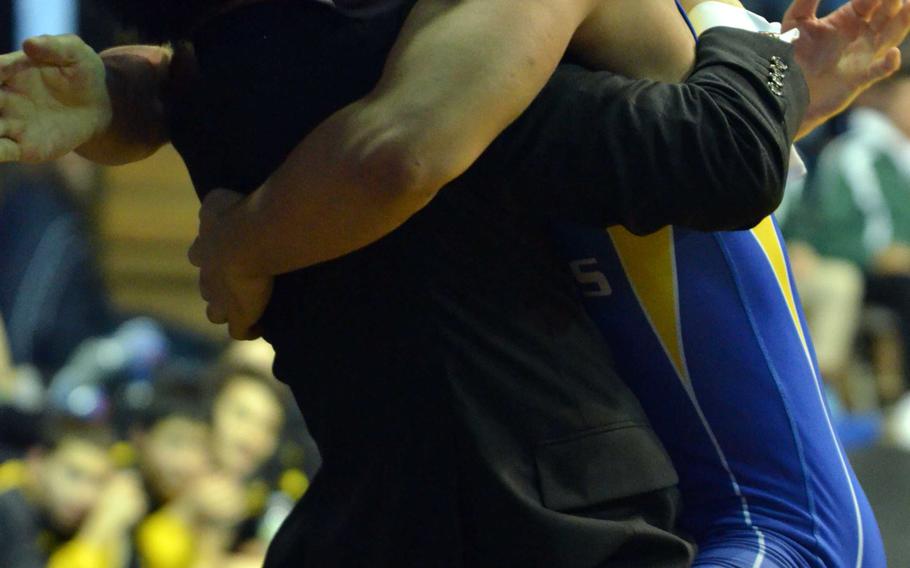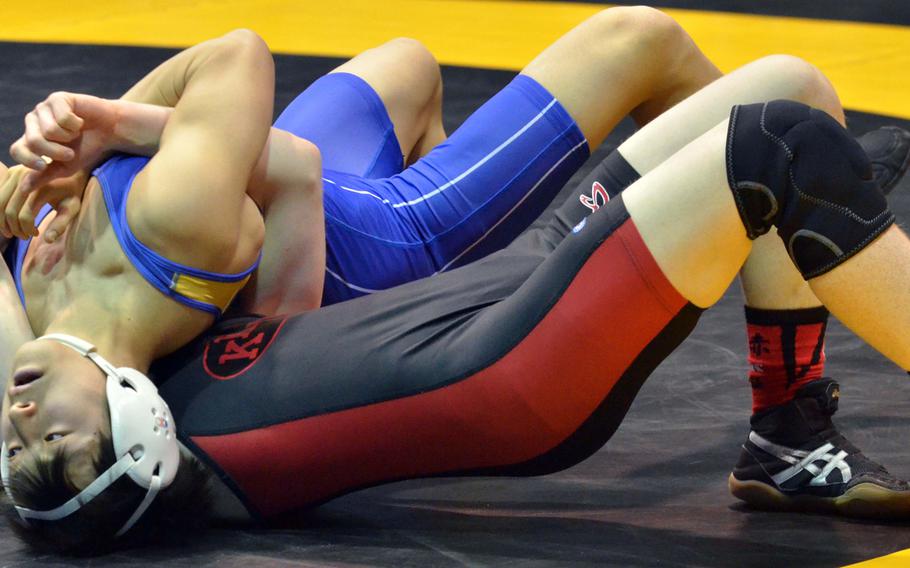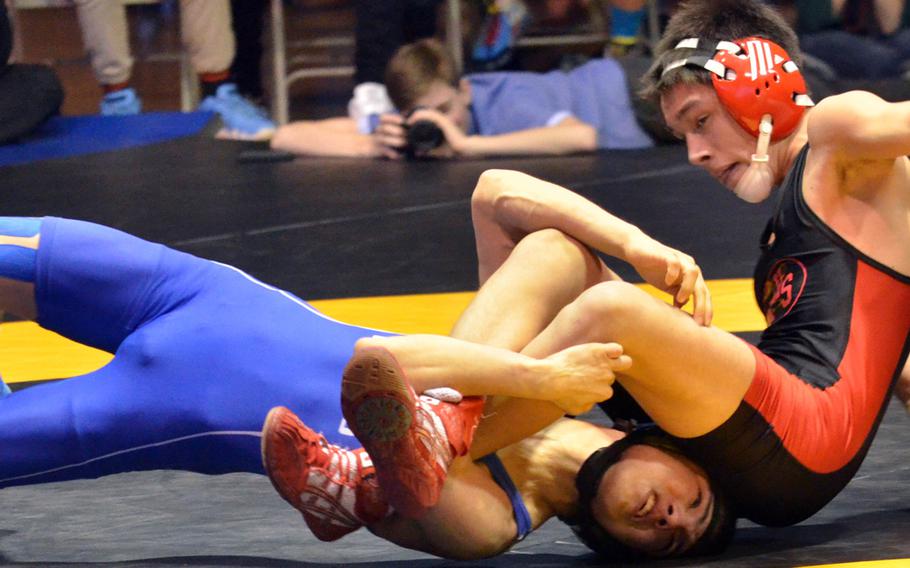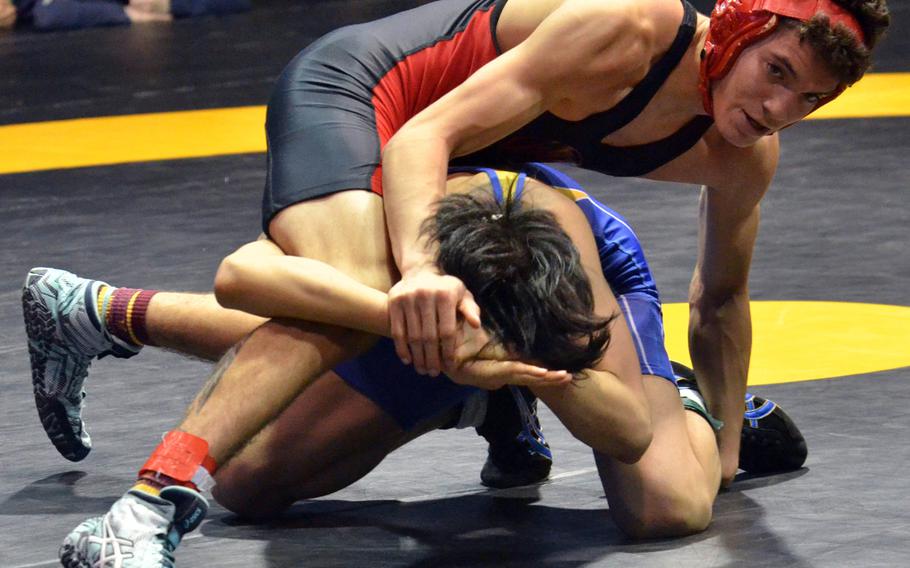 OSAN AIR BASE, South Korea – Chang Young Lee said he had no idea of the enormity of what he'd just accomplished.
With a takedown 48 seconds into the second period, the St. Mary's 135-pound senior completed a 10-0 technical-fall victory over Mason Smith of Nile C. Kinnick, giving Lee his fourth straight title – just the third to do so in Far East wrestling tournament history.
"I wasn't aware of that," Lee said of joining Justin L. Miller (1996) and Scott Wood (2009) of Kubasaki in that small pantheon. "I was relieved that I just captured my title. I nearly got pinned in the semifinals. I'm just so relieved. It was really, really hard."
"Extremely happy," said Titans coach Shu Yabui, himself a three-time Far East gold medalist in the early 2000s. "I've coached him since middle school. He's a special kid, he's got a great work ethic and a unique set of skills. It's been a long journey."
Lee suffered only one defeat in his high-school career, to Kinnick's Jianni Labato in the 2016 Yokota Invitational. He avenged that defeat in the 2016 Far East, also at Osan, after beating Kinnick's Matt Abrenilla in 2015 and Tasi Duenas of Kadena in 2014.
Lee's victory also helped pave the way for St. Mary's to capture its fourth straight team title in the individual freestyle tournament. The Titans outpointed their chief rival Red Devils 81-77 for the crown.
"We expected that," Yabui said of the close shave with Kinnick. "We knew this was coming since the beginning of the season. After (winning the) 'Beast (of the Far East last month at Yokota),' we knew it would come down to this. No surprises."
For the Red Devils, it was the fifth straight second-place finish. "We've been down this road before," Kinnick coach Gary Wilson said. "We just needed one more gold and it didn't happen. You can't take anything away from St. Mary's." The Titans won five of six tournaments this season.
On the Division II side, Christian Academy Japan, which opted to become a small school this year, earned its first wrestling team banner, scoring 34 points to 22 for host Osan. The Knights' run was fueled by triumphs from Callum Marshall at 158 and JinHwi Park at 168.
"They showed up and had solid performances," CAJ coach Morris Yaegashi said. "It's a pretty good feeling."
The Cougars only had four entrants, but three of them placed, led by Kojiro VanHoose's 108-pound title and his brother Hunter's silver at 141.
"They're both really good," said Osan coach Michael Willcox of the VanHoose brothers, who transferred from Mountain Home Air Force Base, Idaho and are involved in a variety of disciplines. "We were fortunate to get them. They have a lot of fighting experience."
Kojiro VanHoose placed eighth in the Idaho state championships a year ago. "It's kind of amazing," he said of winning Far East, adding that the lack of wrestlers on other teams in Korea "made it more difficult. It was more competitive back in the States."
VanHoose pinned Kyan McCarty of Kubasaki in 1:25 for the title. At 101 pounds, St. Mary's Eshan Shingi beat Yokota's Caleb Heino by technical fall 10-0 in 2:20, the second of two bouts in the double-elimination format. Heino pinned Shingi in 4:15 to set up the winner-take-all bout.
Four years of frustration came to an end for Kinnick's Chon Dareing, who outlasted St. Mary's Tatsuhito Matsumoto, also needing two bouts. He lost a 5-1 decision, then scored the last point of a 1-1 decision for the title.
"Every year, you come back in November, you think about that last loss at Far East," Dareing said. "Now, I've finally won it. I feel so accomplished."
In a battle of defending champions, St. Mary's Ryo Lemkuil was another who needed two bouts to take down Kinnick's Lucas Wirth, a 10-0 technical fall in 1:57 and a 4-2 title-clinching decision.
Devoney Stanley righted the Devils' ship at 129, scoring a 14-4 technical fall in 2:20 over Seoul American's Eric Guzman, capping a season of improvement. Instead of just taking random shots, "I was more focused on what I'll do in a match before I do it. Better planning," he said.
One of Lee's training partners, Ryo Osawa, repeated his 141-pound win, beating Hunter VanHoose by technical fall 14-3 in 3:28. Osawa thanked Titans graduates still living in Tokyo for coming back to the practice room and "beating me up; they helped me improve my technique."
At 148, Hunter Lane of Daegu, after finishing second a year ago to eventual Outstanding Wrestler Kazuho Kawashima, achieved redemption with a pin in 1:23 over Seoul's David Messinger. Lane agreed with one coach's assessment that he wrestles with a chip on his shoulder.
"When you step on the mat, you can't be passive; you have to be aggressive," Lane said. "You have to put it all on the line, and I did."
Marshall beat Darius Swenson of Kinnick by technical fall 10-0 in 4:53 at 158, while Park did the same in 3:52 to St. Mary's Mitchell Krcelic at 168.
Kinnick's Dwayne Lyon also repeated at 180. His 15-4 technical fall in 5:23 over Kubasaki freshman Nick Burwell didn't reflect the closeness of the match. "I have more (high school) years wrestling than he did, but he has a lot of experience. He's a great guy," Lyon said.
The last two titles were earned in two-bout championships. St. Mary's Shane Koslow pinned Kubasaki's Tristan Young in 5:29, then won an 11-1 technical fall in 5:15 at 215 pounds. Kinnick's Marc Domery pinned Kadena's James White in 4:18 and 1:40 at heavyweight.
The dual-meet tournament began Friday afternoon, and St. Mary's and Kinnick were favored by most to meet again in the D-I final, with Yokota and CAJ favored to reach the D-II final.
"We'll set our sights on tomorrow," Wilson said.
Twitter: @ornauer_stripes
---
---
---
---