Prep roundup
Kubasaki regains volleyball title by stopping Seisen
by
Dave Ornauer
October 13, 2018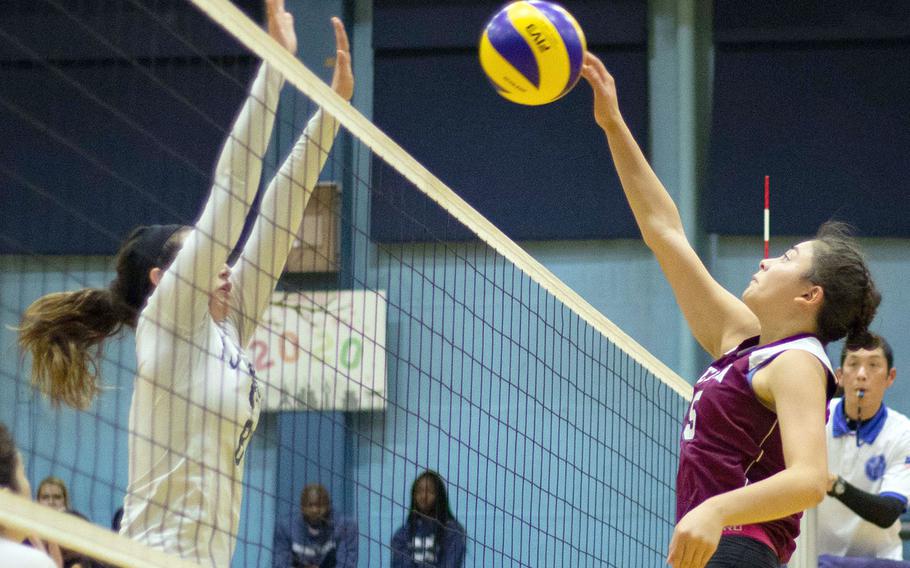 TOKYO – Getting vengeance for what happened a year ago played only a part in Kubasaki regaining the title Saturday in the American School In Japan's YUJO IV volleyball tournament.
Senior spiker Donatella Barone said she and her teammates were more concerned with the team facing them at that moment. Yes, it was the same Seisen team that swept Kubasaki in last year's final, but the Dragons wanted to just win the match, Barone said.
"It was only about what was on the court," said Barone, who had 14 kills and five block points to pace the Dragons past the Phoenix 25-14, 25-19, 27-25. "We were focusing on what was happening in that moment."
What happened in the end was the Dragons capturing the YUJO title for the second time in four finals appearances. They won the title in the first YUJO tournament in 2015, but had lost in the final to host ASIJ in 2016 and Seisen in 2017.
"We broke the streak," Barone said. "I'm very happy about that. I'm very proud of my new team."
Barone was speaking of a Dragons team with just three seniors and loaded mostly with underclassmen. A handful of them are not new to volleyball, such as freshman Alyssa Alvarado, who played club ball in Texas before transferring to Kubasaki.
"I feel like I've been playing with them (Dragons) for years, when it's only been three months," said Alvarado, who had seven kills.
Another of those seniors, setter Mimi Larry, was named Player of the Tournament after she posted 38 assists.
"I didn't expect it," she said after the final. "We played really well. We just wanted to play our best. I'm really proud of everybody."
Kubasaki breezed to victory in the first set, then struggled some at the end of the middle set. The Phoenix made a fight of it in the third set, arriving at set point with a 24-23 lead, but the Dragons got three of the next four points, including a Zoey Weidley kill to end it.
"We know what we need to work on, we need to have no fear and consistency makes a difference," Phoenix coach Elizabeth Jury said of the takeaways for her team. "They fought with all they had in the third set. They're capable and they're able."
Seisen will try to defend its Far East Division I Tournament title, while Kubasaki looks to regain the title it won three straight years from 2014-16 next month at Camp Humphreys.
DODEA cross country leaders finish fine-tuningEntering Pacific high school cross country's postseason, a Matthew C. Perry junior, Owen Young, continues to hold the region's fastest 5-kilometer time, clocking 16 minutes, 25 seconds in Saturday's race at Marine Corps Air Station Iwakuni. He transferred from Zama before the season.
Right behind him at 16:32.9 is Nile C. Kinnick senior Akimanzi Siibo, who posted that time during Saturday's Kanto Plain race at Tama Hills Recreation Center's 5-K lower course.
And remaining unbeaten on Okinawa was Kadena senior Trevor Williams, who was timed in 16:39.7 in a 5-K race on Kadena Air Base.
Kanto international school runners will chase Pacificwide honors in the Asia-Pacific Invitational next weekend on Guam, while district finals in Japan, Okinawa and Korea will be held the next two weekends.