Prep roundup
Kubasaki girls give Kadena a scare
by
Dave Ornauer
December 6, 2013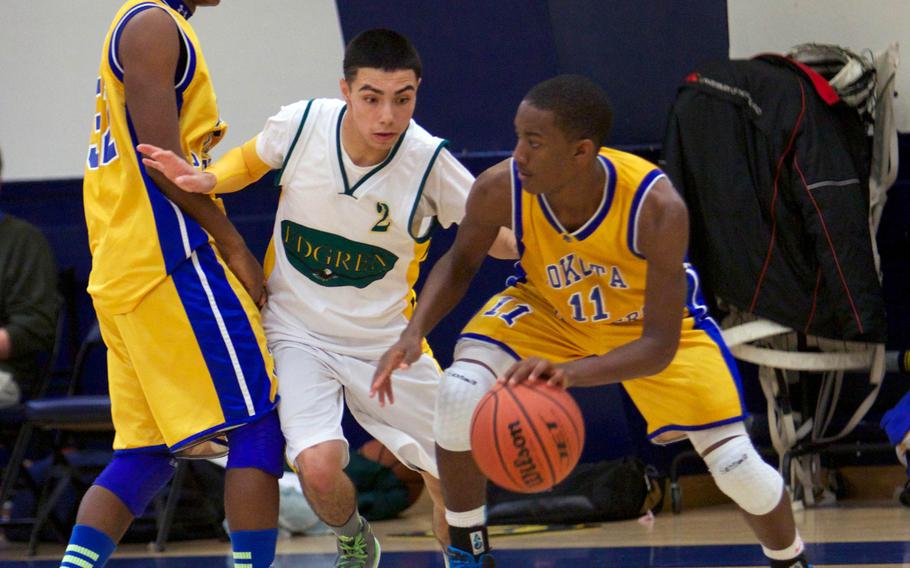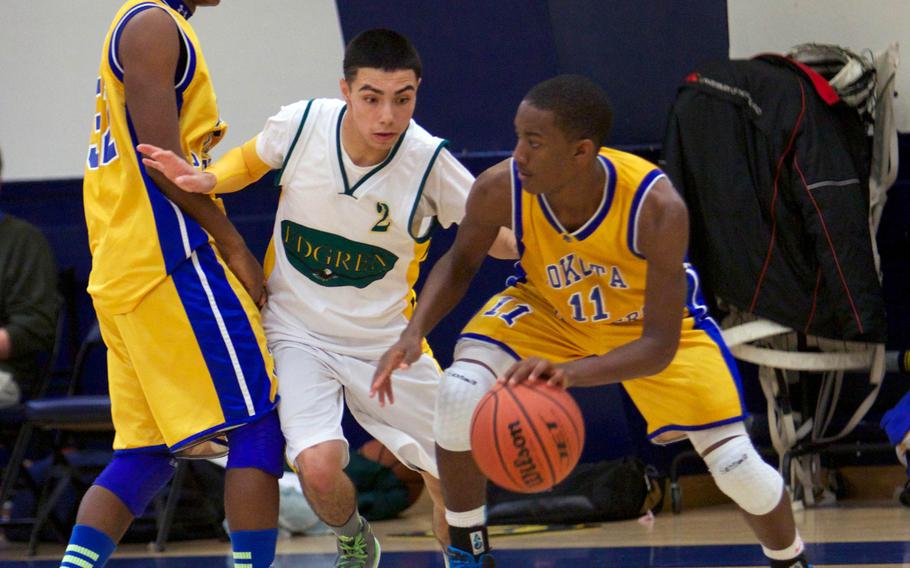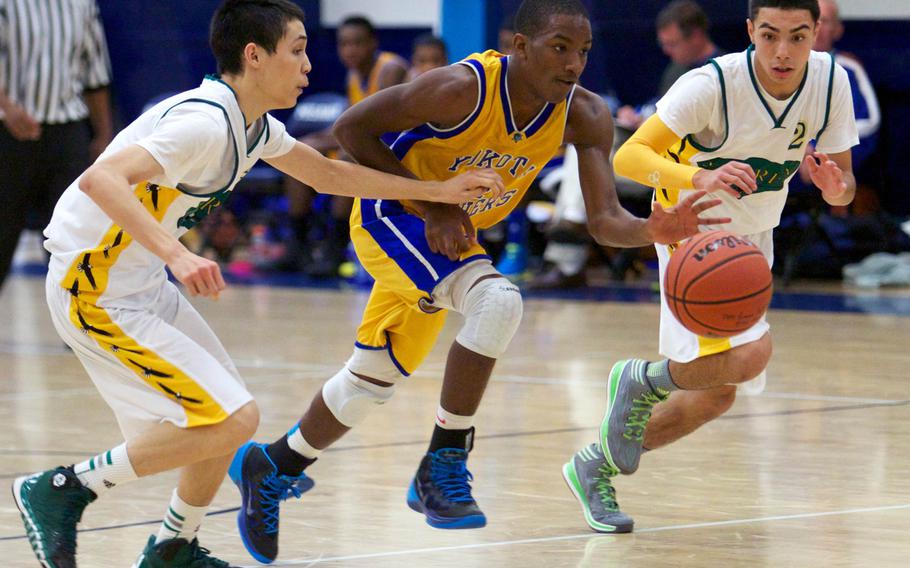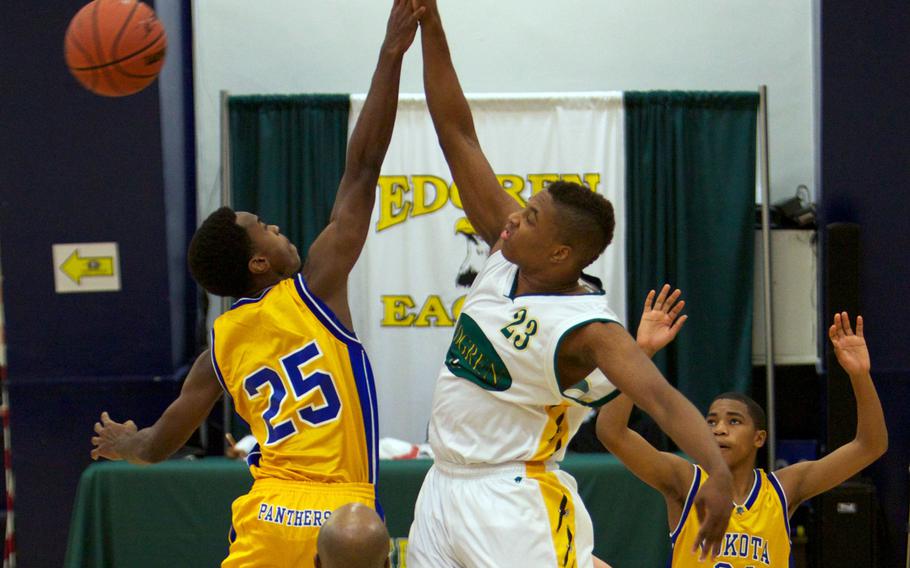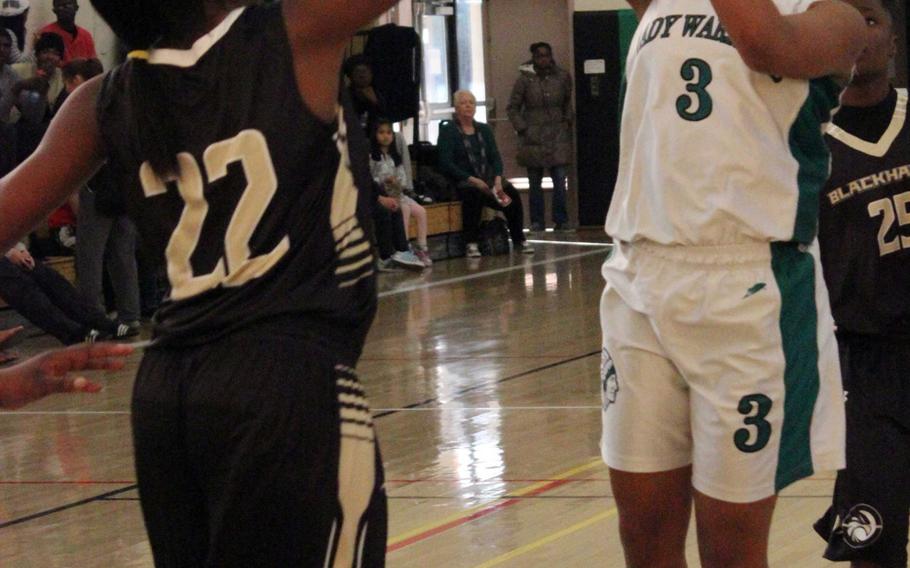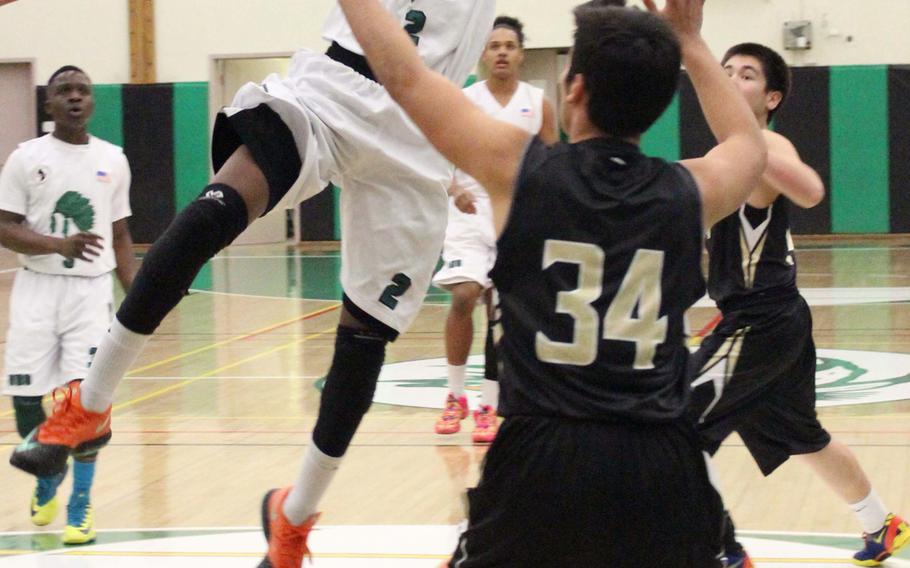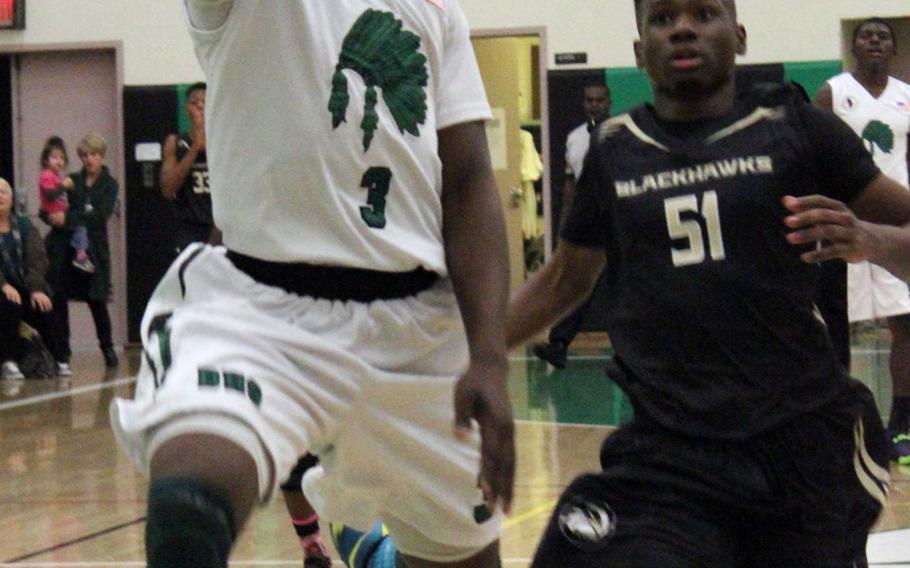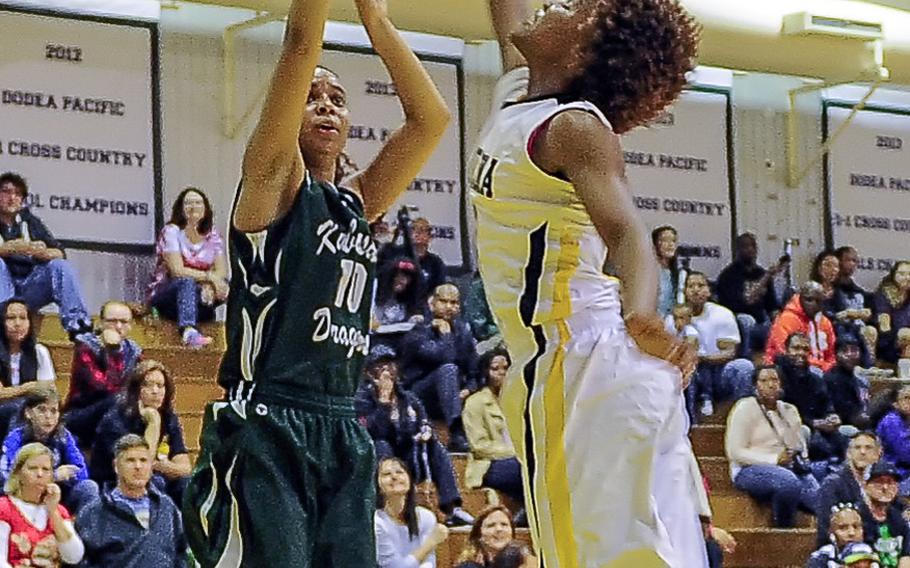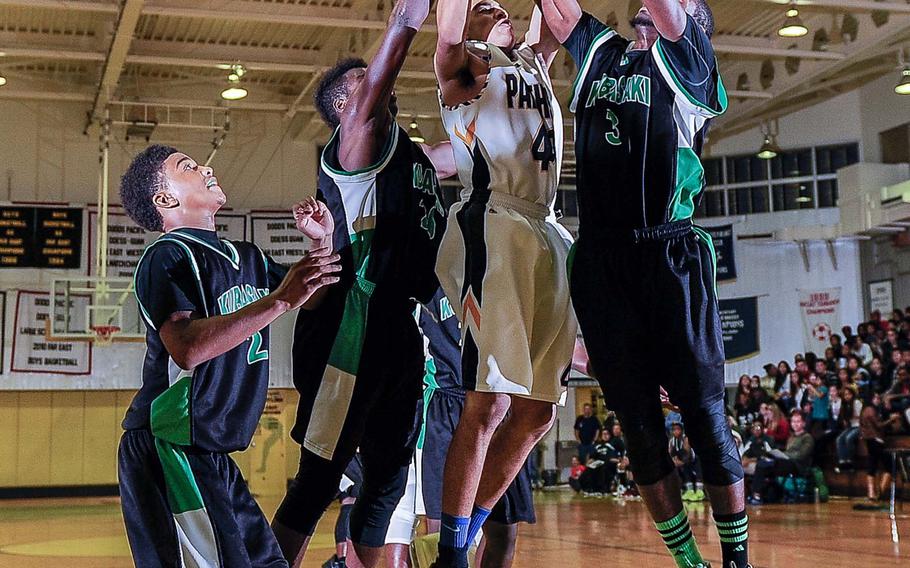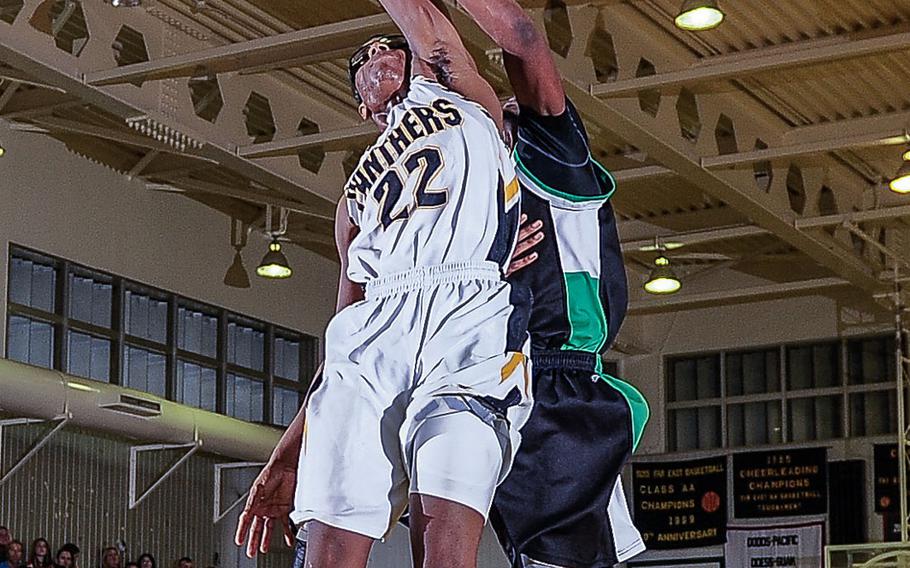 KADENA AIR BASE, Okinawa – This will likely not be a typically one-sided Okinawa season series between Kadena's and Kubasaki's girls, if Friday's opener was an indicator.
Montaya Jones hit two foul shots with 59.5 seconds left and Kadena scored the last eight points to rally from a seven-point third-quarter deficit to edge Kubasaki 46-39 in a game much closer than the final score indicated.
It was a far cry, both coaches said, from the string of seemingly endless blowout Kadena wins that have marked the series for the last decade. Kubasaki hasn't won the season series since 2003-04 – the last time coach Bob Driggs came out of retirement to take the reins.
"Kubasaki is not a pushover like they usually are," Panthers coach Willie Ware said. "This game gave them a whole lot of confidence, they came into our house and had us down most of the second half. And we just happened to come back and win. It's definitely on."
"For our first game, man, that's great," said Driggs, who's won four titles at the Dragons' helm, the last in 2003-04. "We need more contribution in a few spots. First time out of the box for us, it was a good showing. We cracked a little at the end when they took it from us."
Kadena scored the first six points and it looked like another one-sided outcome was in the cards. But Kubasaki scored the next seven and the game see-sawed from there.
Sydney Johnson gave the Dragons their last lead, 39-38, with a spinning bank shot with 2:05 left. But Jones put the Panthers up for keeps with her foul shots.
"Had she missed one or both, I think things could have gone a different way, but they gave us some life when we needed it," Ware said.
The boys opener also featured a comeback, with Kubasaki prevailing 61-58 in another see-saw contest that Dragons coach Jon Fick called a "big test" for his players.
Playing before a raucous crowd split equally between the rivals, the Dragons trailed 52-41 early in the fourth, but scored 14 straight to seize the lead for good. DeQuan Alderman hit a key layup and Jarrett Mitchell two foul shots in the closing seconds to keep Kubasaki ahead.
Fick credited Tristan McElroy's shooting that lit the spark and the defensive play and offensive playmaking of sophomore Jacob Green. "He makes things happen on both ends," he said.
"What a test. And Kadena has a great team. Give them credit because they had this game and we just found at little extra at the end."
Elsewhere ...This is the first weekend in which all districts saw competitive basketball in the 2013-14 season. Korea's latest entry, the Humphreys Blackhawks, had a rough go in their boys and girls debuts at Daegu. The Warriors clipped the Hawks 73-34 and Daegu's girls spoiled the homecoming of former Warriors star Ashley Gooch, now coaching at Humphreys, 51-24.
"It was tough," said Gooch. She coaches the Blackhawks' boys volleyball team, which won its inaugural match in five sets in September also at Daegu's Camp George.
In a bit of a surprise, Seoul Foreign's girls pulled a mild upset 42-40 over Seoul American, holding off a late fourth-quarter charge by the Falcons. Osan American's girls got 31 points from Andrea Carandang and beat Taejon Christian International 65-48.
In Japan, Yokota's boys won handily at Robert D. Edgren. Matthew C. Perry's and E.J. King's boys won their two Western Japan Athletic Association tournament games at Osaka, while the Samurai and Cobra girls teams dropped their WJAA pairs at Kobe.