Kubasaki gets enough big plays to spoil Red Devils' opener
---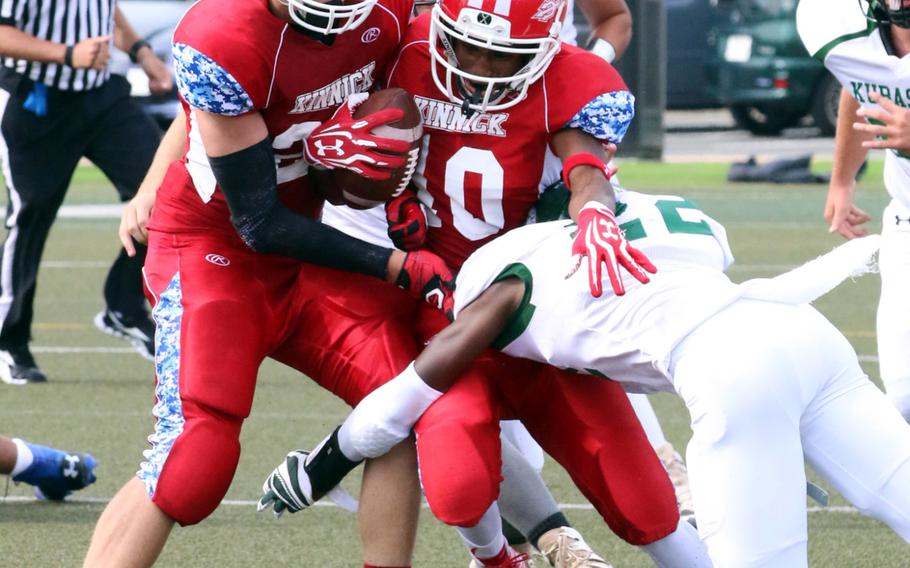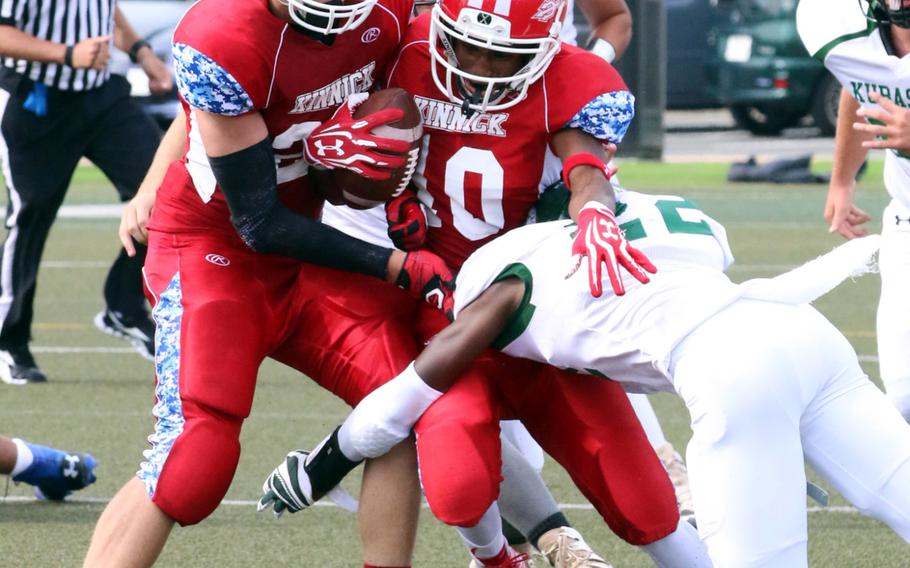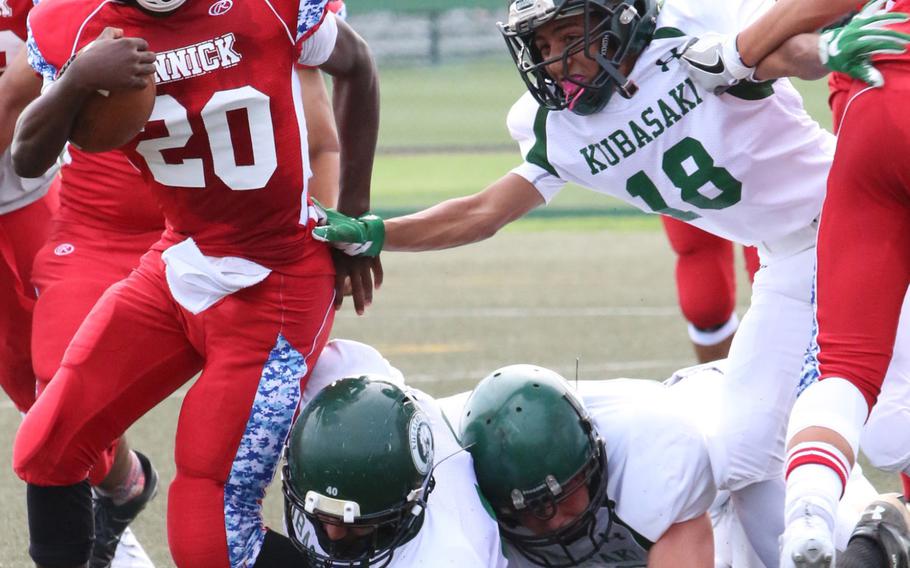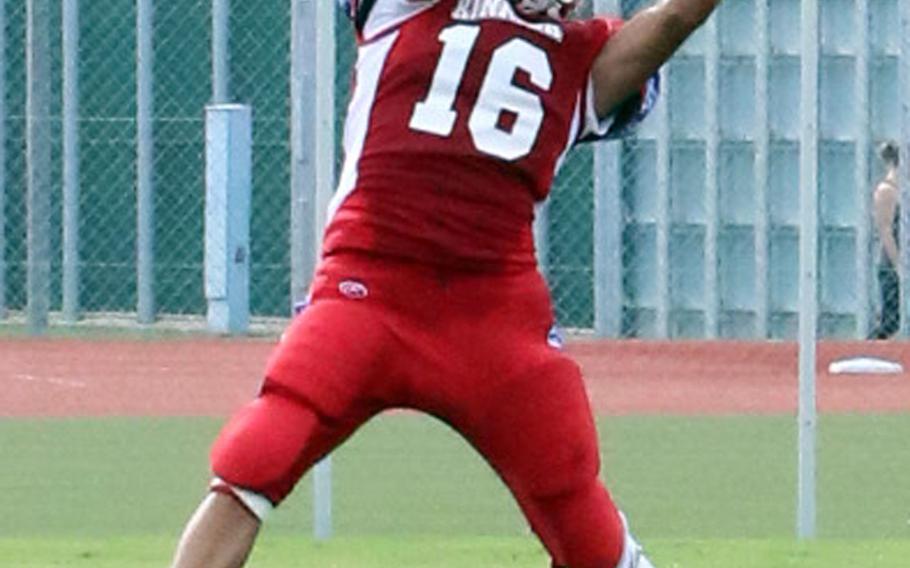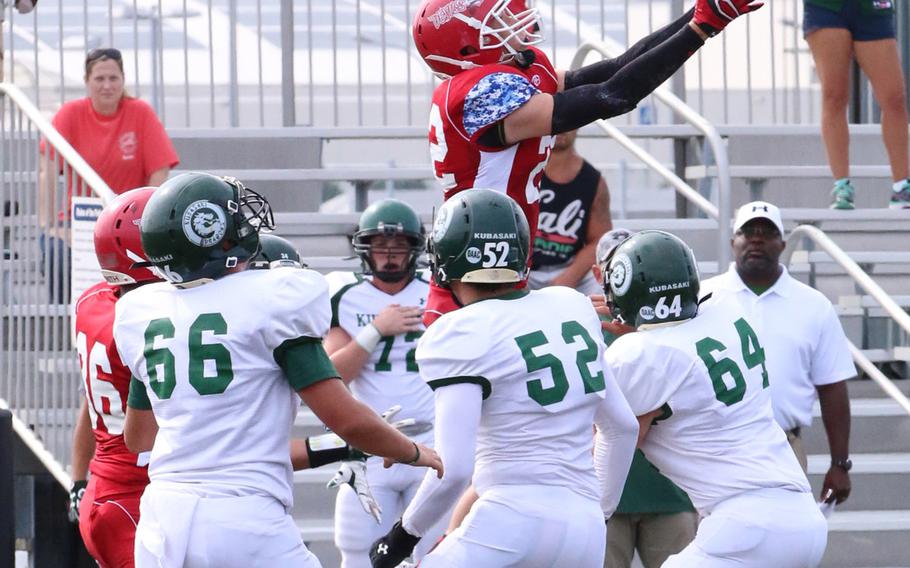 YOKOSUKA NAVAL BASE, Japan – Joshua Swen's right foot helped give Kubasaki football the must win it needed. The junior booted second-half field goals of 47 and 48 yards to give the Dragons enough breathing room to eke out a 13-6 victory over Nile C. Kinnick on Saturday afternoon at Yokosuka's Berkey Field.
"Those were two huge plays for us," coach Fred Bales said of Swen's kicks. Swen is 3-for-4 from field-goal range, including a 26-yarder in Kubasaki's season-opening 34-3 loss to Kadena.
With Saturday's win, the Dragons (1-1) leaped back into the chase for Far East Division I title-game space. Kubasaki, the two-time defending Okinawa champion, has played in the D-I title game the last five years, winning in 2013 and losing the last two years to Kadena.
"They say the next game is always the most important game; this was a big win for us," Bales said.
"We played tough, physically and mentally. We responded a lot better when things were going against us. We had some hustle on some plays" that prevented Kinnick touchdowns, Bales added. "We played hard from the beginning to the end."
The game remained scoreless until late in the third quarter, when Kubasaki quarterback Bobby Riegert tossed a 53-yard touchdown pass to Tim Rivers. Swen's extra-point kick gave the Dragons all the points they would need.
Following Swen's first field goal, the Red Devils responded on quarterback Kacey Walker's 3-yard scoring run, but Kinnick missed the extra point. Swen's second field goal then made it a six-point game.
Kinnick had several chances to tie it or perhaps go ahead, but the Dragons stopped the Red Devils deep in their territory three times, the last one coming on the final play when Kubasaki's Anthony Macaluso got the third of three interceptions off Walker.
"Tremendous respect for the Red Devils program," Bales said of Kinnick. "They took the fight right to us."
Riegert and Cameron McCall combined to go 3-for-10 for 83 yards; each had a pass intercepted. Riegert rushed six times for 25 yards. Trey McKoy led all Dragons rushers with 54 yards on 16 carries and intercepted a pass. Alex Ramos picked off a pass and rushed 11 times for 36 yards.
Macaluso caught two passes from his own quarterbacks for 30 yards. In addition to his touchdown catch, Rivers had eight tackles. Hayden Williamson added 10 tackles. Josiah Hallett had eight tackles, two for losses, plus a fumble recovery.
Kinnick became the last DODEA-Pacific program to open its football season. The Red Devils were scheduled to open Sept. 2 at home against Matthew C. Perry, but that game was postponed when the Samurai didn't have enough players with the required 10 practices. It's rescheduled for 5:30 p.m. Saturday.
"Wasn't fun," coach Dan Joley said of Kinnick waiting 6½ weeks from the first practice to play its opener, then losing it.
With it being the first game, "we knew we were going to make mistakes; we just didn't expect to make that many," Joley said. Besides three interceptions, there was a lost fumble, bad snaps on extra-point and field-goal tries and penalties, including four first-half false starts.
Walker ran 12 times for 56 yards and was 1-for-7 for 30 yards. Harry Cheng had 53 yards on 11 carries plus 12 tackles, two for losses. Dwayne Lyon added eight tackles, two for losses, and Andrew Urrette and Josh Brotherton each had interceptions for Kinnick.
---
---
---
---