Kubasaki can now focus on title game after 35-0 win over Seoul American
---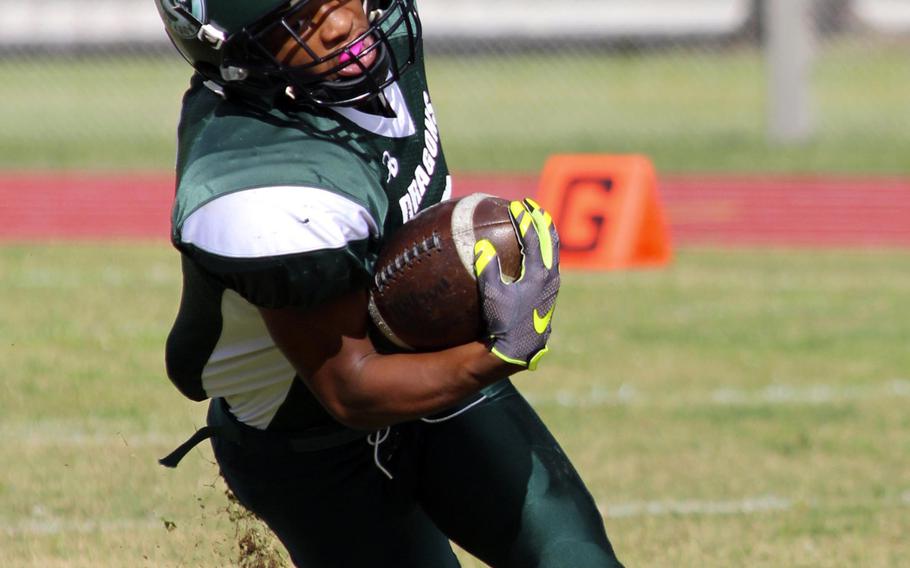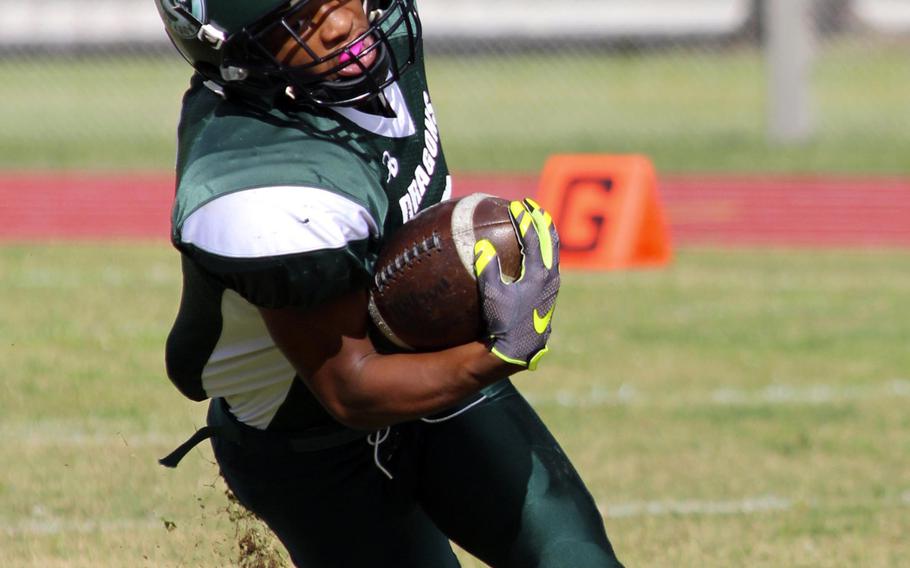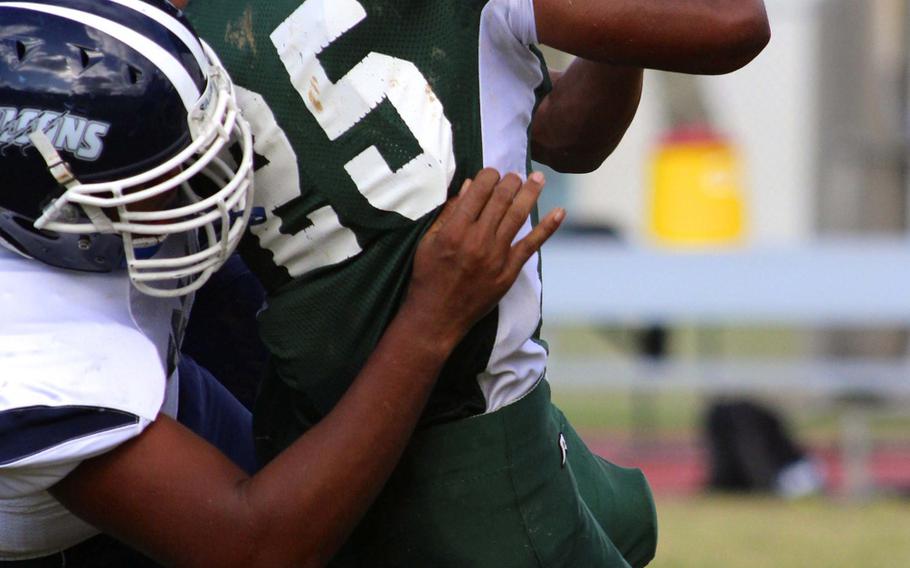 CAMP FOSTER, Okinawa – There is no out-of-town scoreboard for Kubasaki players to track their future opponent for the Nov. 7 Far East title game.
But coach Fred Bales would probably cover it up anyway.
"There's only one team we're concerned about and that's Kubasaki," he said minutes after the Dragons disposed of Seoul American 35-0 behind three touchdown passes and one rushing TD by Isaiah Johnson. "We have to take care of our business first."
In so doing on Saturday, the Dragons eliminated the Falcons from consideration. Nile C. Kinnick was eliminated on Friday 38-10 by American School In Japan.
Only ASIJ and Kadena remain in the running for the D-I title-game visitors' berth; the Mustangs visit the Panthers on Friday in Kadena's homecoming game.
Meanwhile, the Dragons concluded their regular season at 6-1, the only loss being a 27-14 defeat on Oct. 16 against Kadena after Kubasaki had already clinched the season series from the Panthers with two earlier victories.
"We had a great team victory today," Bales said, adding that Falcons coach Jimbo Davis "had his team ready to play. They put up a good fight. We just happened to make some plays."
Many of them were made by Johnson, the Pacific's total-offense leader. The senior quarterback ran nine times for 64 yards and a TD went 20-for-24 for 206 yards and three touchdowns, making him 36-for-43 for 410 yards and five touchdowns the last two games.
"He had another great game throwing the football," Bales said. Johnson is 90-for-143 for 1,394 yards and 16 TDs, with 63 rushing attempts for 676 yards and six scores on the season.
Javohn Journigan added 111 yards and a rushing TD on 13 carries. Jacob Green, Miles Mahlock and Lester Parker each caught a scoring pass from Johnson; Mahlock had six catches for 87 yards, giving him a Pacific-best 33 receptions for 704 yards and 8 TDs.
Defensively, Preston Snyder led the Dragons with 16 tackles, three for losses. Triston Puckett added seven tackles and a fumble recovery.
The Falcons had opportunities to score, missing out on a first-and-goal at the Kubasaki 1 in the third quarter, and also dropped a couple of potential interception-return touchdowns.
"The chances were there; we just didn't capitalize," Davis said.
The Falcons conclude their regular season with a Friday home date against Humphreys, which lost its primary weapon, senior Jaylin Barmer, with a fractured wrist in Friday's 34-15 loss to Singapore. "I was looking forward to playing him," Davis said.
---
---
---
---