Prep roundup
Kinnick, Seoul American start strongly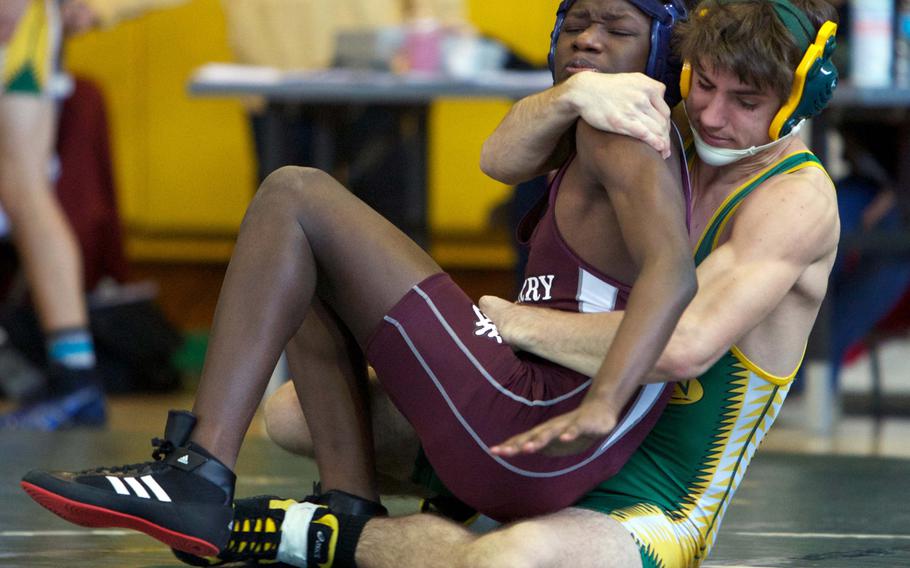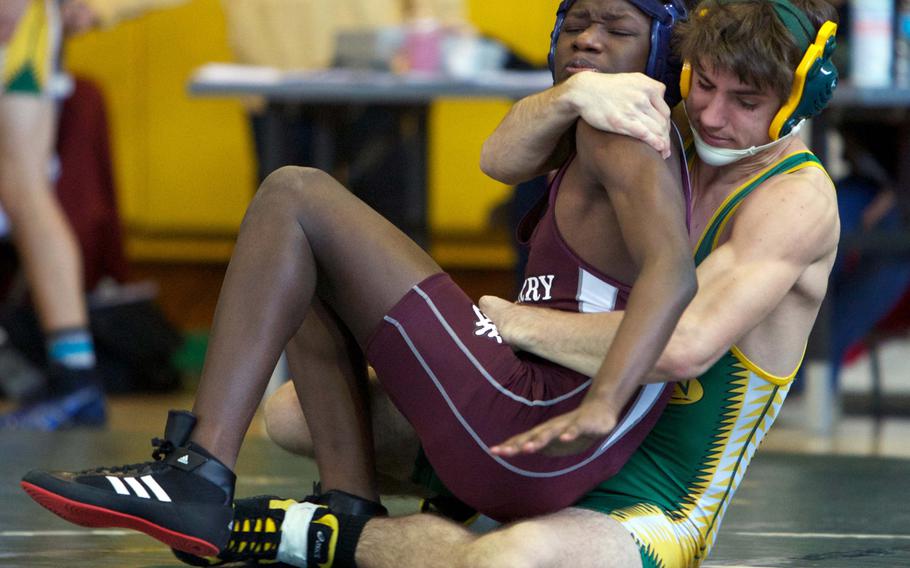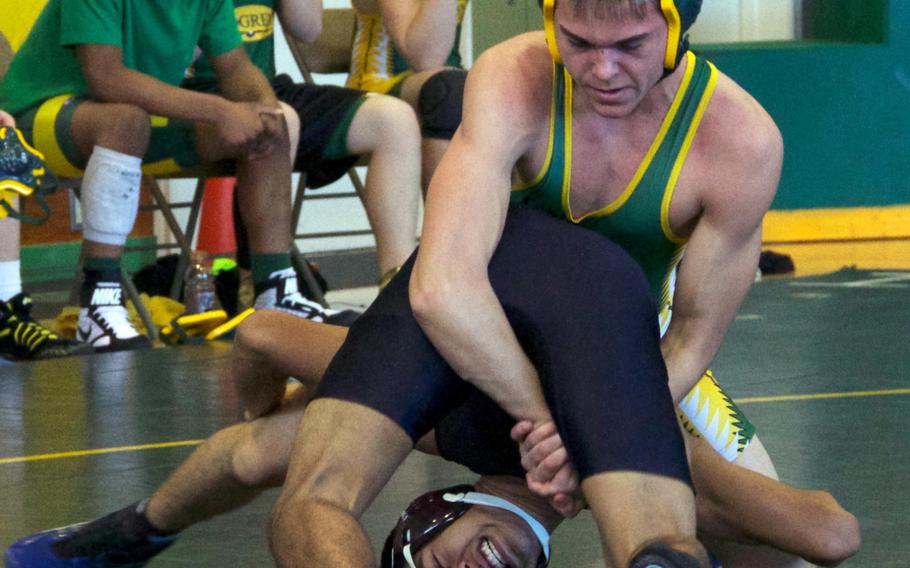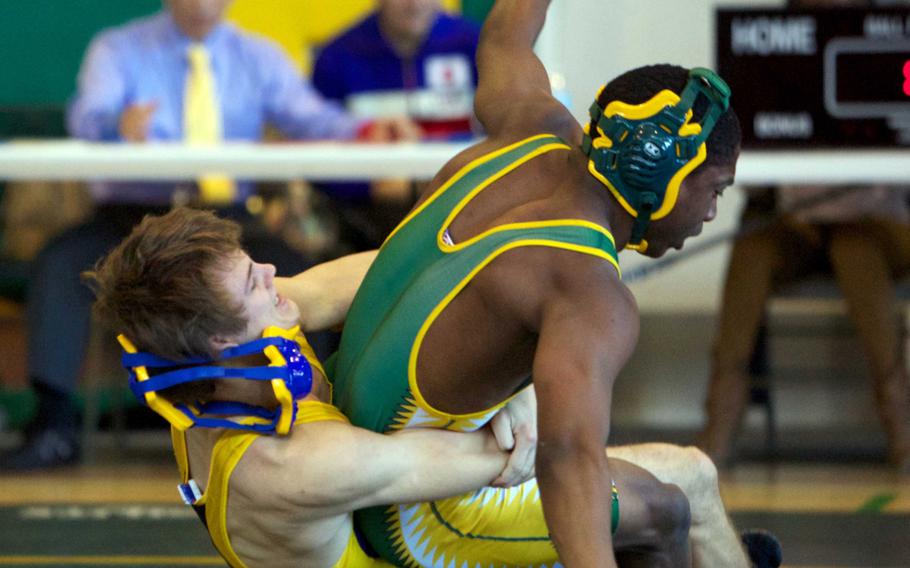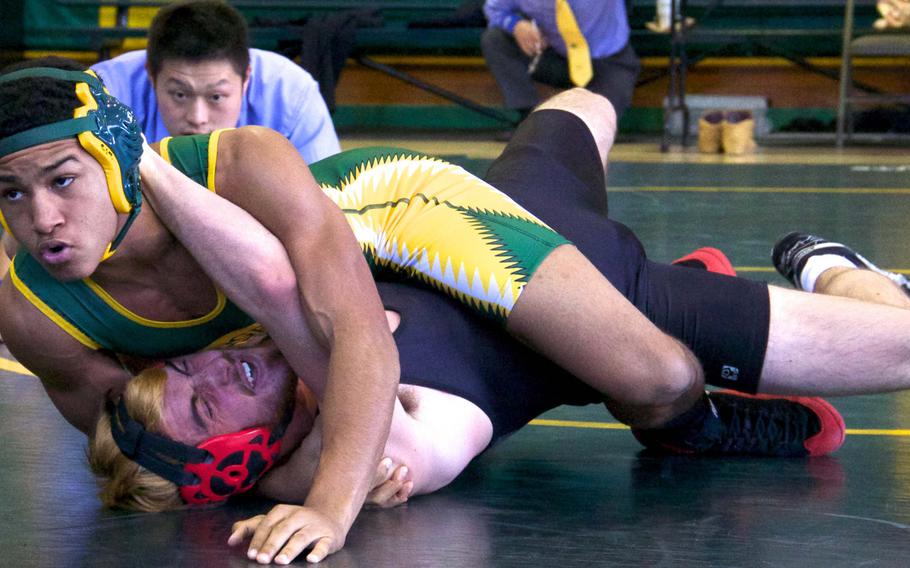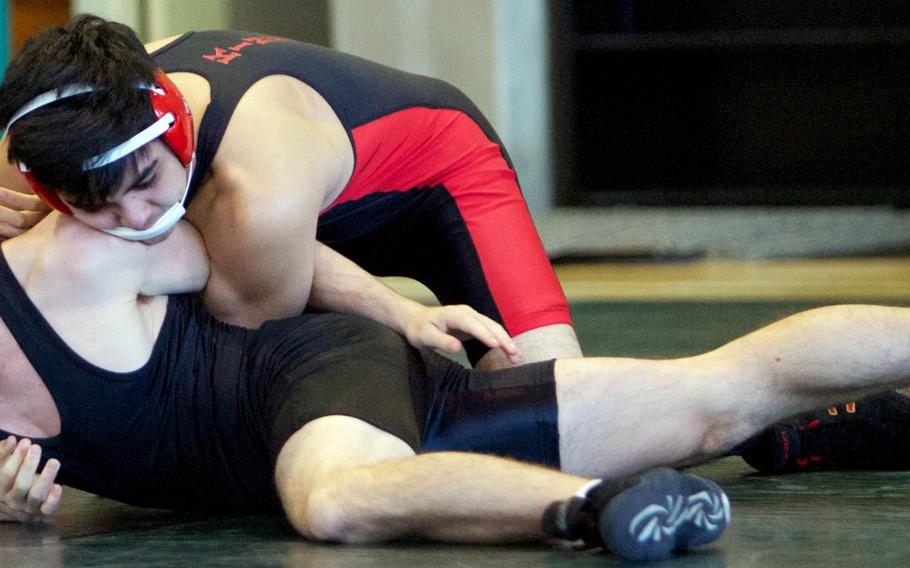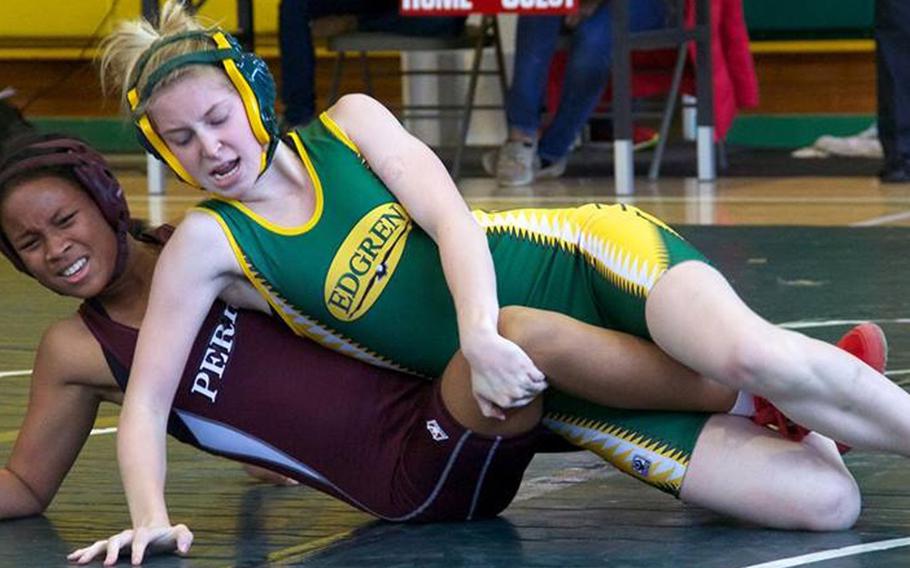 At least for the first week of the season, Nile C. Kinnick and Seoul American loom as early Division I favorites on the Japan and Korea wrestling mats. Likewise, Robert D. Edgren and Osan American got out of the gate as possible Division II title contenders.
The Red Devils and Falcons each won their DODDS Japan and DODDS Korea season-opening events on Saturday, with the Eagles and Cougars taking second. DODDS Japan staged a dual-meet tournament at Robert D. Edgren, while Osan hosted a DODDS Korea four-way individual tournament.
Kinnick won all five of its dual meets, most by wide margins and with individuals winning mostly by pin or technical fall. "Kinnick rolled today," Yokota coach Ty Gaume said. "Well-coached and well-prepared."
"For pretty early in the season, it was a good day for them," Red Devils coach Gary Wilson said, adding that Nate Abrenilla, in particular, looked sharp at 122, while Brady Yoder (129), Dustin Wilson (168) and Ian O'Brien (180) also appeared crisp.
"It wasn't all clean. We have a lot to work on still. I don't know how that bodes; we haven't seen everybody, but I was pleased with the effort. We looked like a veteran team."
Eagles coach Justin Edmonds agreed with Gaume's assessment. "They'll be a contender at D-I. They're solid, all the way through," he said.
Edgren likewise got solid performances from Hunter Matthews (129) and Kaleb Atchison (141), who went unbeaten on the day, and Sky Phillips (135) and Jackson Edmonds (148), who each lost one bout.
The middle of Edgren's order "came out smoking. I was kind of surprised," Edmonds said.
At Osan, the Falcons got first-place performances from Joachim Balanon (115), David Cole (122), Kahlil Hicks (129), David Park (135), Brandon Brana (141), Daniel Vanest (158), Connor Knight (heavyweight) and Jack Barnes at 215, back after missing last season due to shoulder surgery.
"He's looking as beast as ever," Cougars coach Duke Allen said of Barnes, who finished second at Far East two years ago. Allen also said Park and Balanon made strong showings.
Most of Osan's wrestlers are freshmen with no experience, Allen said.
Daegu's ranks are thin, but Morgan Baek, a junior three-year starter, pinned his entire bracket at 148.
Humphreys made its DODDS Korea debut and a couple of former Cougars, both juniors, showed improvement in Blackhawks uniform: Austin Rudd, who won at 180, and Nathaniel Kwon, third at 115.
"We knew a great deal about their tendencies and favorite moves, having wrestled with them in practice all last year," Allen said. "Of course, they knew ours as well. We wish them well, but that won't keep us from cross-facing them every chance we get."
E.J. King boys break out with 4-0 startE.J. King boys basketball's five-season slump appears to be over. The Cobras swept all four games played in this weekend's Western Japan Athletic Association tournament, including a 58-39 win over host Senri-Osaka International School.
"We're proud of the kids," assistant coach Laird Small said. "We played a couple of close games, but the boys stuck with it."
He cited the Cobras' 53-51 semifinal win over Canadian Academy, in which Jackson Small hit the game-winning shot with 12 seconds left.
It's the best start for the Cobras in six years. Since going 25-8 and finishing fourth in the D-II tournament in 2008, E.J. King went 36-94 the next five seasons, including an 0-26 finish in 2011-12.
"We've had a dry spell," Small said. "We we've got a good group this year. We're bigger than we've normally been and we have good guards. We're proud of them."