Kinnick edges ASIJ to clinch title spot
by
Dave Ornauer
October 12, 2018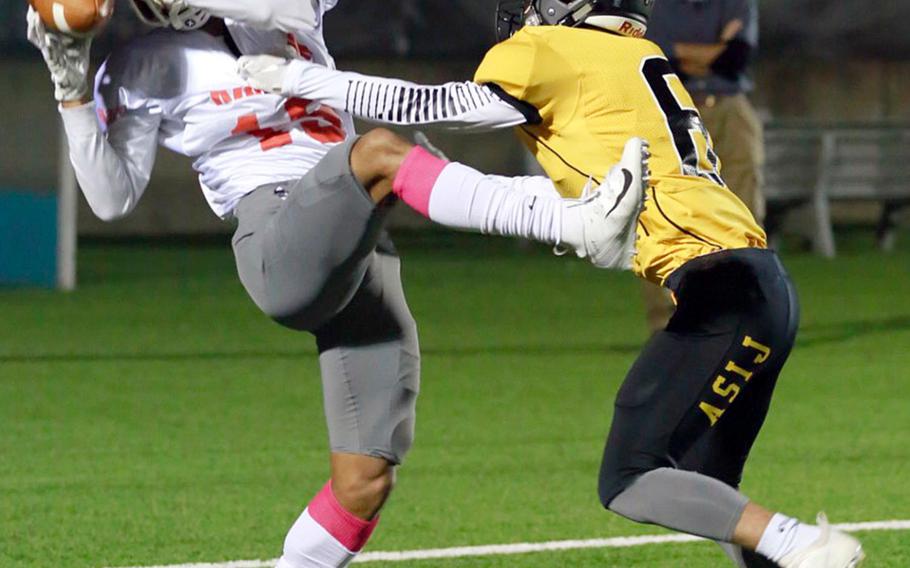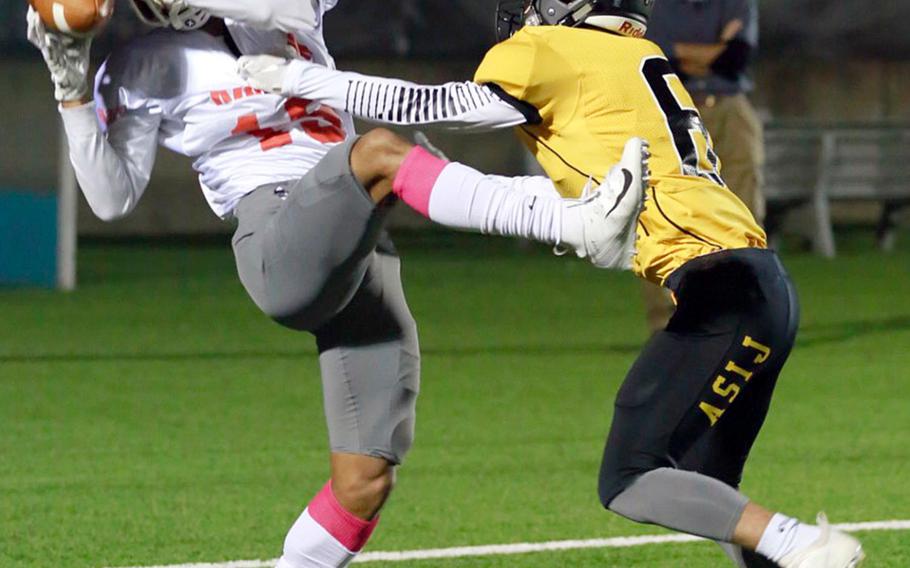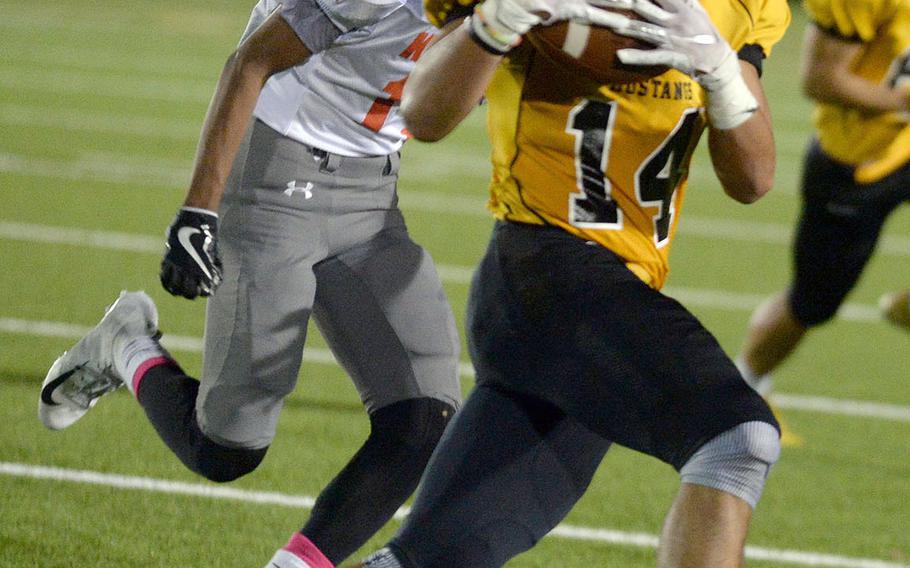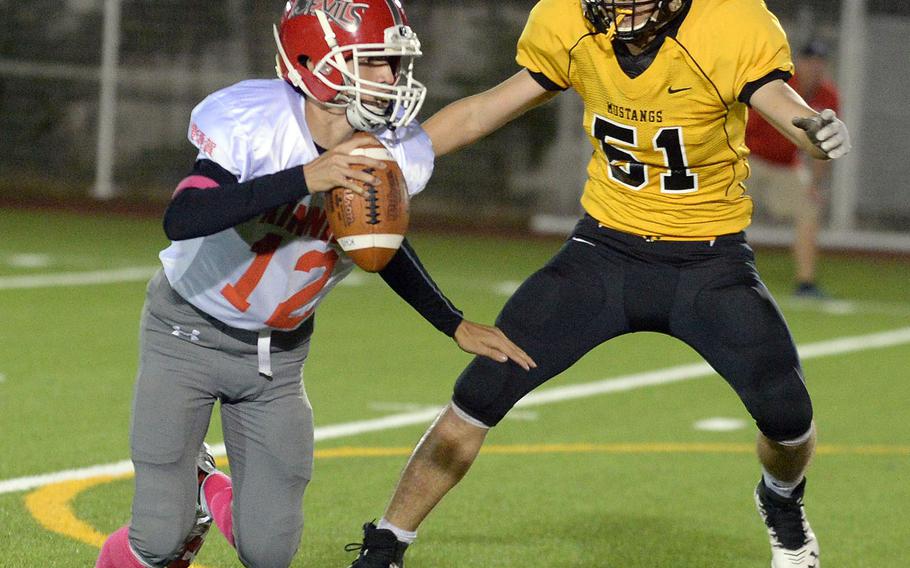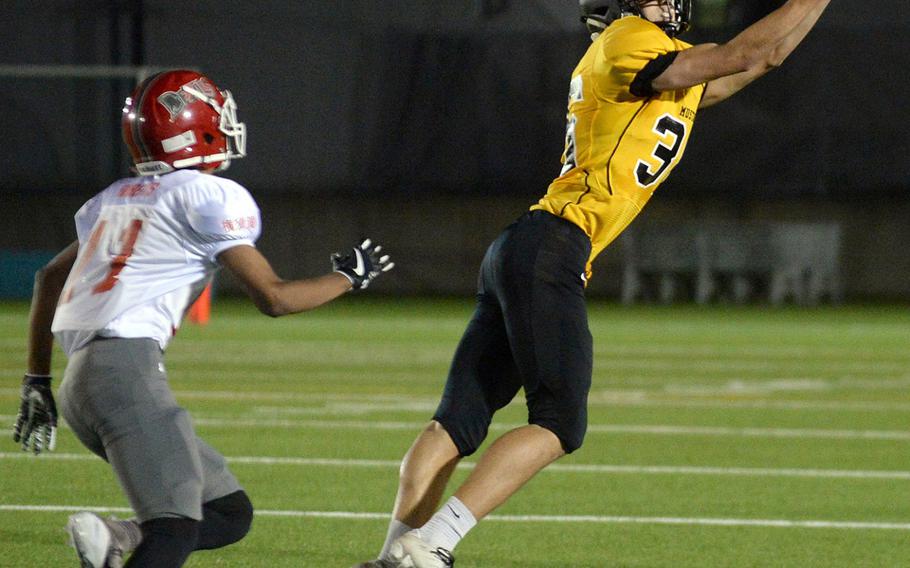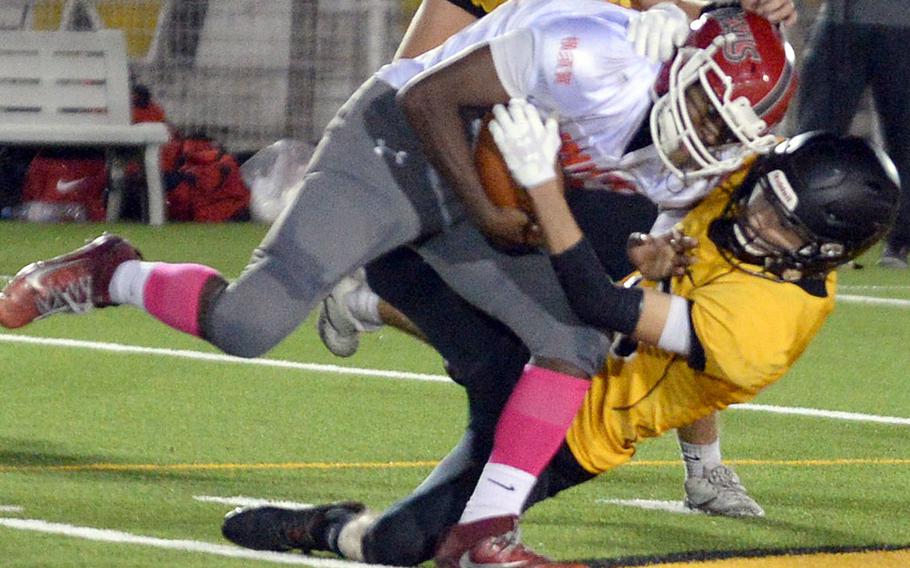 TOKYO – Thanks to Patrick Kelly's right arm, and a huge block by Jacob Loffreda, Nile C. Kinnick finds itself in the Far East Division title game for the second straight year.
Kelly fired a 70-yard touchdown pass to Chris Watson with 47.2 seconds left, rallying the Red Devils to a 32-29 win Friday at American School In Japan, a game that behaved as a de facto semifinal in the chase for D-I championship-game space.
"Patrick is very quietly having one of the greatest years ever for a quarterback in the history of Kinnick and made one of the biggest plays in Kinnick history," coach Dan Joley said of Kelly.
Needing to go 85 yards with 1:25 remaining, Kelly rushed 15 yards for a first down to the Kinnick 30. He threw two incomplete passes, then on third down was chased out of the pocket on a play kept alive by Loffreda's block on Mustang defense star Yamato Hill.
Kelly stopped, then uncorked a deep throw to Watson, who was well behind the secondary. He caught it, then took off for the end zone untouched to give the Red Devils the lead for good.
The game-winning TD pass reinforced Joley's faith in Kelly as not just a quarterback, but a team leader, he said.
"He is a seasoned veteran quarterback now," Joley said. "He has no fear. Our offense is centered around the quarterback and I have full confidence in him."
Kinnick improved to 5-0 overall and 3-0 in D-I, and it now owns the tiebreaker against Kadena, ASIJ and Humphreys, having beaten all three on the road, giving the Red Devils host rights to the Far East final, scheduled for 5 p.m. Nov. 10.
"We beat arguably the three toughest D-I teams, all on the road," Joley said. "Nobody else has done that."
The loss – in a game played before U.S. Ambassador to Japan William F. Hagerty IV, whose son plays for ASIJ – dropped the Mustangs to 2-2 and all but out of the running for a shot at playing in the D-I final, since they've already lost to second-place Kadena by a wide margin.
ASIJ beat Humphreys earlier in the season, but a win next Friday at Kubasaki would not matter enough in the D-I standings.
Kadena can seal its berth in its Pacific-record 11th D-I title game with a win Saturday at Humphreys.
Despite the defeat, ASIJ coach Roy Tomlinson said he was pleased with the effort his Mustangs gave.
"What an amazing game," Tomlinson said, calling it the "best I've been a part of in 20 years of coaching" and the best character he's seen from an ASIJ team in his years with the program.
"We were down 18-0 and came back, we had a chance to win, credit their quarterback and wide receiver for making an amazing play and credit our kids for coming back the way they did. We know now we can play with anybody."
Kelly completed just five passes in 17 attempts, but for 137 yards and two TDs, both to Watson. Senior Travion Morton rushed 25 times for 247 yards and three touchdowns and racked up 328 all-purpose yards. Watson had three catches for 107 yards.
Kinnick totaled 414 yards of offense.
"The balance of this team's offense," Joley said. "When we want to pound the ball, we pound it, and when we want to throw it, we throw it."
Marc Morgan had two of Kinnick's three sacks. Gabriel Stravers helped seal in the game in the closing seconds with a huge hit on ASIJ quarterback Oliver Rogers, forcing a fumble that Royal Evans recovered.
Rogers accounted for three touchdowns, going 13-for-24 for 279 yards. Tyler Cross had four catches for 126 yards and a touchdown and also had his D-I-leading seventh interception of the season. Rhys Gallagher ran for a TD and caught a pass for another.
ASIJ heads to Kubasaki next Friday for a 5 p.m. kickoff, while Kinnick gets the week off before hosting Kubasaki at 7 p.m. Oct. 26, a game that was postponed Sept. 28 due to Typhoon Trami.