Kinnick doesn't need late rally to improve to 2-0
by
Dave Ornauer
September 15, 2018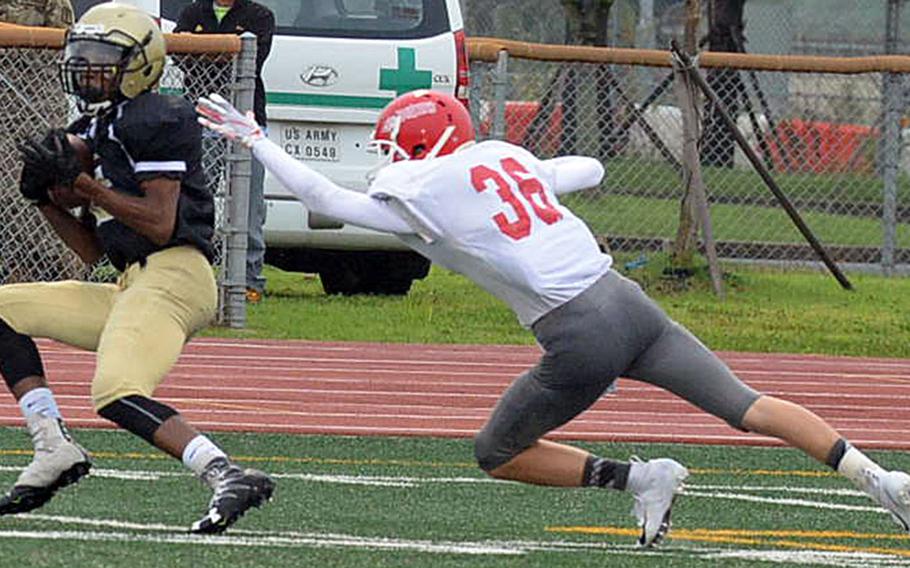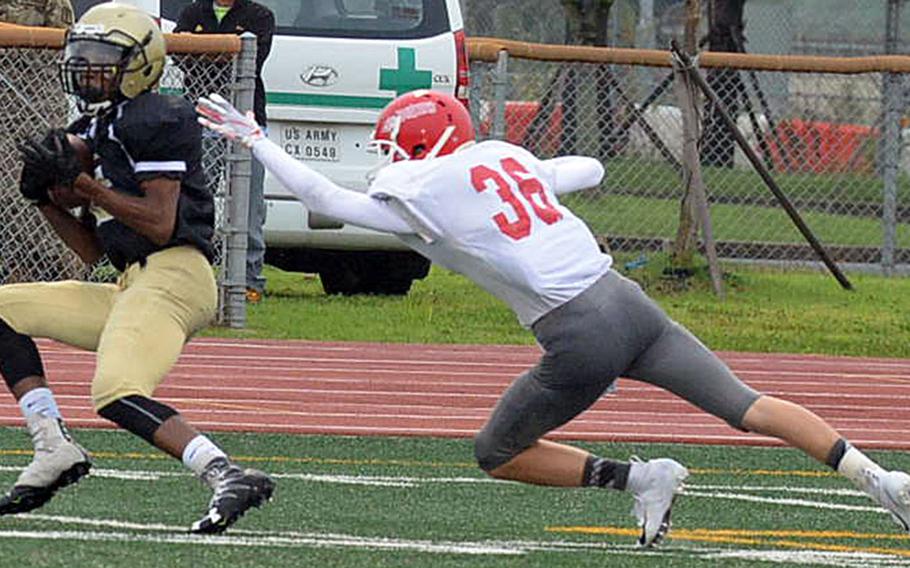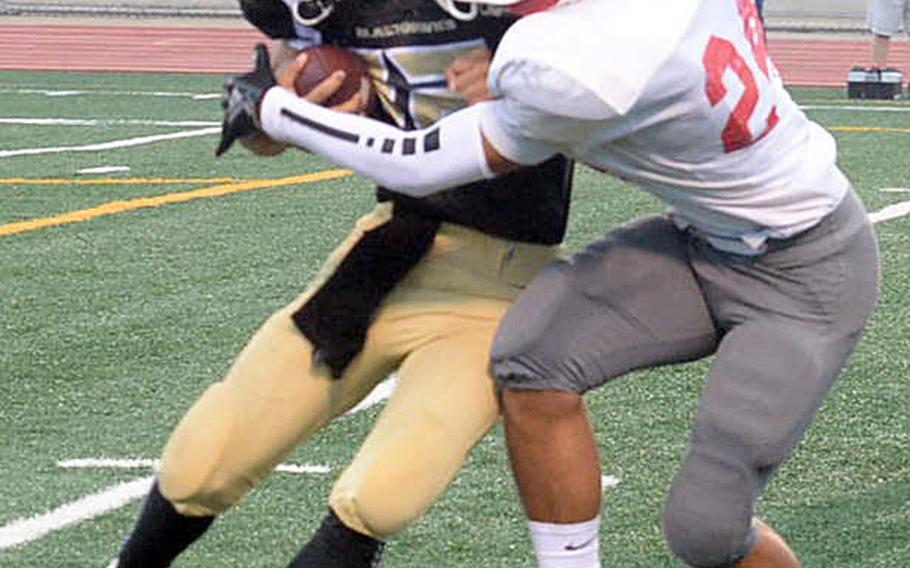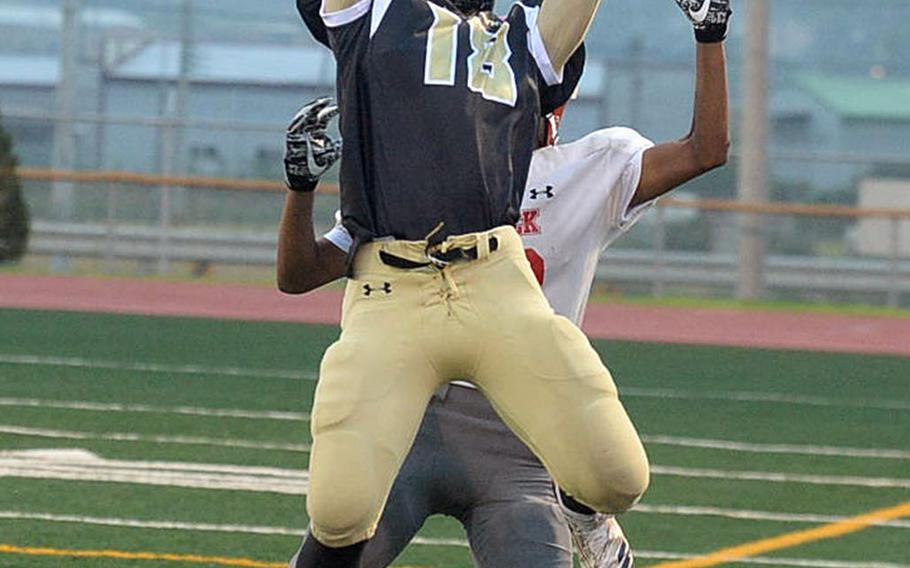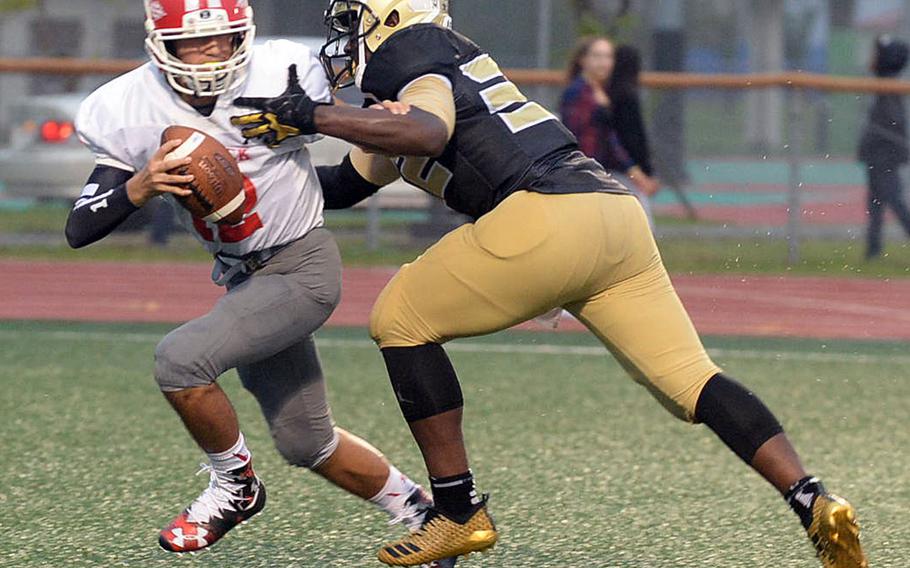 CAMP HUMPHREYS, South Korea – One could easily call Nile C. Kinnick a big-play team, since six of its nine touchdowns have come on plays of 30 yards or more.
Or the Red Devils could be viewed as a second-half team, since seven of their nine TDs have come after halftime.
But coach Dan Joley prefers to discuss the development and growth of Patrick Kelly at quarterback, particularly during Saturday's 35-6 win at Humphreys. Kelly racked up 206 yards of total offense and accounted for four touchdowns in the victory.
"He managed the game well," Joley said of Kelly, a junior who went 8-for-16 for 194 yards, including touchdown passes of 98 and 8 yards to Chris Watson and 30 yards to Kaine Roberts. Kelly also ran in a 2-yard sneak for another score.
"He continued to grow," Joley said. "He understood the process you have to go through to figure out what works. He was calm and cool the entire game. And he has a great supporting cast around him."
It was Kinnick's second road triumph in as many tries, but without nearly the drama that the Red Devils' 34-33 comeback win at Kadena had a week earlier. The Blackhawks fell in their home and season opener.
Kelly's sneak put the Red Devils ahead to stay late in the first half. Tevijon Williams' 51-yard touchdown catch from Miles Brice got the Blackhawks within one, but it was as close as they would get.
Kinnick ran off the next 28 points to close the game, just as they did in their rally against the Panthers.
"It is daunting to play the first two games on the road against arguably two of the best Division I teams," Joley said. "They (Blackhawks) are a quality program that will do well at this level."
The game was an exercise in frustration for the Blackhawks, who had touchdowns called back on penalties on back-to-back plays and were halted on two trips to the Red Devils' red zone in the first half.
"This game has to be a learning experience" for the Blackhawks, a visibly upset coach Steven Elliott said after the game.
"We need to take what happened, watch the film and learn from it. We just played a great team to the final whistle, but we hurt ourselves with penalties, with missed assignments that we have to clean up."
Roberts finished with 89 yards on five catches and Watson 106 on his two TD catches. Travion Morton rushed 23 times for 195 yards, including a 43-yard touchdown for the Red Devils.
Kinnick's defense kept Blackhawks quarterback Miles Brice on the run, sacking him three times. Brice was 5-for-16 for 147 yards. Williams had three catches for 116 yards and also had an interception and a fumble recovery for the Blackhawks, who forced five turnovers.
Kinnick finally plays in front of its home fans on Friday when the Red Devils host Zama. The Blackhawks have the week off before traveling to Tokyo for their school-first visit to American School In Japan on Sept. 29.