King, Yokota, Kinnick earn Kanto tourney triumphs
---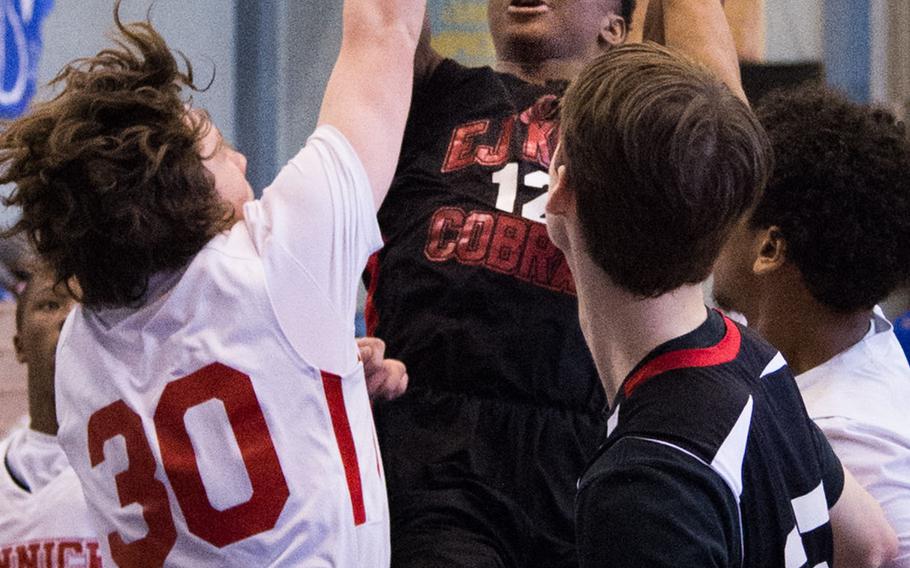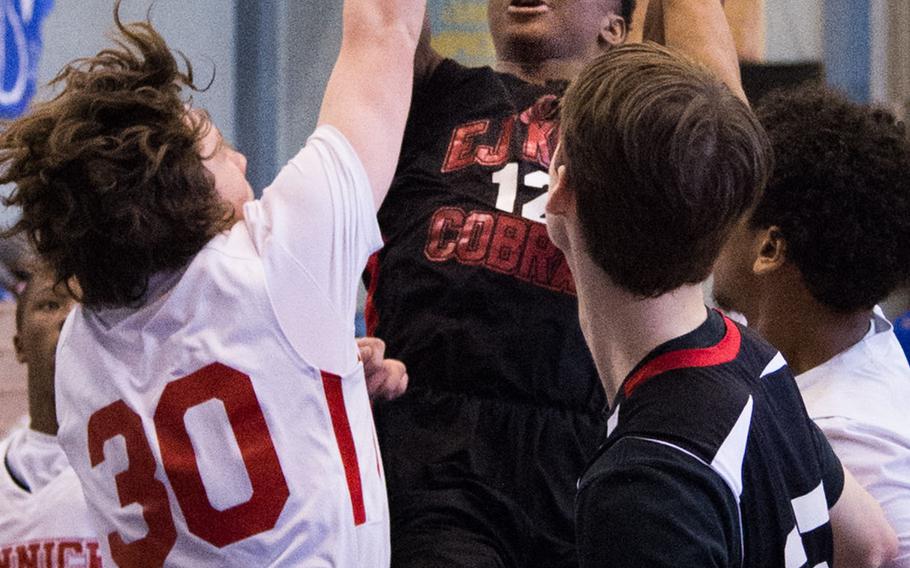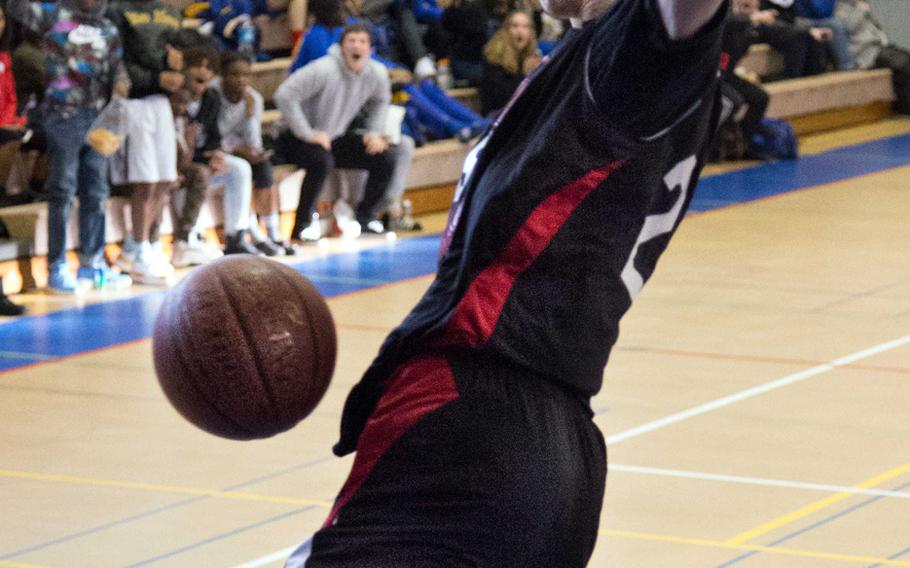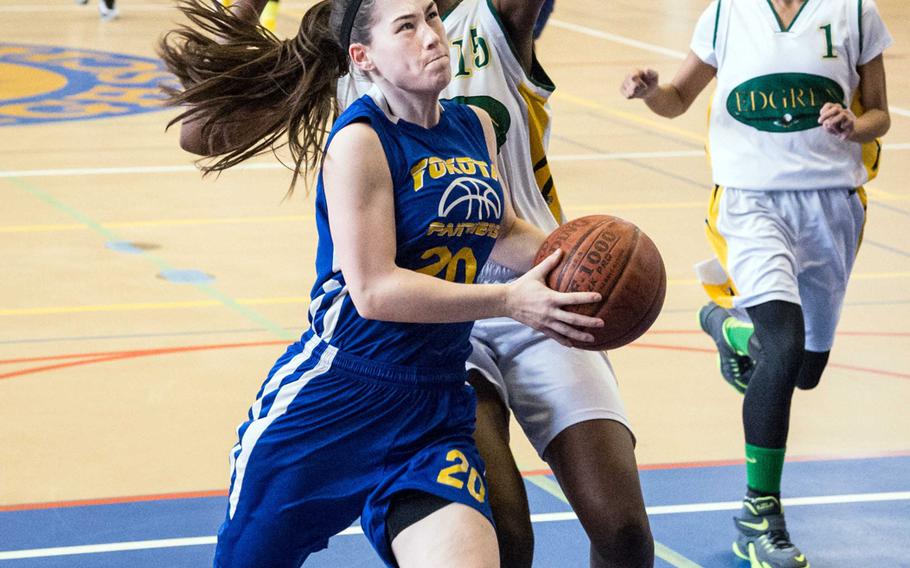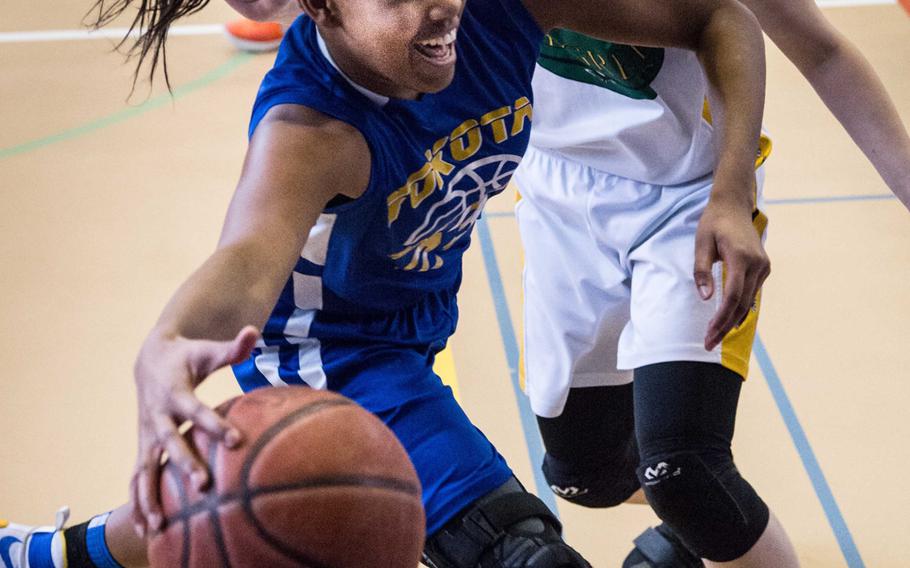 YOKOTA AIR BASE, Japan – At 5-foot-9, Devin Robinson may seem small, but he brings a big game to the basketball court that helps elevate his team's level of play, E.J. King boys coach Laird Small says.
Robinson's play helped the Cobras make school history Saturday. He scored 12 points, one of five Cobras in double figures, and had eight assists as King won a school-first DODEA-Japan tournament title, beating Nile C. Kinnick 70-55 in Saturday's final at Yokota's Capps Gym.
"He makes the whole team play better," Small said. "Some days he scores, others he doesn't but he's definitely the core, the heart of the team."
On the girls' side, host Yokota achieved a title three-peat, led by junior guard Jamia Bailey's huge play in the second quarter in a 48-38 victory over Robert D. Edgren, which had beaten the Panthers 40-30 in pool play on Thursday.
Robinson and the Red Devils fell behind 4-0 at the outset, but got their game going quickly, possibly inspired by two monster slam dunks by senior center Cameron Rozzell, one off an alley-oop pass by Robinson. It brought the crowd to its feet and helped the Cobras lead by 18 at one point.
The Red Devils, who upset favored Yokota 57-56 in Friday's semifinal, didn't go quietly; Kinnick used a 1-2-2 press to help fuel a 9-0 third-quarter run to get back in it. The Devils got within four, but it was as close as they'd get.
Seth Hudson of King got hot in the fourth quarter, hitting three three-pointers – the Cobras had eight on the game – and they pulled away, taking their biggest lead, 65-47, on Rozzell's rebound layup with 3:03 left. Rozzell led King with 16 points.
The girls final see-sawed early until Bailey sparked a 15-0 run within a span of 5:30 with three second-quarter steals. The Panthers led 24-9 at one point, but the Eagles made a game of it in the second half.
Coko Magby, who has shin splints and missed much of the first half, ignored the pain and returned in the third quarter, when she scored 11 points. The Eagles got within five, but no closer and the Panthers pulled away in the end.
Bailey had 22 points, seven steals and five assists. Magby had 17 points and seven rebounds, Karen Anastos 15 points and Ja'la Wade 12 rebounds.
The four teams' next action is in the Far East Tournaments, Division I Feb. 20-23 at Kubasaki, Division II boys at Yokota and D-II girls at Matthew C. Perry.
Red Devils capture Kanto mat titleTOKYO – Mystery solved.
After finishing second in four straight tournaments to St. Mary's, Kinnick finally broke through in the Kanto Plain Association of Secondary Schools finals.
The Red Devils amassed seven individual titles and outpointed the Titans 104-94 in their last action before the Far East Tournament, which begins Wednesday at Osan Air Base, South Korea.
Rather than having a few guys win weight classes, everything came together for Kinnick on Saturday, coach Gary Wilson said.
"We had all of our guys on (their game) at the same time," Wilson said, crediting assistant coaches Dustin Haney and Dan Joley for the team's success in Saturday's meet at St. Mary's.
"They keep the kids focused, the kids listen; that's part of the magic," Wilson said. "And the kids wanted it. They were tired of giving St. Mary's all the hardware. Having everybody on all cylinders the same day, the same time, it was fun to watch. Everyone was game. I loved it."
Leading the parade were reigning Far East champions Lucas Wirth (122 pounds) and Dwayne Lyon (180). Also capturing titles were Charlie Labato (108), Chon Dareing (115), Devoney Stanley (129), Jacob Castro (148) and heavyweight Mark Domery in a two-man weight class.
Despite falling short, Titans coach Shu Yabui saw some good takeaways for the defending Far East Division I champions.
Austin Koslow finally beat Darius Swenson in the 158-pound class, while Wirth's 12-11 victory over defending Far East champion Rio Lemkuil "could have gone either way," Yabui said.
"There were many matches in which we had opportunities to win, but lost it," he said. "It was just Kinnick's day. I'm sure next week will be different."
Twitter: @ornauer_stripes
---
---
---
---