Kadena too much for Kubasaki again
---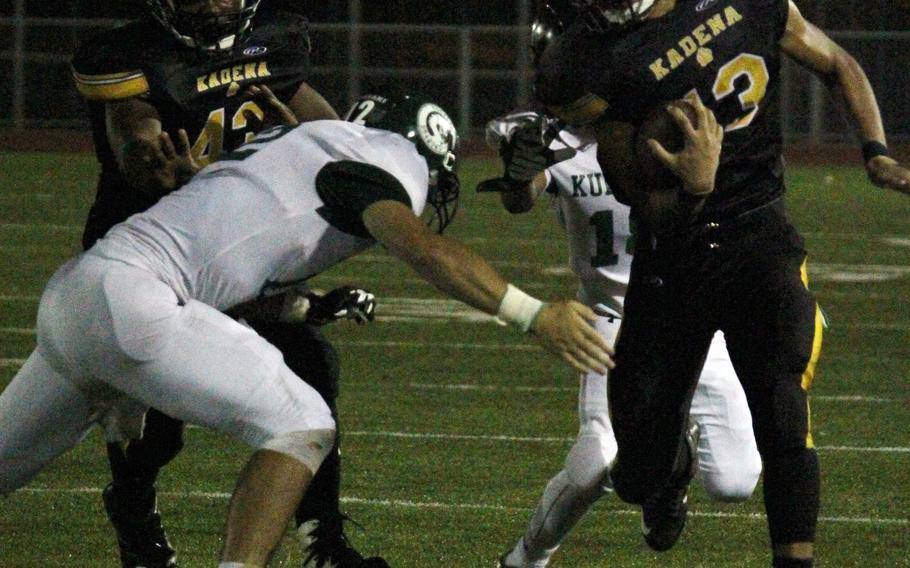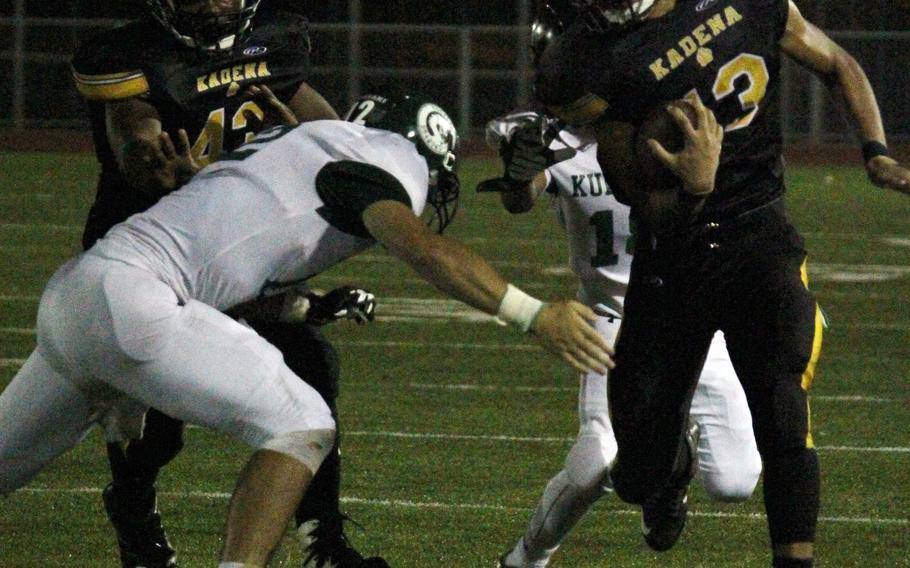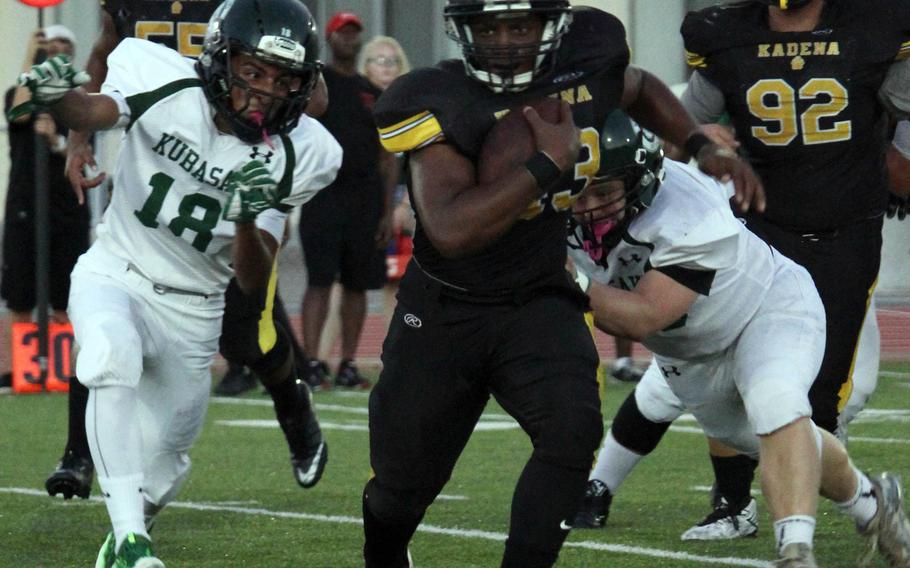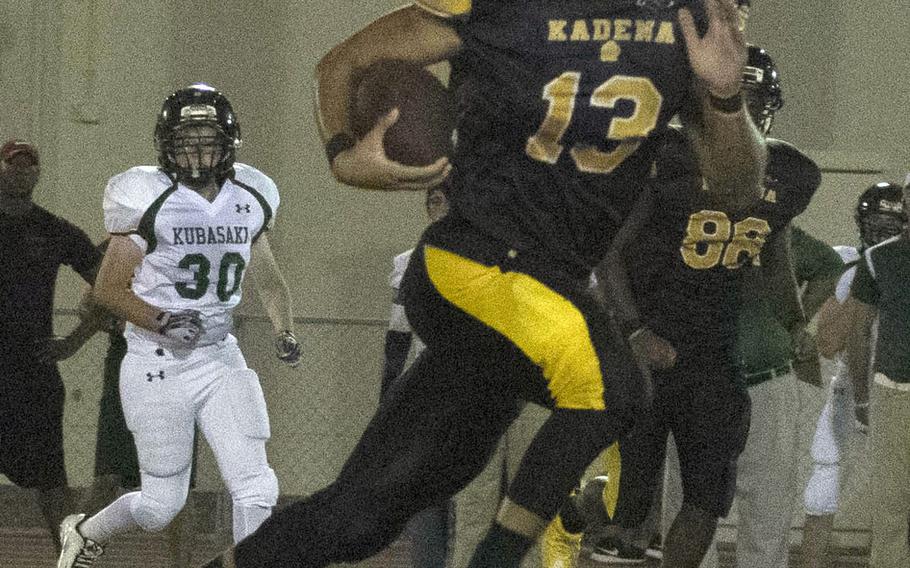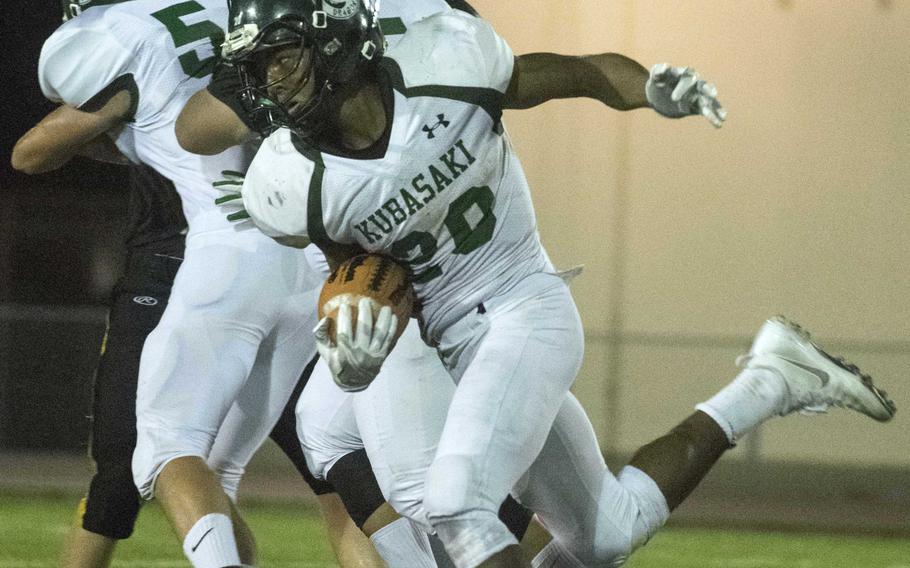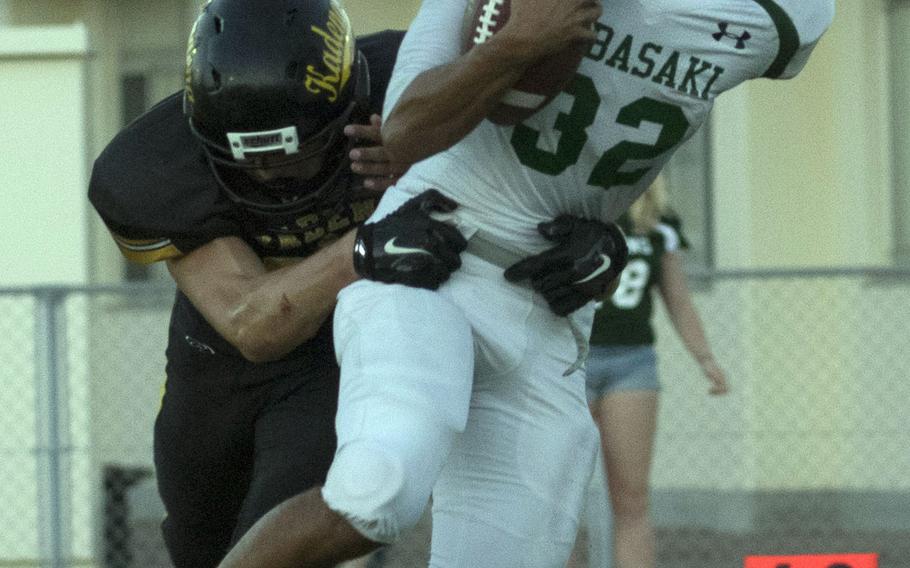 KADENA AIR BASE, Okinawa – Three weeks without a game didn't seem to make Abe Patterson lose his touch for doing big things on the gridiron.
The junior running back-lineman rushed for a team-leading 109 yards, including a 42-yard touchdown run, on 10 carries Friday. He also intercepted a pass to help power Kadena to a 37-6 win over Kubasaki and clinch the Okinawa season series.
"He's somebody we've known we could use in lots of ways, and we plan to continue to use him in lots of ways," coach Sergio Mendoza said of Patterson, who transferred from Zama two years ago. Patterson was voted team captain a couple of days before Friday's game.
"I'm extremely proud of him. I think he's going to have a good season," Mendoza said.
Patterson's feats came 20 days after the Panthers' last game, a 48-6 romp over Seoul American, when he recorded three of seven Kadena sacks.
Though the Panthers won for the second time this season by a wide margin over Kubasaki (34-3 in the season opener Sept. 2), the rust of sitting idle for almost three weeks was apparent, Mendoza said.
"It just took us awhile, because 20 days of rust sets in," he said. "We need to shake off the rust. It was incredibly frustrating. We couldn't get our tempo going."
Despite that, the Panthers (3-0) did rack up 361 yards of offense on 51 plays, while the defense held the Dragons (1-2) to 105 yards on the same number of snaps.
Quarterback Cody Sego rushed seven times for 28 yards, four carries for touchdowns, including a 24-yarder in the first quarter that put the Panthers on top to stay 8-3.
Owen Sinning picked off two Kubasaki passes, giving him five interceptions for the season. Jacob Parker had one of two sacks for Kadena, plus an interception and a 51-yard return.
It led to the Panthers' first Okinawa crown since the 2013 season, the year Kubasaki won the Far East Division I title. The Dragons won district the last two years, while the Panthers captured the Far East banner.
"We played a team tonight that was superior," Dragons coach Fred Bales said. "They have a great bunch of players. They did a great job preparing them."
The bright spot for the Dragons once more was the right foot of placekicker Joshua Swen. The junior booted first-half field goals of 31 and 24 yards, making him 5-for-6 this season. Anthony Macaluso paced the Dragons with 115 all-purpose yards.
"This is a tough assignment," Bales said. "They've (Kadena) got a big, strong team, very athletics, and they've done a fine job with their bunch. We'll just keep chopping wood."
Next comes two games in a span of five days for the Panthers, who host the Singapore Eagles on Oct. 10, then five days later travel to American School In Japan for what some observers are calling the Far East D-I title-game preview.
"We didn't have a game for 20 days, and now we have three in 15 days," Mendoza said. "We need to be resilient."
Kubasaki next travels on Oct. 8 to Seoul American, hoping to keep alive its hope of playing in a sixth straight D-I title game.
Twitter: @ornauer_stripes
---
---
---
---