Kadena's Youngdahl wants another shot at title
by
Dave Ornauer
September 9, 2010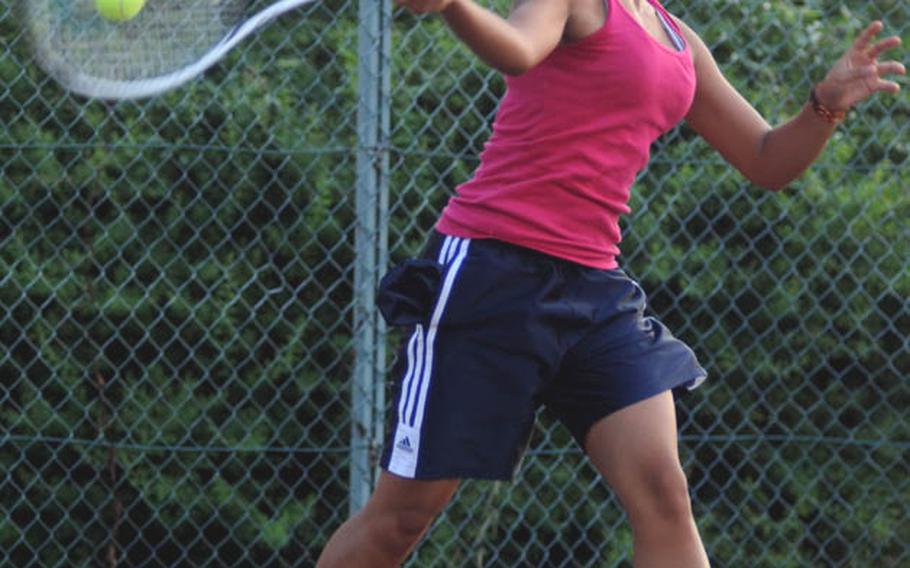 YOKOTA AIR BASE, Japan — Erika Youngdahl was wide-eyed with disbelief as she walked off the court, having lost 6-0, 6-1 to eventual two-time champion Elissa Mason of Kadena in last November's Far East Tennis Tournament girls singles semifinals.
Youngdahl, then a Yokota freshman who a week earlier became the first DODDS Japan player to win a Kanto Plain Tournament singles title, grabbed her cell phone and walked from the Risner Tennis Complex courts to the McDonald Stadium track nearby.
She dialed her father, Mike, who's coached her since she was a child first picking up a racket.
"Now, I know what you were talking about," she told him, a cascade of emotion coursing down her face. "Help me get better. Be tougher on me. I can't get better unless you do."
A slap in the face, she later described the defeat, and a carryover to her sophomore season, which finds her in Kadena uniform and assuming a spot in the defending Far East team champion Panthers' lineup.
Suffering that semifinal defeat can be nothing but a positive for Youngdahl, Kadena coach Robert Bliss said.
"To go up against somebody as seasoned as Elissa, that's asking an awful lot," he said. "I'm expecting a big year from her."
"I'd gotten lazy after Kanto," Youngdahl said, adding that losing to Mason was "the last straw" and she's thrown her total focus into tennis ever since. "This is my year."
Youngdahl "reminds me a lot of Elissa, her talent and approach to the game" when Mason was a sophomore, said Bliss, adding that he hopes to pit Youngdahl against Japanese players off base to toughen her game.
Kadena will face its usual regimen of challengers, such as Seoul American, which added three players from Daegu American, including brothers Russell and Ronald Midomaru atop the boys lineup.
Yokota coach Tommy Palmer said the school's lineup is still strong even without Youngdahl. Junior Erika Ettl moves to the top singles seed, and underclassmen Anju Yamanaka and Misa Brophy are emerging as a doubles threat.
There's also senior Amber Gadsden of Guam High, a seasoned year-round player who finished third last year in Far East singles.
And for the first time since 2003, international schools have the OK to play at Far East. DODDS Pacific caps Far East tournaments at 16 teams; with 12 DODDS schools, that leaves four international-school openings.
"It's difficult to say," Bliss said. "I'm not sure how we will stack up against the private schools" at Far East.
Whomever they face, Youngdahl and senior Christin Gentz headline a Kadena lineup seemingly decimated by Mason's graduation and that of her brother Eliott and three-time Far East singles champion Kyle Sprow.
But others are filling in to take their place, such as junior Arlo Taylor, who spent most of the summer in Japanese tennis camps.
"He's a serious player in the mode of Kyle and Eliott," Bliss said.
Gentz, who with Elissa Mason won the Far East doubles last November, is "more aggressive, more confident," Bliss said. "That was a huge transformation, a coming-out party for her."
They're part of a contingent of 30 players, many of whom are putting up a "spirited" battle for the fourth and fifth spots in the boys and girls lineups, Bliss said. "I'm expecting a good year."
---
---
---
---