Kadena's Taylor closing in on hurdles marks
---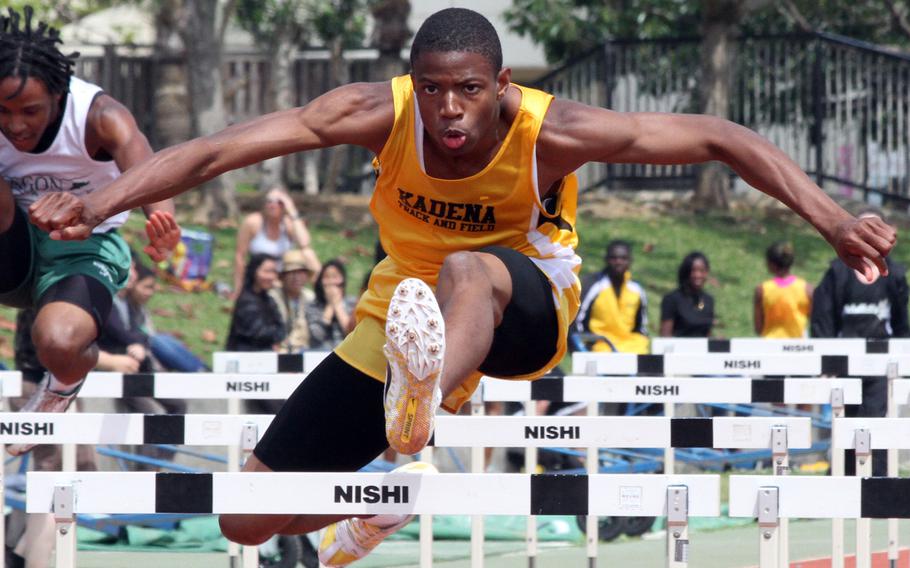 KADENA AIR BASE, Okinawa – A hurdler has joined the distance runners and sprinters in the great chase for Pacific high school track and field records.
Derrick Taylor, a Kadena senior, set personal bests in the 110- and 300-meter hurdlers and came within less than a second of the Pacific standards in each on Thursday in the rain at Kadena High School.
"I was going for 15 flat and work my way down," Taylor said after clocking an adjusted hand-time of 14.74 seconds, .64 short of the 2006 region mark set by Kadena's Eric Robinson. "But I was feeling it, and everybody kept saying 14, so that's what I was aiming for." His previous personal best in the 110 was 15.68. His time Thursday was by almost a full second the best in the Pacific this season. So was his 39.94 adjusted hand time in the 300 hurdles, which topped his personal best of 41.25 in the Mike Petty Memorial Meet earlier this month, and within .94 seconds of the Pacific record set in 2008 by Kubasaki's Randall O'Bannon.
"I was trying to get to 39," he said after hitting a hurdle on the home stretch of the race. "I'm coming back; 38 is next." His sprint coach, Kristin Arnold, said Taylor is building confidence in his hurdles with every passing meet.
"He was flying today," Arnold said. "I'm so proud of him. He's working really hard."
Taylor has two more meets to break the Pacific records, the Okinawa Activities Council district finals on May 4 at Koza City Stadium and the Far East meet May 20-21 at Yokota.
He has joined Kubasaki distance runners Erik Armes, who's already broken the Pacific's 1,600-meter record, and Ryan Bugler and Jessica Ircink chasing the boys 800 and girls 1,600 mark, and Kadena sprinter Janika Caines, vying for 200-meter dash record honors.
---
---
---
---