Far East finals
Kadena's Smith soars to new heights
by
Dave Ornauer
May 25, 2011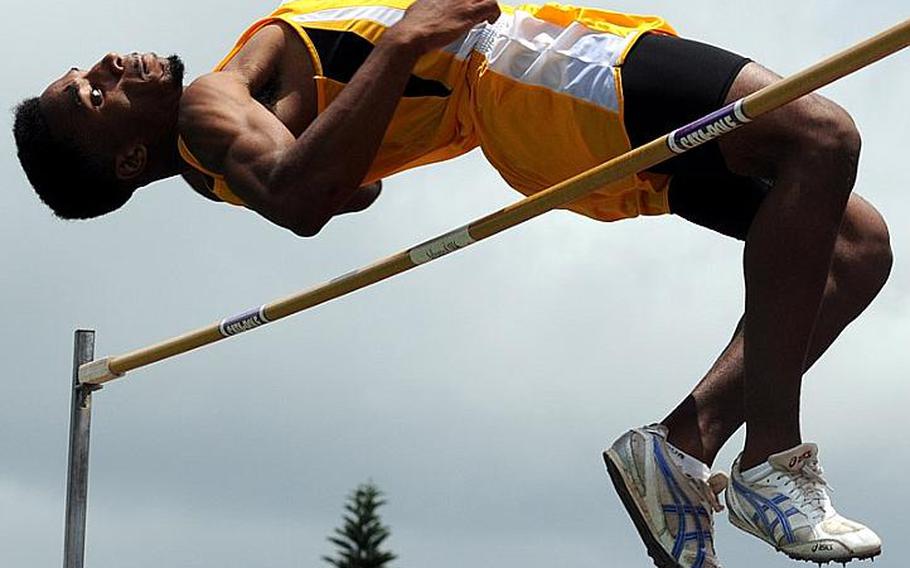 ISHIKAWA, Okinawa – Call Lotty Smith the Pacific's king of height.
The Kadena senior became the first Pacific high jumper to eclipse the 2-meter mark in competition on Wednesday, leaping 2.0066 meters, or 6 feet, 7 inches, to win the Far East meet gold medal and break his own Pacific record of 1.98 meters and Far East meet record of 1.92.
"Oh, my goodness. I really can't put it into words right now," an emotional Smith said after disembarking from the landing area.
He'd been trying for three seasons to reach 2 meters, but had always come up short.
"I'm proud of him," coach Sergio Mendoza said. "I love that young man and I'm happy that at the end of our time together that it ends like this. … It's beyond amazing. All that we've worked for and sacrificed for is showing up right here."
"I love Coach Mendoza," Smith said.
Smith shared the Pacific record with Kubasaki's Conor MacMannis, earned on April 8 in the Oki Relays. MacMannis was the next-to-last man eliminated Wednesday, tying Nile C. Kinnick's Justin Smith for second place at 1.82.
That left Lotty Smith, who cleared his second attempts at 1.88, 1.93, 1.96 and 1.98, then finally the bar was set at 2.0066. He scratched on his first two tries, then cleared the bar on his third with at least an inch to spare.
"If I had another son, he'd be it," Kubasaki coach Charles Burns said. "He's very disciplined. He can focus so well. He can shut out a lot of things that the average athlete can't."
Zion Christian Academy's Arrianna Guerra won the girls high jump in 1.52, while Kubasaki's Micaela Sherman captured the long jump in 4.40.
Kadena's Kiana Caines, who strained a knee on her first attempt Tuesday before long jumping was suspended, returned Wednesday to jump 1.4 and give Kadena's girls a team point for finishing eighth. That broke a 90-90 tie with Seoul American and gave Kadena a title sweep.
"I'm especially proud of the girls," Mendoza said. "They went from a team that didn't win many meets to Far East champion. That's quite an accomplishment. I'm extraordinarily proud … the girls made huge strides this year."
The boys and girls high jumps and girls long jump had been pushed back from Tuesday to Wednesday by rains that made the run-up areas in both pits too slick to be safe, meet officials said.
Baseball, softball actionOn the diamonds of Kadena Air Base and Camp Walker, the Far East girls softball and baseball playoffs saw a vast number of one-sided contests. The first four baseball games ended in victory margins of 10 or more runs; five of the first six girls games resulted in wins of eight or more runs.
Among the few nail-biters, Kadena and Guam High played the longest scoreless Far East softball contest, entering the eighth inning 0-0 before Tanisha Hodges belted a walk-off RBI single in the bottom of the frame for defending champion Kadena.
The Panthers are set to meet Seoul American in the girls championship game at 5 p.m. Thursday at Kadena's Four Diamonds. Katie Darby pitched a complete-game three-hitter, walking five and striking out nine as the Falcons beat DODDS Korea rival Osan American for the seventh time this season, 8-2.
At Camp Walker's Kelly Field, defending baseball runner-up Kadena ended Robert D. Edgren's remarkable run at the title, clipping the Eagles, 13-8, to book a Thursday morning semifinal berth against Guam High, which outlasted Nile C. Kinnick, 14-9. Seoul American, a 10-0 winner over Zama American will take on American School In Japan in the 10 a.m. Thursday semifinal. ASIJ ousted defending champion Kubasaki 14-1 in the last quarterfinal, which finished just past midnight Wednesday.
---
---
---