Kadena rushes past Kinnick to re-enter playoff picture
---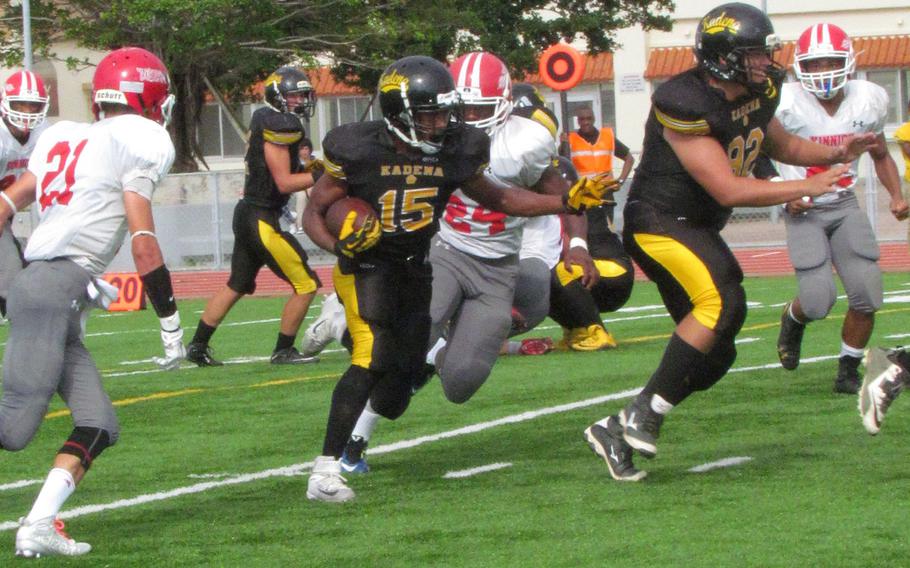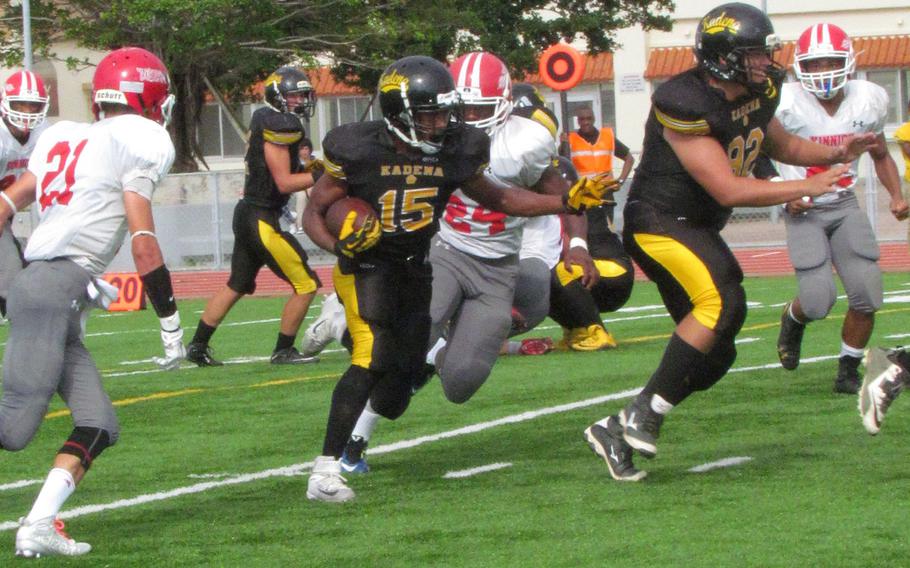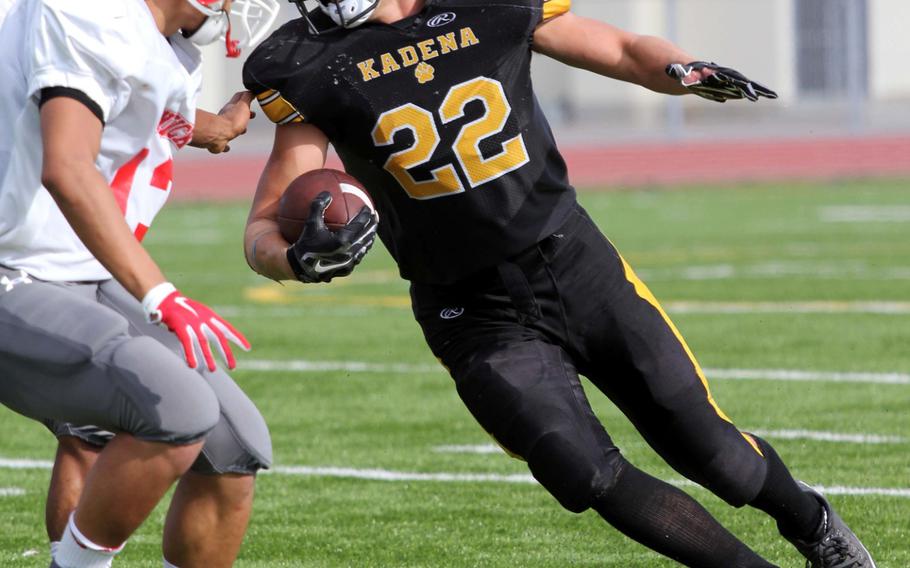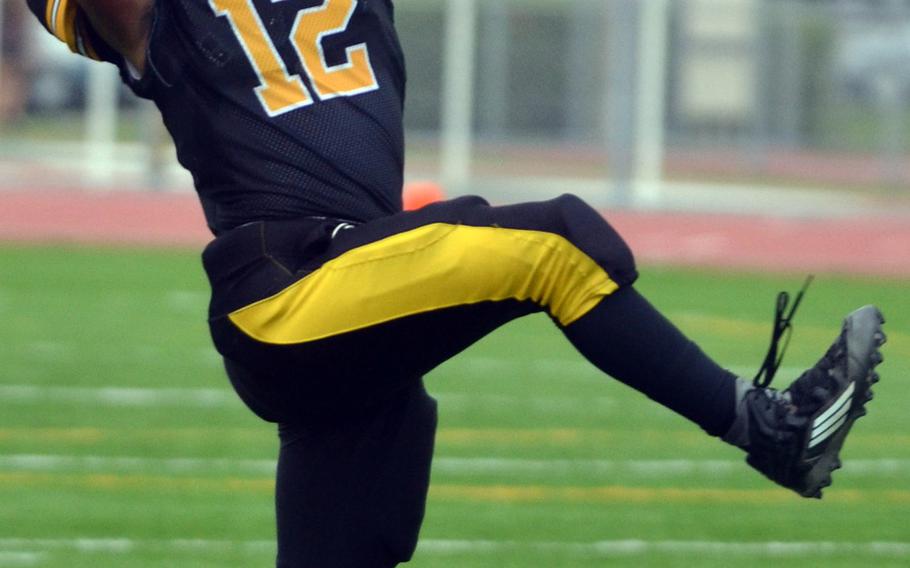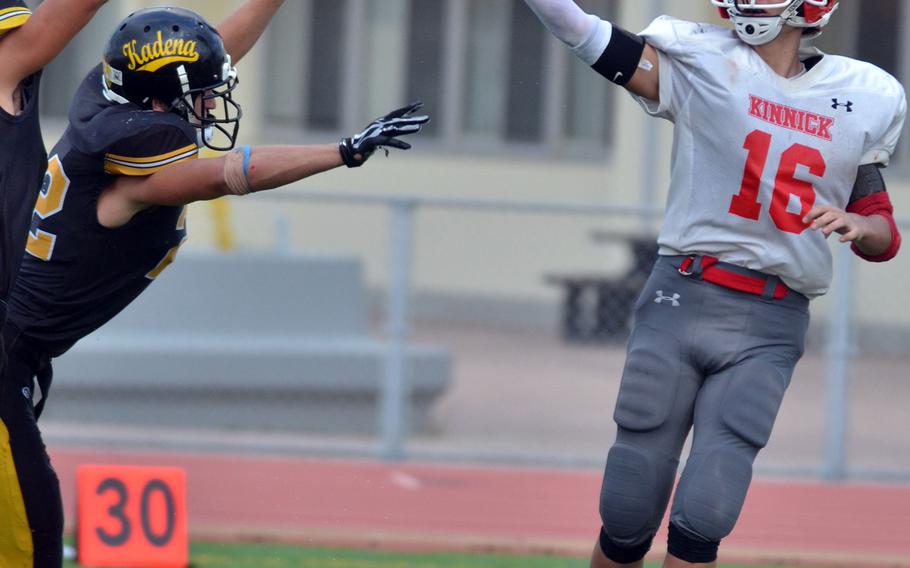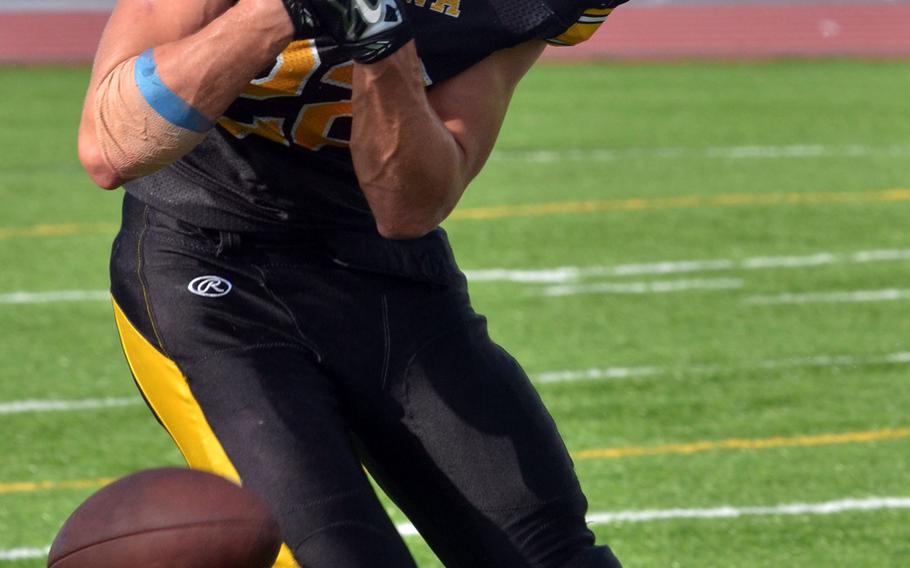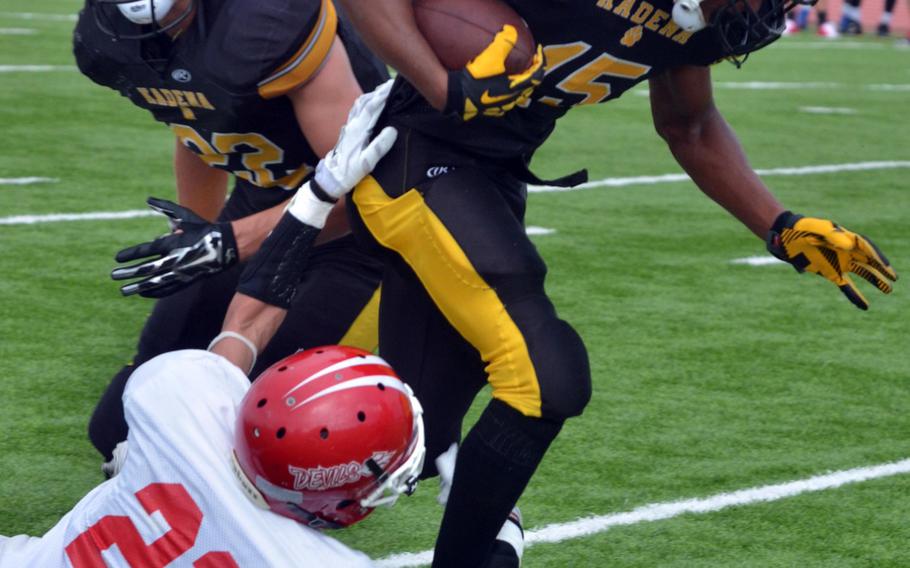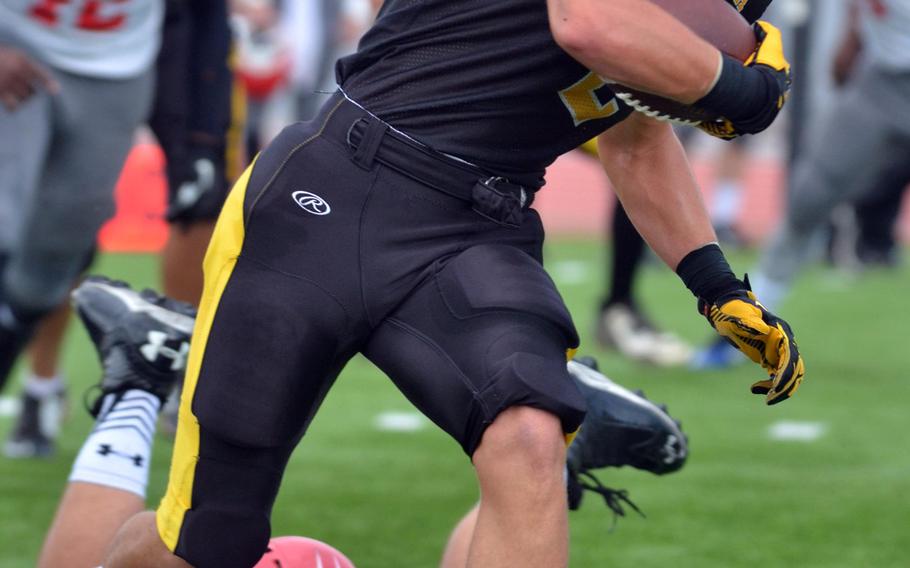 KADENA AIR BASE, Okinawa – Jason Bland continues to sparkle in his role as rushing leader for defending Far East Division I football champion Kadena.
The senior back rushed for 175 yards and two touchdowns on 23 carries, while backfield mates Dominic "Rocco" Santanelli and Hunter Corwin each rushed for scores. As a team, Kadena rushed for 333 yards to rout Nile C. Kinnick 51-13 on Saturday to keep hope alive for defending their Far East Division I title.
"He was running very well, he was running very hard," Panthers coach Sergio Mendoza said of Bland. "And he's becoming the leader I always knew he could be. I'm extremely proud of him."
And as a team, Kadena's players are achieving the same sort of bond, Mendoza said, that helped lead them and their predecessors to Far East D-I titles in 2007, 2009, 2010 and last year.
"It's not so much their performance, but the way they've come together," Mendoza said, describing their bonding the last few days as an "epiphany. They believe in themselves. They love each other. When we've done that in the past, we've usually won."
With the victory, the Panthers (2-2 overall, 1-1 D-I) swept the season series from the Red Devils (3-2, 1-1), making the mountain slightly higher for Kinnick if it hopes to reach its first D-I title game on Nov. 7.
"I'm proud of my guys; they're (Kadena) just a better team than we are," Red Devils coach Dan Joley said of a Panthers team that also beat Kinnick 35-21 on Sept. 12. "Poor tackling. Turning the ball over. We have to fix some things. If we can't execute the basics, it makes it tough to win a game."
Bland now has a Pacific-leading 681 yards on 100 carries with nine touchdowns. Corwin added 70 yards on 12 carries with a touchdown, while Santanelli added 67 yards and a TD on seven carries, 78 yards and a touchdown on two catches and 14 yards on one return.
Sophomore quarterback Cody Sego starred on both sides of the ball. He rushed for a touchdown, was 5-for-7 for 141 yards and the TD pass to Santanelli and intercepted a Kinnick pass. Abe Patterson returned an interception 34 yards for a score, one of four Kadena takeaways.
The Panthers won despite hurting themselves with penalties – 17 in all for 167 yards, including 11 major penalties of 10 yards or more.
The Red Devils led briefly, on Chauncey Jamerson's 92-yard kick-return touchdown following Sego's first-quarter touchdown run. But Bland answered with a 10-yard scoring run to put the Panthers ahead to stay.
Jamerson led the Red Devils with 78 yards on 12 carries and recorded 223 all-purpose yards on 15 touches.
Kinnick next hosts Yokota for its homecoming game on Friday; kickoff is at 7 p.m. Kadena visits Kubasaki on Friday in a game with no bearing on the D-I standings, since the Dragons have already won the season series from the Panthers. Kickoff for that game is 6 p.m.
---
---
---
---