Kadena rallies to top Kinnick and grab host rights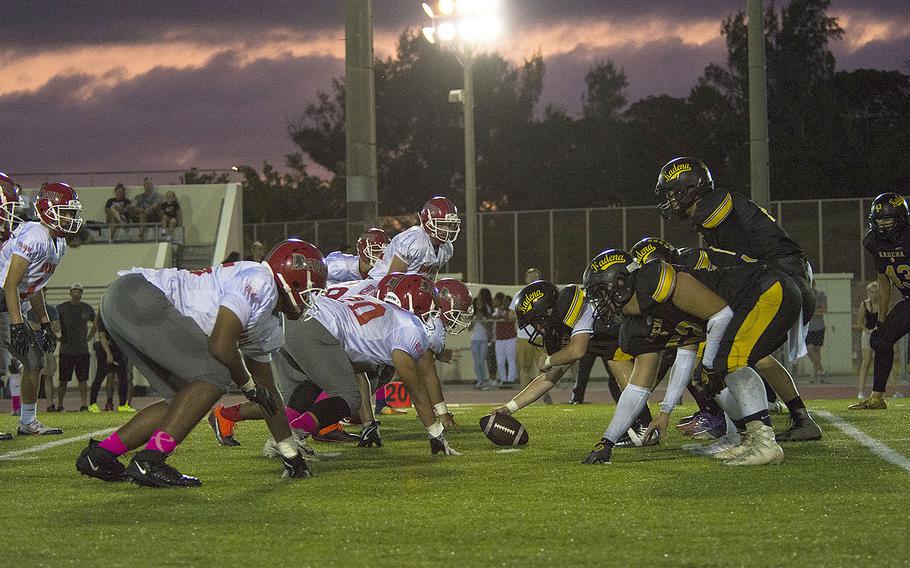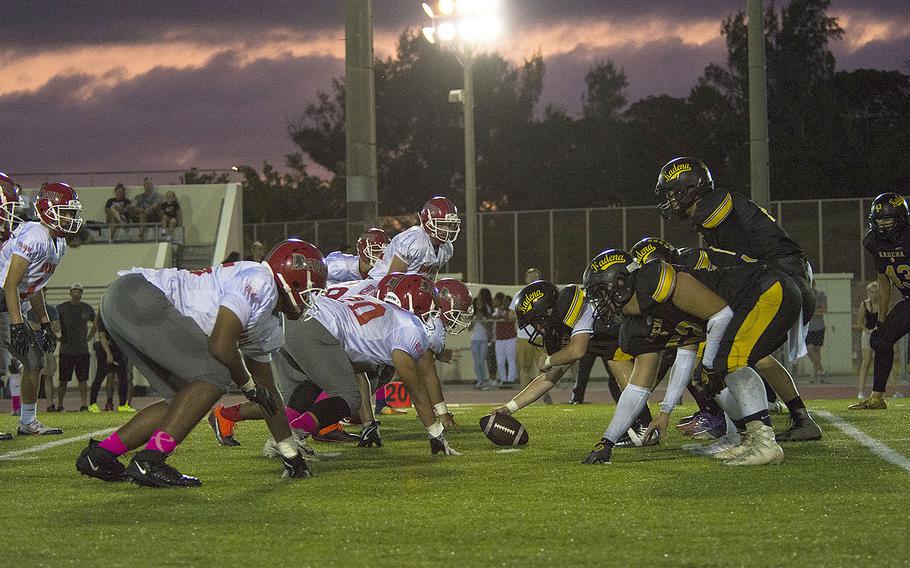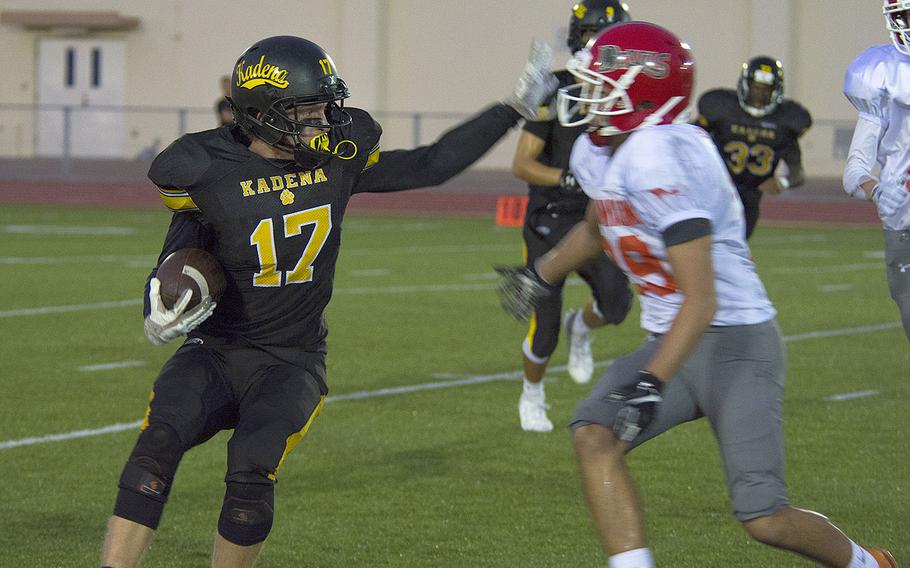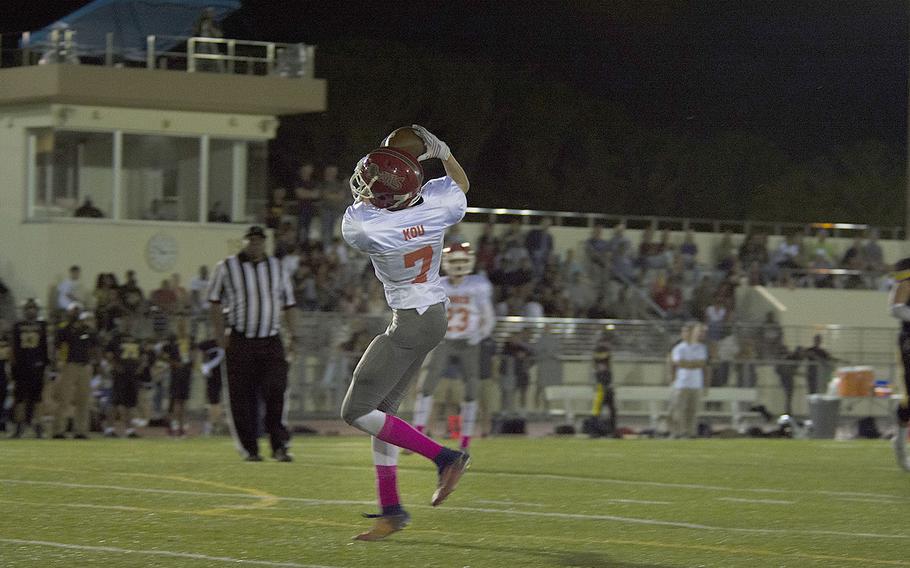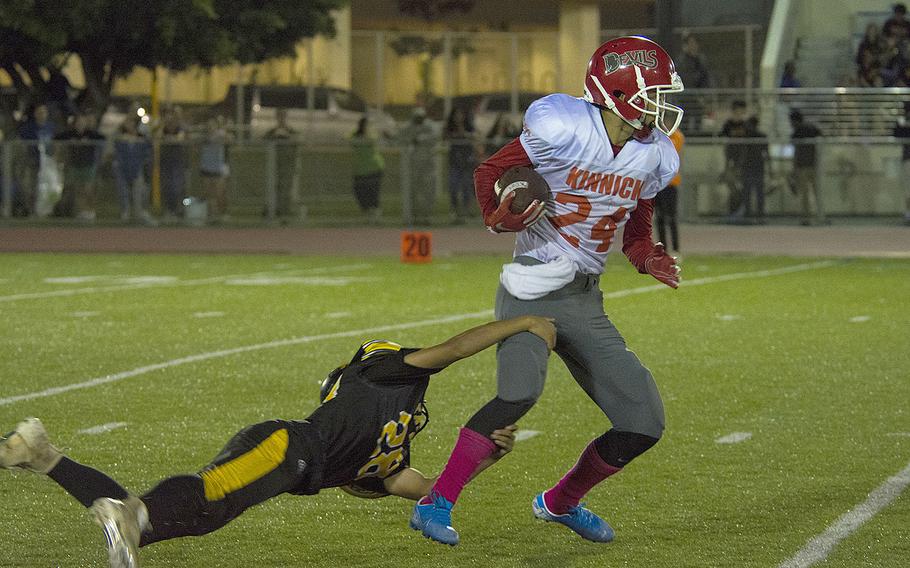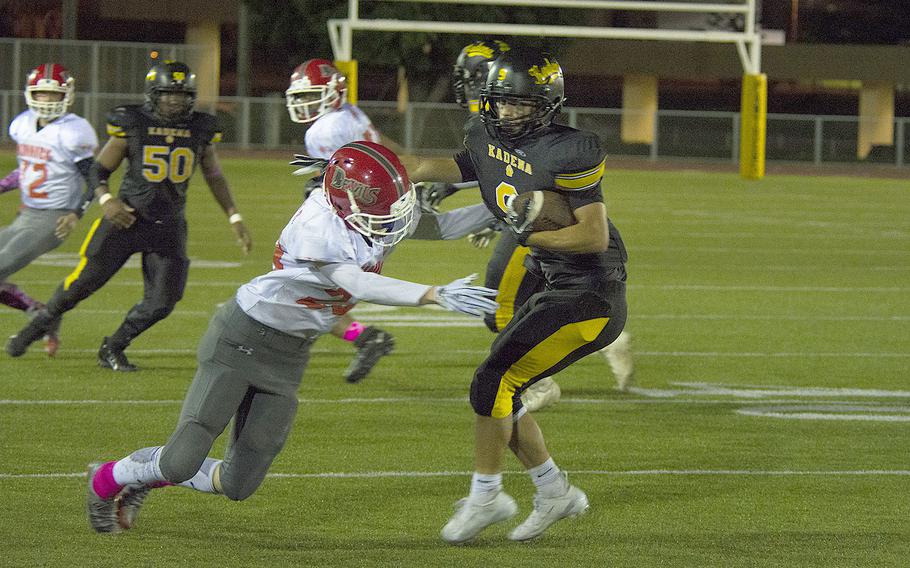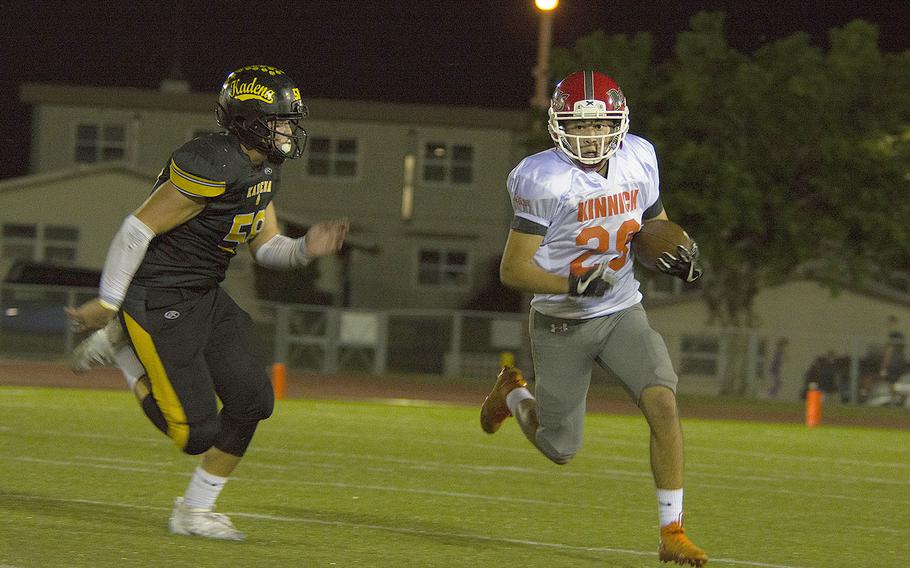 KADENA AIR BASE, Okinawa – Kadena coach Sergio Mendoza would rather be winning by wider margins.
But as long as kicker Joey Puterbaugh remains as accurate as he's been and keeps giving the Panthers chances to win - even by one point in two consecutive games - Mendoza says he'll take it.
Puterbaugh, a freshman, kicked a 25-yard field goal with 7 seconds left, completing a Panthers rally from an 8-0 deficit to edge defending champion Nile C. Kinnick 9-8 on Friday, earning host rights to the Far East Division I title game on Nov. 9 in the process.
"Another close one," said Mendoza, whose Panthers (6-0) entered the game already having clinched a berth in the Far East final. "We just didn't know where it would be," he said.
Puterbaugh, Mendoza said, has been emblematic of a Kadena team that was rebuilding with underclassmen occupying a large portion of the roster.
Making things worse was having four of his best players, ones Mendoza calls some of the best in the Pacific, sidelined by injuries. Running backs Trent Fowler, Alfonso Mendez and Marquis McDonald and linebacker Jace Salas are all out.
"We've had a lot of freshmen step up," Mendoza said, adding that with the D-I host berth sealed, "we want them (injured players) to have three weeks to heal." The Panthers don't play again until the Nov. 9 final.
Kadena has had a few other close encounters this season. The Panthers survived a 7-6 victory a week earlier against Kubasaki and outlasted Humphreys 6-0 on Sept. 14 at Kadena.
On Friday, Kou Nishiyama gave the Red Devils (2-2 overall, 1-2 D-I) a 6-0 first-quarter lead with a 29-yard touchdown catch from Patrick Kelly. Jovesa Qauqau extended the lead to 8-0 with a second-quarter safety and it stayed that way through halftime.
Freshman Markell Shelton, who's had 356 yards on 42 carries and a touchdown the last two weeks, sparked the Panthers' rally with a 35-yard third-quarter run that set up Kadena's lone touchdown, on a Jack Carey quarterback sneak. The two-point try failed.
"We had one missed tackle" that opened the door for Shelton to set up the touchdown, Kinnick coach Dan Joley said. "That kid (Shelton) was really good. He was dynamite."
From there, the defenses held firm until the Panthers got to the Red Devils' 8-yard line with 7 seconds left, setting up Puterbaugh's heroics.
Dean Owen led the Panthers with 10 tackles including a sack. Kevonte Speight and Brandon Ray each had interceptions for Kadena.
While the Panthers rest up and heal their injuries, Kinnick next hosts American School In Japan at 7 p.m. Friday, followed by a visit to Humphreys on Nov. 1 that could have title considerations.
"We'll be firing on all cylinders" in the D-I final, Mendoza said. "If there's a scenario in which we come back here, it's going to be a different ballgame," Joley said.