Kadena not 'sharp,' but still routs Kubasaki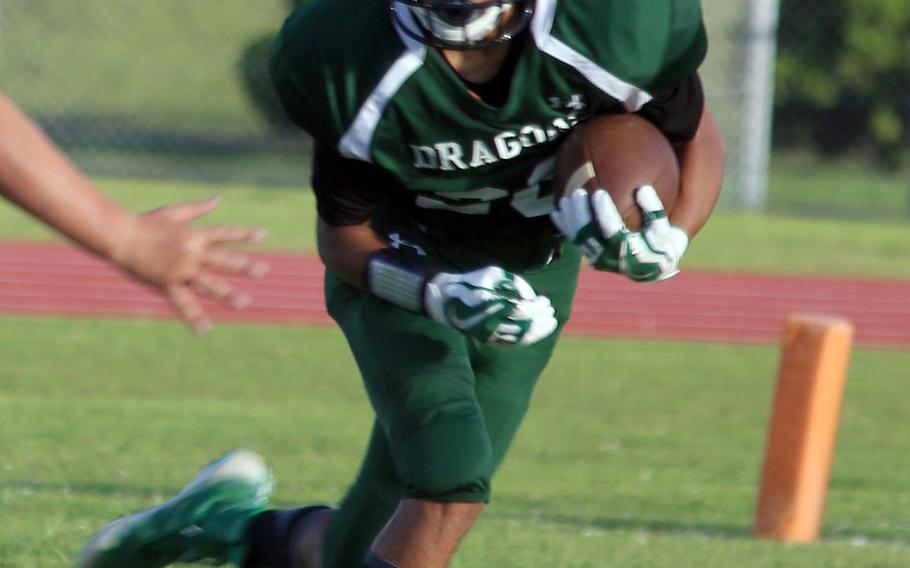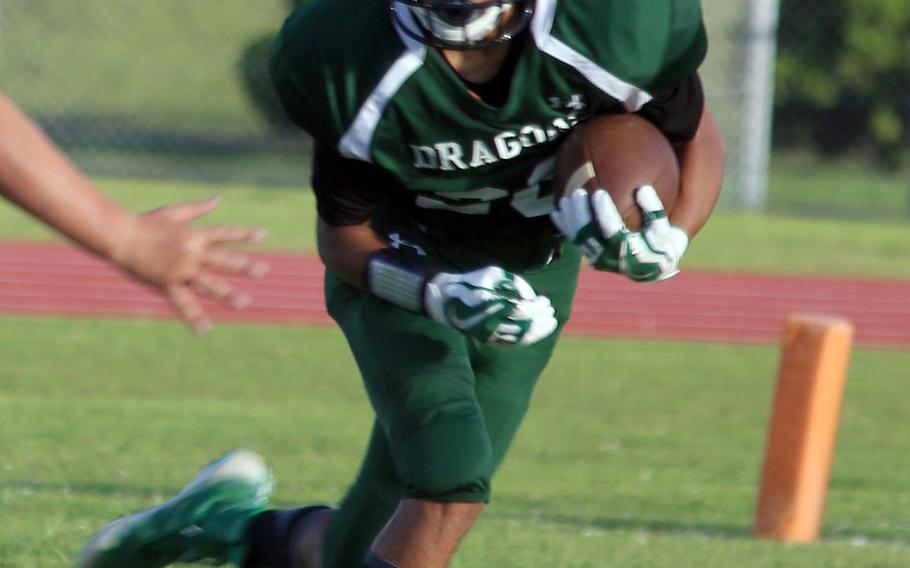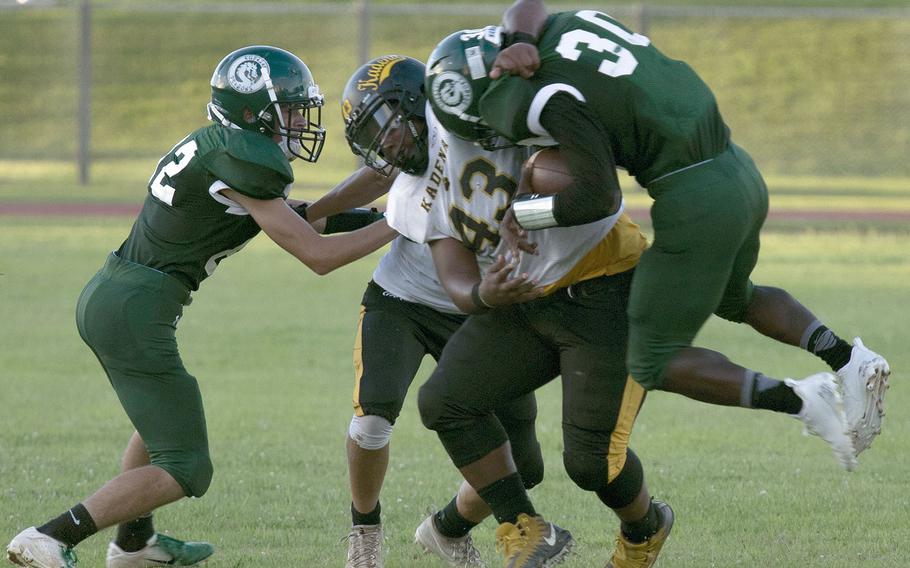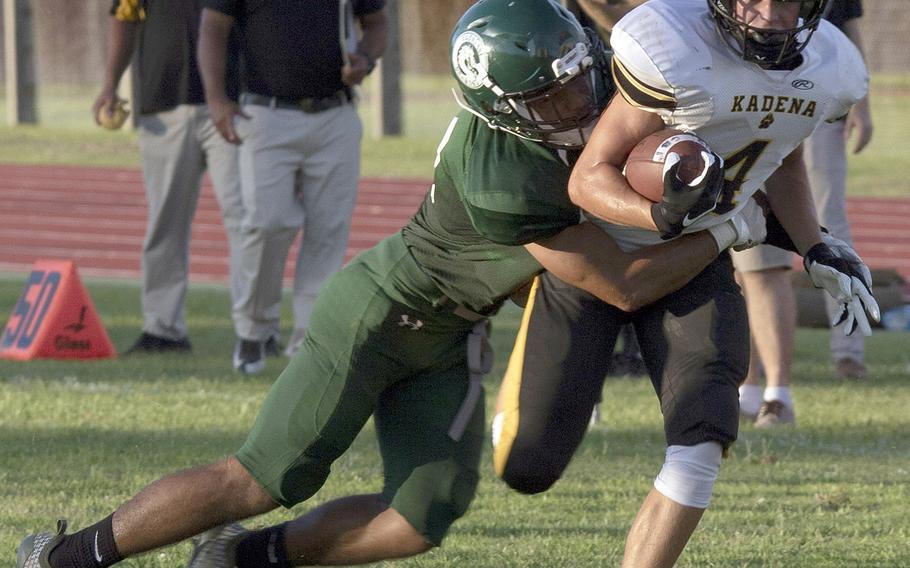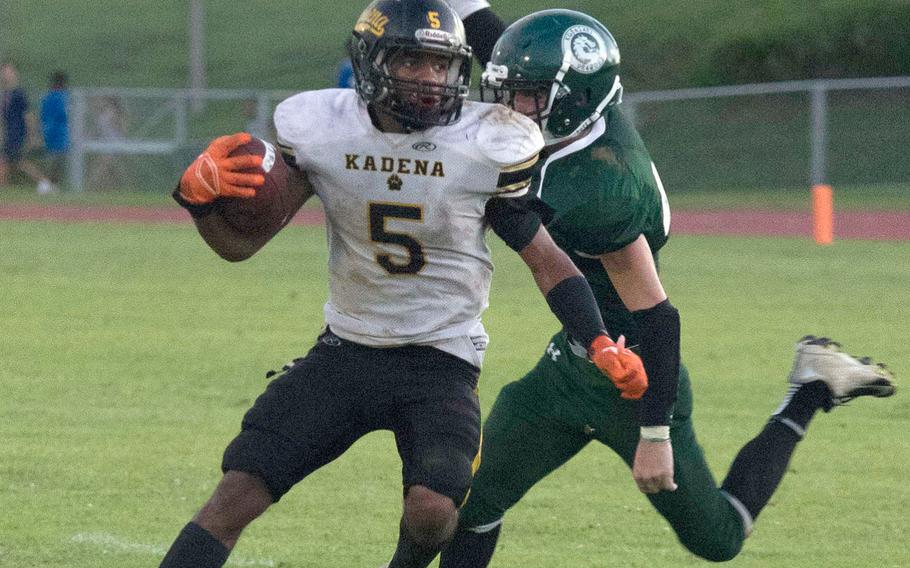 CAMP FOSTER, Okinawa – While it would appear Kadena running backs Eric McCarter and Uriah Morris picked up where they left off last year, coach Sergio Mendoza says the Panthers are far from ready to challenge for their seventh Far East Division I title.
Seven running backs totaled 337 yards, led by McCarter (128 yards, 3 touchdowns, 18 carries) and Morris, who ran back a 55-yard interception and rushed for another TD, as the Panthers scored 41 unanswered points for a 41-7 win over Kubasaki.
Despite the big plays, "we didn't play Kadena football," Mendoza said.
"We played too soft, we weren't sharp, (we weren't) at an edge, we had too many injuries. The scoreboard doesn't reflect how poorly we played. We broke some big plays. Eric and Uriah had good games. But we're going to go back to work and do some of our hardest conditioning yet."
Still, it was a one-sided start for a team that ended last season by scoring on the game's last play for a 23-22 win last Oct. 28 at Nile C. Kinnick for the D-I title, Kadena's Pacific-record sixth.
Plenty of backs saw action, particularly in the second half as the Panthers pulled away after a tight beginning of a penalty-filled contest. A combined 51 flags flew during the contest; Kadena had three touchdowns called back due to penalties.
Junior Wyatt Knopp stepped in at quarterback, replacing four-year starter Cody Sego, and he responded with 42 rushing yards on five carries.
Besides Morris' pick-six, Trent Fowler also intercepted a pass and the Panthers also recorded two safeties.
"They were big, strong and fast," Dragons coach Fred Bales said of the Panthers. "They did a great job. They have a lot of talent. They have some really great running backs who were on display for all to see."
The brightest spot for the Dragons was Alvin Mack, making his first start at quarterback; he was 4-for-8 for 60 yards and ran for 68 yards and a touchdown on five carries.
"He can play and he isn't afraid," Bales said of Mack. "He can hurt a team with his legs." Haydn Williamson led the Dragons with 15 tackles, Frank Adams recorded eight and Keonte Caines six.
The Dragons next visit the American School In Japan, which won the 2016 D-I title, while the Panthers host Kinnick in a rematch of last year's D-I title game. Both games are on Saturday afternoon.
"We can do better," Mendoza said. "This isn't Kadena football yet."