Kadena gets a scare, but stays unbeaten
---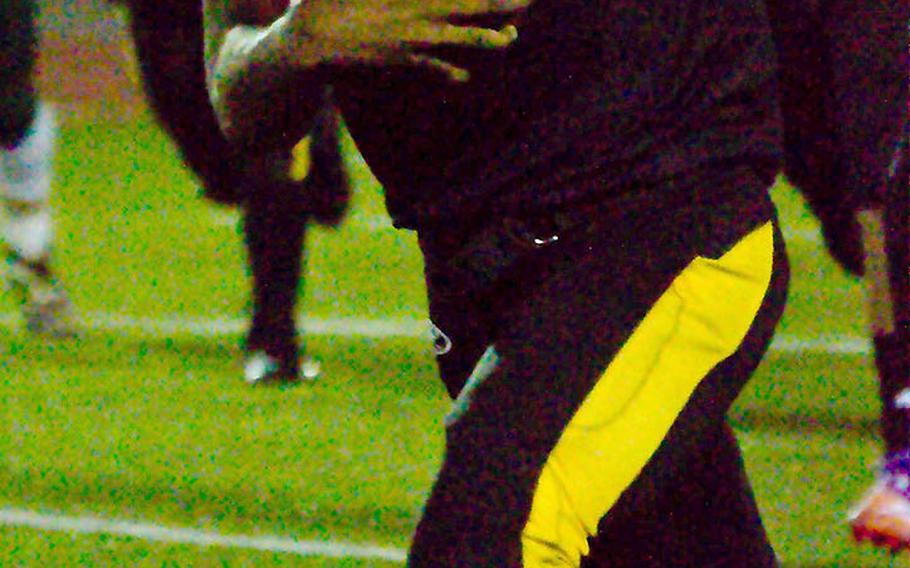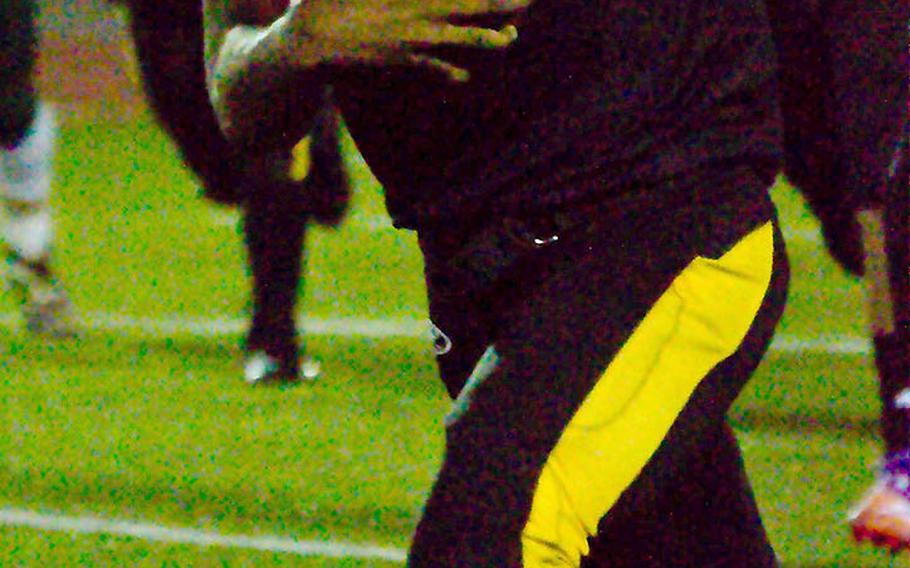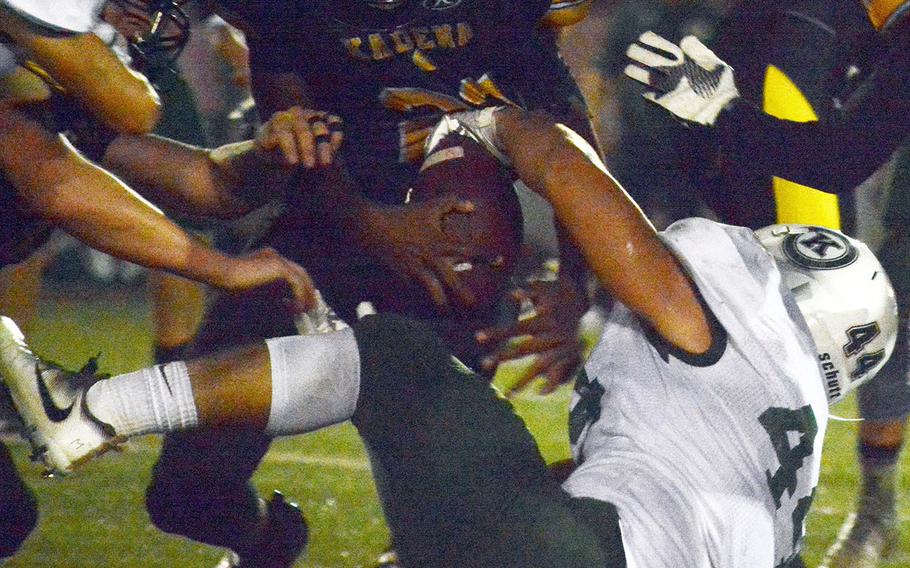 KADENA AIR BASE, Okinawa – With Kadena's well of running backs thinning out due to injuries, coach Sergio Mendoza reached for a freshman who responded to the call.
Markell Shelton rushed 21 times for 198 yards, including a 41-yard touchdown run in the third quarter, and Joey Putterbaugh's extra-point kick proved to be the game winner as the Panthers rallied from a first-quarter deficit to edge island-rival Kubasaki 7-6 Friday at Ryukyu Middle School.
Shelton stepped in for starter Alfonso Mendez, who tweaked a leg on his only carry of the evening and sat the rest of the way.
"We knew Markell could step up," Mendoza said. "He's a freshman, but he runs way beyond his years."
Mendez came on in relief in the second game of the season for Trent Fowler, who's out the rest of the way with an ankle injury. "It's been an injury year" for the Panthers, Mendoza said.
The victory gave the Panthers their 10th Okinawa title on Mendoza's 15-season watch. And it came following a bye week for the Panthers (5-0), who last played on Sept. 28, a 34-6 win at American School In Japan.
"We were really rusty," Mendoza said. "Some teams come out of a bye week fresh and ready to go, some teams come out rusty. And Kubasaki came to play. (Coach) Fred (Bales) always has his team competitive at this time of the season."
Kubasaki (1-4) went ahead 6-0 on Lucas Kappen's 12-yard first-quarter run. The Dragons missed the two-point attempt when Kappen's pass was batted down.
From there, it was a game of turnovers and missed opportunities. The Dragons intercepted four passes and recovered three fumbles, but so, too, did the Panthers come away with four interceptions.
Shelton's touchdown run and Putterbaugh's conversion gave the Panthers the lead for good. The Dragons had one last gasp in the closing seconds, lining up for a 31-yard field goal, but time ran out before the kick could be tried.
"That's my fault," Bales said, blaming his own clock mismanagement. "It would have been great to win it. Both teams played well. Mistakes were made on both sides. Just another intense Kadena-Kubasaki game that came down to the last play."
Riker Hemmers had 34 yards on four carries and quarterback Jack Carey 33 yards on three attempts. He was 0-for-7 passing with three interceptions. Caleb Wise led the Panthers with 10 tackles, and Marques McDonald intercepted two passes and Sage Greisen and Cyan Buck each had one pick.
For the Dragons, Kappen had 31 yards on five carries and went 6-for-17 for 79 yards, but with four interceptions.
Haydn Peterson had 13 tackles, Malik Brown eight tackles and two fumble recoveries, Clint Reventlow 11 tackles and a fumble recovery, Takishi McClure nine tackles and a fumble recovery and Micah Truman five tackles and two interceptions.
The Panthers have already punched a ticket to their Pacific-record 12th Far East Division I final on Nov. 9. They still need a victory next Friday at home against defending champion Nile C. Kinnick to seal host rights.
The Red Devils (2-1) are the only D-I team with an outside shot at the host berth but must win out to earn it. All four D-I teams besides Kadena are alive for the title-game visitor's berth with three weeks remaining in the regular season.
With both Mendoza and Bales having stated their intention before the season to step down after it's over, this would be the last time the two squared off in a regular-season game. That they've gone back and forth since the 2005 season wasn't lost on the two coaches.
"It's been a lot of fun, a lot of hard work, between two schools, two good programs, a lot of exciting games," Bales said. "I'm going to miss it."
"He's forgotten more about football than I know," Mendoza said of Bales.
---
---
---
---