DI girls
Kadena ends ASIJ hex, romps to title
by
Matthew M. Burke
February 18, 2016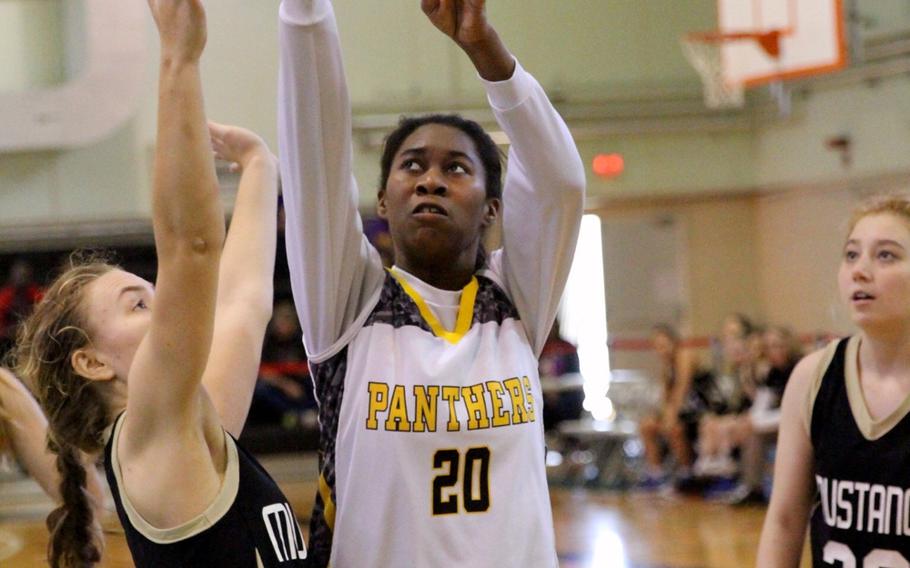 CAMP FOSTER, Okinawa — After falling to the American School In Japan girls in two consecutive Far East Division I Basketball Championship games, Kadena began the season with one goal in mind: Beat the Mustangs and claim its first title since 2008.
Under their senior leadership, the Panthers would not be denied Thursday afternoon. They routed a young and inexperienced ASIJ squad in a resounding 64-22 victory.
Smooth operating guard/forward Brenda Gulley smiled and clutched the ball at half court as time expired. Gulley finished the game with a double-double (16 points and 11 rebounds) and said she could now graduate feeling fulfilled – she was finally a champion.
"It's kind of been building up to this," Gulley said after the game. "It feels like we've been practicing the whole season to play ASIJ. We knew we were better than last year, so we had high hopes."
When the opening whistle blew, ASIJ scored the first basket. Most of the highlights after that, however, belonged to the Panthers.
Kadena went on a 15-0 run and never looked back thanks to smothering full-court pressure, which led to turnovers and easy buckets in transition, and dominance on the offensive glass.
The Mustangs fought hard, but couldn't catch a break all afternoon. When ASIJ was able to beat Kadena's full-court press, it had difficulty finding the bottom of the net. When it did score, Kadena seemed to answer immediately.
By the end of the first quarter, the Panthers held a commanding 27-5 lead. They let ASIJ back into the game a bit with sloppy play just before the half. Yet they went to the locker room up 45-18.
They maintained a 30-point lead, more or less, for the remainder of the contest.
"It feels good," an emotional Kadena coach Willy Ware said. It's his first Far East championship trophy. "ASIJ put us out the last four years. I'm happy. I can't put it into words."
Kadena sophomore guard Rhamsey Wyche was named Most Valuable Player after finishing with 20 points and five steals in a dominant first half. She was precluded from adding to her statistics due to the "mercy rule" being applied. The rule keeps starters out of the game when a team has a 30-point lead.
Sharp-shooting junior guard/forward Linda Vaughan added 13 points, including several from behind the three-point line, and five assists in the victory.
ASIJ's future is bright, with five starters returning next year, including two-time all-tournament selection Allie Rogers - a junior guard - who finished with five steals. Freshman forward Kennedy Baca added eight points in defeat.
---
---
---