Prep roundup
Kadena dominating boys long-distance races on Okinawa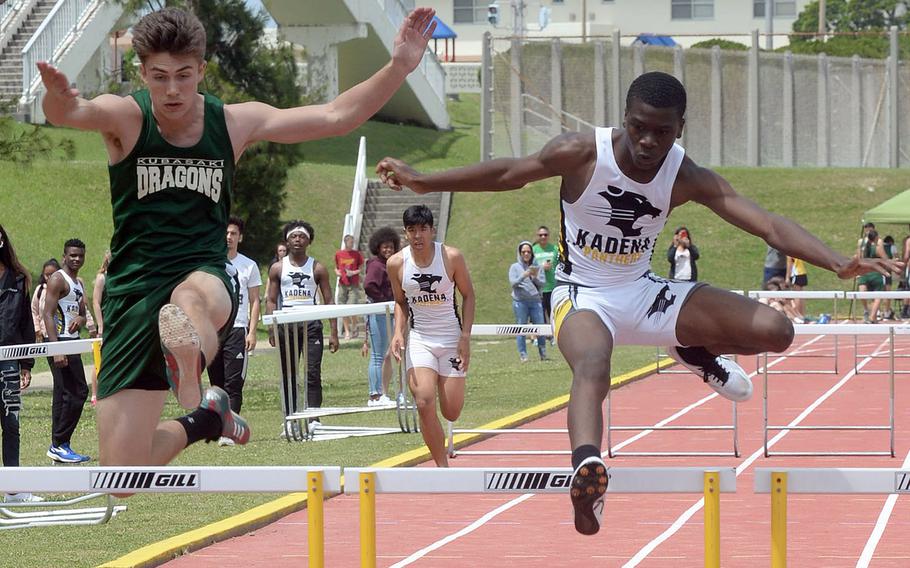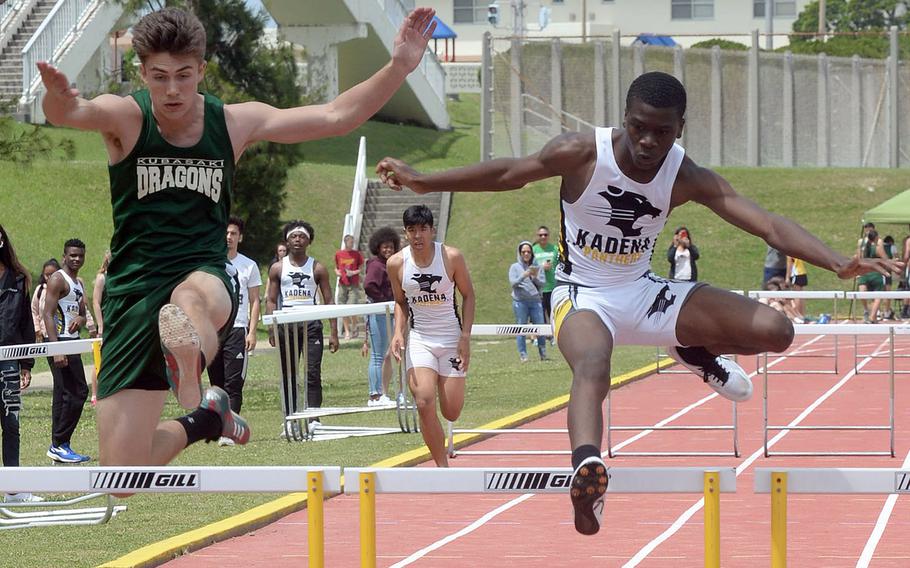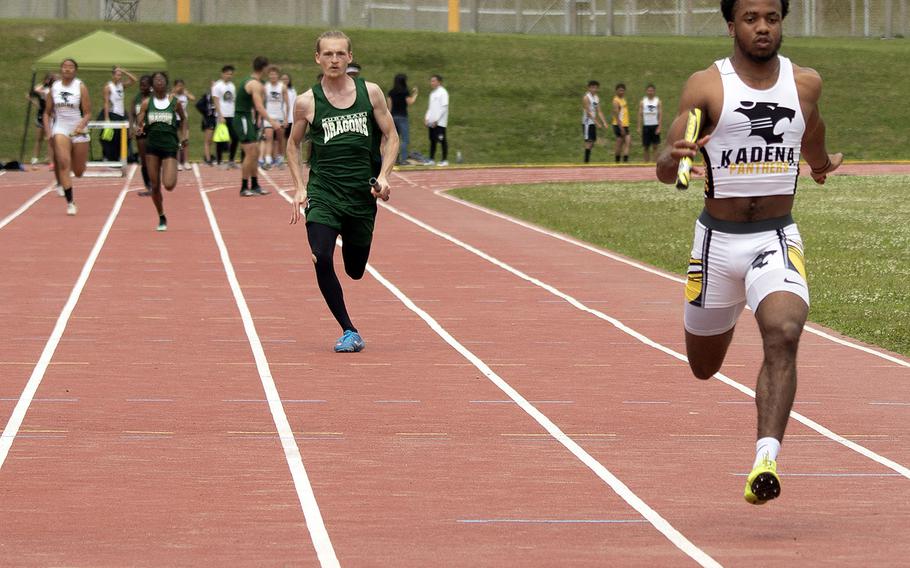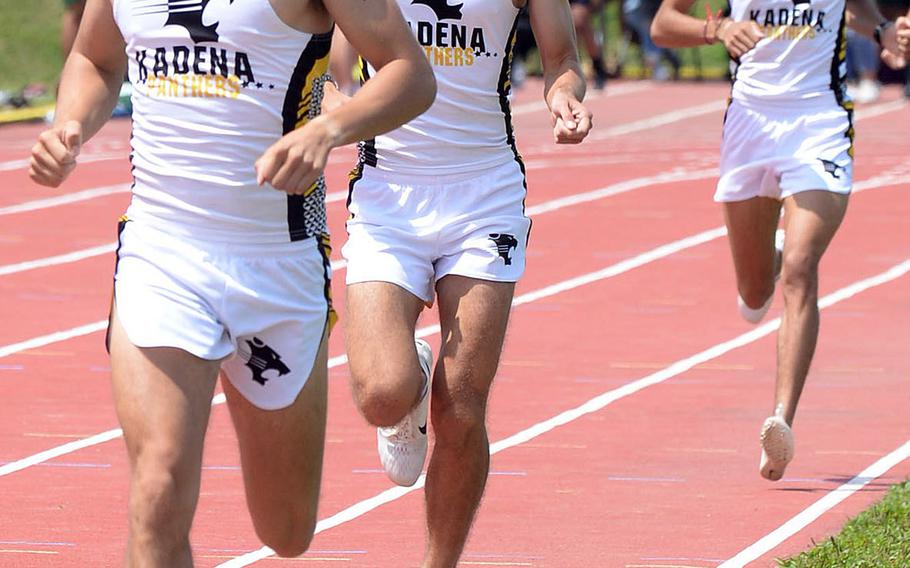 KADENA AIR BASE, Okinawa – To Guy Renquist, Hayden Bills and Trevor Williams, it doesn't matter which of the three Kadena senior distance specialists wins in the 800, 1,600 or 3,200, as long as the winner has the name Kadena on his jersey.
"As long as it's one of us, we'll be happy," said Williams, who won the 1,600 and 3,200, while Bills took the 800 in Saturday's second meet of the Okinawa season. The Kadena threesome placed 1-2-3 in all three events.
"We're just trying to push each other to get the best times," said Renquist, the younger brother of Wren Renquist, the former island cross country and track champion who's now running at Iowa.
Doyle Robertson said having three strong distance specialists makes it easy to coach, "especially since they're all seniors and it shows the leadership they've been building the last few years."
Whether one or the other wins in any of those events at Far East in May at Yokota, "the biggest bragging right would be to bring home the banner," Williams said.
Panthers take to the road, sweep EaglesMISAWA AIR BASE, Japan – They didn't start the season so well, losing their opener 4-2 at Nile C. Kinnick. But Yokota's girls softball team has been unstoppable since.
The Panthers have won eight straight games, most recently their last three over the weekend at Misawa, where leadoff batter Annalise Rodriguez batted a perfect 9-for-9 with a home run, five RBIs and 13 stolen bases in Yokota's 34-0, 18-3 and 16-0 wins at Robert D. Edgren.
"It's been nothing really specific," said first-year Panthers head coach Preston Heitstuman, adding, though, that she's emphasized to her team that it's essential that they get an early lead.
"We've been getting in front early, we've been stealing bases like crazy, playing very aggressively," Heitstuman said. "Defensively, we've had at least one double play in every game."
They've also had strong pitching, from three-year Panther starter Adrianna Diaz, a senior, and freshman right-hander Anne-Marie Hucks.
And clearly, the Panthers have been tagging the ball – they've outscored opponents 144-20 in their last eight games.
"We have been hitting, taking lots of batting practice, doing different drills that we've come up with," Heitstuman said.
Though the Panthers have been on a roll, Heitstuman has cautioned her charges against looking too far ahead. They're seeking their first Far East Division II Tournament title since 2016; they lost the final in 2017 to Zama. Yokota's last games before spring break are Tuesday, when the Panthers host Kinnick.
Three-point specialist throws a dandy for Yokota baseballYOKOTA AIR BASE, Japan -- Yokota boys basketball team's leading scorer and three-point specialist Riley DeMarco is proving pretty fair at pitching a baseball, if Saturday's performance against Kinnick is an indication.
The senior pitched a four-inning no-hitter, striking out seven and walking two, throwing 67 pitches and helping himself with three hits and an RBI as the Panthers routed the Red Devils 12-1 at Yokota Park.
"To be honest, I had no clue I finished with a no-hitter until the game was over," DeMarco said. "It feels great, glad to be able to get a win for the team."
"He was right on point today," coach LeSean Thomas said. "He did really well hitting his spots and never backed down from any batters. He definitely turned a corner today on the mound. Very proud of that kid."
Dykes strong on track as wellCAMP HUMPHREYS, South Korea – Another senior who starred on the hardwood, Ebony Dykes of Humphreys, has been dominant in the throws and high jump early in the Korea track and field season.
But coach Ron Merriwether asked her to try the 300 hurdles for the first time in Saturday's third meet of the season, and said he was pleased with the response.
Dykes was timed in 56.15 seconds, finishing second to teammate Cierra Dennie (53.82), but coming within 2.65 seconds of qualifying for the Far East meet in the event.
Merriwether believes the best is yet to come for Dykes, whom he says reminds him of Pacific record holder and 2018 Yokota graduate Brittney Bailey because of Dykes' build; she's 6-foot-2.
"Just her length and height alone, how she can clear those hurdles," Merriwether said. "It's not her race yet, but she reminds me of Bailey. We're looking at ways to maximize our chances. She was a nice addition to the team this year."
Dykes, who transferred from Seoul American, won the shot put easily, 9.39 meters to 7.86 by her teammate Isabel Peeples. Dykes also won the discus and high jump, keeping her unbeaten in those three field events this season.