Kadena bounces back to keep Kubasaki winless
by
Dave Ornauer
October 6, 2017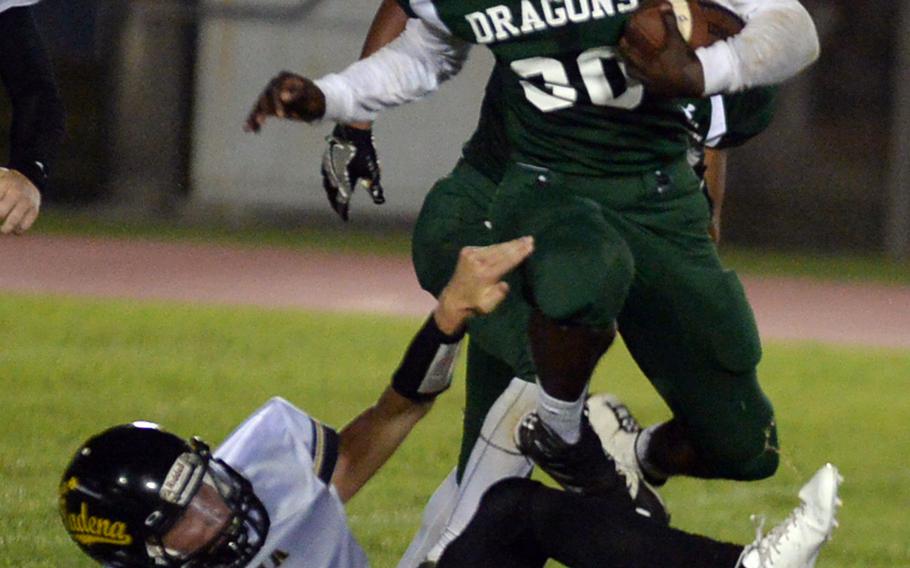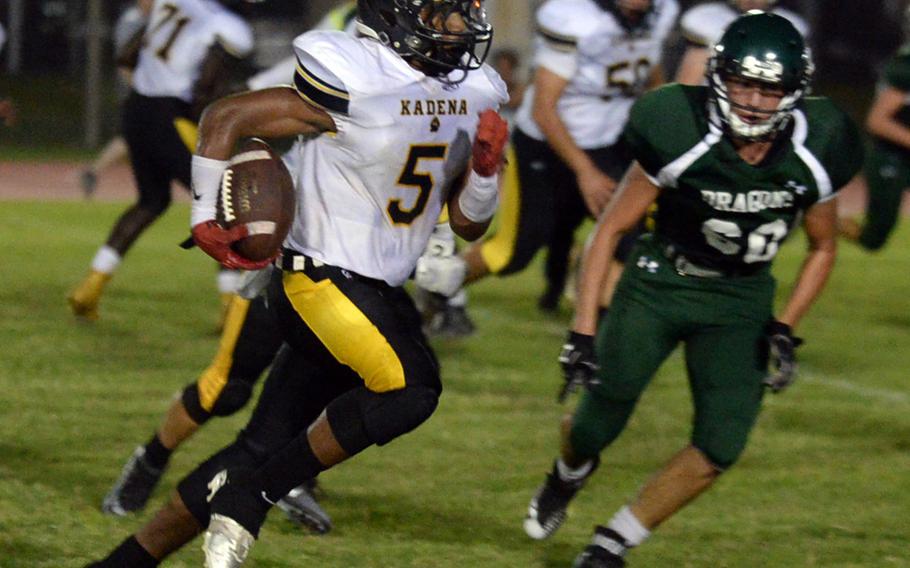 CAMP FOSTER, Okinawa – When a team suffers a heartbreaking defeat, one of the first things a head coach asks is how a team might bounce back. Eric McCarter provided most of the answers Kadena coach Sergio Mendoza needed on Friday.
The junior transfer running back scored three times and accounted for 208 all-purpose yards on 14 touches as the Panthers downed Kubasaki 37-7, rebounding nicely from a 45-40 defeat at Nile C. Kinnick a week ago.
The Panthers improved to 5-1 overall and 4-1 in Division I, a half-game back of D-I-leading Kinnick and still in good position to claim a berth in the Far East D-I final Oct. 27 or 28 at Kinnick. The Dragons remained winless at 0-6 overall and 0-5 in D-I.
"I expected us to have some refocus time," Mendoza said. "I wanted to see how well we would respond. The next game is always critical, to see what kind of character we have, how well we would rebound. We didn't like what we saw on the film and focused on what we had to fix."
It took a while for the Panthers to get their game going, but McCarter engaged the switch with a 6-yard scoring run near the end of the first quarter that capped a 15-play, 85-yard drive in 7 minutes, 5 seconds. A 36-yard field goal made it 10-0 halfway through the second period.
"Kubasaki gave us a good hard game" early on, Mendoza said.
Brayden Frederick promptly recovered a Kubasaki fumble on the next play and the Panthers capitalized, scoring on quarterback Cody Sego's 1-yard run, which chewed up 4:14 more off the clock on 10 more plays.
Kubasaki went three-and-out on the next series and punted to McCarter, who returned it 65 yards for a touchdown that made it 24-0 at half; prior to that punt, Kubasaki coach Fred Bales could be heard calling to his punting unit not to kick it to McCarter.
McCarter promptly opened the second half with a 69-yard touchdown run on his last carry. The game finished with a running clock. Reserve back Joseph Warren gained 43 yards on three carries, including a 5-yard TD run that capped Kadena's scoring early in the final period.
Both sides substituted the rest of the way. Kubasaki scored on its last drive, with new transfer Vincent Hill rushing 23 yards for a score after the Dragons recovered a muffed punt.
McCarter had 140 yards on 12 carries and Sego 69 yards on 13 attempts while going 5-for-11 for 77 yards. Hill led the Dragons with 63 yards on 11 carries.
Kadena faces one last regular-season test when it hosts defending D-I champion American School In Japan on Friday at 6 p.m; a Panthers win puts them back in the title game they lost 35-18 last Nov. 12 at ASIJ. Kubasaki next hosts Seoul American at 10 a.m. Oct. 14.
Twitter: @ornauer_stripes