Prep roundup
Individual wrestlers shine, though Kinnick keeps winning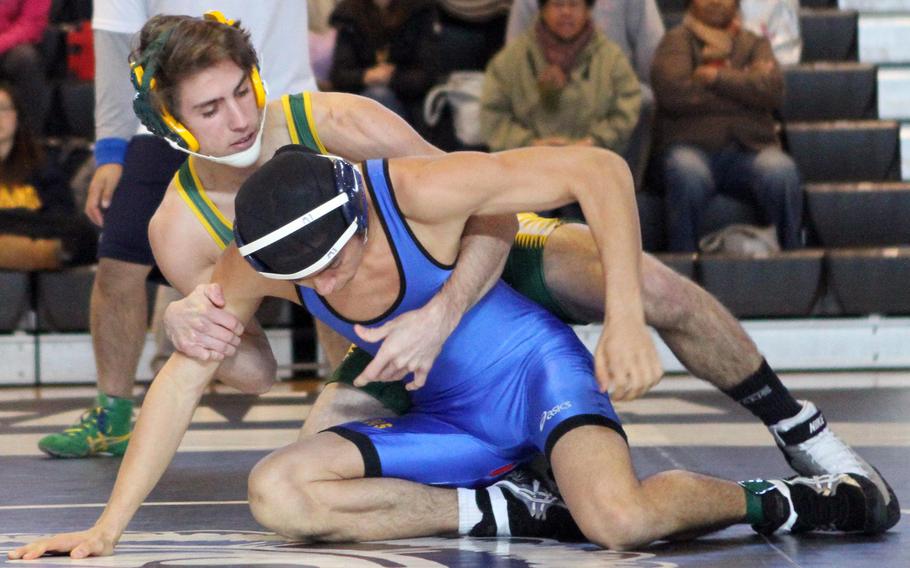 CAMP ZAMA, Japan – While Nile C. Kinnick and Seoul American remained unbeaten as teams with the season just two weeks old, other wrestlers are showing the potential to do big things in league and Far East tournament play, coaches said.
For example, St. Mary's International, which finished second to Kinnick in Saturday's four-way dual tournament at Zama American, could be a threat to capture three weight classes at Far East in two months at Yokota, Red Devils coach Gary Wilson said.
"St. Mary's exposed some of the things we need to work on," Wilson said, adding that 115-pounder Kentaro Hayashi and reigning Far East champions Ryan Vasconcellos (135) and Jeff Koo (180) loom as potential Far East champions.
Kinnick beat St. Mary's 41-22, Robert D. Edgren 51-11 and host Zama 56-5 to win its second straight dual tournament. St. Mary's was second, Edgren third and Zama fourth.
Against Kinnick, St. Mary's Vanconcellos, Koo and Hayashi each scored 7-0 technical falls over Brady Yoder, Keigo Mull and Jianni Labato.
"We won" against St. Mary's, "but so many matches could have gone either way; it's hard to say," Wilson said. "We had wins and they had wins that I thought they should, but the rest were back and forth."
Wilson also continues to view Edgren's Hunter Matthews (129) and Kaleb Atchison (141), who also went unbeaten on Saturday, as cogs in a potential Far East small-schools title bid by the Eagles. "They'll be tough to beat at Division II," he said.
While Zama lost its three duals, Jacob Scott made his season debut at 148 and looked impressive, Wilson said.
Over in Korea, Jack Barnes continued Saturday to round back into shape from shoulder surgery which sidelined him last season, going unbeaten a second straight week at 215 pounds. He and a handful of other DODDS Korea wrestlers have the potential to do good things, Falcons assistant coach Julian Harden said.
"Jack could be OK. It depends on how much he grows," said Harden, who spent 13 seasons as the Falcons head coach and now assists Ben Pak. "He has a wealth of potential. He has skill. I like his chances. He just needs to work on it."
Sam Kim, a 122-pounder at Osan American, also "has potential; he just doesn't see it yet," Harden said. Of Morgan Baek, Daegu's 148-pounder, Harden said: "He's probably the best wrestler on that Daegu team."
Just two dual meets remain before Christmas break begins on Dec. 21. Kadena visits Kubasaki on Okinawa and Yokota travels to Christian Academy Japan on Wednesday. Wrestling resumes on Jan. 4 with another DODDS Korea four-way at Seoul American.