Humphreys rallies past Kinnick to set date with Kadena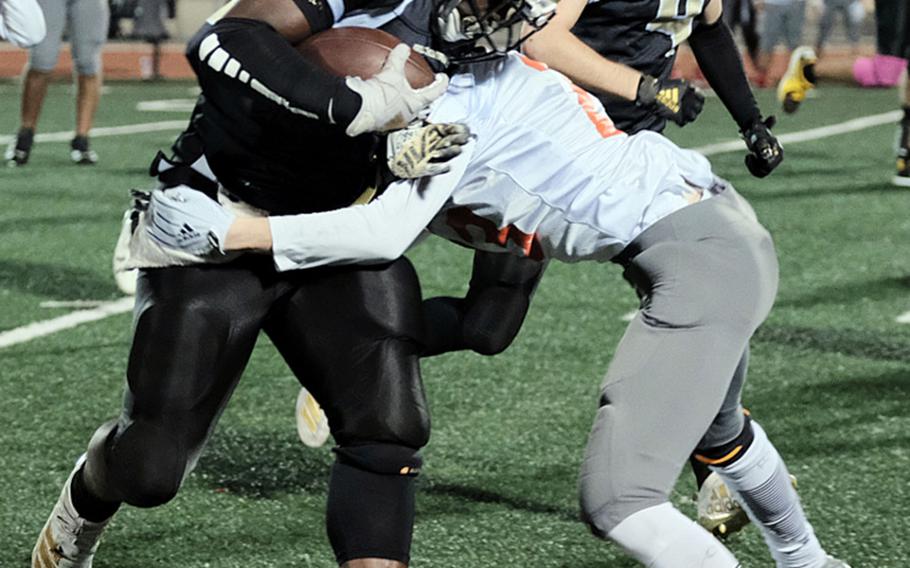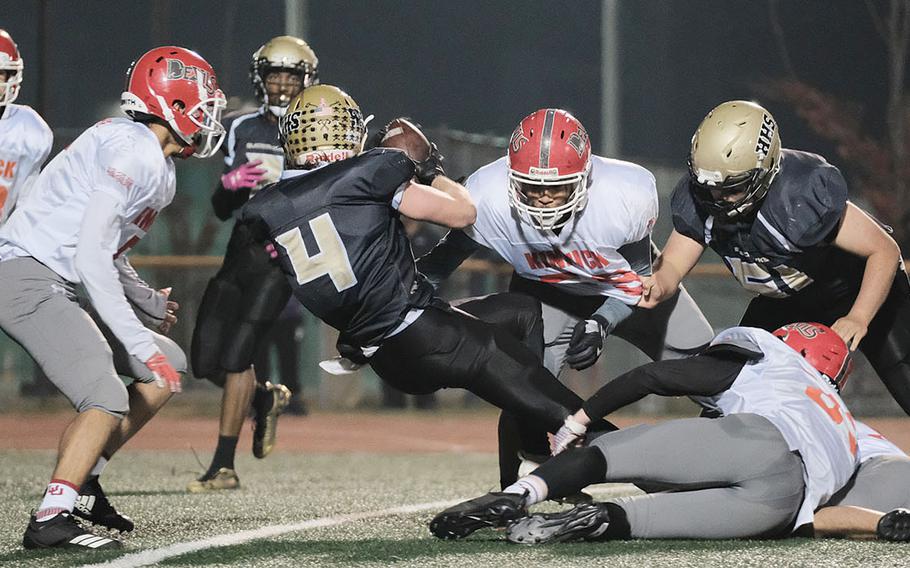 CAMP HUMPHREYS, South Korea – Just when things seemed most bleak for Humphreys, a series of bang-bang plays in the closing seconds gave the Blackhawks an 11th-hour win to dethrone Nile C. Kinnick and earn their school-first Far East Division I title-game berth.
Humphreys blocked a punt deep in Kinnick territory, Deontaye Gregory scored on a quarterback sneak with 15 seconds left and Steven Petracca intercepted a desperation pass on the next play, giving Humphreys an 18-14 win over the Red Devils on Friday at Blackhawks Field.
Shaking his head, an ear-to-ear smile on his face as players and spectators danced to the song "Cupid Shuffle," Blackhawks coach Steven Elliott could only say, "Wow. What a fight. Omigosh. What a game."
Both teams played "like champions, and Kinnick played like they were defending champions," Elliott said. "It was going to be a fight and it was a fight. Win or go home."
"A great game, a lot of hard hitting, back and forth, great plays by both teams," Kinnick coach Dan Joley said.
"It came down to a play here, a play there. … I'm proud of my guys. They left everything out there. It's a shame somebody had to lose. It should be a great championship game."
As such, Friday's game was a see-saw battle. It featured three lead changes and one tie. And in the end, Humphreys (4-1 overall and D-I) punched its ticket to the D-I title game.
The Blackhawks, who won the Division II title two years ago, become the second program to play for both the D-I and D-II titles, joining Yokota (D-I in 2010-12 and D-II in 2015).
Humphreys will face Kadena at 5 p.m. Saturday at Kadena Air Base – the same site where the Blackhawks opened the season with a 6-0 loss on Sept. 14, a defeat Elliott says he remembers well.
"That time we played and lost there, we looked at and talked to each other as though to say, 'we'll see you here again in November,'" Elliott said. "And it was like Kinnick was saying, 'we're not going to make it easy for you.'"
After a scoreless first period, Kinnick struck first, on Gabriel Stravers' 6-yard second quarter run. Humphreys answered with Sean Cook's 60-yard sideline pass to Junior Gregory for a touchdown.
James Ahn hit the extra point and later a 32-yard field goal to close the first-half scoring with the Blackhawks up 10-7.
Patrick Kelly put the Red Devils (3-3 overall, 2-3 D-I) back in front when he hit Ryo Nishiyama for a touchdown from 9 yards out, which set up the Blackhawks' late-game heroics. In the final minute, Kinnick had the ball on fourth down at its 10-yard line and lined up to punt. Brenton Carver blocked the punt and sent it out of bounds at Kinnick's 10.
Deontaye Gregory ran to the outside on the next play and got hit hard, bringing out a penalty flag for excessive roughness. The ball was spotted at the 2, from where Gregory sneaked through for the game-winning touchdown. Carver ran in the two-point conversion.
Petracca intercepted Kelly on the Red Devils' next play and the Blackhawks ran out the clock.
Gregory was 3-for-5 for 108 yards. Junior Gregory caught three passes for 103 yards but was ejected for a helmet-to-helmet hit. David Key ran 23 times for 207 yards, Carver added 114 on nine carries and Collin Metcalf caught a 65-yard pass for the Blackhawks.