Humphreys joins mix at ASIJ hoop tourney
by
Dave Ornauer
January 24, 2019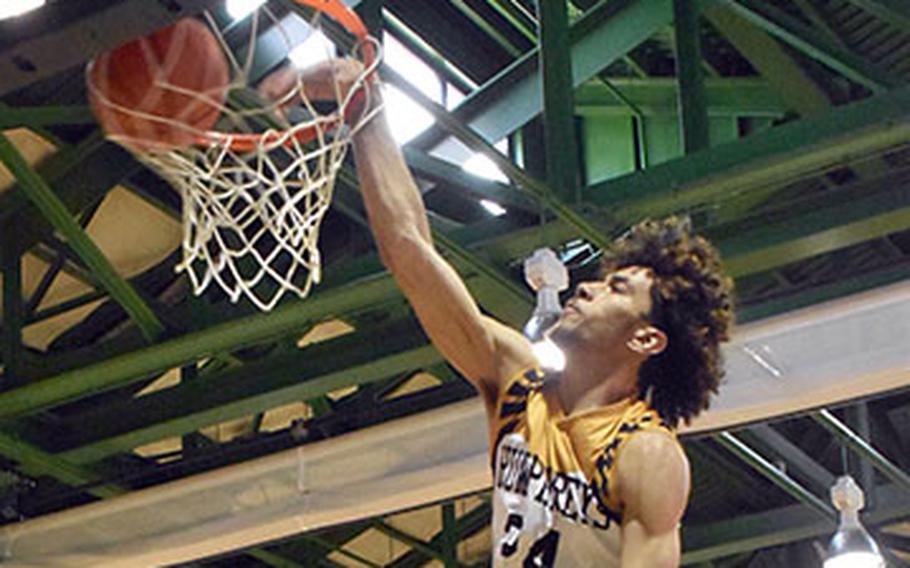 Though Humphreys has wrapped up yet another regular-season title, there's much left for the Blackhawks to do before Far East comes along.
But unlike previous seasons when the boys basketball team had just one tournament to prepare for Far East – the Korea Blue Division tournament – Quintin Metcalf, Jalen Hill and the Blackhawks are entered in the American School In Japan Kanto Classic.
It's considered the major in-season tune-up for Far East, featuring some of the same teams the Blackhawks will face in next month's Division I Tournament at Humphreys. And coach Ron Merriwether believes the Kanto Classic should give his charges the fire-testing they need.
"We're excited," said Merriwether, in his fourth year coaching the Blackhawks. "It gives us more time on the court, more games, more development. Not a luxury we're used to having."
Humphreys, which won the Division II tournament a year ago, moved to Division I due to a spike in enrollment. They'll get a chance to square off against D-I champion Nile C. Kinnick and host ASIJ, which beat Kinnick last February in the combined Far East tournament final.
"Going in, you hope to have prepared your team for the challenge," Merriwesther said. "This gives us an opportunity to play the teams we will compete against at Far East. Likewise, it gives those teams a chance to see us and make their adjustments" for Far East.
The Kanto Classic begins Thursday morning with two days of pool play, followed by single-elimination bracket play on Saturday.
Kinnick, ASIJ and Humphreys will have both their boys and girls teams in tow. Joining them are:
-- Boys: Korea International, Yokota, Zama, Christian Academy Japan, Robert D. Edgren and St. Mary's, Kubasaki, Kadena and Father Duenas of Guam.
The Friars until 2013 used to play in Far East tournaments against these same teams. DODEA chose to end its long-term relationship with Guam following the 2013 Far Easts.
-- Girls: Yokota, Zama, CAJ, Edgren, Seisen, Kubasaki, Kadena and Academy of Our Lady of Guam and reigning two-time Guam champion St. Paul Christian.
Basketball isn't the only sport staging an in-season invitational this weekend; many of those same schools will also converge on Yokosuka Naval Base, site of Saturday's Kinnick Invitational "Beast of the Far East" wrestling tournament.
The Pacific's pre-eminent mat powers the past few years, St. Mary's and Kinnick, have swapped the "Beast" title the last five years, the Red Devils winning thrice and the Titans twice.
Though the Titans went unbeaten in the Kanto regular season, coach Shu Yabui says he and his charges are not taking anything for granted.
"We have to be on the attack constantly," Yabui said. "We have to be aggressive and not be passive. Too often, we are reacting to our opponents. Thanks to good conditioning, we've managed to win so far, but it will be hard to win in tournaments like 'Beast' or Far East."
Kinnick and St. Mary's will be joined by ASIJ, CAJ, Yokota, Zama, Edgren and Matthew C. Perry of Japan; Kubasaki and Kadena; Humphreys; and Shonan Military Academy, near Yokosuka. "Beast" is a day-long individual freestyle tournament.
Kinnick lost most of its lineup from last year; the only returning champion the Red Devils have is 215-pounder Chris Mason. Kinnick coach Gary Wilson says St. Mary's should be the team to beat.
"You have to be solid with your fundamentals, defensively especially, at every weight in your lineup," Wilson said of facing the Titans, led by Matthew Krcelic, brothers Warren and Austin Koslow and reigning Far East champion Eiji Kasahara.
"St. Mary's wrestlers do not make a lot of unforced errors, so giving them an early lead is hard to overcome."
Both Yabui and Wilson said they'll each be looking over their shoulders at Kubasaki, the last team besides St. Mary's and Kinnick to win "Beast," back in 2013.
"Take them lightly at your own peril," Wilson said of the Dragons.