Humphreys boys, Seoul American girls capture titles
---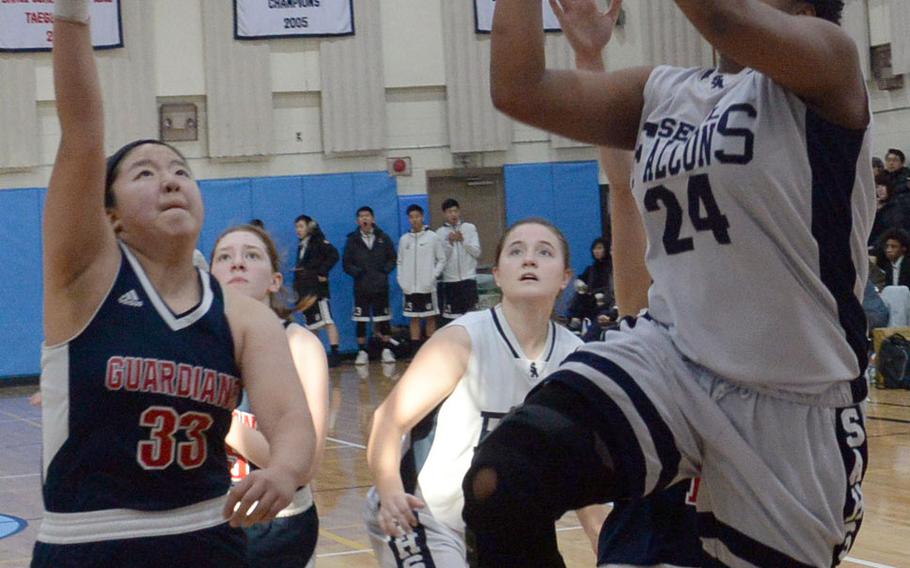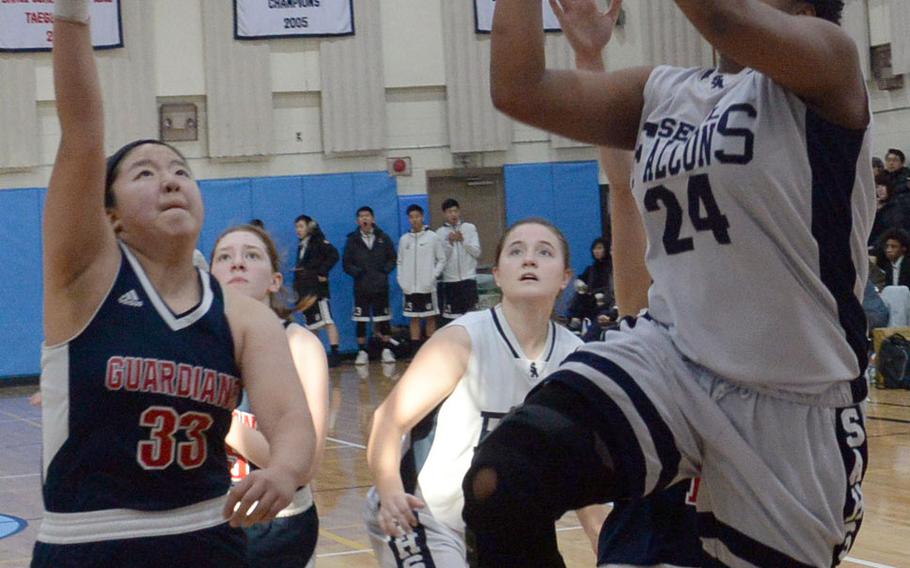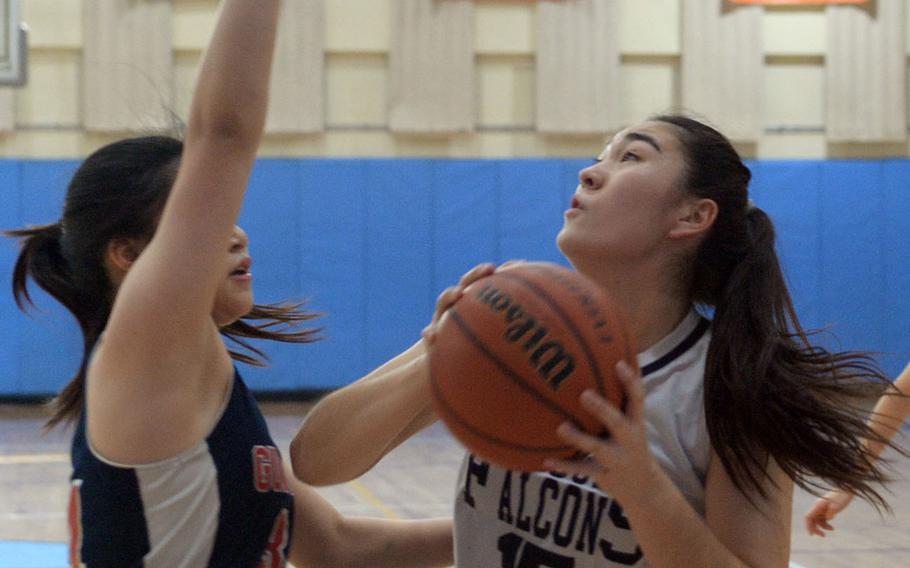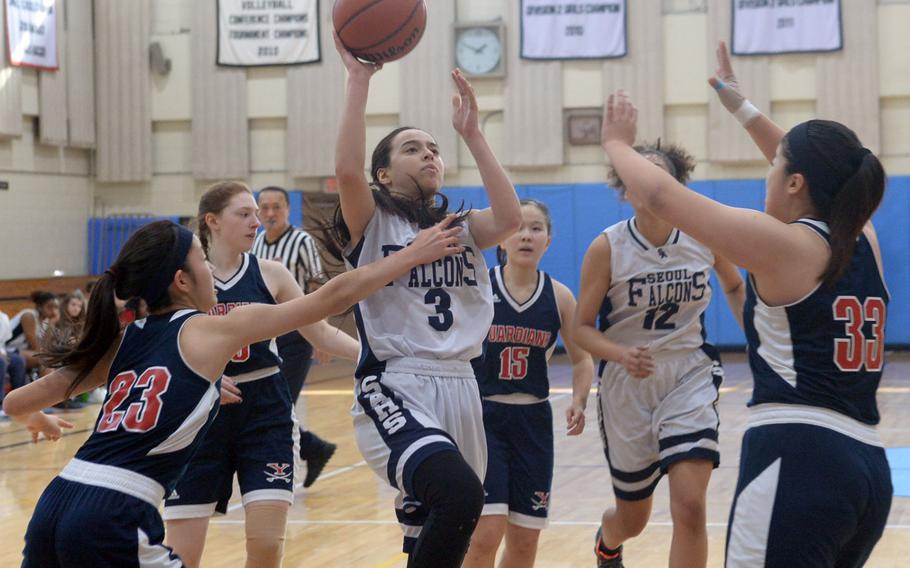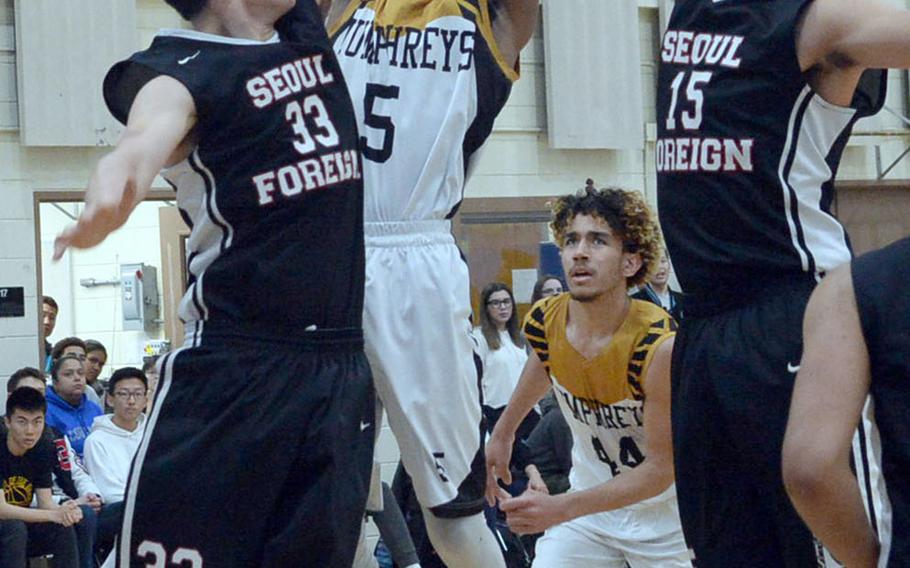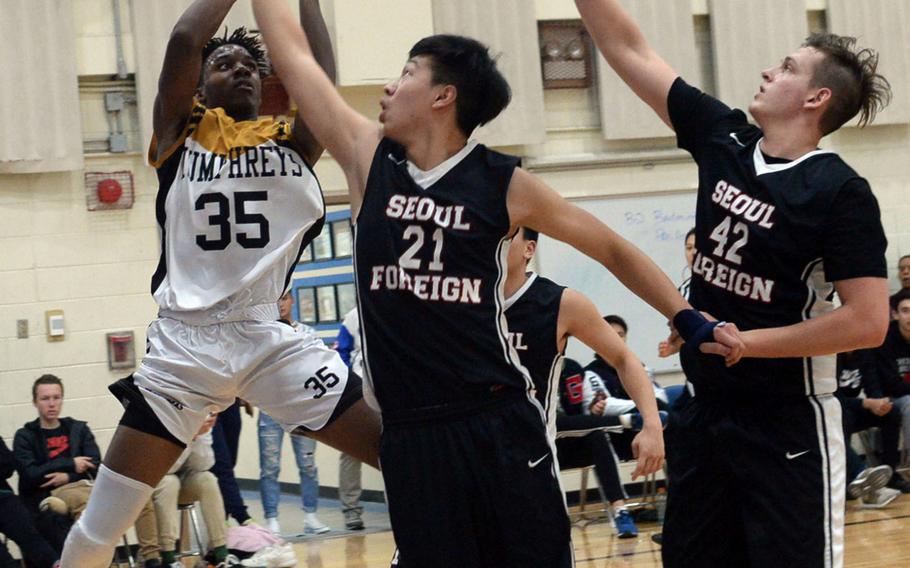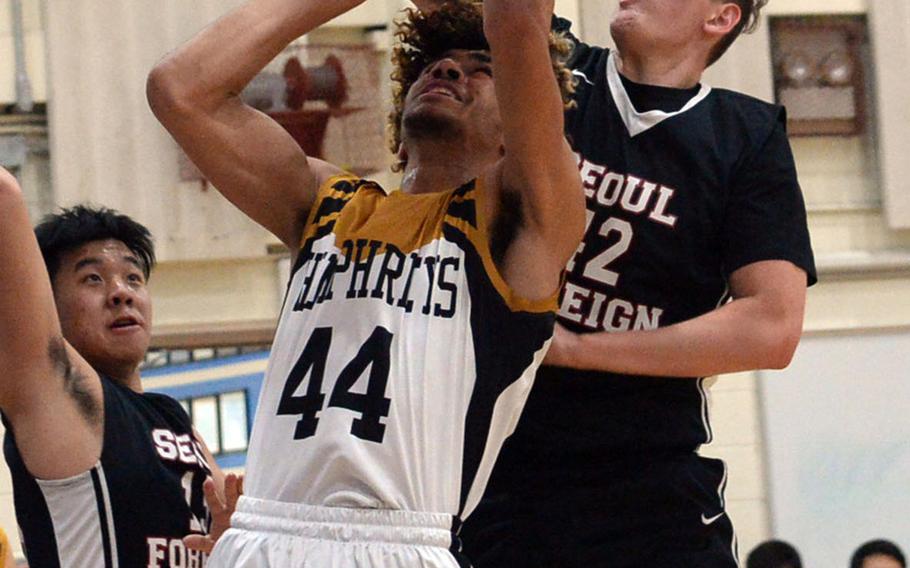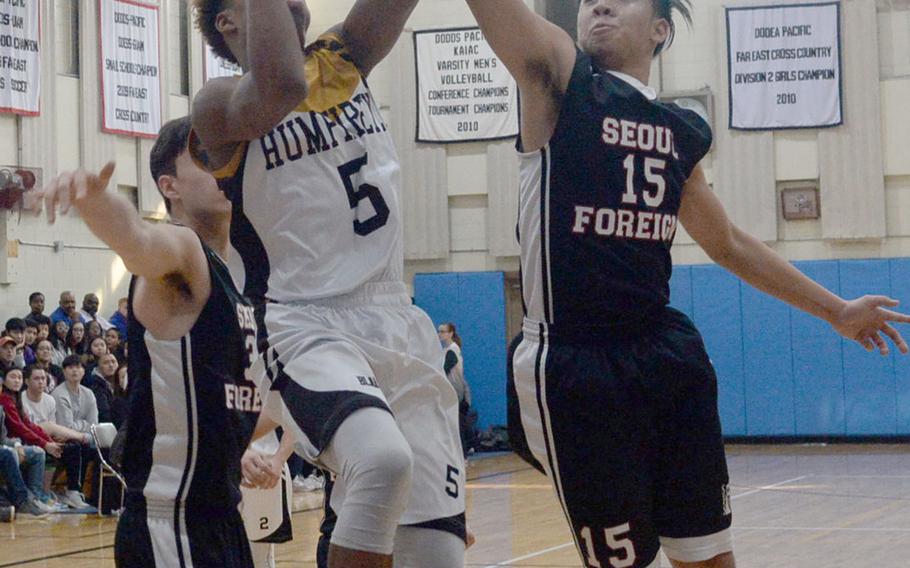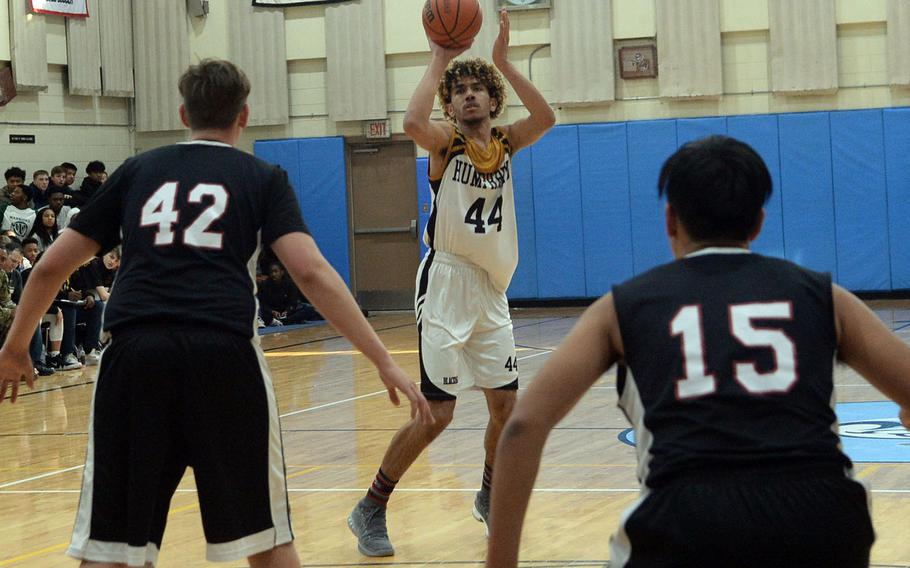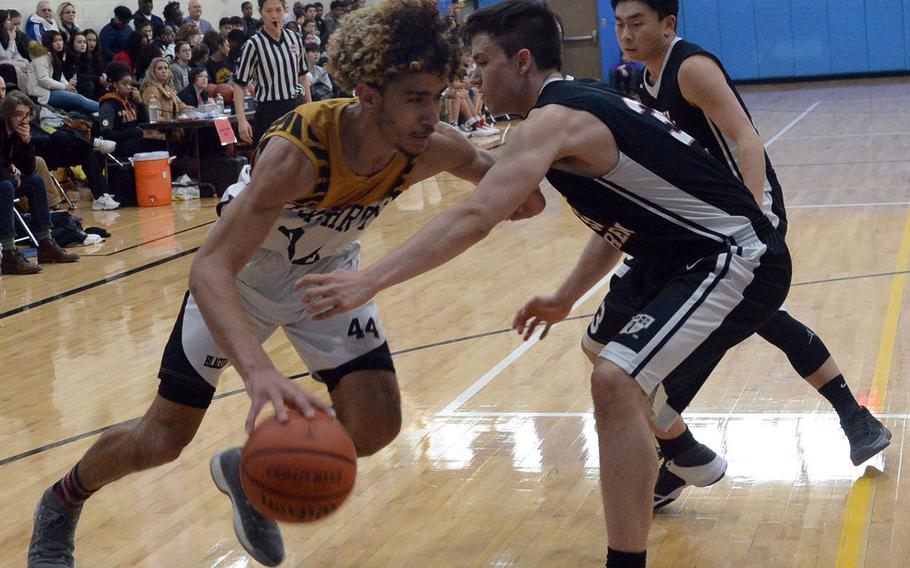 OSAN AIR BASE, South Korea – After coming up just short the last two years, Humphreys' boys basketball team solved its Korea Blue Division tournament jinx.
Tournament MVP Jalen Hill combined with Far East Division II Tournament MVP Quintin Metcalf for 50 points and the Blackhawks scored 21 straight points Friday to bury Seoul Foreign 68-39 in the tournament title game.
Humphreys lost in the final to Seoul American by scores of 42-38 in 2017 and 54-50 in 2016.
"Every year, we stepped closer to our goal, which was to finish strong," Blackhawks third-year coach Ron Merriwether said.
The victory capped a perfect season in Korea for the Blackhawks, who went 12-0 in the regular season for the third straight season.
They also captured the first Far East D-II Tournament title in school history and before finishing third in the combined Far East tournament last week on Okinawa. Humphreys lost just once in 21 games this season.
"That completes the package," Merriwether said, adding that playing Far East before KAIAC was "a blessing. The way we were challenged, there are no words for that type of preparation. We had to dig deep, we had to motivate. I'm proud of these guys. 20-1, not a bad season at all."
The Crusaders made a game of it early on, with the lead changing hands three times in the first three minutes. But Metcalf responded in the most unlikely of ways, as the 6-foot-8 junior hit a pair of three-point goals, the second making it 10-6 Blackhawks 4:35 into the game.
That was part of a 21-point run that broke open what had been a close contest. Humphreys held a 7-6 lead when the run began.
They held the Crusaders to four fourth-quarter points; Metcalf exited after hitting two foul shots to give the Blackhawks their biggest lead, 66-32, with 2:30 left.
Hill finished with 23 points and eight rebounds and earned Player of the Game honors. Metcalf had a triple-double of 27 points, 16 rebounds and 10 blocked shots. Guard Brice Bulotovich had a double-double of 10 rebounds and 10 assists.
Eugene Linton led the Crusaders with nine points.
GirlsJust call Ebony Dykes the great equalizer.
With a 6-foot-2 frame and a long wingspan, all arms, legs and elbows, the Seoul American junior forces opponents to alter the direction of their shots. Or sometimes just block them altogether, which she did five times in Friday's Korea Blue Division girls tournament final.
Not bad, for a player in her first year of basketball.
Coupled with near triple-doubles from guards Maria Bruch and Krista Bradley, the Falcons routed Yongsan 46-25, winning the title for the second straight year.
Dykes had four steals and five rebounds in addition to her blocks and was accorded Player of the Game honors.
"When you're 6-2 and athletic, that really helps," Guardians coach Jeremiah Davis said of Dykes. "They (Falcons) play hard and they have a lot of size."
Though a basketball rookie, Falcons coach Julian Harden said Dykes has developed as a player to become a force.
"You can tell her what to do and she'll go do it right away," Harden said. "She has a great disposition. In fact, she'll get a block and she apologizes" to her opponent.
Dykes confirmed Harden's assessment. "I feel badly when I do stuff like that," she said of when she blocks shots.
While strong defensively, Dykes feels she has room to grow in other aspects of basketball. "I need to be a little more aggressive under the basket; I have to finish my shots better," she said.
Her teammates took care of the offensive end, fashioning a 10-point run that boosted the Falcons to a 12-4 edge on the Guardians and they never looked back, holding the Guardians scoreless for nearly 16 minutes.
Alyse Neal's backdoor layup gave the Falcons their biggest lead, 46-19, with 2:58 remaining. Bruch finished with 14 points, nine rebounds and seven steals and Bradley, who repeated as tournament MVP, had eight points, seven boards, six steals and eight assists.
The Falcons finished with a 14-0 record in games against KAIAC Blue Division foes, be it regular season or tournament play.
Andre Lee, a senior distance specialist, hit five three-point goals to lead the Guardians with 15 points.
Twitter: @ornauer_stripes
---
---
---
---