Harrison helps Yokota top Zama in opener
---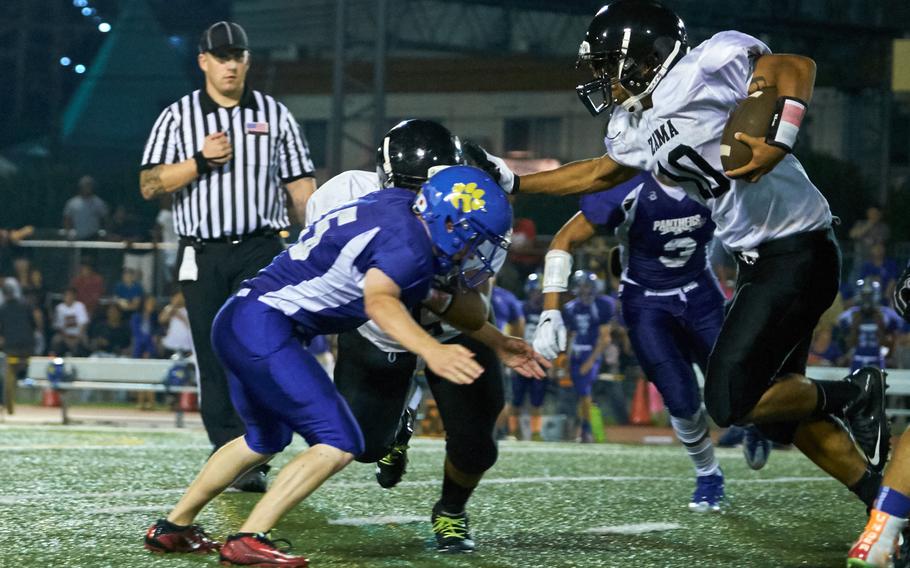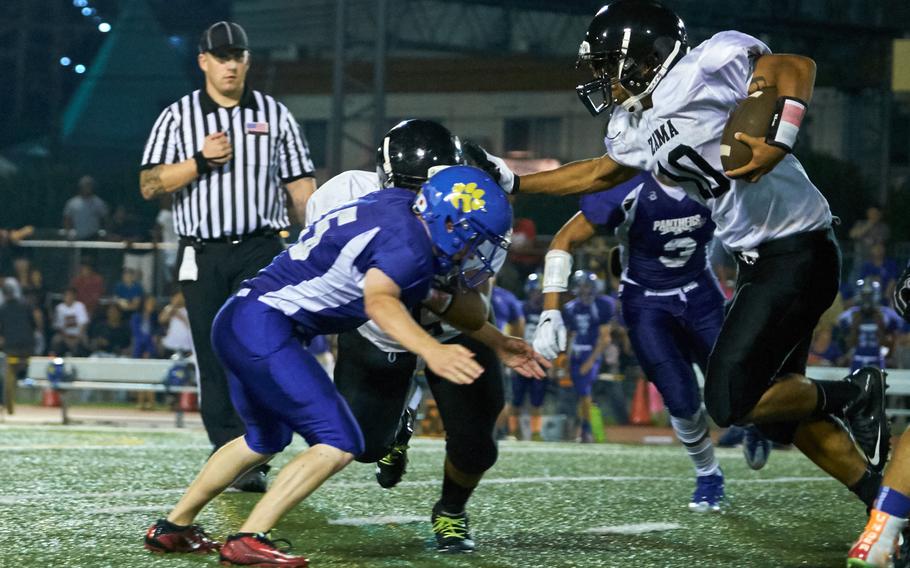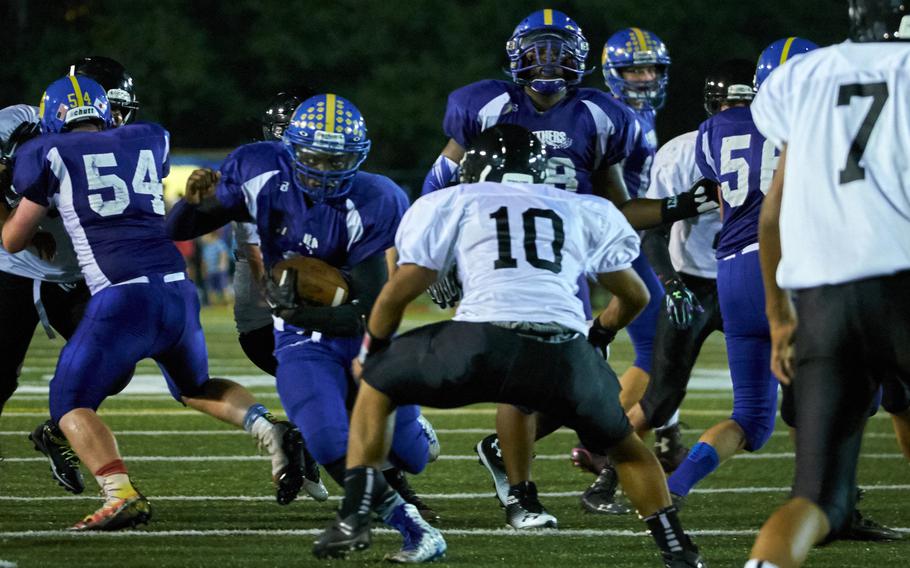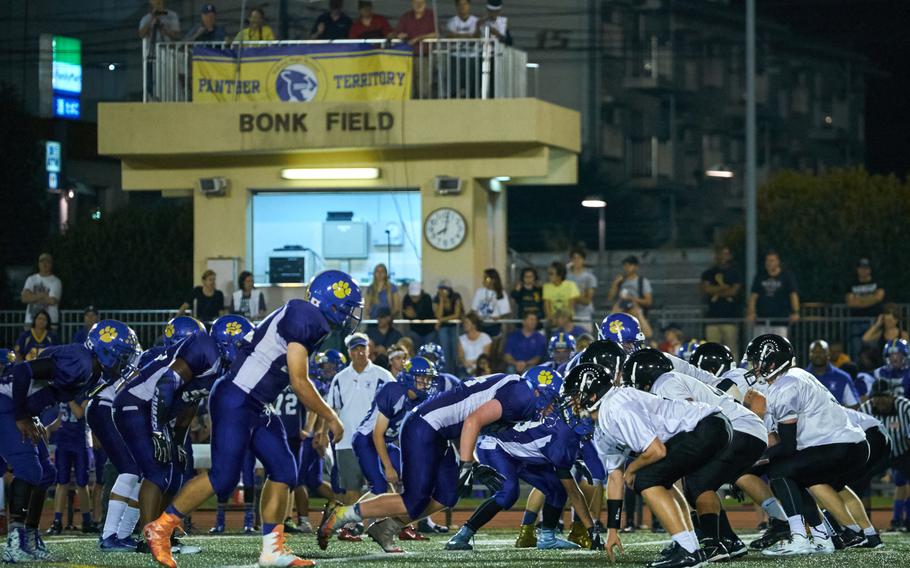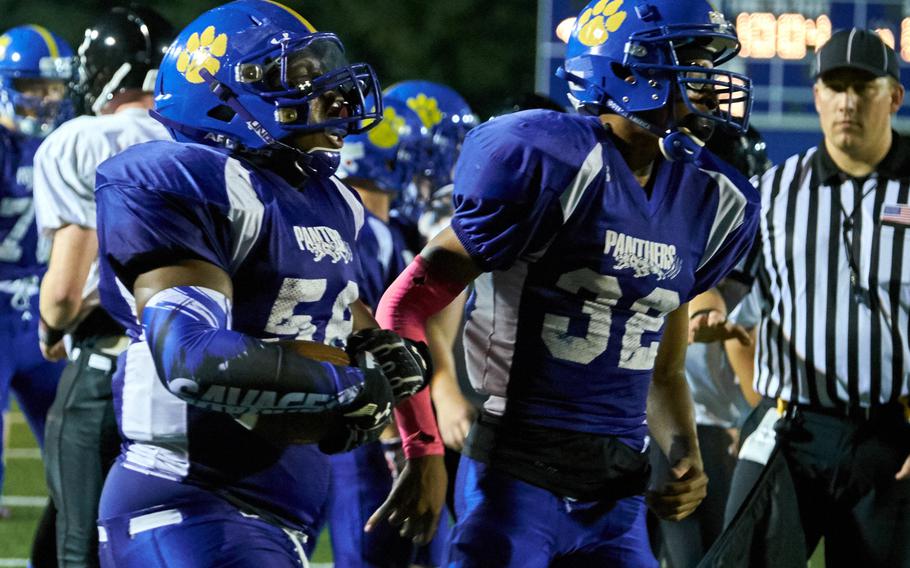 YOKOTA AIR BASE, Japan – Jalen Harrison proved Friday to be up to the task of handling some of the offensive firepower Yokota lost to graduation.
The junior scored on touchdown runs of 5 yards in the second quarter and 6 yards to seal it as the Panthers pulled away late for a 22-6 season-opening win over Zama at Yokota's Bonk Field.
Harrison played defensive end and offensive tackle the last two seasons for Yokota, but was moved to middle linebacker and fullback for this season, replacing Jamarvin Harvey, who graduated last June.
"He's a different kind of player than Jamarvin, but that's the role he's taken on," coach Tim Pujol said of Harrison. Yokota got the victory despite losing starters Shomari Tindal and Kishaun Kimble-Brooks to first-half injuries.
"We had backups playing their positions and they did a good job," said Pujol, who extended his school record with his 134th victory to open his 18th season at the Panthers' helm.
The Panthers never trailed, going up 3-0 in the first quarter on Dylan Grimes' 32-yard field goal. Harrison extended the lead to 10-0 with his 5-yard run in the second quarter.
But the Panthers stalled, hurting themselves with penalties that negated big plays and gave the opposing Trojans yards. "A lot of them were big penalties," Pujol said.
The Trojans took advantage, slicing the lead to four points on Zack Dignan's 6-yard touchdown run in the third quarter. It appeared as if the game would remain close, until Yokota's Renyck Robertson pinned Zama deep in its own end with a 48-yard punt in the closing minutes.
On third down, Zama fumbled and Yokota's Zack Winkler scooped up the ball and ran it 3 yards for a touchdown that made it 16-6.
"That was a big momentum swing for us," Pujol said. "That was a key play for us, if not the key play."
Zama was stopped on downs on its next series, the Panthers drove and Harrison iced it with his second scoring run with less than a minute left.
"You always see a lot of things you need to work on" in a season-opening game, "and for us, it was penalties," Pujol said.
The Trojans "got a little gassed" in the closing stages, Zama coach Scott Bolin said. "We made a couple of mistakes and Yokota took advantage."
Zama needs to "finish, finish, finish, in all phases of the game," Bolin said. "If we can recover those (late-game) minutes and do a better job of finishing, we'll be good to go."
The Panthers get the next two weeks off, while the Trojans travel to Matthew C. Perry for a game Sept. 10; kickoff is 10 a.m.
---
---
---
---