Hansen scores 38 straight to upend Kinser
---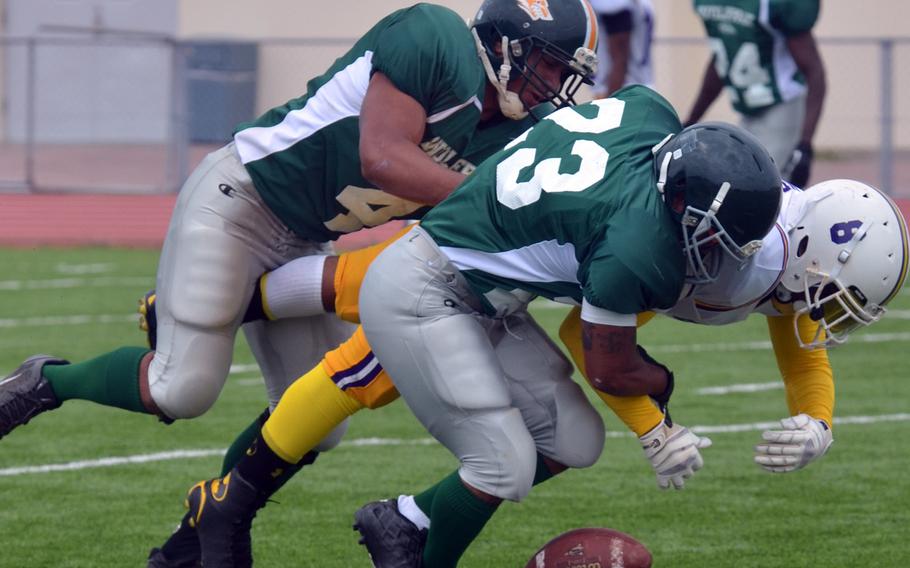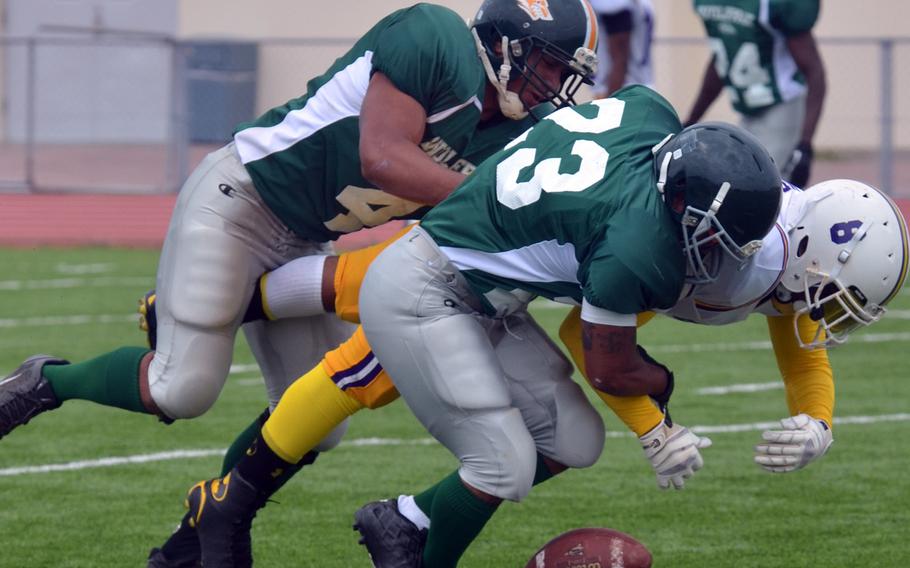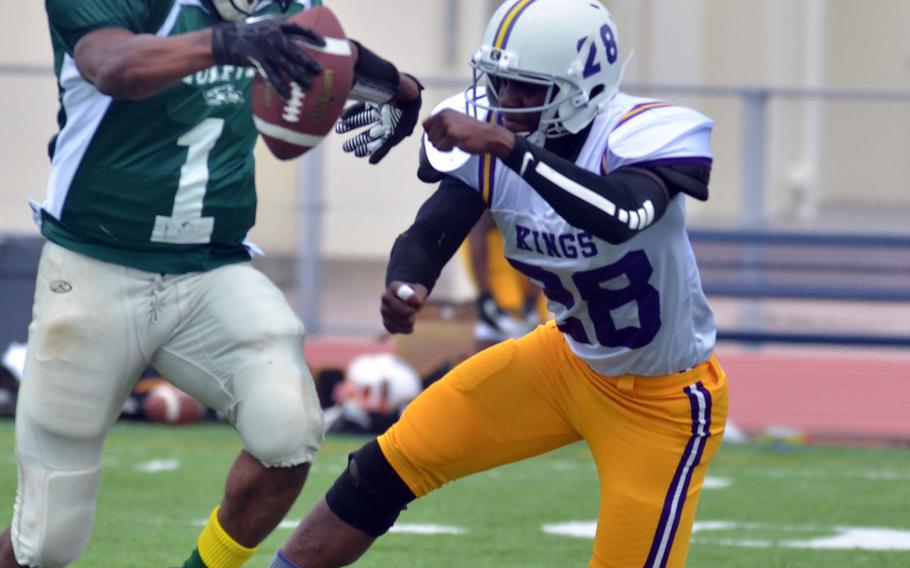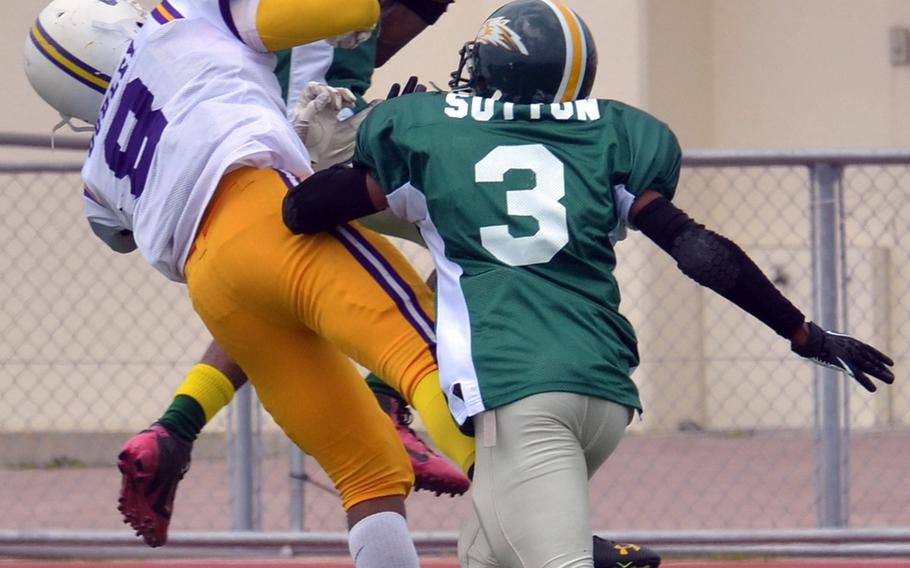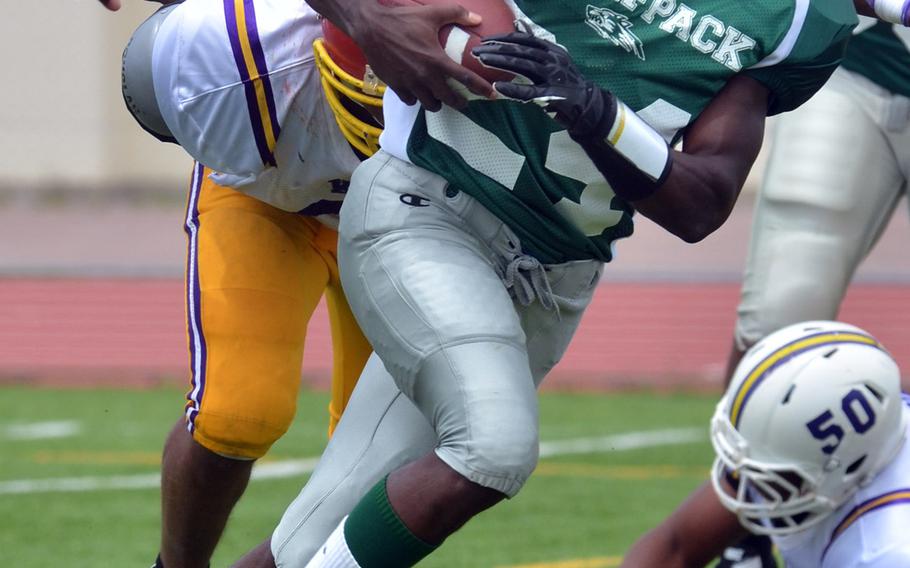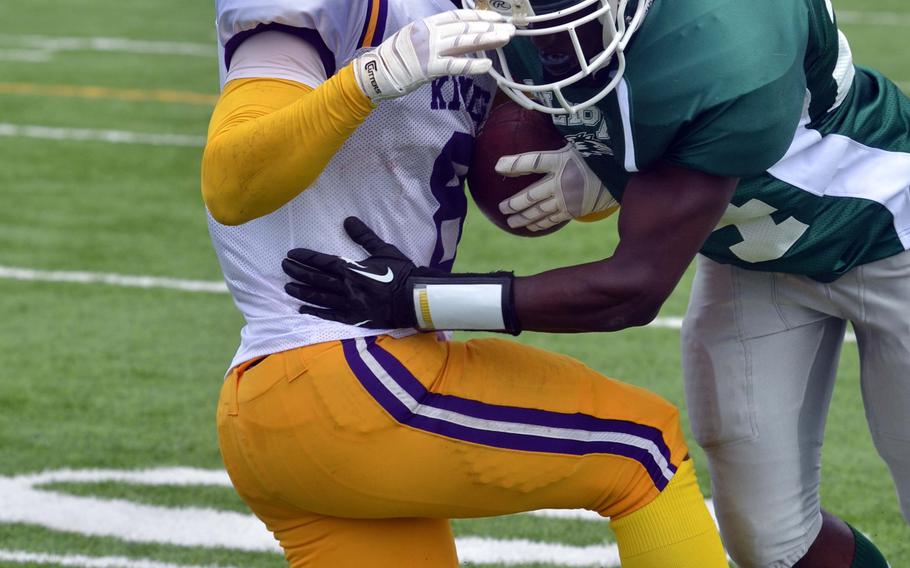 This article has been corrected.
KADENA AIR BASE, Okinawa – Drenched from head to toe and dripping Gatorade to the field turf at Kadena's Ryukyu Middle School's turfed Habu Field, Cortez Pree shimmied and shouted with joy in the Saturday afternoon sun.
He had good reason. Led by Jay McCray and Alexander Williams, Pree's Hansen Wolfpack pulled off the biggest upset of the U.S. Forces Japan-American Football League season. The Wolfpack, winless prior to Saturday, scored 38 unanswered points to hand South Division-leading Kinser its first loss 38-27.
"It feels good to dethrone the undefeated," said Pree, the Wolfpack's coach, after Hansen (1-4) had scored those points over a span of 13 minutes, 38 seconds in the second half.
"We've been a better second-half team all season," Pree said. With many roster changes taking place on this transient group of Wolfpack amid a sea of player comings and goings, it's hard to keep continuity, Pree said, and first halves are usually fraught with mistakes.
"We talk things over at halftime and make adjustments," Pree said. "The players just took over (on Saturday). They came out and did what they were supposed to do. We've had the capability to play like this all season. It just took time to get it together."
Hansen's scoring flurry saw McCray run a 4-yard keeper for a touchdown, then Williams took a fumble caused by a Nathaniel Garay sack 25 yards for a score.
Williams snagged a 24-yard touchdown catch from McCray, then Jamaal Green's 12-yard return of a fumble forced by Dyezelle Hooper on another sack put the Wolfpack ahead to stay 30-27. Marquis Pough's 16-yard TD catch from McCray capped the scoring.
All that came after Kinser's Sanford James threw three touchdown passes, two to Sean Maycox and one to Jason Jarmond, and DeQuan Clark ran for a score and the Kings recorded two interceptions and five sacks to race ahead 27-0 in the third period.
But mistakes bungled things up for the Kings (3-1), who were penalized 16 times for 173 yards, gave up six fumbles and two sacks and had three James passes intercepted by McCray.
"Everything that could go wrong, went wrong," said James, the Kings' quarterback-coach. "Hansen capitalized and took what we gave them. The better team won today."
James went 15-for-31 for 205 yards, Clark rushed seven times for 63 yards, Jarmond had five catches for 78 yards and Maycox three for 60. For Hansen, McCray had 233 all-purpose yards on 46 touches.
As a result of the Kinser loss, Foster (2-2) had a chance to vault into a first-place tie with the Kings, but fell at home 20-8 to a Kadena team that improved to 3-2, a half-game back of the Kings.
The Dragons' Brandon Avery went 18-for-33 for 255 yards, including touchdown passes of 29 yards to Ralph Ford and 25 to Andrew Gyke, and Ralphael Jones rushed 15 yards for a score. Kadena scored the first 20 points. Norman Blacc rushed three yards for a Bulldogs touchdown late in the fourth quarter.
Ford had five catches for 58 yards and Calderon five for 64. Manny Griffin rushed 11 times for 90 yards, Jones recovered a fumble and Damar Powell-Davis intercepted a last-ditch Foster pass.
William Lane was 9-for-35 for 137 yards and Karl Williams had 152 all-purpose yards on 14 touches for the Bulldogs.
CORRECTION
An ealier version of this article misidentified the receiver who caught a 25-yard touchdown pass. The pass was caught by Andrew Gyke.
---
---
---
---